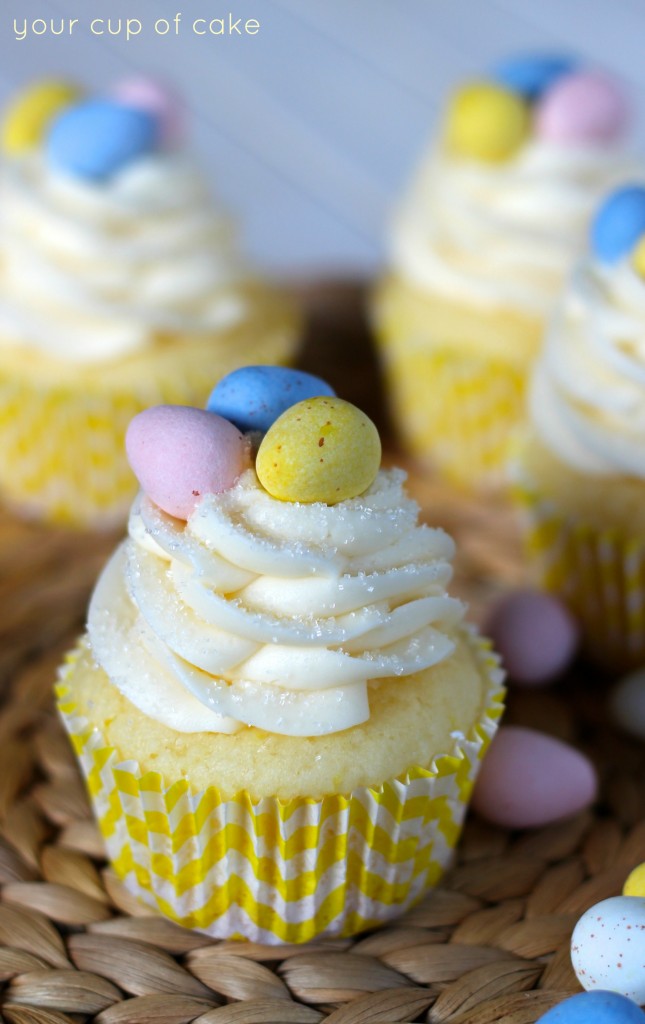 The Story:
Alright, I think Tay-Swift would agree with me that certain songs can remind us of certain boys.  But what about food?  Well, food is my life so let's see who matches with what…
Cold Stone = Jeff
Thai = Eric/Kyle
Sushi = Ryan
Hot Chocolate = Brian
Chorizo = Clark
Hershey's "Hugs" = David
Colombian = Paul
Taco Bell = Preston
Spaghetti = Ross
Pizookie = Adam
Milk Shakes = Tyler
Mini Cadbury Eggs = Westin
[end-story]
Lemon Mascarpone Cupcakes
Ingredients
Lemon Cake:
1 box white cake mix
3 eggs
1/3 C. oil
3/4 C. sour cream or yogurt
1 tsp. vanilla extract
Zest of 2 lemons
1/4 C. lemon juice
1/2 C. milk
Lemon Mascarpone Filling:
8 oz. mascarpone cheese
zest of 1 lemon
1/4 C. powdered sugar
Cream Cheese Frosting:
8 oz. cream cheese
1/2 C. butter, softened
2 tsp. vanilla extract
3-5 C. powdered sugar
Mini Cadbury Eggs for decoration
Directions
1. Preheat oven to 350 degrees and line pans with cupcake liners.
2. Sift cake mix into a small bowl and set aside.
3. In a large bowl combine eggs, oil, sour cream, vanilla, lemon zest, lemon juice and milk together until smooth.
4. Add cake mix and stir.
5. Fill cupcake liners 3/4 full and bake for 15-22 minutes or until an inserted knife comes out clean.
6. Filling: mix all ingredients in a small bowl until smooth.
7. Frosting: Beat cream cheese and butter for 2 minutes. Add vanilla extract and slowly add powdered sugar until you reach your desired consistency.
8. Cut holes out of tops of each cooled cupcake.
9. Fill holes with Mascarpone Filling and pipe over the hole with cream cheese frosting.
10. Top with Mini Cadbury Eggs (like a little nest) and enjoy!
Copyright © YourCupofCake