Chocolate cake filled with marshmallow fluff and topped with intense (and natural) raspberry buttercream makes the perfect Raspberry Hot Chocolate Cupcake.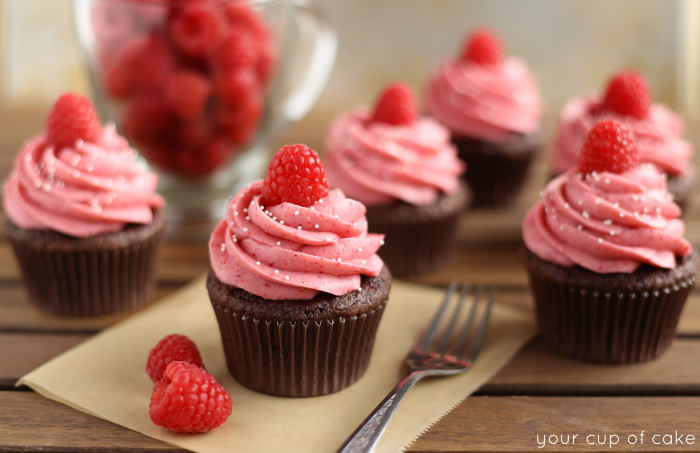 That's right, these are filled with marshmallow fluff! It's a little surprise for your tastebuds and brings a playful side to these gorgeous cakes.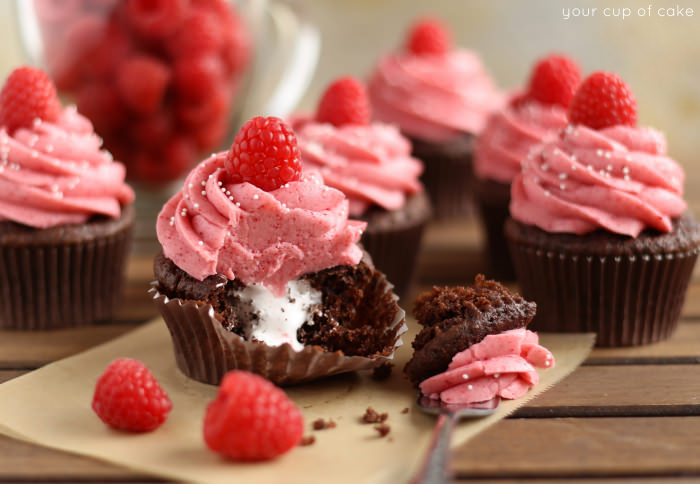 Christmas cupcakes don't always have to scream Christmas with red and green sprinkles and peppermint and gingerbread. They can be elegant and fruity! Don't get me wrong, I love an Andes Mint Cupcake or a cute Ornament Cupcake but who could say no to something this pretty? No one.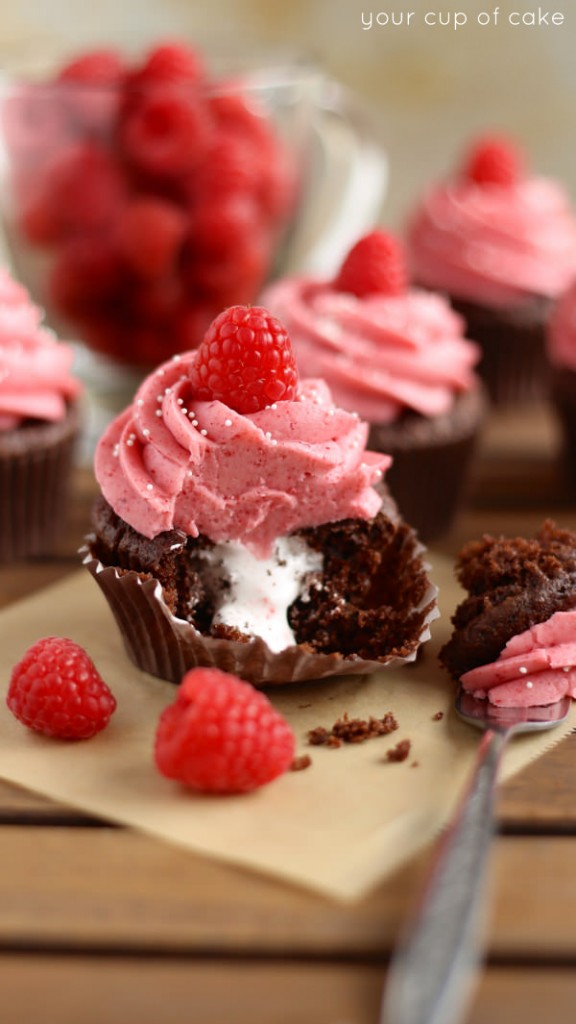 The Story:
I can't tell if my family is really into traditions or just really lazy. Our Christmas stockings are always filled with oranges and dental products, my mother always gets the most gifts, we each get hot chocolate. But every member of my family always gets a different flavor of hot chocolate, though we get the same flavor every year. My father– the chocolate lover– gets dark chocolate. My mother– classy woman– gets original. My brother Andrew gets mint. My brother Paul gets caramel. And I get raspberry hot chocolate.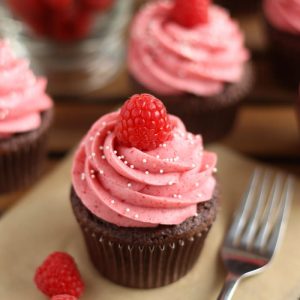 Raspberry Hot Chocolate Cupcakes
Ingredients
Chocolate Cake:
1

box devil's food cake mix

3

eggs

1/2

C.

oil

3/4

C.

milk or buttermilk

3/4

C.

sour cream or yogurt
Marshmallow Fluff for filling
Raspberry Buttercream:
1.2

oz.

freeze dried raspberries

crushed and sifted to remove seeds

1

C.

butter

softened

1

tsp.

vanilla extract

3-4

C.

powdered sugar
Fresh raspberries and sprinkles (or marshmallows) for decoration
Instructions
1. Preheat oven to 350 degrees and line pans with cupcake liners.

2. Sift cake mix into a large bowl to remove any lumps and add eggs, oil, milk and sour cream. Stir until smooth.

3. Fill cupcake liners 3/4 full and bake for 15-20 minutes or until an inserted knife comes out clean.

4. Let cool.

5. Use a small knife to cut out holes from the tops of the cupcakes and fill with marshmallow fluff! This gives is the "hot chocolate" feel with the marshmallow filling!

6. Raspberry Buttercream: (For info about the raspberries and substitute alternatives, see below.) Beat butter until smooth. Add in raspberries (crushed and sifted) and vanilla extract and beat again. Slowly add in powdered sugar until you reach your desired consistency. Add milk if it becomes too thick.

7. Pipe onto cooled (and filled) cupcakes and top with fresh raspberries and sprinkles. You can also just top them with mini marshmallows or one big one!
Okay, this is my special weapon for fruity frostings. Trader Joe's sells these packets of freeze dried fruits! Just dump them into your blender or food processor (take out the little white pouch inside though) and crush them down into a "powder." Then sift out the large pieces that didn't get crushed and most of the seeds. This way, your frosting will be silky smooth and you can pipe it onto your cupcakes! The color and flavor is really intense and incredible. Whenever I cater a wedding I always use freeze dried fruit and the guests just love it! I believe I have seen freeze dried fruit at Target and other places though, so call around to your local stores and see what they have! If you want to use something else, you can use raspberry jam! I like to give it a little extra "boost" and add 2 teaspoons of raspberry jello powder for added color and flavor.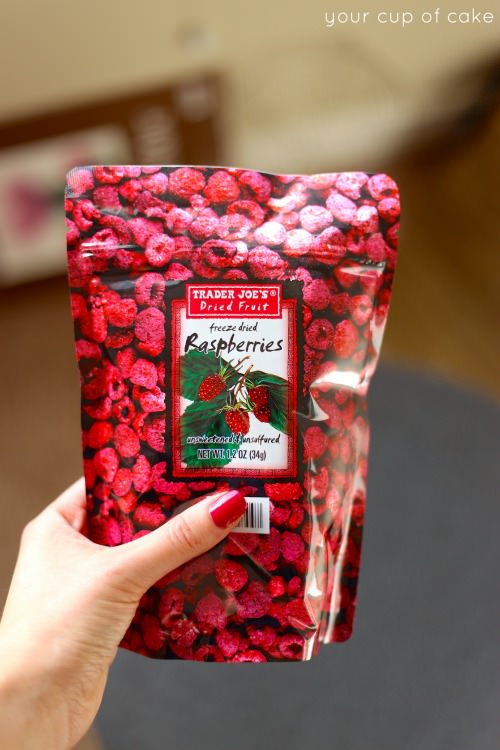 This is such a quick and easy filling for cupcakes!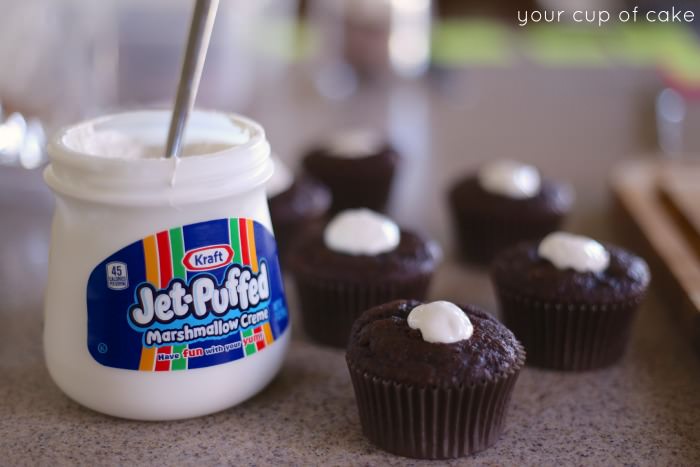 And yes, I found gorgeous raspberries in November (I know it's December but I made them last week). I felt like it was summer again when I was eating handfuls of berries, and then I looked outside and saw the snow in the mountains. Stupid winter.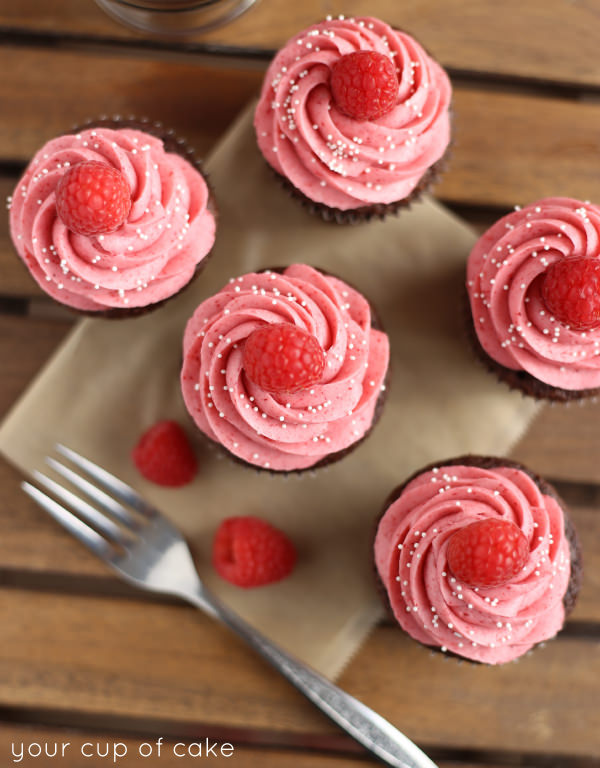 Things are getting busy in my kitchen! I may be posting just about every day this month! Eeek!