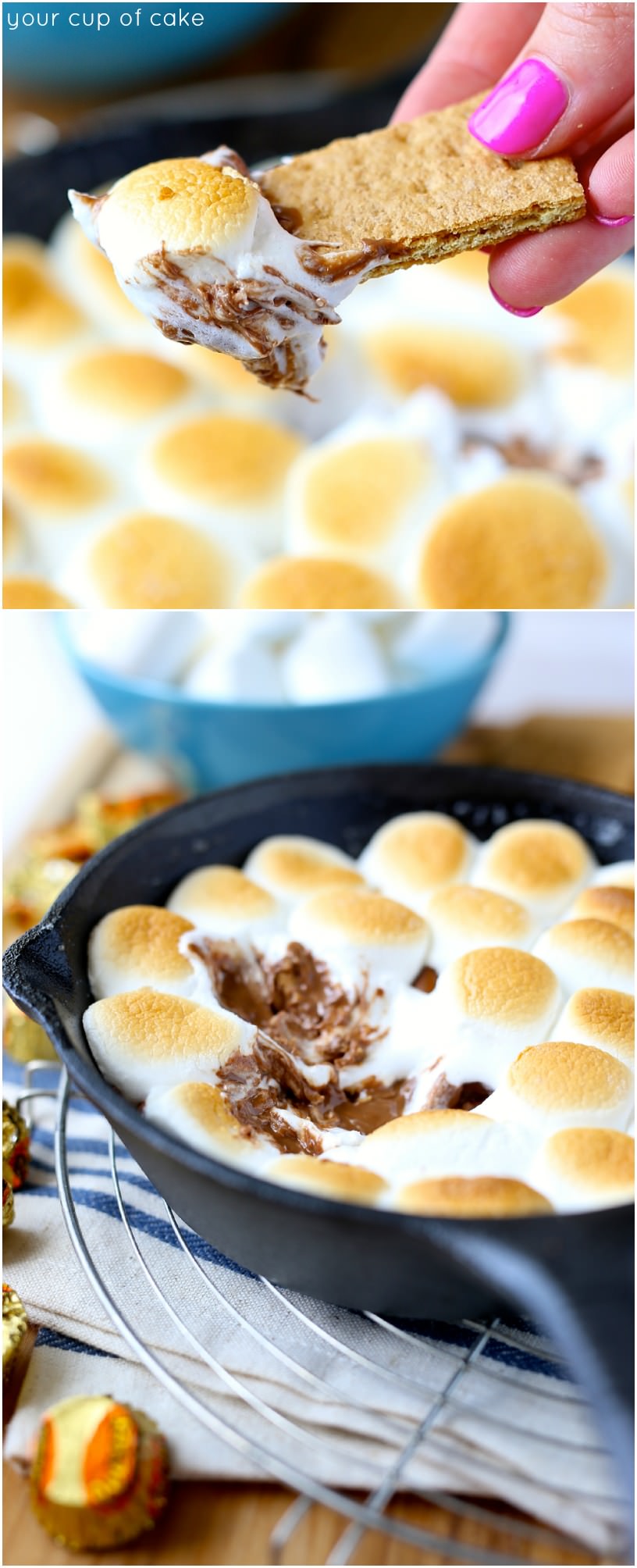 S'mores just got better. You're only 3 ingredients away from this delicious Reese's Peanut Butter Cup S'mores Skillet Dip! It's perfect for serving up with graham crackers or strawberries and everyone will go crazy for it! I could hardly keep myself from eating it when I was taking these photos… whoops!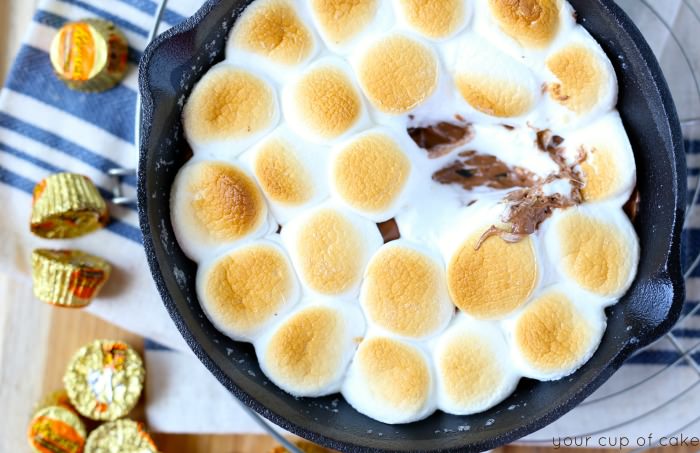 The marshmallows are gorgeous when they come out of the oven! That toasted taste just reminds me of summer campfires and twigs stuck in my hair.
Don't have a skillet? Don't fret! You can make this in just a normal cake pan, and because the amount of the ingredients is based on how big or small your pan is, it's so easy to make this just for 2 or for 20!
You'll notice in the recipe I have some other options like adding half Reese's and half chocolate chips if you want or you can just use milk chocolate chips and peanut butter if you want to leave out the Reese's all together! Make sure and pack the marshmallows in tight because they'll get all poofy when they bake but you do want to make sure all the chocolate is covered up. And I can't stress enough, watch this bake carefully because the marshmallows can burn in a moment! I switched my oven to broil at the end and then just sat there and watched them brown to perfection 🙂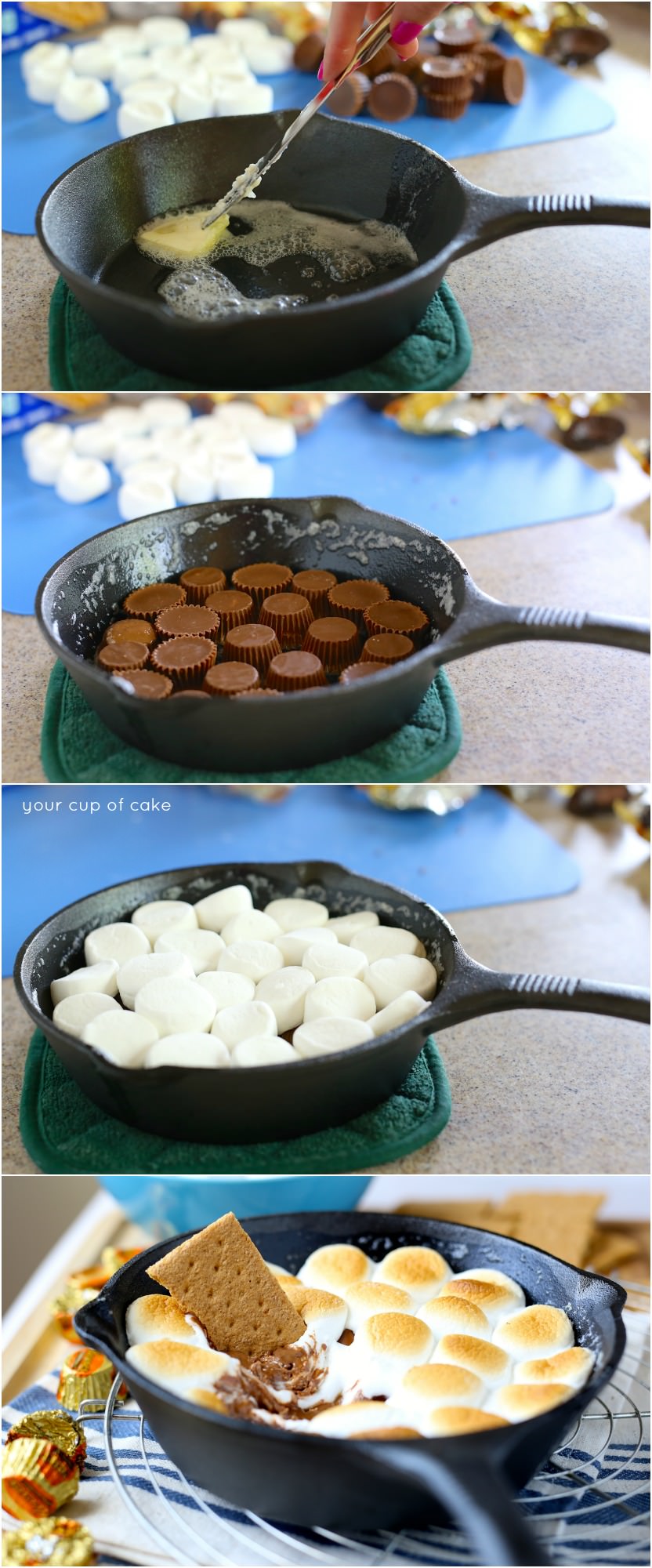 I won't lie, I ate a few of those graham crackers I dipped as I photographed… It was just too good to resist!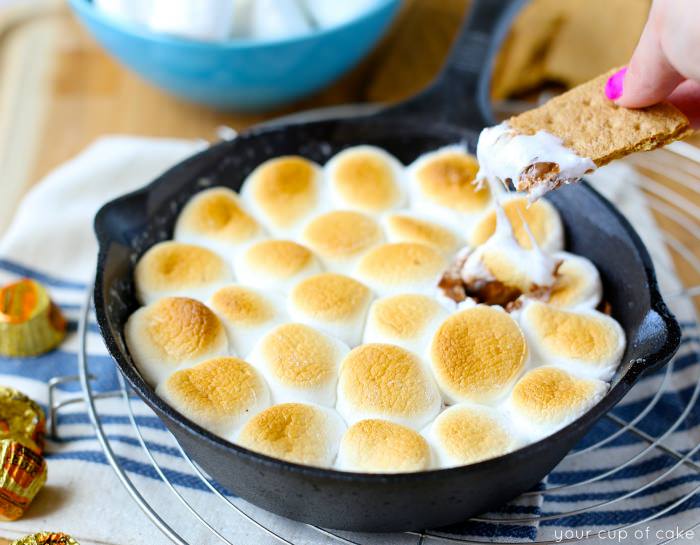 This 3 Ingredient Reese's S'mores Skillet Dip is the perfect way to kick off the summer! Open wide!!!!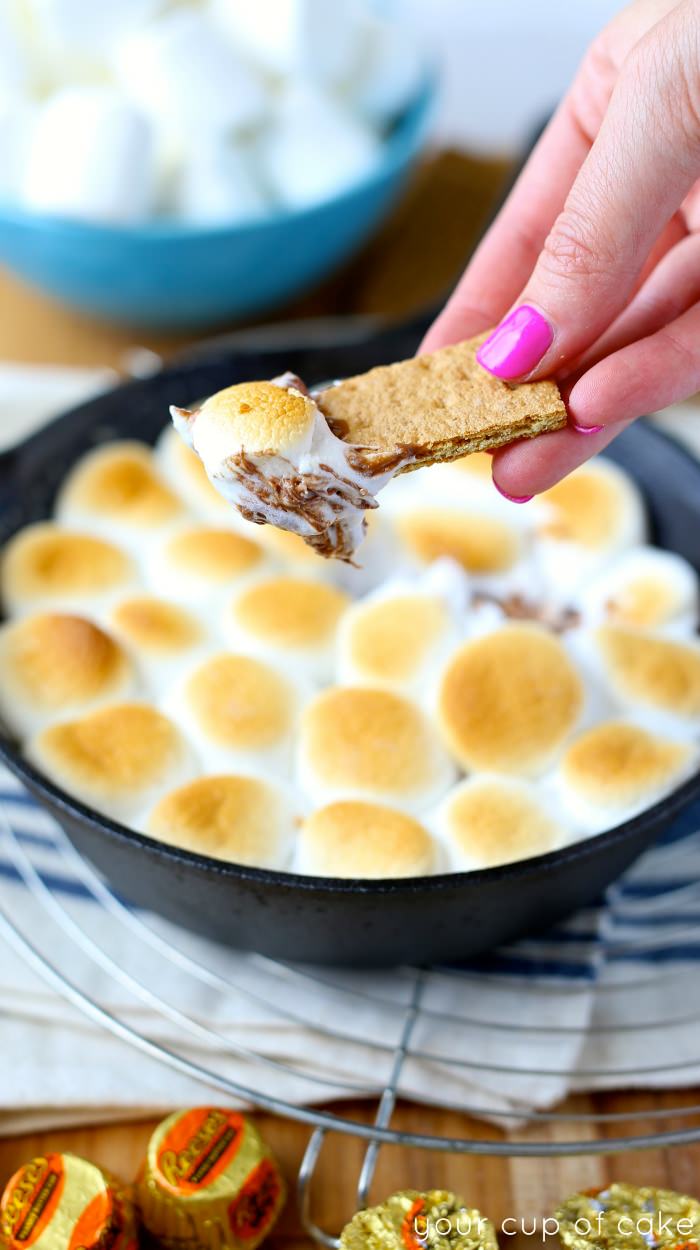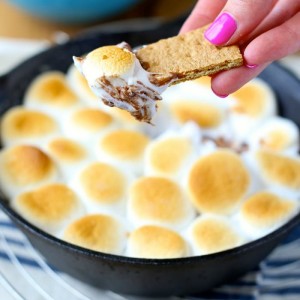 3 Ingredient Reese's S'mores Dip
Ingredients
1

Tbsp.

butter

25-45

Reese's Cups

enough to cover the bottom of your skillet so it will depend on the size

12-22

large marshmallows cut in half

enough to cover the Reese's Cups
Instructions
1. Preheat oven to 450 degrees with your skillet in the oven.

2. When your oven is preheated, remove cast iron skillet and add your butter to coat the pan. Make sure to coat the sides of the pan where the marshmallows will be so they don't stick.

3. Cover the bottom of the pan with (unwrapped) Reese's Cups. You can add milk chocolate chips if you want to make it more chocolatey or if you don't have enough Reese's Cups.

4. Then cover with marshmallows (since they're cut in half, place the sticky side down)

5. Place in oven for 5-7 minutes, watch carefully and take out as soon as the marshmallows are brown- be careful, they can burn easily.

6. Let rest for 2 minutes and then serve with graham crackers.

NOTE: You can omit Reese's Cups and just use milk chocolate chips and peanut butter! If you are worried about putting a hot skillet in front of kids, like the pan with foil and plenty over hanging the edge and when it's done cooking, just use the foil to lift the entire dip onto a plate!
You want another incredible S'mores treat thats easy to make? Try my S'mores Strawberries! They're so good!