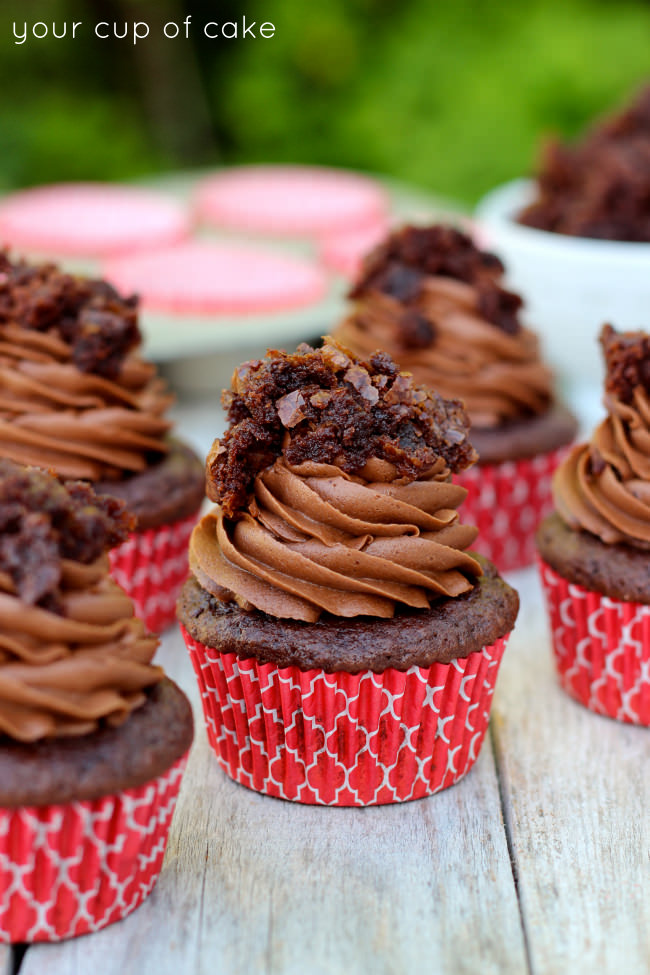 Is there anything better than brownie batter licked from the bowl? Maybe not, but these cupcakes sure come close! The cake is a double chocolate cake and the frosting is made with brownie mix. The flour and salt from the mix keep is from getting too sweet and once it's topped with some brownie pieces, you won't be able to help yourself.
I'm obsessed with these new cupcake liners from Sweets & Treats, they're not quite available on the site yet but you can get this pattern in all the other colors!
Just a few more days to enter my giveaway! You could win $100 and lots of fun stuff from Pillsbury! Make sure you also check out my Easy Key Lime Poke Cake from the other day, the lime curd alone will drive your taste buds crazy!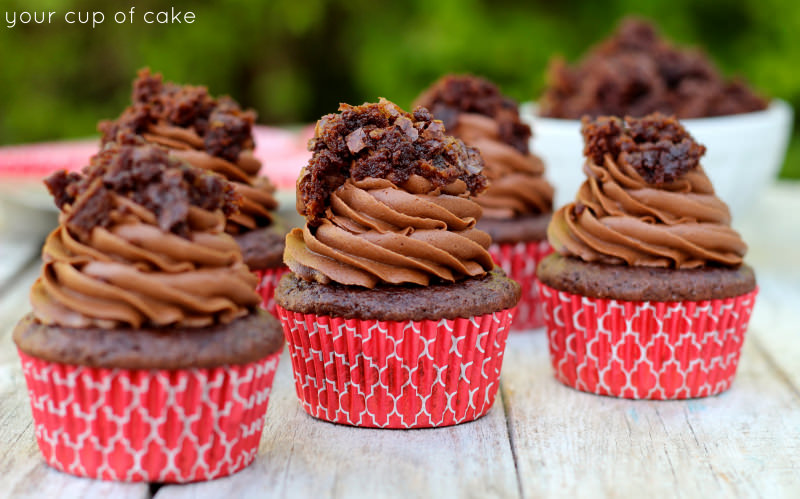 The Story:
I woke up, walked into the kitchen and they were gone.
Gone.
I gave a heartbroken look to my father who was putting on his shoes to head off to work and he laughed and said "I thew them away."
He threw away my deliciously fudgey brownies? He threw away heaven on Earth? He tossed perfection into the trash? Who was this impostor?
He said, "I saved you from yourself."
Very true.
You win this time father, you win this time….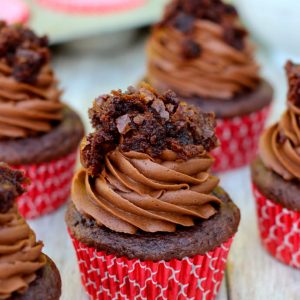 Brownie Batter Cupcakes
Ingredients
Easy Chocolate Cake:
1

box Devil's Food Cake Mix

1/2

C.

melted butter

or oil

3

eggs

2

tsp.

vanilla extract

3/4

C.

milk

1/2

C.

sour cream

1

C.

mini chocolate chips
Brownie Batter Frosting:
1

C.

butter

room temperature

1/2

C.

brownie mix

dry (from the box)

1/3

C.

unsweetened cocoa powder

2

tsp.

vanilla extract

2

Tbsp.

milk

more if needed

2-3

C.

powdered sugar
Brownie pieces (I took my boxed brownie mix, split it in two, made half the batch for these brownie pieces and use the other half of the mix for my frosting!)
Instructions
1. Preheat oven to 350 degrees and line pan with cupcake liners.

2. In a large bowl, sift in cake mix.

3. Add melted butter, eggs, vanilla extract, milk and sour cream. Stir until well combined and smooth.

4. Stir in mini chocolate chips.

5 Fill cupcake liners 3/4 full and bake for 15-20 minutes or until an inserted knife comes out clean.

6. Let cool.

7. Brownie Batter Frosting: Beat butter. Add brownie mix, cocoa powder, vanilla and milk and beat again. Slowly add in powdered sugar until you reach your desired consistency. Add more milk if it becomes too thick. Taste as you go, feel free to add more cocoa powder or brown mix to get your desired taste!

8. Pipe onto cooled cupcakes and top with brownie pieces!
You guys, I couldn't stop eating the brownie bits as I put them on the cupcakes! Brownies are my weakness!!!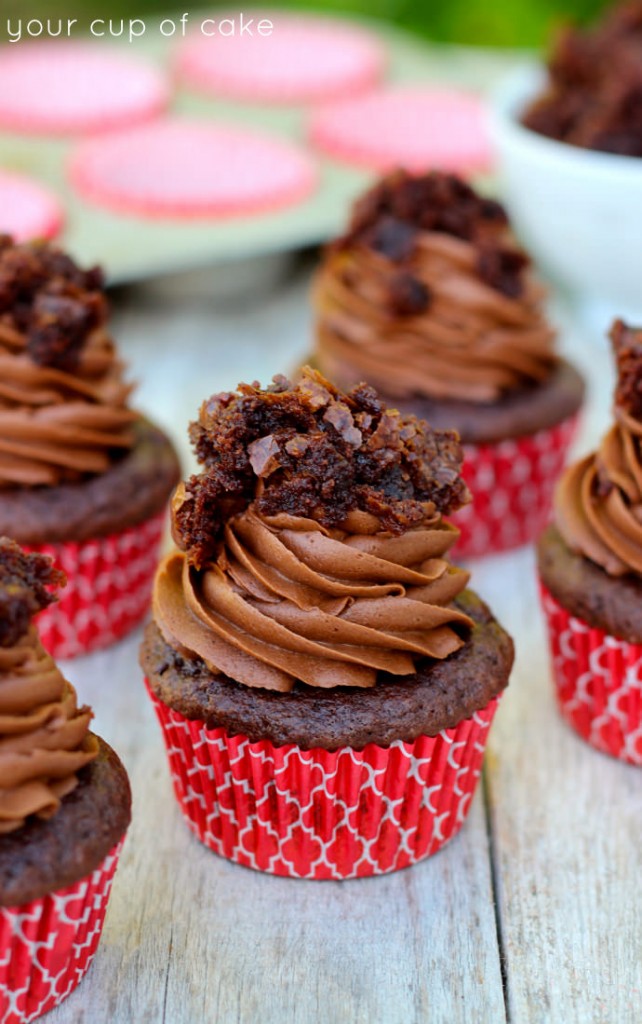 The weather warmed up a bit so I could take some photos outside! But then it snowed again the day after… Oh Utah, when are you going to realize that it's SUMMER?!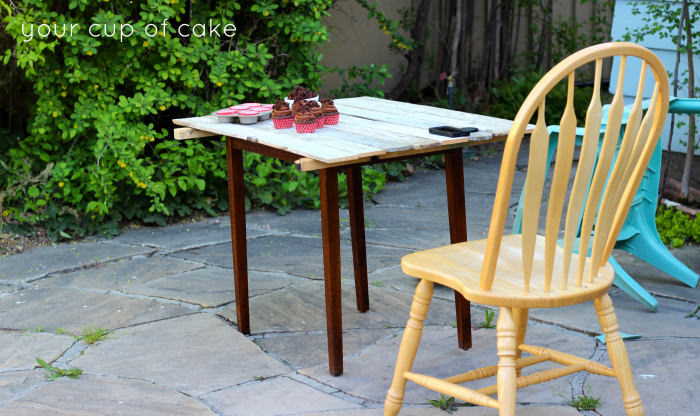 Looking for another chocolate cupcake? Try out these incredible Rocky Road Cupcakes!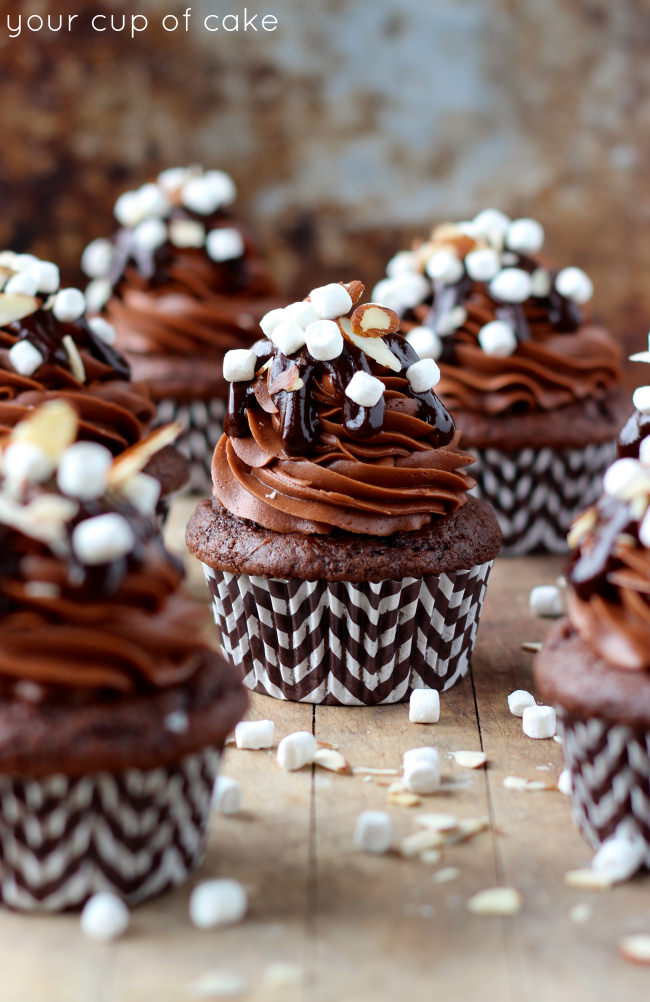 Or maybe you want something more fruity… maybe some Almond Maraschino Cherry Cupcakes!