These gorgeous and delicious Strawberry Lemonade Cupcakes just scream summer! Who said you have to have a lemonade stand? Why not a cupcake stand?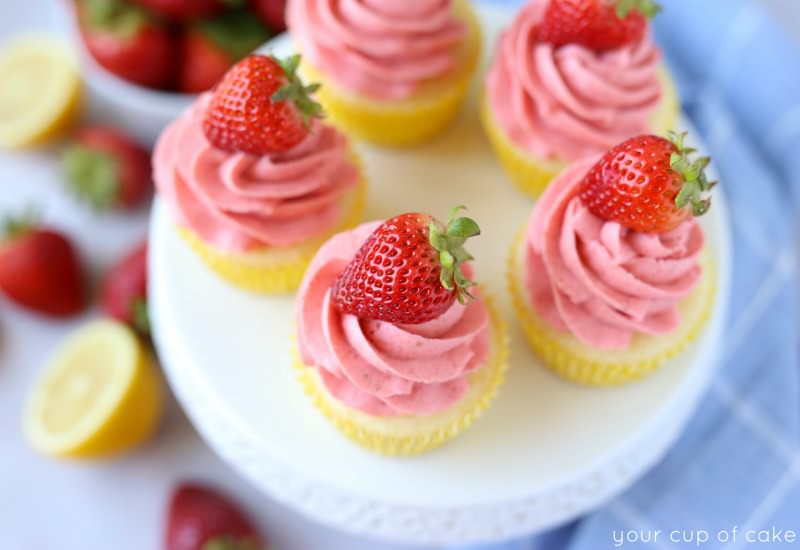 I know, I have been a little MIA this last month. I have been working on the blog I just haven't been able to keep up with the posting, I am so sorry to leave you all hanging! I appreciate all the emails from my lovely readers asking if I'm alright, I definitely am! But now I'm back with the cupcakes and summery treats so I hope you're ready 🙂 I made one really fun dip this week and I'm sitting here right now craving it! It was dangerously easy to make and too good to forget…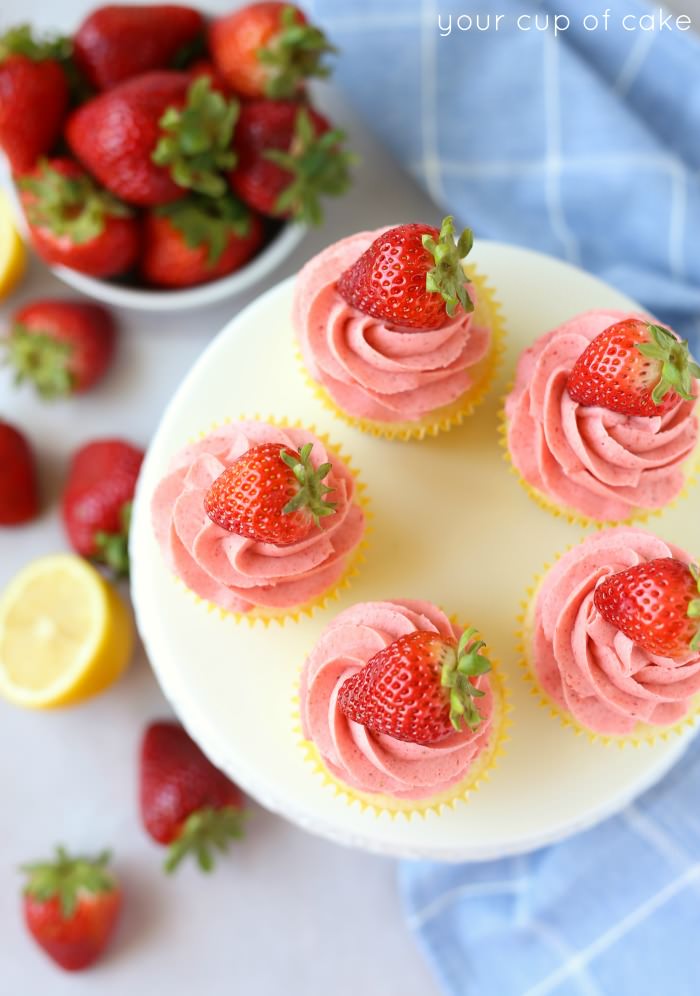 Aren't these just mesmerizing? Fresh strawberries make anything look better and this strawberry frosting is all natural and you won't find anything better around. I have a whole post dedicated to it and I'll be posting it in a few days! I'll show you step-by-step what I do to get this heavenly frosting that all my friends are obsessed with.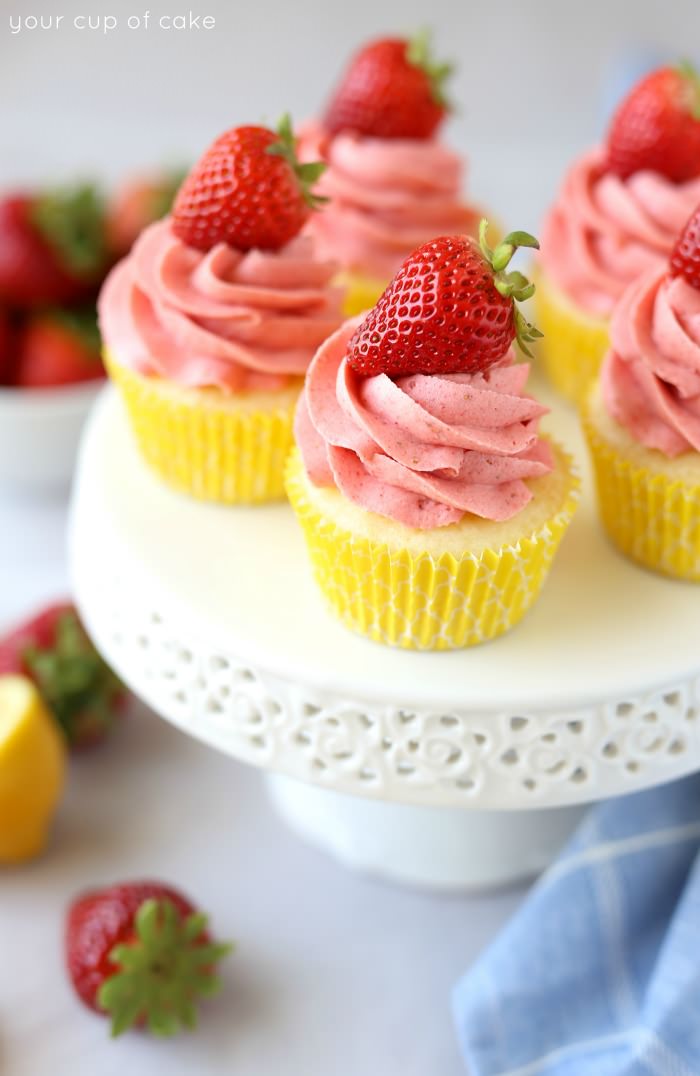 You can call these Strawberry Lemonade Cupcakes or even Pink Lemonade Cupcakes if you want to get really cute! You can even cut up a cute straw into a few small pieces and garnish the cupcakes like my hot chocolate cupcakes to make everyone "ooooh" and "ahhh" over them.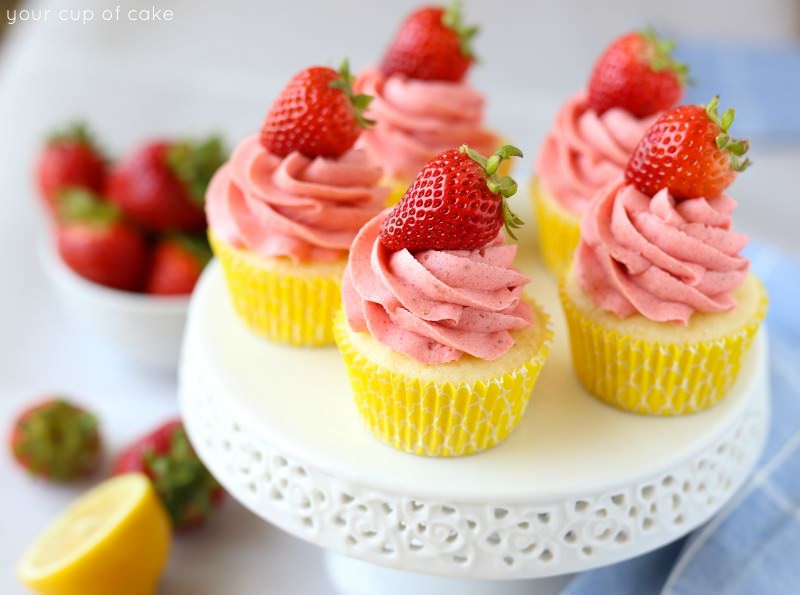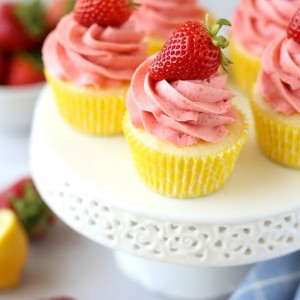 Strawberry Lemonade Cupcakes
Ingredients
Lemon Cake:

1

box white cake mix

1/3

C.

oil or melted butter

3

eggs

zest of 2 lemons

1/4

C.

fresh lemon juice

1

C.

sour cream

1/2

C.

milk
Strawberry Frosting:
1

C.

butter

1

1.2 oz pkg. freeze dried strawberries*, crushed and sifted to remove large pieces

1/2

tsp.

vanille extract

2

tsp.

fresh lemon juice

optional

3-4

C.

powdered sugar

*NOTE: You can use strawberry jam or fresh strawberry puree as a replacement but it won't yield the same punch of flavor and color
Instructions
1. Preheat oven to 350 degrees and line pan with cupcake liners.

2. Sift cake mix into a large bowl to remove any lumps and continue to add the remaining cake ingredients. Stir until smooth.

3. Sill cupcake liners 3/4 full and bake for 15-20 minutes or until an inserted knife comes out clean.

4. Let cool.

5. Strawberry Frosting: Beat butter and crush freeze dried strawberries until smooth. Add vanilla and lemon juice and slowly add in powdered sugar. Scrape the side of the bowl as needed and add powder sugar until it becomes thick enough.

6. Pipe onto cooled cupcakes and top with fresh berries or little straws to really make adorable Strawberry Lemonade cakes!