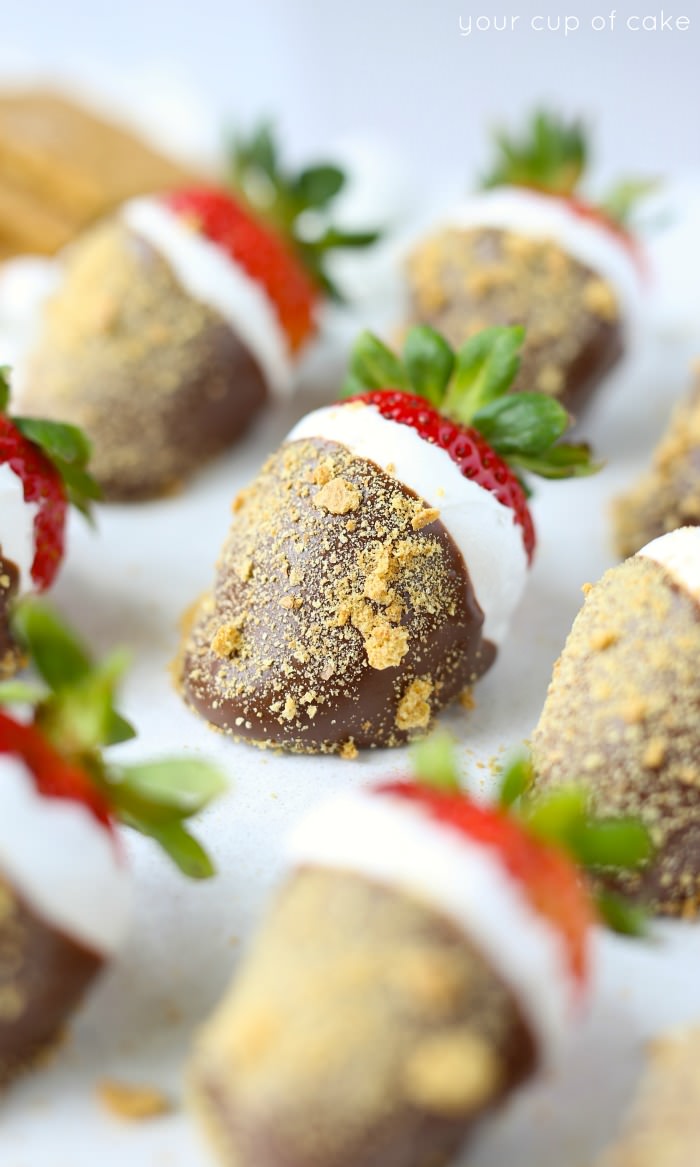 Strawberries covered in melted marshmallow, chocolate and crushed graham crackers must mean only one thing… S'mores Strawberries!
Go to the store right now and get these 4 ingredients for this incredible dessert! I'm serious, these are amazing and way too easy to make! I just about died from happiness when I sank my teeth into these. Campfire s'mores are sometimes a little too rich for me, but a s'more wrapped around a strawberry? Now that's the perfect combination. A sweet juicy strawberry with just the right about of chocolate and sticky marshmallow goodness.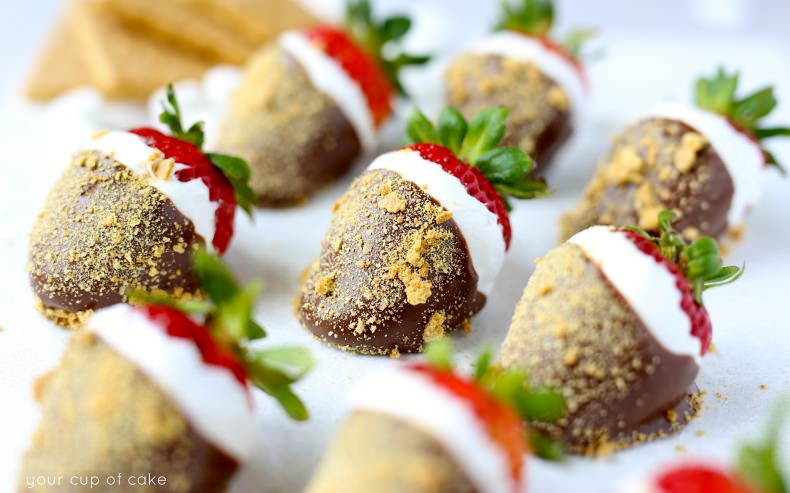 First of all, you can put your berries on a dowel or something else if you want to really dip them like a pro, but I'm low maintenance so I used my fingers! Be sure and dip them in the mallow quickly and carefully. You don't want the mallow to cool before you dip them of else you won't be able to pull the berry back out!
I just sprinkled on my graham crackers to my S'mores Strawberries while they cooled, but you can also roll them in a bowl of graham crackers to get more on there.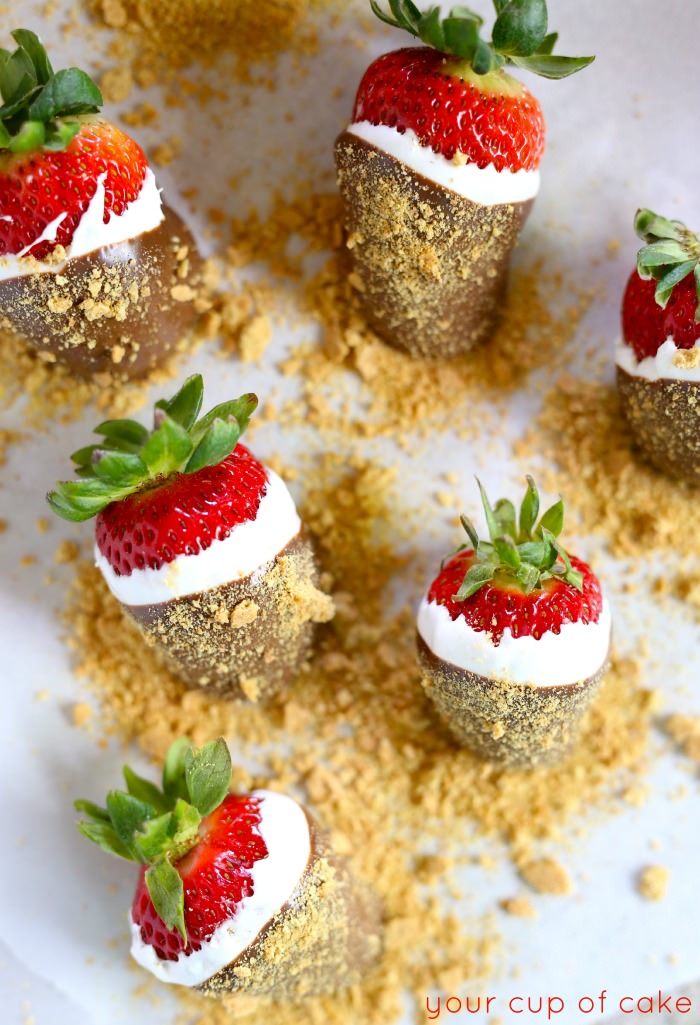 Have I told you how amazing these are yet? 🙂 But really, 4 ingredients to make these fun summer treats! And plus, they're pretty low on calories so no guilt! It's basically just a fruit….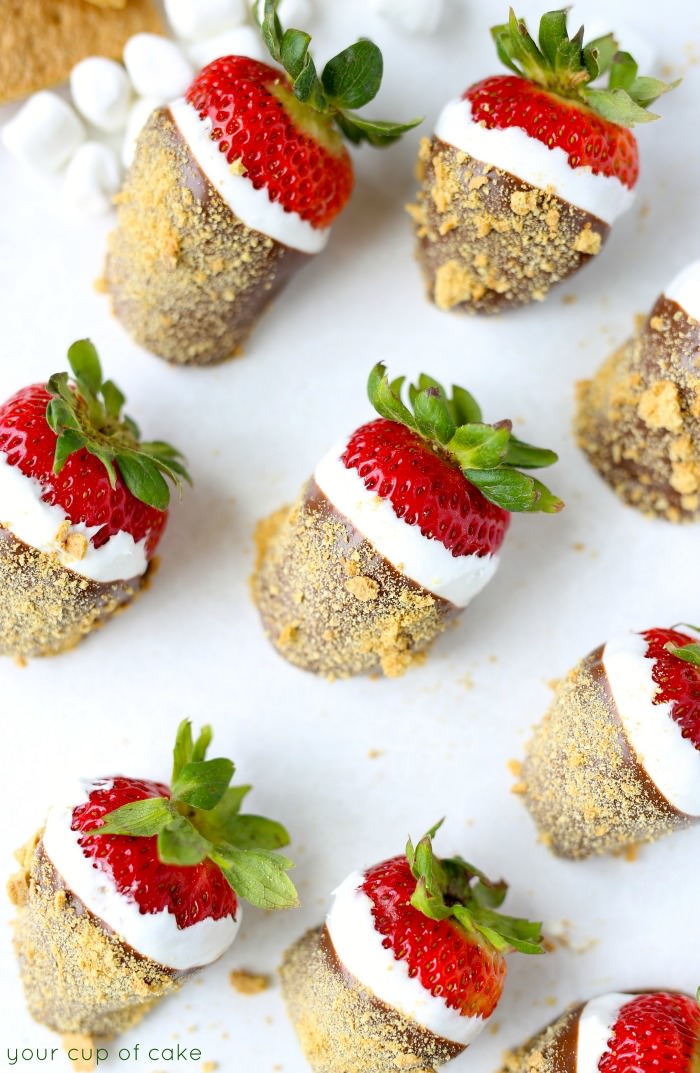 I made the recipe for only 10 strawberries so you can make just a small batch or multiply it for big parties! You won't use all the chocolate, but you need enough to really dip it. Happy summer!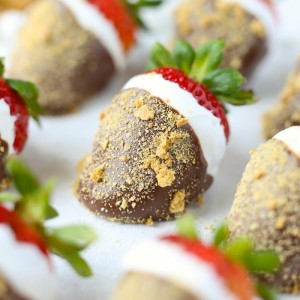 S'mores Strawberries
Ingredients
10

strawberries

totally dry and at room temperature

1

Cup

mini marshmallows

1

Cup

melts

chocolate meant for dipping

1/2

C.

crushed graham crackers
Instructions
1. Lay out two pieces of parchment paper. Lightly butter one for after you dip your strawberries in marshmallows and keep the other plain.

2. In a microwave proof bowl, melt your marshmallows in the microwave. Remember that they will double in size when they "puff" up, so choose a bowl big enough! Remove from microwave and stir until smooth. Quickly dip your strawberries into the melted marshmallows and place onto the buttered parchment paper. Do this quickly because as the mallow cools it gets thicker and it is more difficult to dip. If needed, re-heat the marshmallows. (TIP: you can always poke dowels into the strawberries and dip them that way)

3. Let the marshmallow cool and become "tacky" to the touch, this should only take a few minutes.

4. Melt your chocolate melts in a microwave proof bowl and stir until smooth. Let if cool just a little and then dip your strawberries. You can cover up all the marshmallow if you want or you can leave a little peeking through like I did. If you plan on wrapping them up as gifts, you'll want to either cover up all the mallow or cover it with graham crackers so that it doesn't stick.

5. Wait about 30 seconds and then sprinkle crushed graham crackers onto the chocolate. You can also roll them once the chocolate sets a little more.

6. Let cool and enjoy!!! (Keep refrigerated if you don't plan on eating them that day.)
Make sure and check out my Reese's S'mores Skillet Dip for another easy and delicious summer recipe!