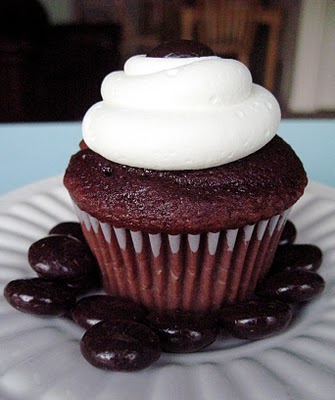 1 box devil's food cake mix
1 teaspoon vanilla extract
Filling:
5 tablespoons unsweetened cocoa
6 tablespoons buttermilk (Or 5 tablespoons milk and a ¼ teaspoon lemon juice)
3 cups powdered sugar, sifted
Frosting:
1 teaspoon peppermint extract
Directions:
1.
Preheat oven to 350 degrees.
2.
Mix devil's food cake mix, eggs, sour cream, water, milk, oil and vanilla together.
3.
Bake for 12-17 minutes or until a fork comes out clean.
4.
Filling: While cakes are in the oven, bring cocoa, buttermilk, and butter to a boil while whisking. Pour over 3 cups sifted powdered sugar.
5.
When cakes are out of the oven, use a knife to cup a shallow hole about the size of a nickel or quarter. (If doesn't have to be pretty because no one will see it.)
6.
Fill the holes with the chocolate filling while the cakes and the filling are still warm. If the filling sinks into the cake, feel free to put more filling in.
8.
Frosting: Beat butter until light and fluffy. Add as much powdered sugar as desired and add 1 teaspoon peppermint extract. (If the frosting is too stiff, use milk to loosen it.)