Summer means carnival rides, face paint and banana splits. But sometimes you need a version that won't melt in the hot sun, so here is my gorgeous and delicious Banana Split Cake. Banana cake layers, whipped chocolate ganache filling, intense strawberry frosting and topped with nuts, whipped cream and cherries!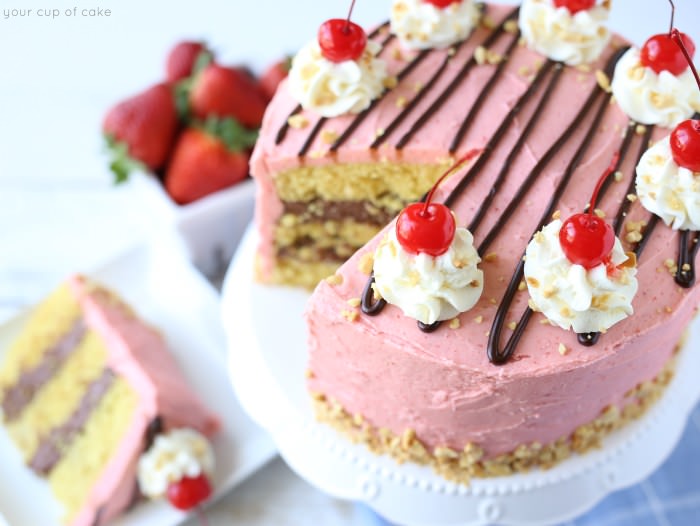 When I wrote my second cookbook I decided to tackle cakes. But I wanted to create cakes that anyone could make. No years of pastry school needed, no super fancy tools, no strange ingredients. So I've continued to make cakes the same way now!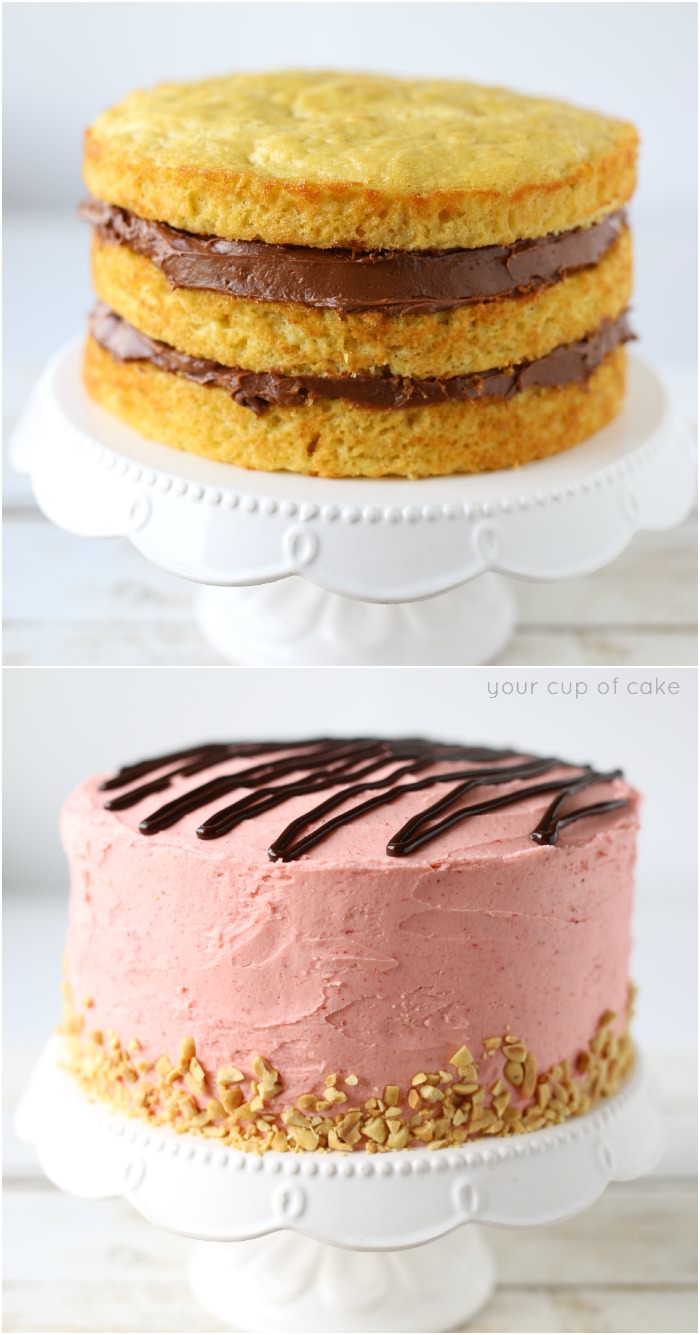 Mmm…. Who could resist a slice? Not me! My mother even called me right after I sent her a picture and told me to freeze her a slice so she could taste it when she came to visit!
It's amazing the difference a little drizzle of chocolate can make on the top to make it look professional. I actually just save a little of the chocolate ganache before I whipped it and re-heated it up and that's what I drizzled on top!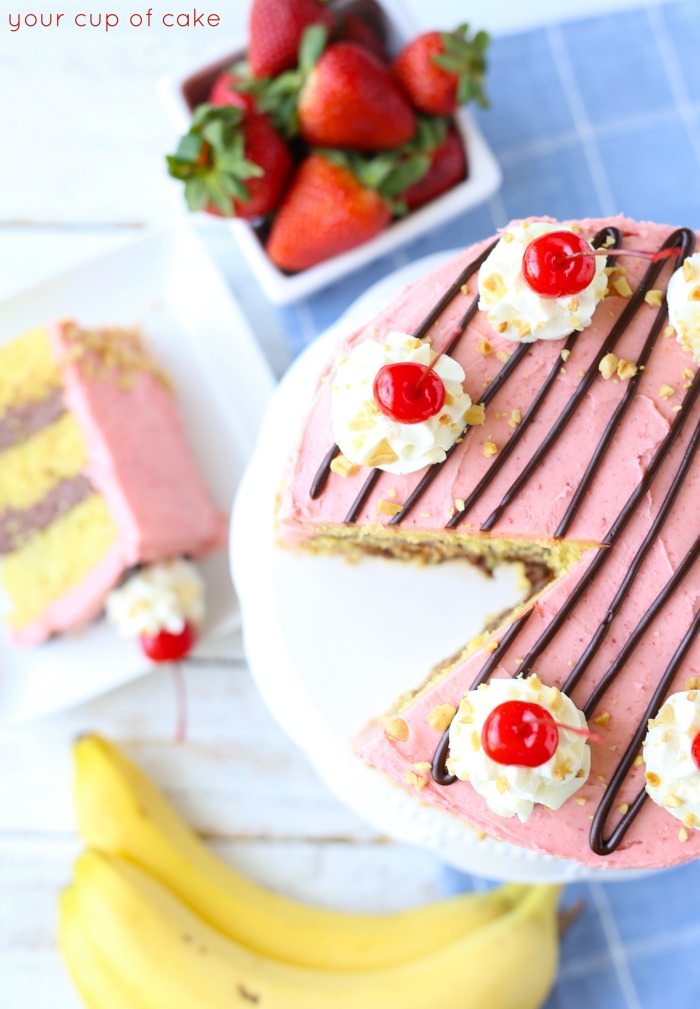 And of course, cherries always make everything more cute. Oh, have you seen my Banana Split Cupcakes from last summer! Oh my, they are still one of my most adorable treats! And delicious 🙂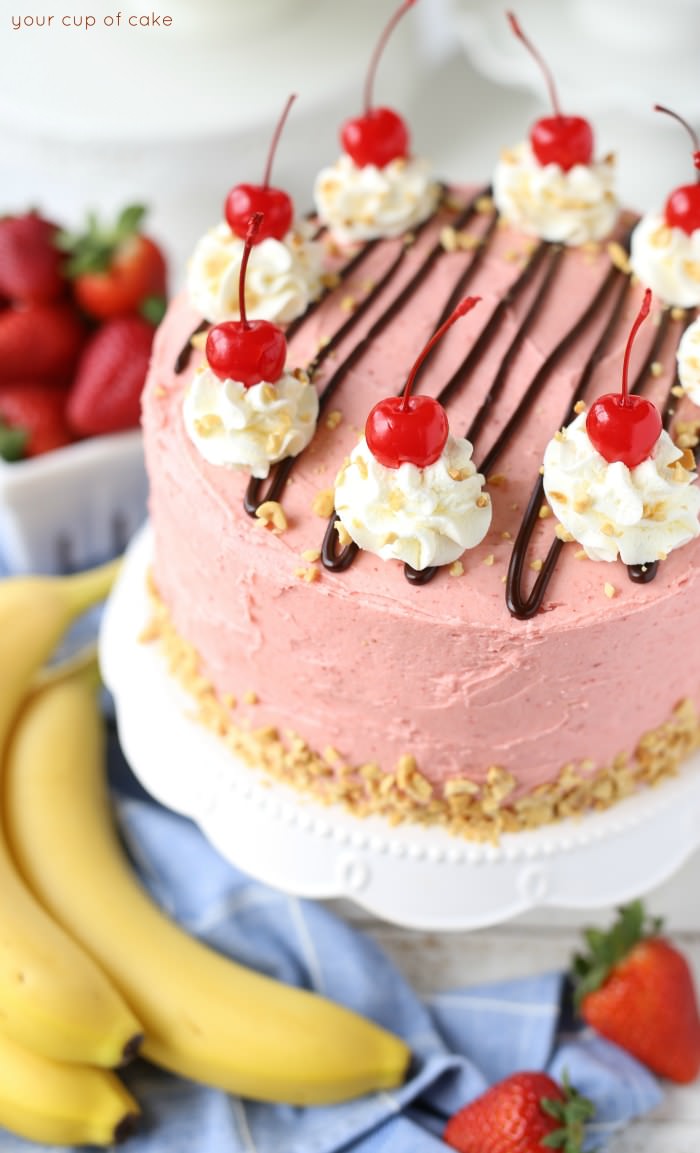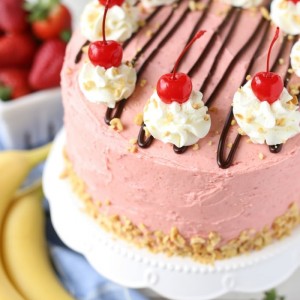 Banana Split Cake
Ingredients
Banana Cake:

3

small

or 2 medium ripe bananas, mashed

1

box yellow cake mix

3

eggs

1/3

C.

oil or melted butter

1/2

C.

sour cream

2

tsp.

vanilla extract

Whipped Chocolate Ganache Filling:

2

C.

chocolate chips

1

C.

heavy whipping cream

2

tsp.

vanilla extract
Strawberry Frosting:
3/4

C.

butter

softened

1.2

oz.

pkg

of freeze dried strawberries (see link below)

1

tsp.

vanilla extract

2 1/2-4

C.

powdered sugar

Whipped cream

melted chocolate, nuts and cherries to decorate
Instructions
1. Preheat oven to 350 degrees and generously spray cake pans. I used 3 8-inch rounds but you can also use 2 9-inch pans.

2. Mash banana's well in a large bowl.

3. Sift cake mix into the same bowl as the bananas to remove any lumps from the mix.

4. Add eggs, oil, sour cream and vanilla extract and stir well. There may still be lumps from the bananas but that's alright.

5. Divide evenly among pan and use a spatula to spread out evenly.

6. Bake for 15-25 minutes or until an inserted knife in the middle of the pan comes out clean.

7. Let cool. (Banana cake and breads taste better the next day, so you can let it cool over night if needed.)

8. (Half recipe if only needing to fill between 2 layers) Using a double boiler, or the microwave, melt chocolate chips and cream together and stir until smooth. Let cool completely until thick, chill it in the fridge. Place in a stand mixer and using the whisk attachment beat until stiff peaks form.

9. Strawberry frosting: (see my detailed post for how to work with freeze dried berries, the link will be below!) Beat butter for 2 minutes. In a blender or food processor, finely crush your freeze dried berries and sift out the remaining large pieces. Add the finely crushed berries to the butter. Add vanilla extract and 2 cups powered sugar and continue to beat. Keep adding powdered sugar until you reach your desired consistency. Add 1 Tbsp. milk if it becomes too thick.

10. Assemble cake but placing one layer of cake on your cake stand and then alternating between chocolate filling and cake. Frost the entire outside of the cake using your strawberry frosting and then edge the bottom with nuts and drizzle the top with chocolate. Pipe dollops of whipped cream and finish with cherries!
I have an entire post dedicated to how to make strawberry frosting with freeze dried berries! There's more photos and a detailed break down on how to do it from start to finish!
Want more cake? Try my Cookie Dough Cake!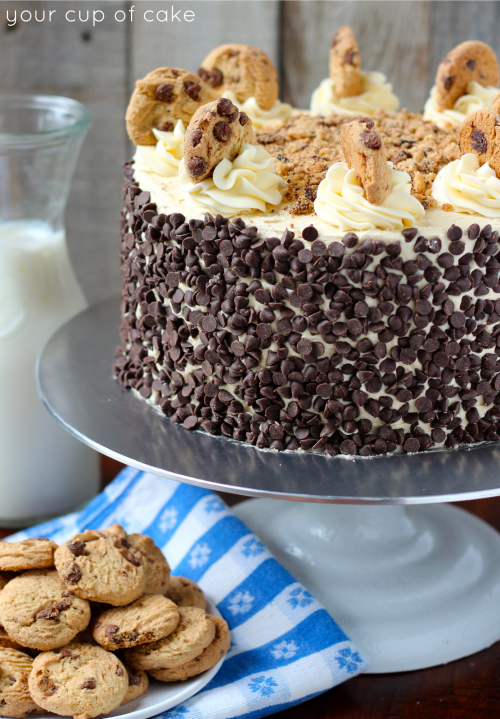 or my Andes Mint Cake…