Cozy up with this BBQ Chicken Soup! Top it off with cornbread and grab a warm blanket. This recipe will be your new fall favorite with all the flavors of summer!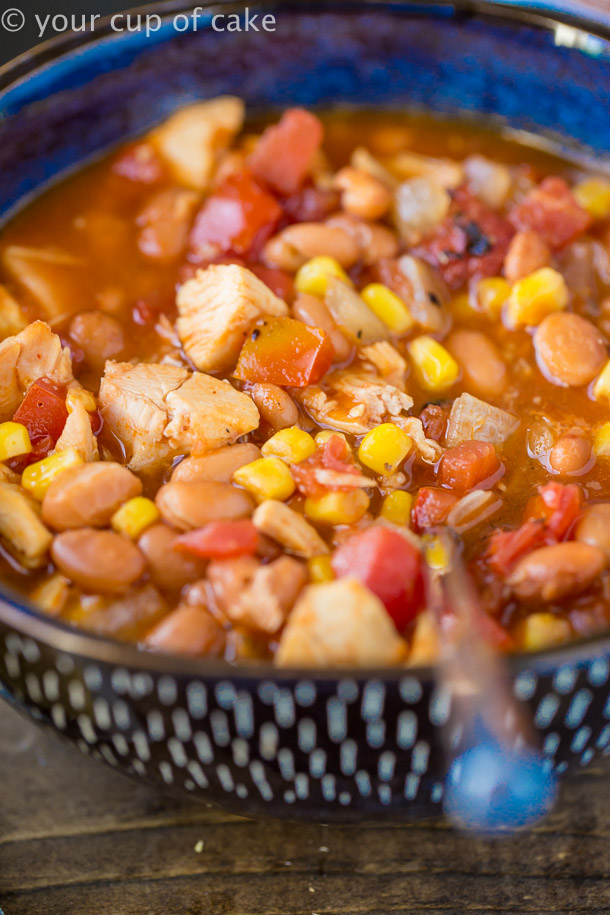 Down South BBQ Chicken Soup
I love this soup because summer is all about BBQ in the backyard but fall is all about soups inside! So this recipe brings the two together in a magical pot of goodness! Mmm… BBQ Chicken Soup is just what you need. I topped mine with some cornbread because I can't have a hearty soup without some homemade cornbread. If you wanted to be really authentic you could serve it with Texas Toast!
Did you miss my TO DIE FOR Pecan Pie Bars?
I was Afraid to Try It
My husband wanted me to make this, but I was a little afraid. BBQ in a soup? But the best part is that you get to decide how much BBQ sauce goes into it! You can make it as intense or subtle as you want. I'm all about tasting as you go and making it my own. I didn't add too much BBQ sauce because I still wanted it to be fairly light and not too rich, but you can add as much as you want!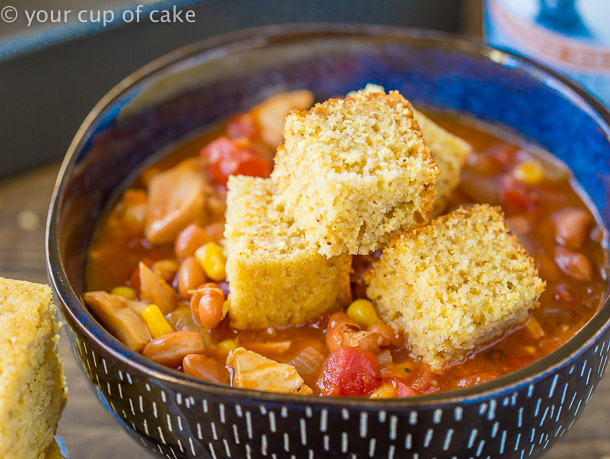 Make Leftovers New Again
This is a great recipe for leftover meats! Any extra chicken or turkey from Thanksgiving will work great in this soup! I love the rotisserie chickens from Costco because they'e inexpensive and work great for quesadillas and sandwiches, but when I have leftovers I love to throw them in a recipe like this one that really transforms the meat.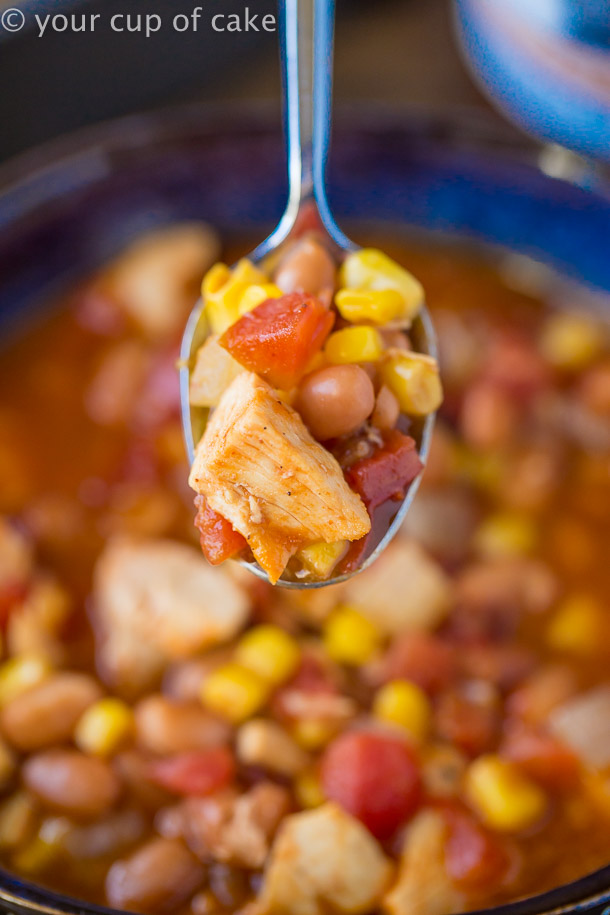 Ingredient Swaps for BBQ Chicken Soup
You can switch out all sorts of ingredients in this recipe! Use whatever types of beans or tomatoes you want! Add bell roasted bell peppers, rice.. whatever! If it would taste good with BBQ sauce, it will taste amazing in this soup!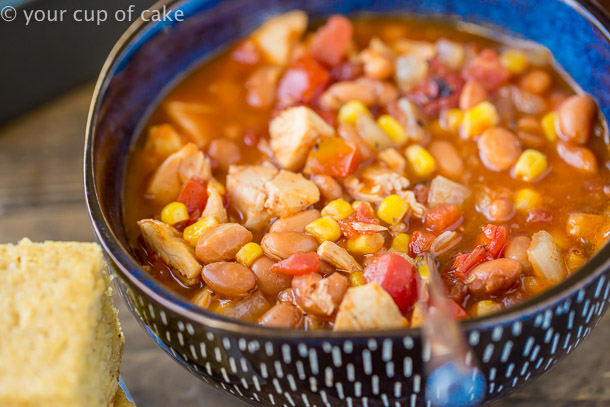 You ready for Thanksgiving? Everything is coming up so fast this year, I'm in a mad dash to get everything cooked and baked and photographed and posted!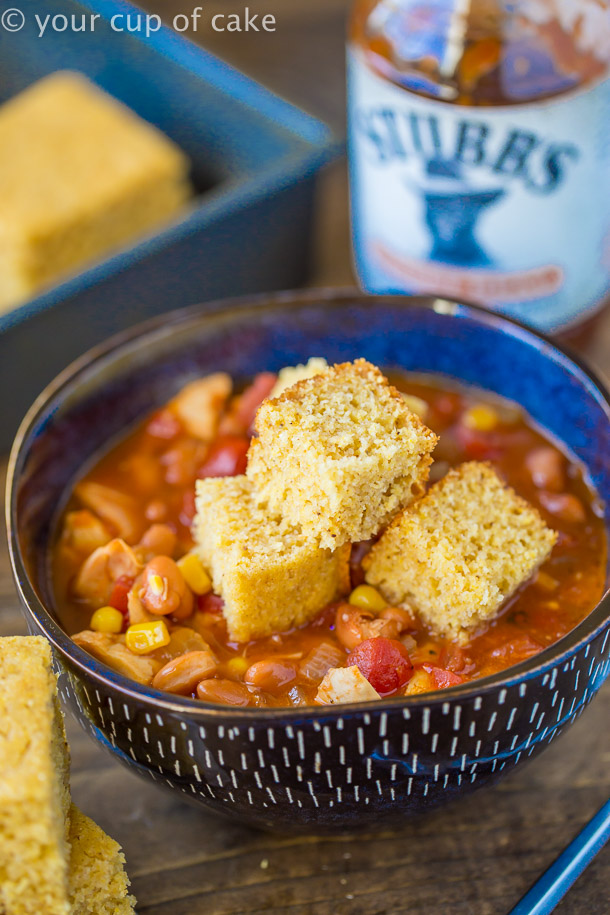 Enjoy my BBQ Chicken Soup!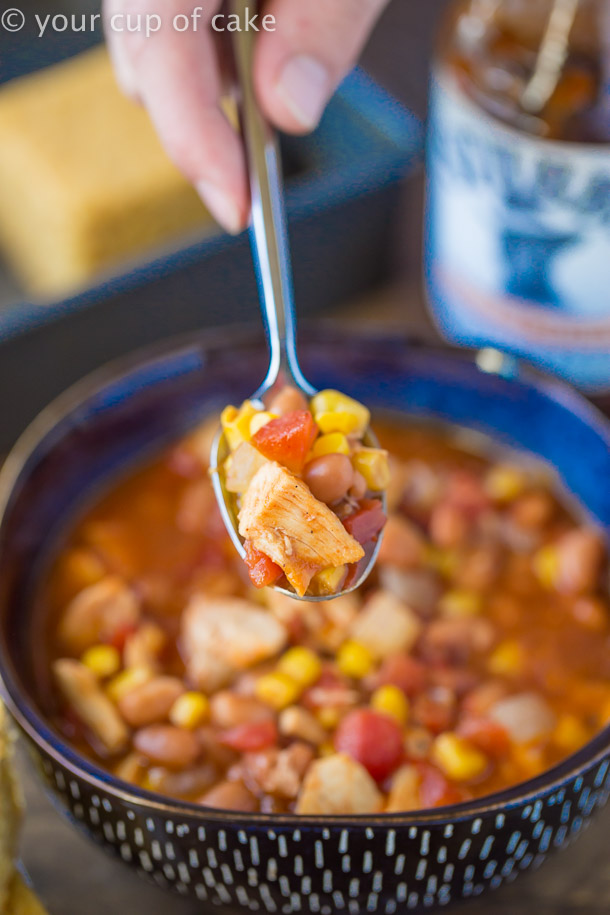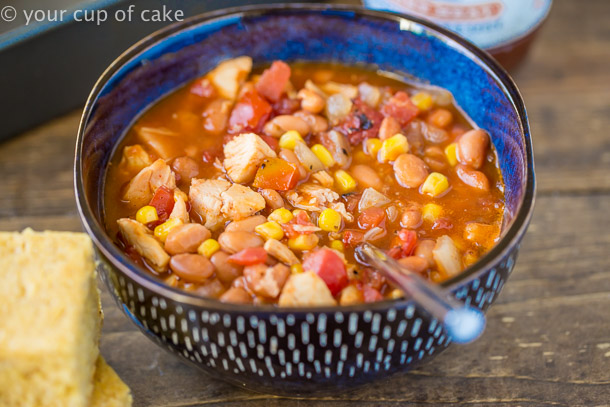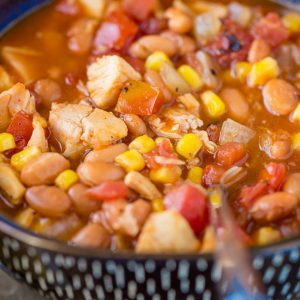 BBQ Chicken Soup
Ingredients
Olive oil

1

yellow onion

chopped

3

cloves

garlic

minced

2 1/2

C.

cooked chicken

shredded

1

15 oz can fire roasted tomatoes

2

15 oz cans pinto beans, drained and rinsed

1 1/2

C.

frozen or canned corn

32

oz.

chicken broth

2/3

C.

BBQ sauce

1

Tbsp.

BBQ spice rub

salt and pepper to taste
Instructions
1. Drizzle enough olive oil to coat the bottom of a large pot and place over medium heat. Add chopped onion and sauté until soft. Add garlic and cook for a few more minutes. Stir in chicken, tomatoes, beans, corn and chicken broth. Before it boils start to add bbq sauce a little at a time, taste as you go! Then bring to a boil and let cook for 5 minutes. Remove from heat and serve.