Black Cat Halloween Cupcakes are the cutest Halloween cupcakes on the block! Your kids will love helping you decorate these with candies and chocolate!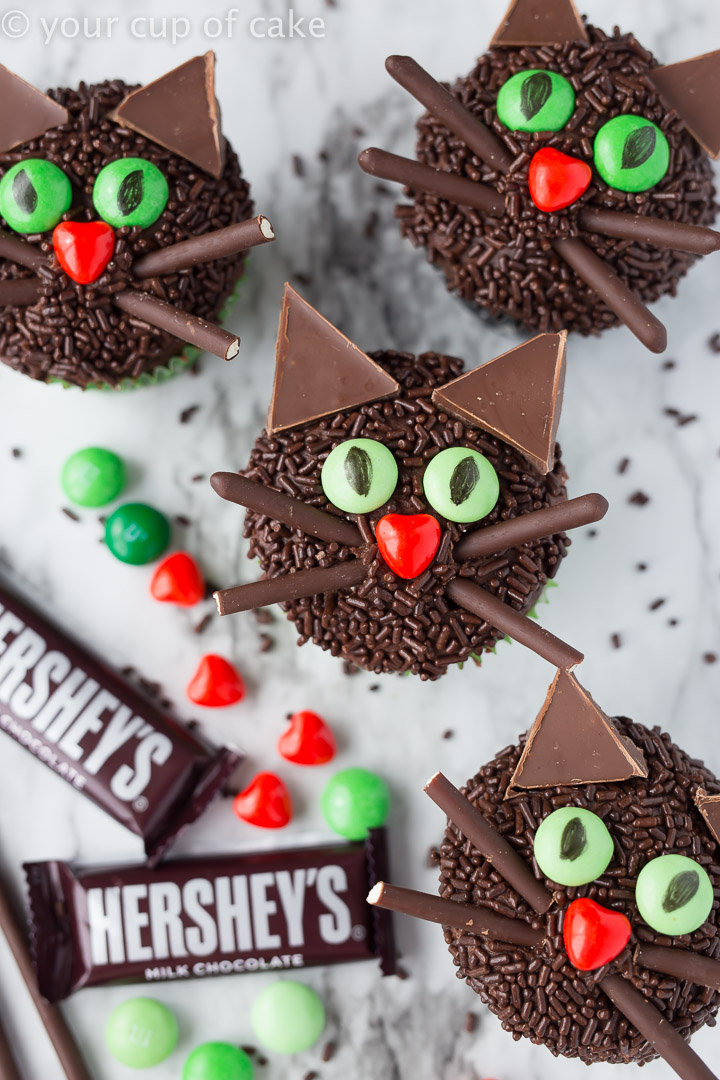 Cute Halloween Cupcakes
Halloween is almost here! I still need to make costumes for my husband and I! And if you missed the announcement on my instagram I'm expecting! So I will be rocking a baby bump with my costume this year! I have been very sick because of my pregnancy so my cute Halloween Cupcakes are coming out a little late this year but they're still just in time for all the spooky parties! These Black Cat Halloween Cupcakes are something I've been wanting to make for a few years and I finally made them! I always like using ingredients that you can find at your local grocery stores so that your cupcakes turn out as good as the photos!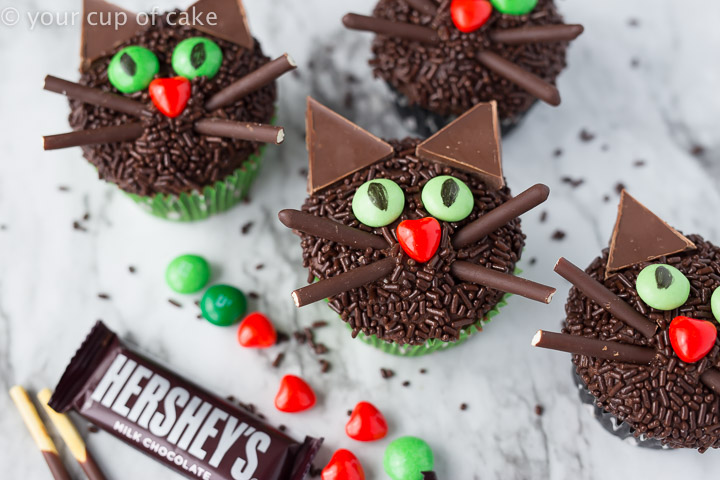 Black Cat Halloween Cupcakes
I have to admit something… I don't like cats! They totally creep me out! So they make the perfect spooky Halloween treat. These cupcakes are great to make with the kids because they can help you decorate them! They can add on extra whiskers, different colored eyes, get creative with the ears… give each cat their own personality. You're going to love these Black Cat Halloween Cupcakes! Pair them with my skeleton cupcakes, pumpkin cupcakes or frankenstein cupcakes for an extra cute Halloween dessert table!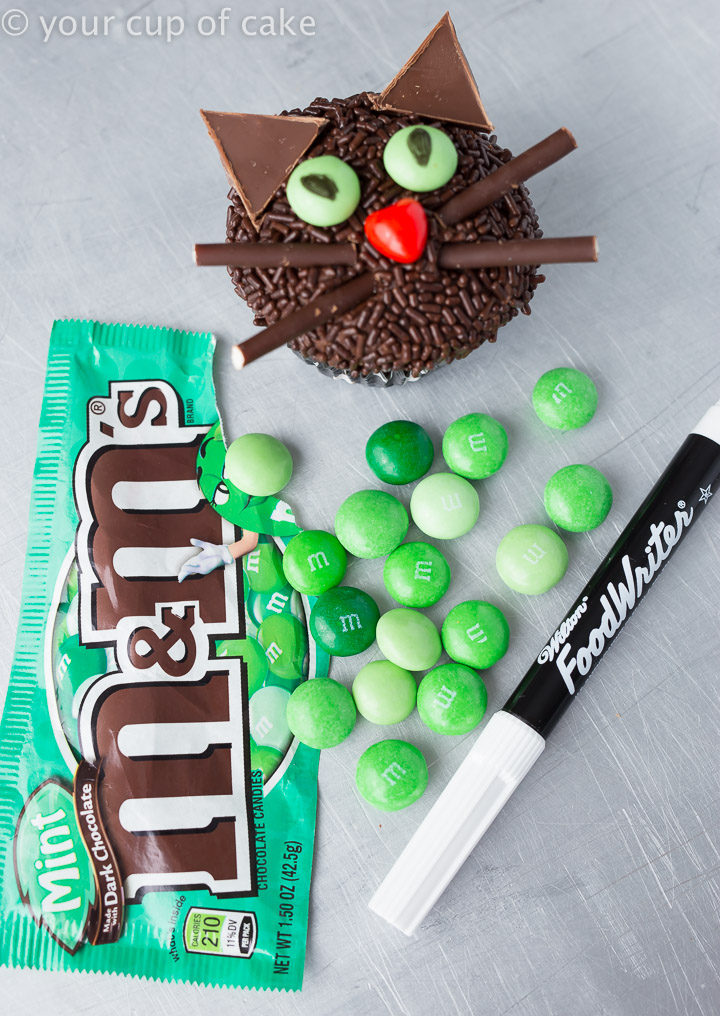 How to Make Cat Cupcakes
Alright, let's get down to making these Cute Black Cat Halloween Cupcakes! You'll need cupcakes, frosting, chocolate sprinkles, Pocky sticks (found in the Asian aisle at the grocery store), green M&M's (I just used a bag of mint ones), an edible food marker (you can find these at Michael's or Hobby Lobby), chocolate bars, and something for the nose! I used the hearts from Runts candy but pink jelly beans work great too! Use the edible markers to draw black pupils onto your M&M eyes. Frost your cupcakes and then place on the eyes and nose. Next, roll the cupcakes in a bowl of your chocolate sprinkles. Cut up your chocolate bars to make ears and place them on the cupcake and then break Pocky sticks and poke them into the cupcake to make whiskers! This is the perfect Halloween treat to make with your kids!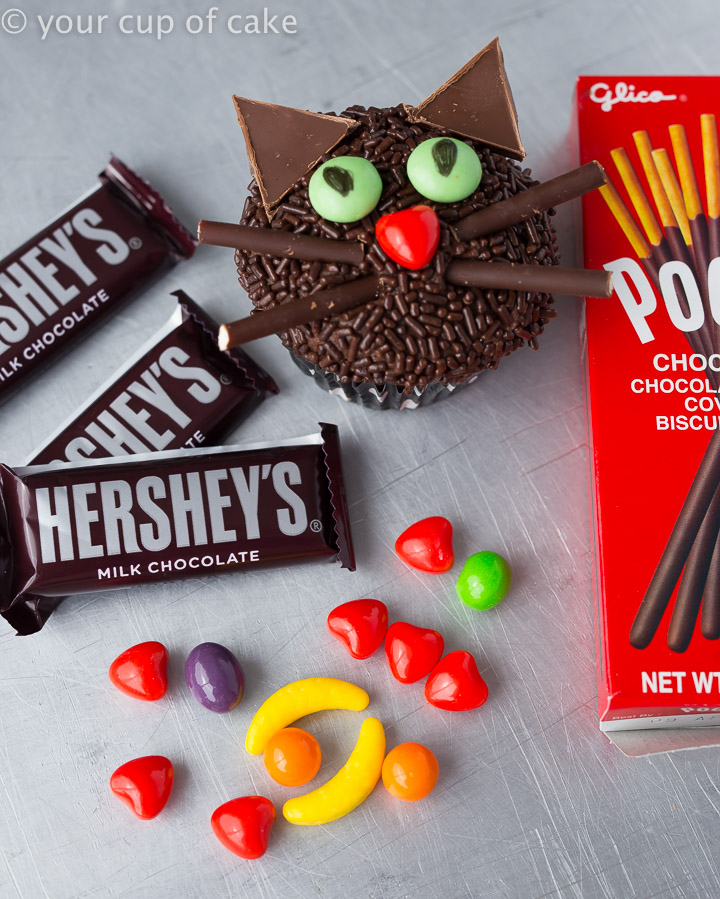 Pocky sticks as I mentioned before are usually in the Asian aisle. I love using these because most people when they add whiskers to their cat cupcakes use black licorice. I love black licorice but most people including kids don't. So I always substitute Pocky sticks in instead! They're just little biscuit sticks covered in chocolate!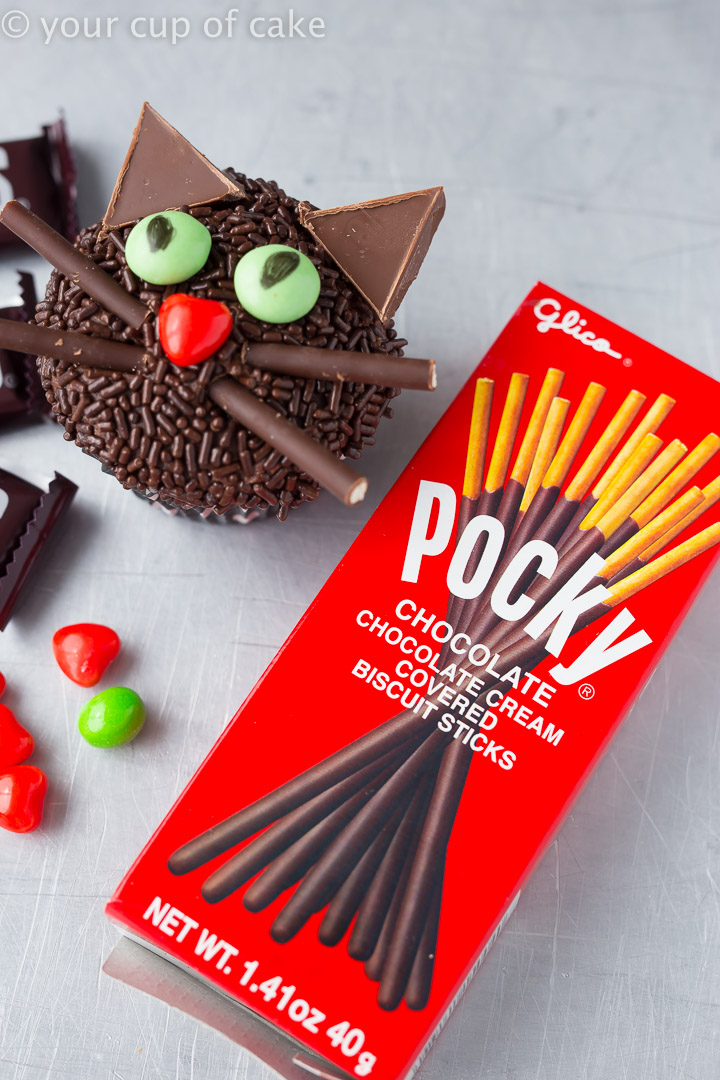 BOO!
I hope you enjoy these Black Cat Halloween Cupcakes!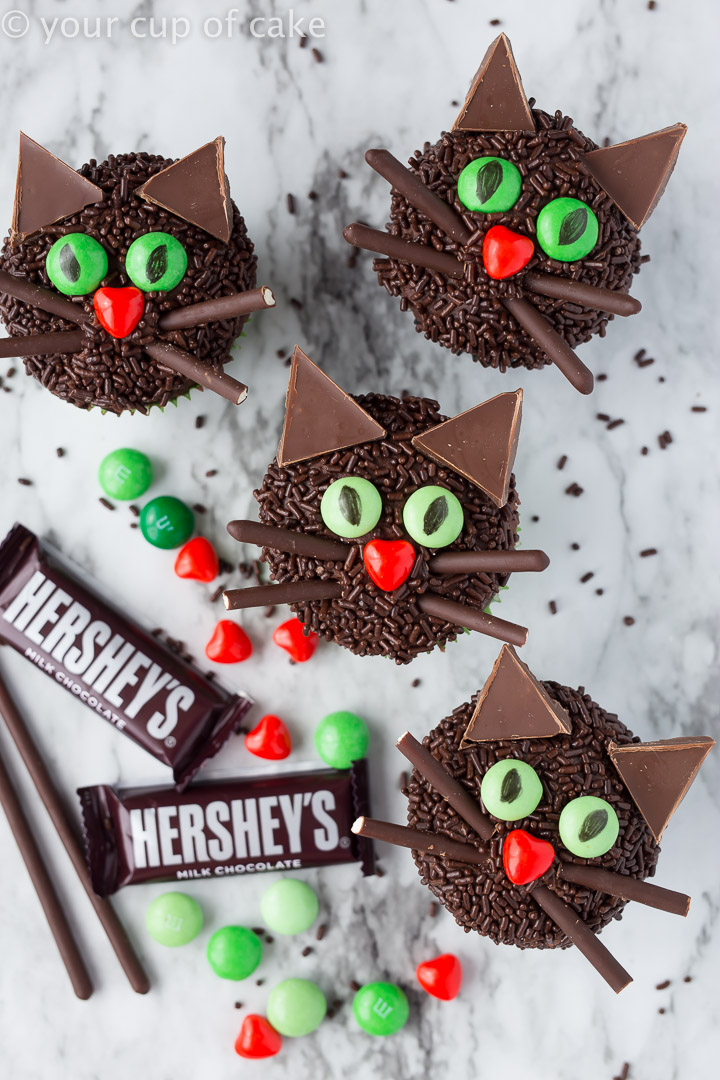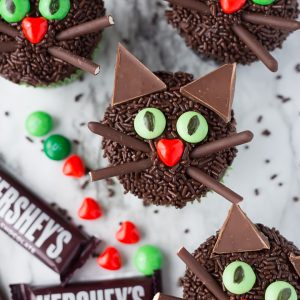 Black Cat Halloween Cupcakes
Ingredients
12

Cupcakes

any flavor

1 1/2

cup

chocolate frosting

1/3

cup

chocolate jimmy sprinkles

12

red heart runts (or pink jelly beans)

for nose

24

Green or Yellow M&Ms

for eyes

1

edible marker

1

box

Pocky sticks

24

ears

made from chocolate bars
Instructions
Use your edible marker to draw black pupils onto your M&Ms to make cat eyes.

Frost cooled cupcakes and place on eyes and nose (I used the red hearts from Runts candy).

Roll cupcakes in chocolate sprinkles.

Chop chocolate bars into triangles to make ears and place onto cupcakes.

Break Pocky sticks into small pieces and poke into cupcakes by the "nose" to make whiskers.