Want an easy and cute Halloween treat? These Tombstone Rice Krispie Treats come together in just a few minutes and only take 5 ingredients!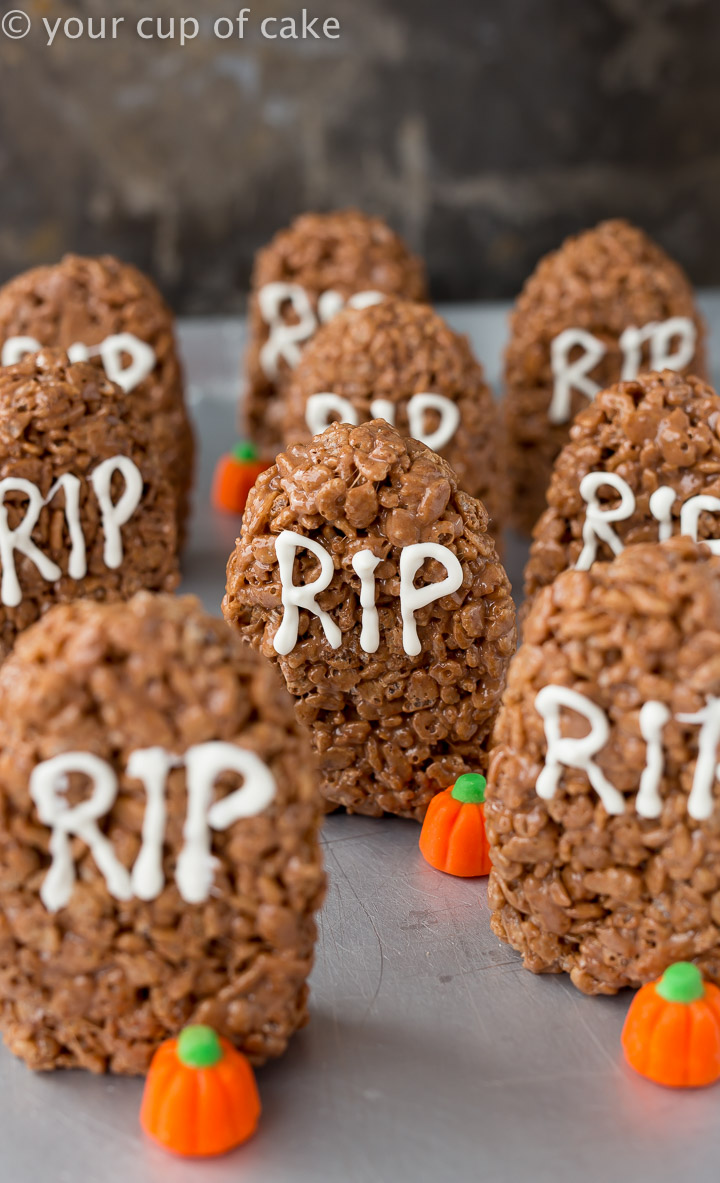 Tombstone Rice Krispie Treats
Halloween is coming up fast! Do you have your costume all picked out! I am really into Halloween and I love to make my own costume every year. Now that I'm married I get to dress up in couple costumes and luckily my husband happily goes along with whatever I have planned. These Tombstone Rice Krispie Treats are first of all delicious because I made them with cocoa Krispies and Nutella but they're also super cute! I can't wait to bring these to our big Halloween party this year. If you have kids these are the perfect treat to make together! They will have fun playing with their food!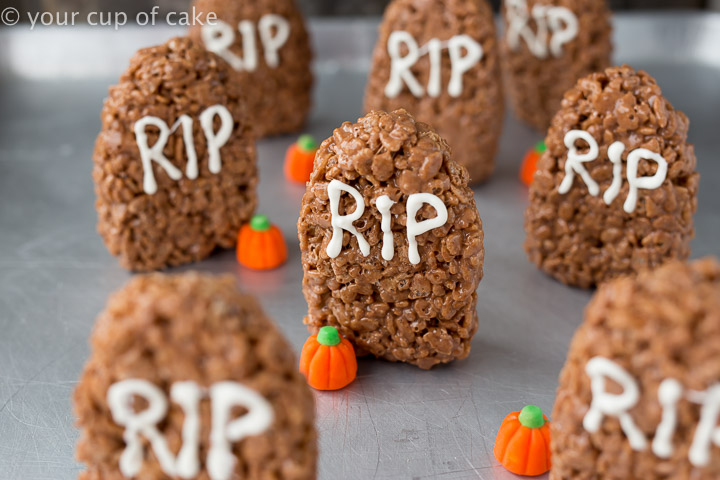 The Easiest Halloween Treat
I am all about easy Halloween treats and of course they have to be cute! These treats are great to make because you can easily swap out a few ingredients if there are allergies or if you don't have something in the pantry. I use Nutella but you can just add a little cocoa powder to your melted marshmallows to make it chocolatey instead. I use melted white chocolate to write "RIP" on my cute Tombstone Rice Krispie Treats but you can swap that for frosting! You even get to pick what size to make these! If you're making them for little kiddos you can make mini gravestones but if you're making them for adults you can make them bigger. You could even make one huge tombstone!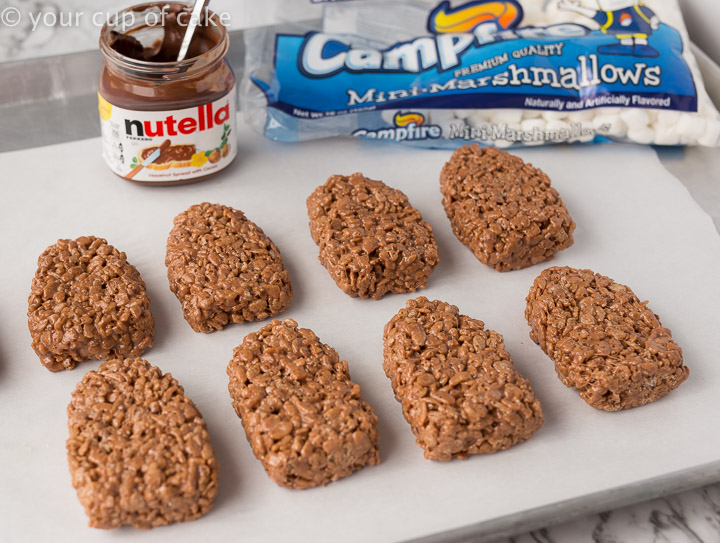 Like I mention in the recipe, I like to use melted white chocolate or "Melts" to write RIP on my tombstones, but you can swap that out for any white frosting! You can even buy those little tubes of frosting at the grocery story and those will be really easy for kids to help decorate with! You can always make a mini piping bag using a small ziplock bag and snipping off the corner!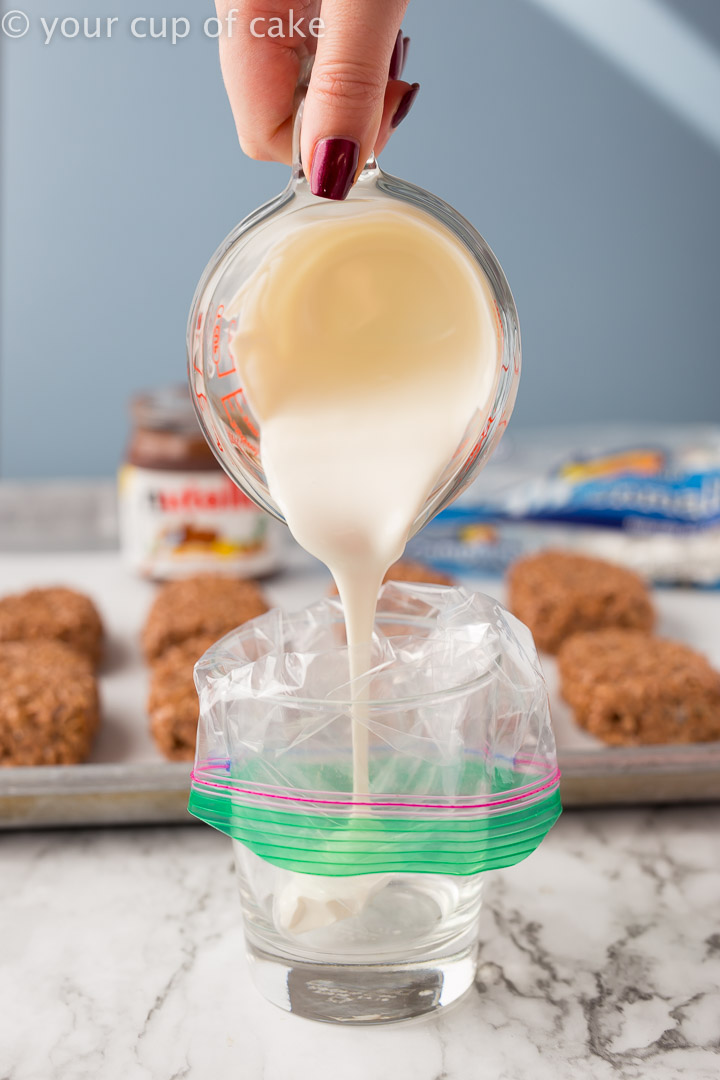 Halloween Rice Krispies
I love Rice Krispie Treats! Maybe it's because they're so quick and easy to make and they're just so tasty! I have always made mine in the microwave but I guess most people make them on the stove top! I just feel like it's faster in the microwave and cleaning my microwave proof bowls seems to be much easier than a big pot. So I'll stick with the microwave for these cute Tombstone Rice Krispie Treats!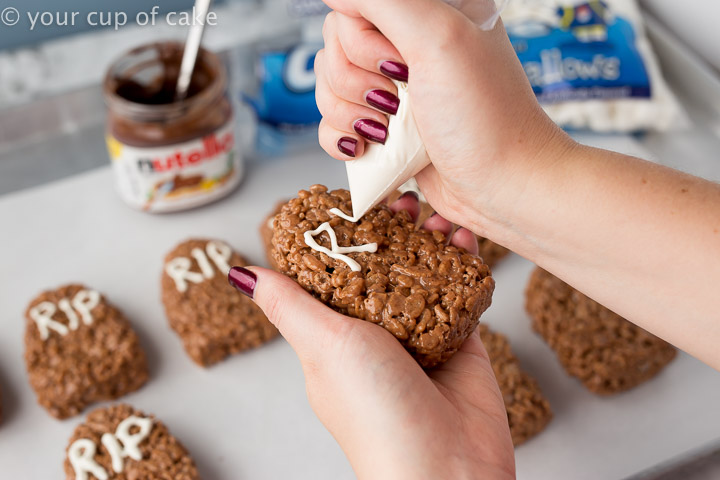 Make a Graveyard of Rice Krispies for Halloween
I loved setting these up like a graveyard! When you form the little headstones you can really flatten out the bottom to help them stand up straight when you're all done. I added some cute little candy corn pumpkins for added effect but you can just line up all your tombstones on a cookie sheet for serving if you prefer! Yum! These seriously are super tasty thanks to the Nutella 🙂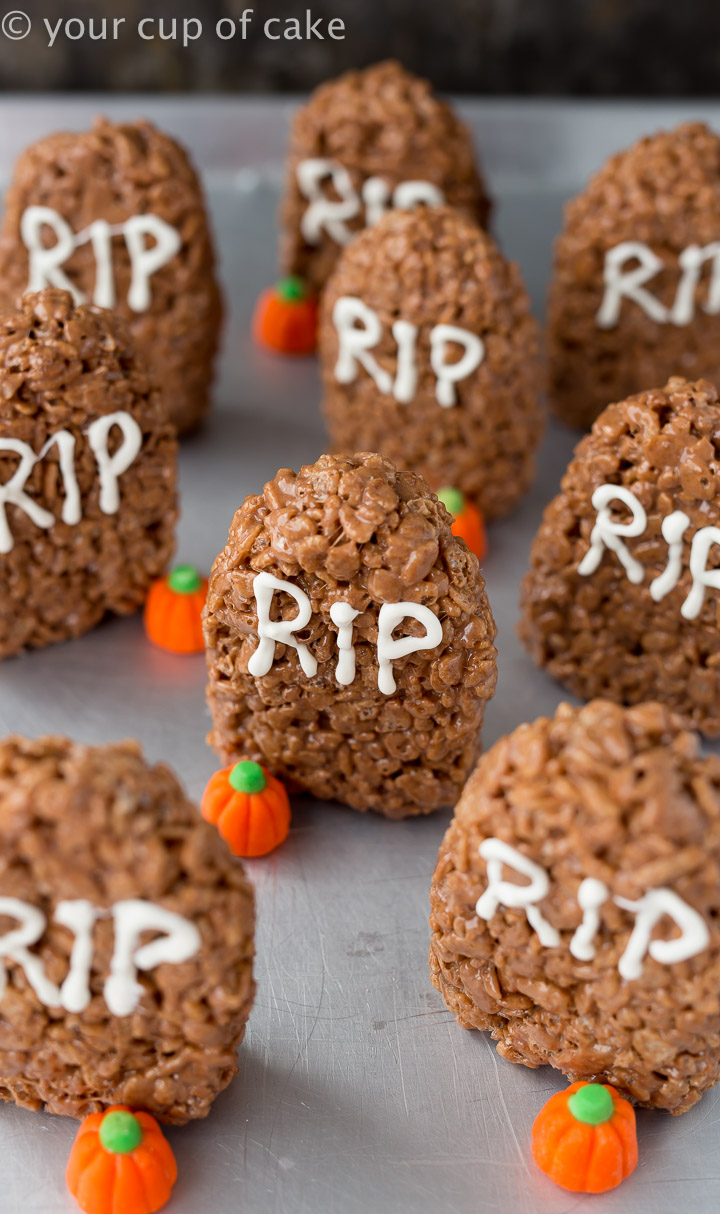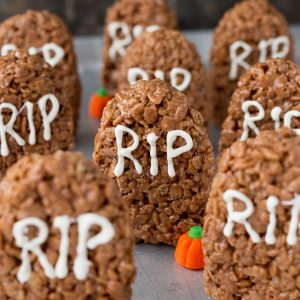 Tombstone Rice Krispies
Servings
20
small tombstones
Ingredients
4

cups

mini marshmallows

3

Tbsp.

butter

1/2

cup

Nutella

see note

4

cups

cocoa rice krispies

1/3

cup

melted white chocolate or white frosting
Instructions
Add mini marshmallows and butter to a large microwave proof bowl. Microwave for 1 minute and then stir. Continue to microwave in 30 second increments and stir until melted.

Add Nutella and stir until melted and well combined in melted marshmallows.

Stir in cocoa Rice Krispies

Take small amounts of treats and form into tombstones! (You can make them different sizes or all the same, I would recommend buttering your fingers or else you'll get very sticky!) I like to form mine and place them on parchment paper so they don't stick to anything. Make sure the bottom of the tombstone is very flat so that can stand up straight when you're done.

Let cool and then use melted white chocolate (I use Melts) or white frosting to write on RIP. See my photo above to see how I make a mini piping bag out of a small ziplock bag! Enjoy and Happy Halloween!
Recipe Notes
NOTE: If you don't want to use Nutella you can simply omit it or add a little cocoa powder to the melted marshmallows to add more chocolate flavor and to keep the tombstones dark!