Easy Christmas treats are a must! These Candy Cane Muddy Buddies are just what you need for a little peppermint crunch to munch on!

Easy Christmas Treat: Candy Cane Muddy Buddies
Christmas is the best. Everyone is more willing to give, be cheerful, and think of others! But we don't want to let our giving stress us out. So we need some simple recipes to make for neighbors so that we can get all those neighbor gifts (or gifts for co-workers, friends, clients) ann done in less than an hour! These only take about 10 minutes to make but if you want to package them up with bows and cards, you'll need some extra time for that! These Candy Cane Muddy Buddies are gluten free and nut free too! So you won't make any of your neighbors end up in the ER from allergies…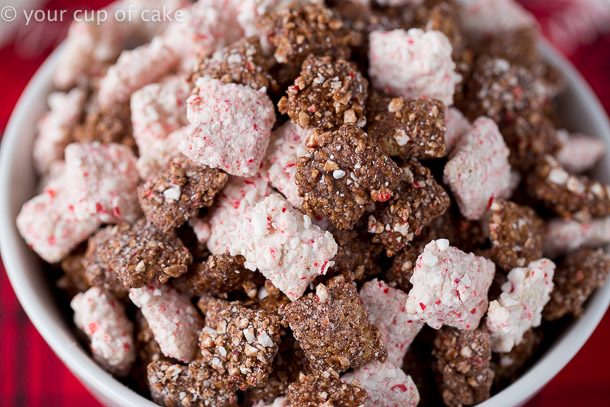 Christmas Movie Munching
Yes, you can give these Muddy Buddies away as gifts or you can keep them for yourselves! These and my White Chocolate Cinnamon Sugar Pretzels are my favorite movie munching snacks! Just cozy up to a old Christmas movie (or a cheesy Hallmark one) and munch away! The candy cane coating gives these a fun peppermint crunch and as far as calories go, these are fairly guilt free since there really isn't too much chocolate on each piece. It's just a sugary cereal really… ha!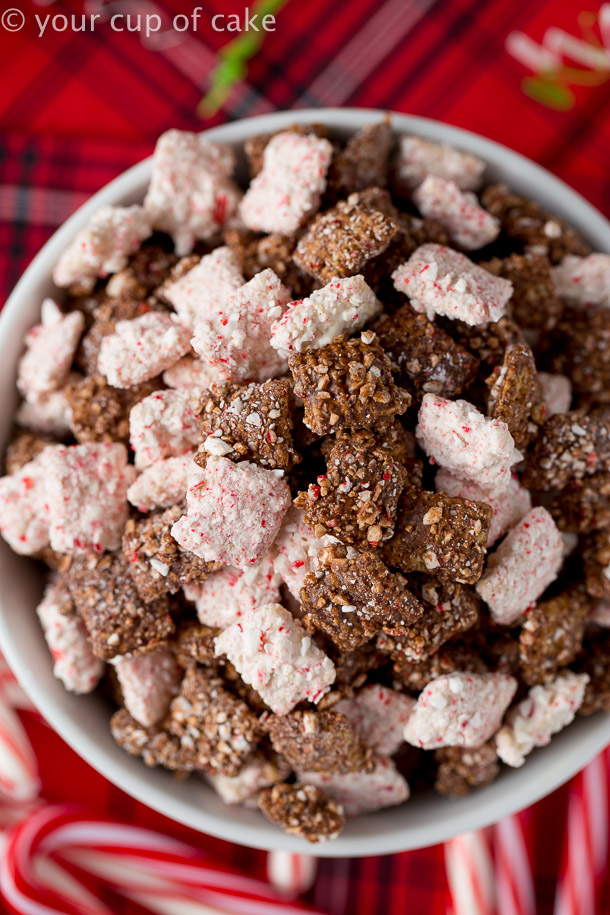 How to make Christmas Muddy Buddies:
Okay, let's get started with some step by step photos! The easiest way to crush your candy canes is to use a blender! Unwrap them all and place them in a blender or food processor and crushhhhh! I'm pretty obsessed with my blendtec.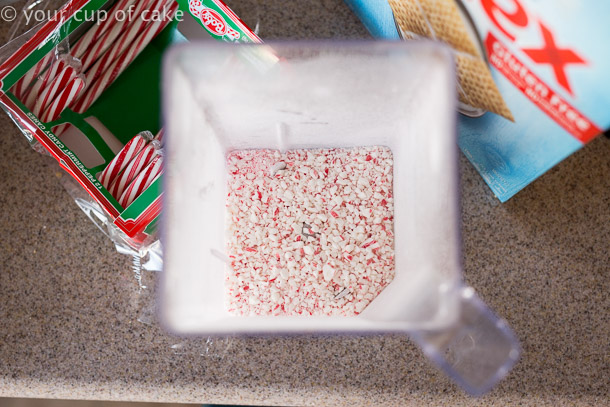 Muddy Buddy Tip:
Some people coat their chocolate covered Chex in a tupperware and some do it in a bag… whichever way you like to do it, place some of the coating mixture (In this cake it was crushed candy canes but most recipes use powdered sugar) at the bottom of the bag or tupperware before you put in your chocolate covered Chex! This will help to coat the cereal and not just make your bag covered in chocolate. For this recipe I put some crushed candy canes at the bottom of the bag, put in my cereal, and then put more crushed candy canes on top! Then I sealed the bag and shook!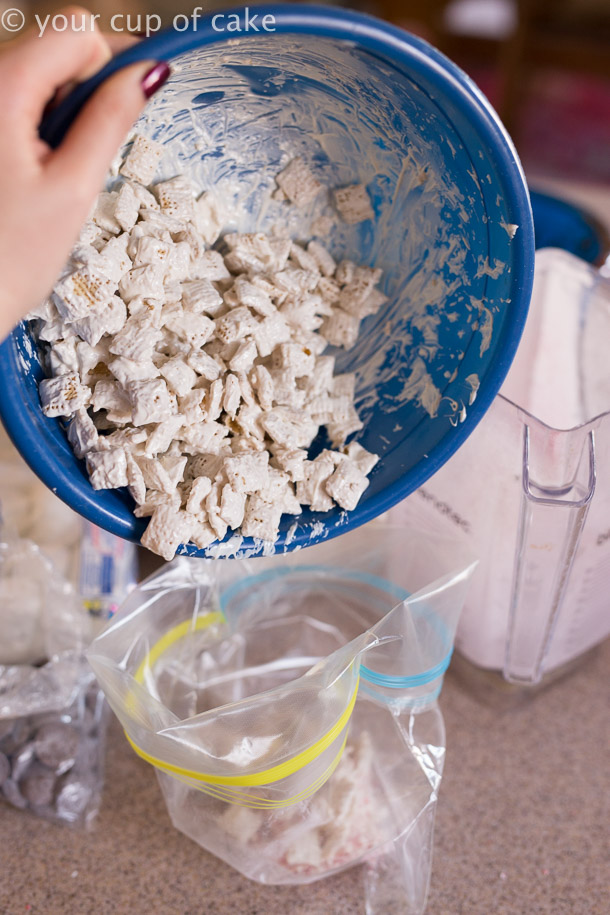 Oooooh, doesn't that look good?! It's like peppermint bark cereal!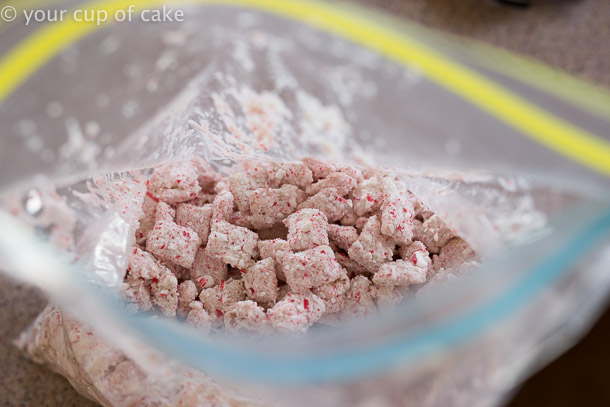 And now for the chocolate…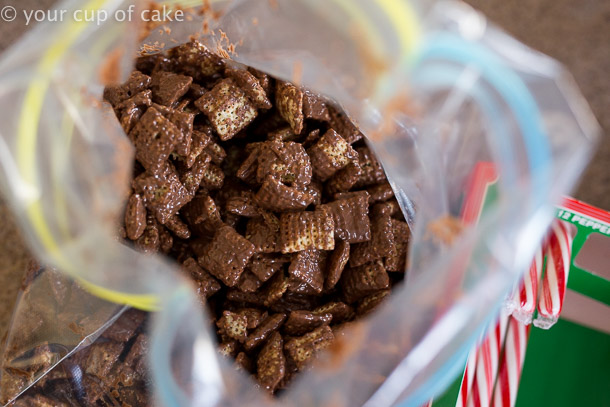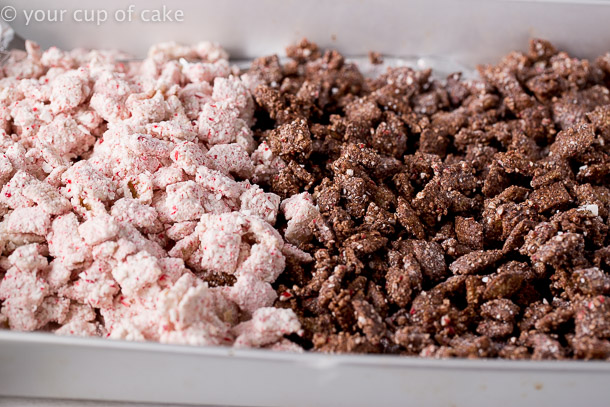 This is my favorite shot. You can see all the candy canes stuck in the chocolate on these Candy Cane Muddy Buddies! Santa would be glad to have a stocking full of these…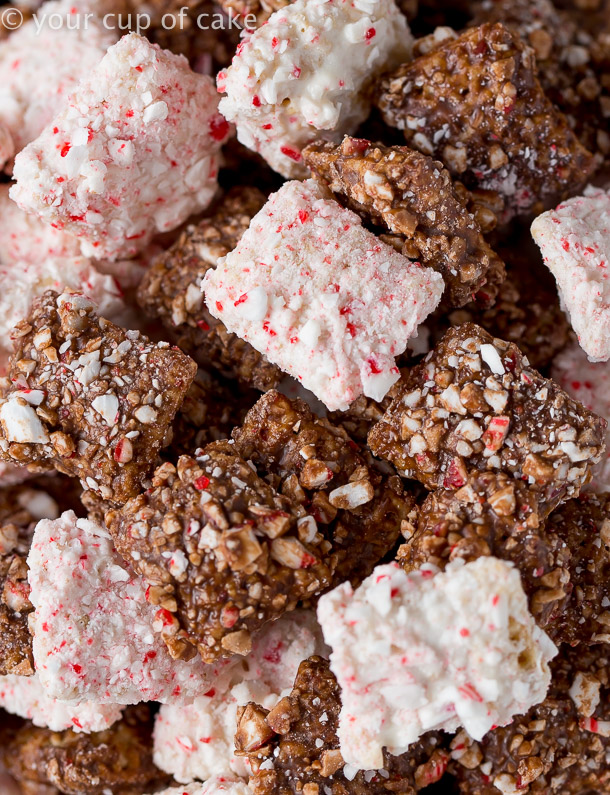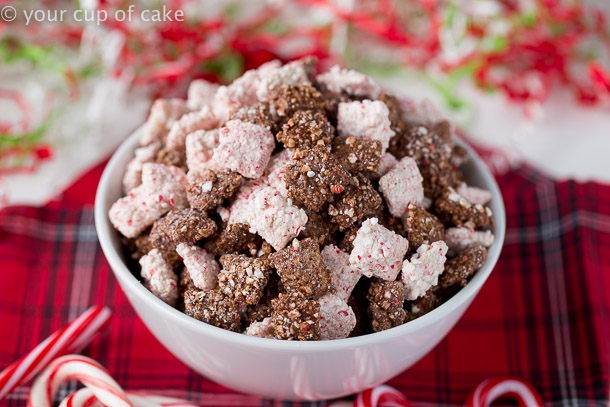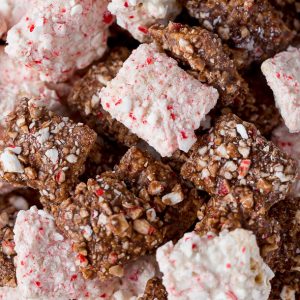 Candy Cane Muddy Buddies
Ingredients
8

cups

Rice Chex Cereal

divided

16

regular sized candy canes

1 1/4

cups

white chocolate chips

1 1/4

cups

milk chocolate

semi or dark chocolate chips

3

Tablespoons

vegetable oil

divided
Instructions
1. Use two large bowls and divide your Chex cereal evenly, 4 cups in each. Set aside.

2. Unwrap candy canes and use a blender (or in a plastic bag rolling a rolling pin over them) to crush them.

3. In a microwave safe bowl add white chocolate chips and 1 1/2 tablespoons of vegetable oil. Microwave to melt, stir every 25 seconds! Pour over one of the bowls of Chex and stir to coat. Then pour into a large plastic bag and add half of the crushed candy canes. Shake to coat. Then pour out onto a cookie sheet to cool.

4. Repeat step 3 with milk chocolate chips and the remaining bowl of Chex.

5. Once cooled, combined both the white and milk chocolate pieces! Enjoy!