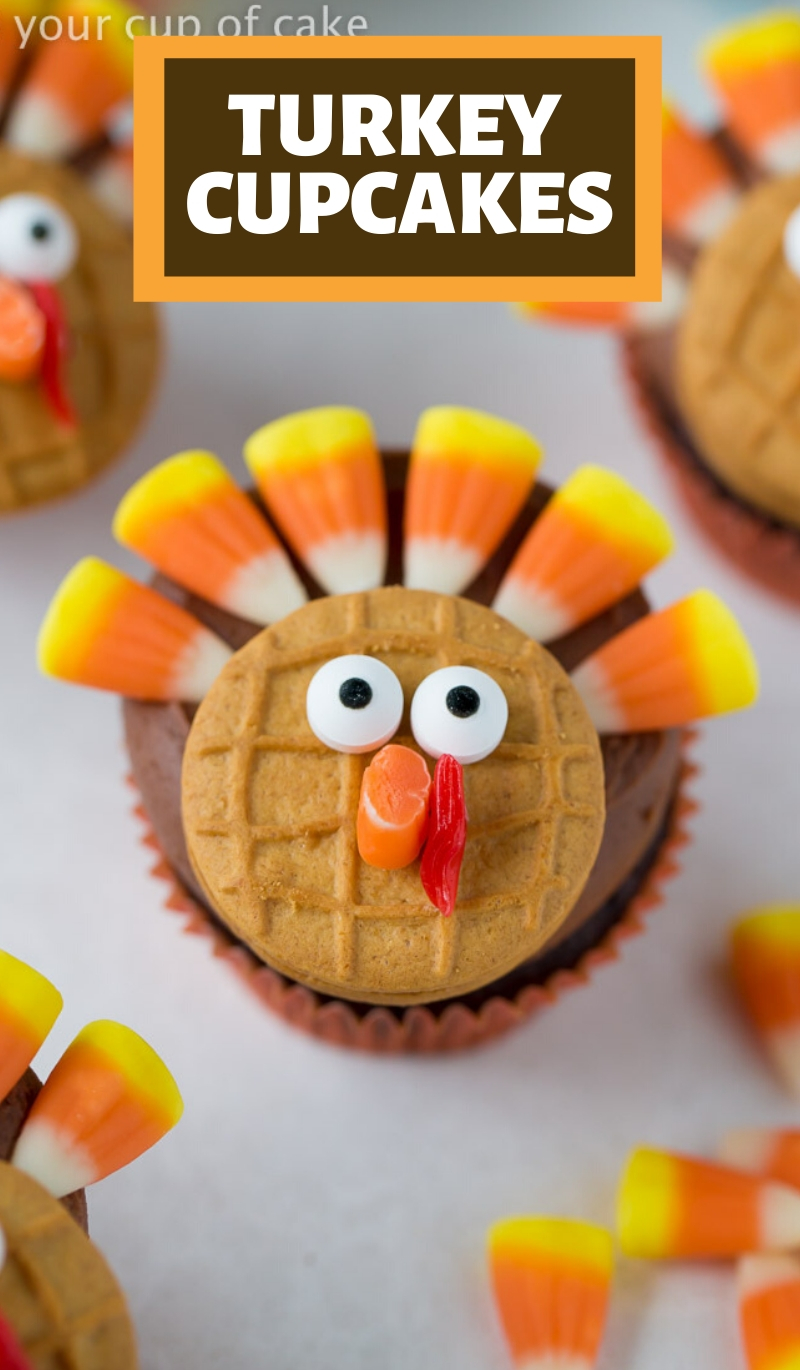 These adorable Chocolate Turkey Cupcakes are perfect for getting in the Thanksgiving mood! Whip them up for a party or make them the party and decorate with friends and family. They look cute but they're also easy to make, so the kids will have picture perfect turkey cupcakes!
I made some adorable Reese's Pieces Turkey Cupcakes last year, and I wanted to do another version because they were such a hit with everyone!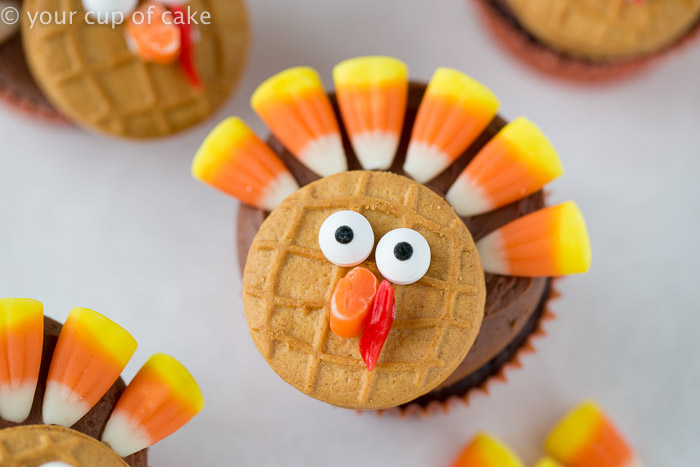 Anyone who knows me knows I'm a fan of cake mixes. They make baking a snap and it's easy to convert any recipe into a gluten free treat by swapping in a gluten-free cake mix. Adding ingredients like buttermilk and sour cream to the batter make the cake taste homemade every time. I've baked thousands of cupcakes an never once has anyone guessed they started with a mix.
My favorite mix to use? Pillsbury. I've been a huge fan of their mixes for years and I always tell my readers, cookbook buyers, friends and family to buy the Pillsbury mixes. They just taste the best and their texture beats all the other brands. And guess what, they just came out with a new line of mixes that have no colors, preservatives or artificial flavors. What you'll in the box you can find in your pantry, it's simply just pre-measured for you! They're called Purely Simple Cake Mix and it's in chocolate and vanilla. (They also have cookie and brownie mixes!) Heads up… I went to Walmart to get mine, and I actually didn't find it right by the regular Pillsbury mixes but instead by the gluten free cake mixes, so watch for that!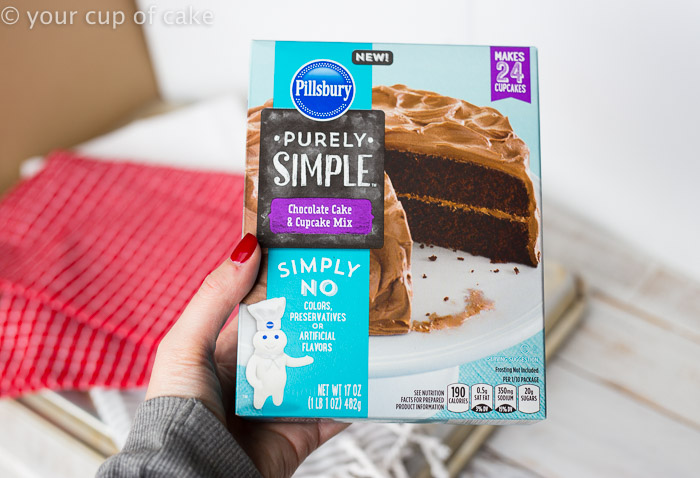 My favorite part about these new mixes is that they work seamlessly with all my cake mix recipes! No need to add extra anything to make them work!
So on to these cute Chocolate Turkey Cupcakes! Here are a some step by step photos of of the process, and there's a fun video on my Facebook page if you want to check that out!

Can you even stand it? They're so adorable! I picked up my candy eyes from the grocery store but you can also find them at Michael's and other places with cake decorating supplies!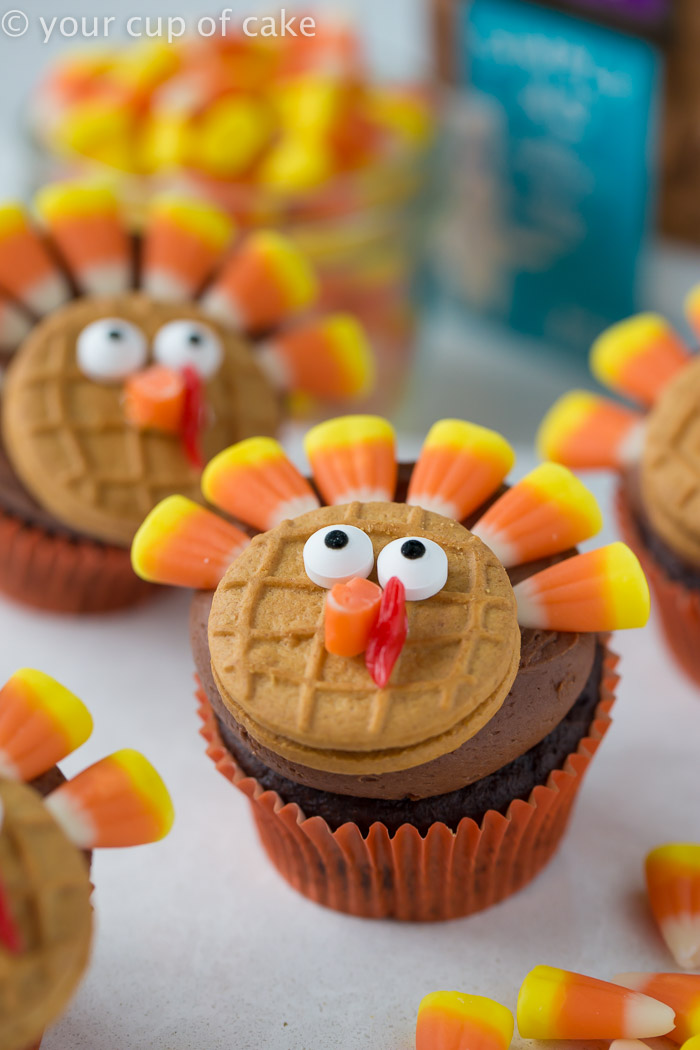 I had way too much fun making these little Turkey Candy Corn Cupcakes because I even made another version! I haven't shared it yet, but watch out for it! You could throw a party and have so many different Turkey Cupcakes… gobble, gobble.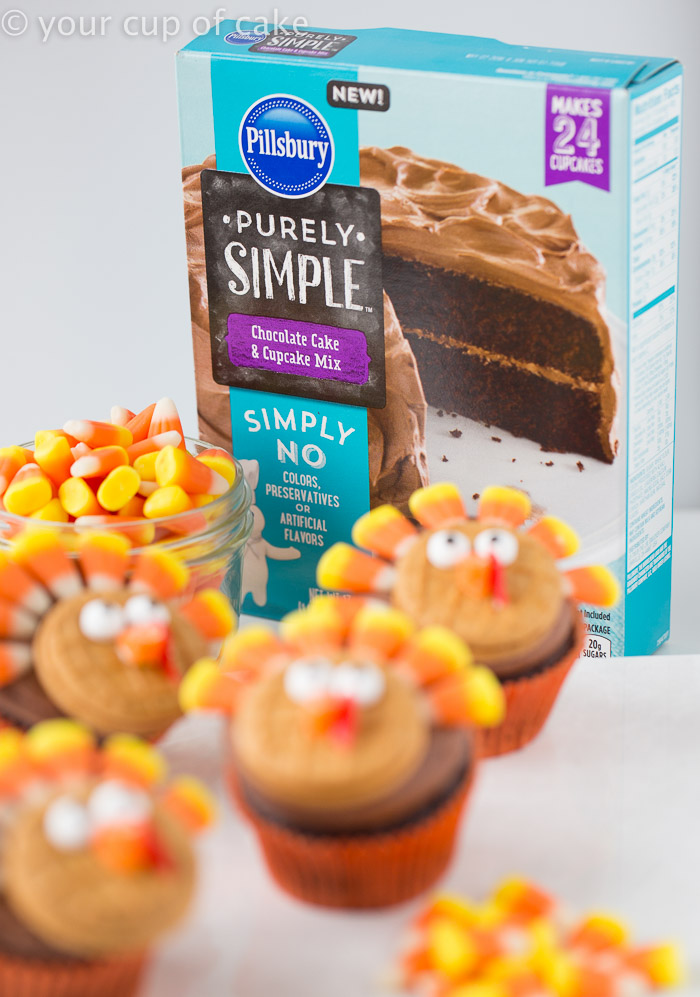 Gobble them up!
I also have 2 more versions of Turkey Cupcakes in case you want to make a total party out of you Thanksgiving cupcake decorating!
Reeses's Pieces Turkey Cupcakes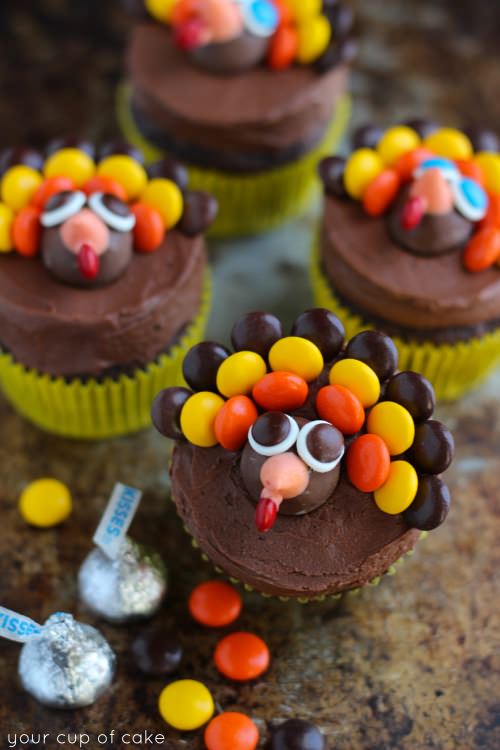 If you want your turkeys to stand tall, these ones are so much fun and use some Oreos to make the magic happen!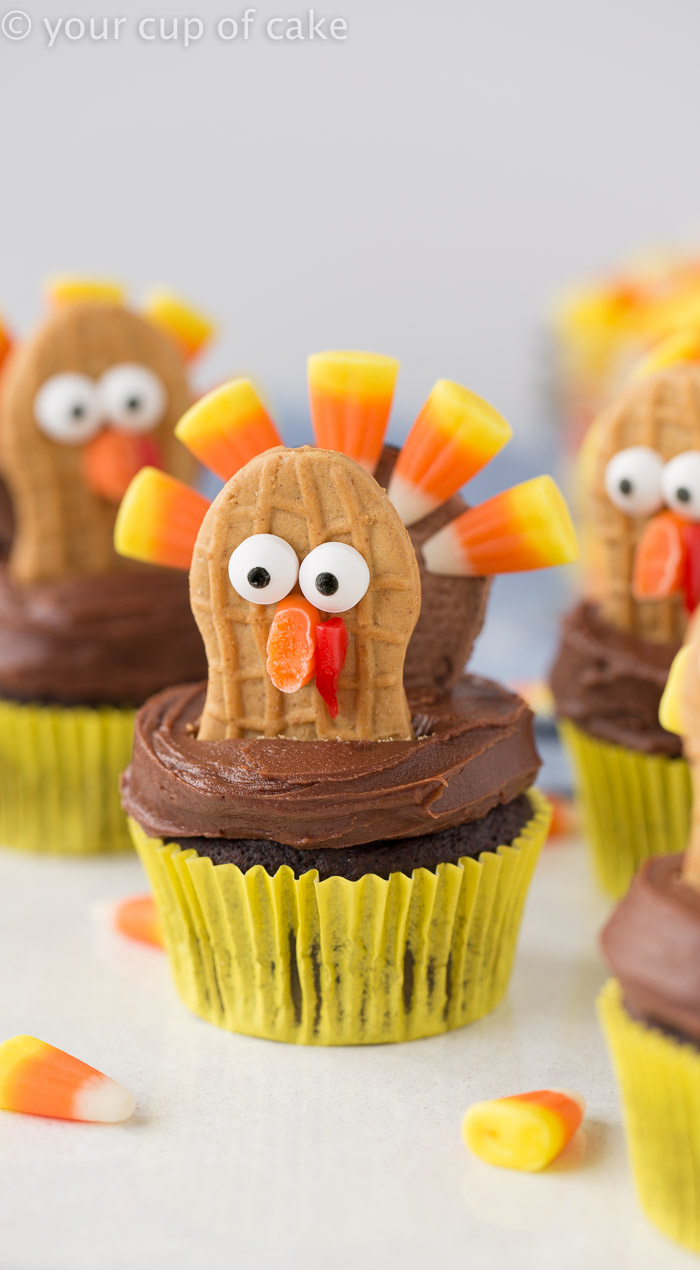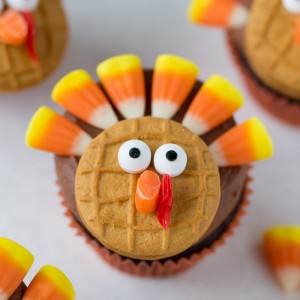 Chocolate Turkey Cupcakes
Ingredients
CHOCOLATE CUPCAKES:

1

box Purely Simple Chocolate Cake Mix

3

eggs

½

C.

butter

melted

1

C.

milk

CHOCOLATE FROSTING:

1

C.

unsalted butter

softened

1/3

C.

unsweetened cocoa powder

2-3

C.

powdered sugar

2

tsp.

vanilla extract

DECORATING:

Candy Corn

about 7 per cupcake

Circle Nutter Butters

or Nilla Wafers will work too

Candy Eyes

from Walmart, Michaels…

Red candy

I used Fruit Roll-ups but you can use Starbursts, Laffy Taffy…

Frosting or melted almond bark for "glue"
Instructions
1, Preheat oven to 350 degrees and line pans with cupcake liners.

2. Sift cake mix into a large bowl and add eggs, butter and milk. Stir until smooth.

3. Fill cupcake liners 2/3 full and bake for 15-20 minutes or until an inserted knife comes out clean.

4. Let cool.

5. Frosting: Beat butter until smooth. Add cocoa powder, 2 cups powdered sugar and vanilla extract. Beat until smooth and slowly add more powdered sugar until you reach your desired consistency.

6. To decorate, follow the photos above. Frost cupcakes, place on your Nutter Butter "face," add the candy corn "feathers," then cut a candy corn to make an orange beak, then place on the eyes, beak and gobble. I used melted almond bark to act as my "glue" to attach the eyes, beak and gobble. but a little dab of frosting will do the trick as well! For the gobble, I used Fruit Roll-ups and just rolled little pieces up and cut them into long triangles. But you can cute up Swedish Fish or any red candies!
This post was created in partnership with Pillsbury, but all opinions are my own.