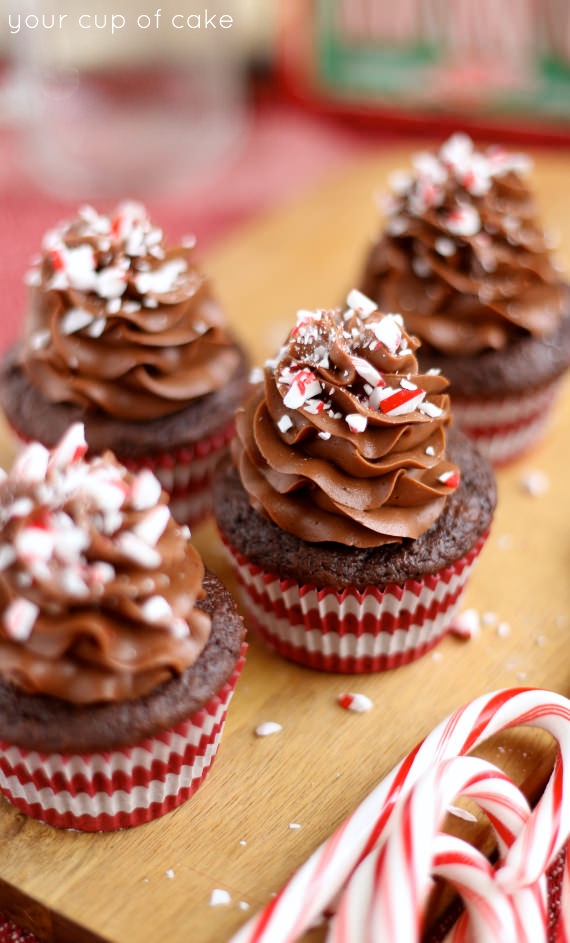 Rich chocolate cupcakes topped with chocolate peppermint frosting and crushed candy canes make for the perfect Christmas cupcake– Chocolate Candy Cane Cupcakes! 'Tis the season for cupcakes and all things minty!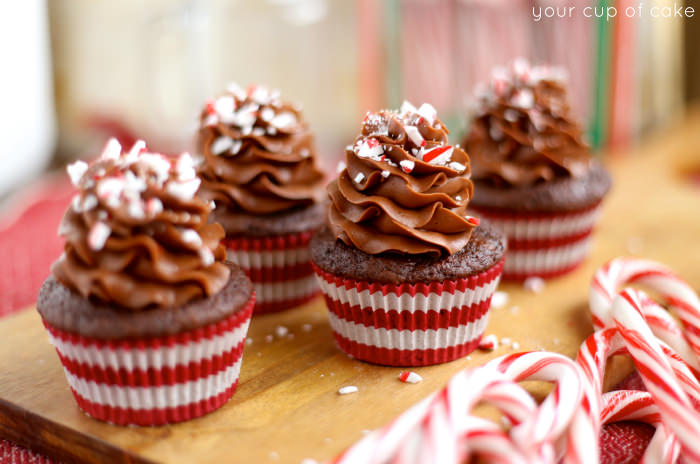 It's officially time to bust out the candy canes and eggnog, blast Jingle Bell Rock, wear reindeer ears around the house and hang the mistletoe! I can't lie, I've been watching Christmas movies since September, but now It's socially acceptable to do it 🙂
I got off the plane from Arizona on Saturday and headed straight for Costco to buy a wreathe. I stood in the check out line with my face buried in it, it smelled so good! Yes, people looked at me weird, but I didn't care one bit because it's CHRISTMAS!
Oh! And as always, my cupcake liners are from Sweets and Treats and since today is Cyber Monday, they're having a huge sale today only (the code is FUNDAY50).
And check out all the Amazon Cyber Monday Deals for Kitchen Stuff! It's a good time to get stocking stuffers or even stock up on new pans and fun gadgets 🙂 And remember, this is my all-time favorite cupcake pan! I love it because it has 24 "wells" and fits in ovens that are too small for two separate 12-pans. ALSO it's not quite as tall as most pans, so you don't get those dark rims around vanilla cupcakes! It's the best.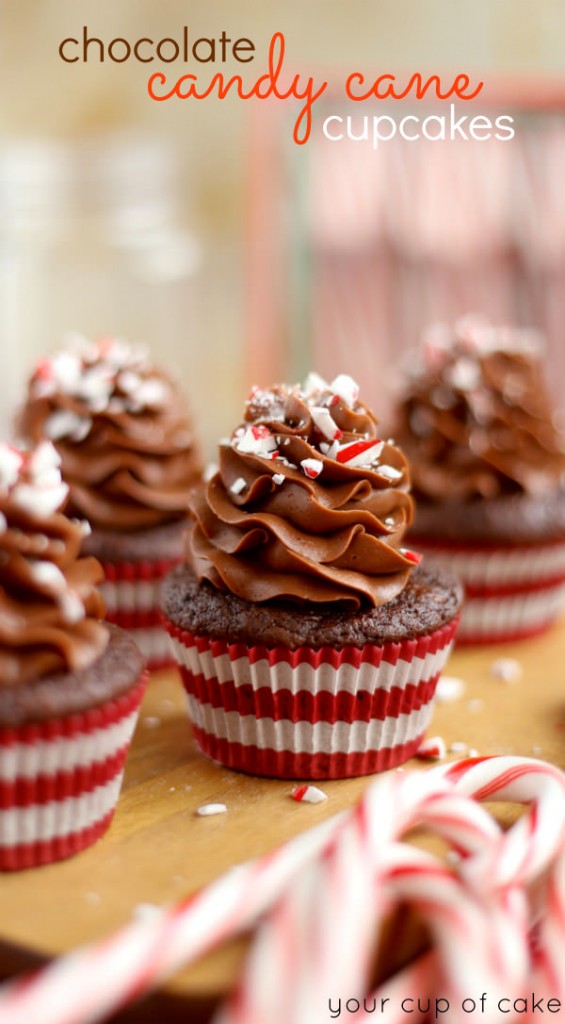 The Story:
We had a white ceramic cookie jar when I was a kid. It had a dark wooden handle on the top and it sat off in the corner on the kitchen counter. Was it filled with fresh baked cookies? No. Soft homemade caramels? No. Decadent chocolates? No way. Cough drops and candy canes from before I was born? Yes. Oh yes.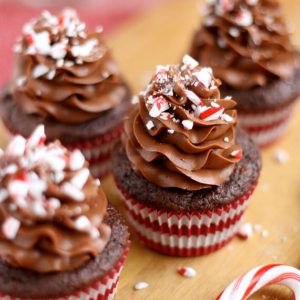 Chocolate Candy Cane Cupcakes
Ingredients
Chocolate Cake:
1

box devil's food cake mix

3

eggs

1/2

C.

oil or melted butter

3/4

C.

sour cream

3/4

C.

buttermilk

2

tsp.

vanilla extract
Chocolate Peppermint Frosting:
1

C.

butter

softened

1/3

C.

unsweetened cocoa powder

2

tsp.

vanilla extract

3/4

tsp.

peppermint extract

more if you like it really minty!

2-4

Tbsp.

milk

2-3

C.

powdered sugar

as needed
Instructions
1. Preheat oven to 350 degrees and line pans with cupcake liners.

2. In a large bowl, combine cake mix (I sift mine to remove any lumps), eggs, oil, sour cream, buttermilk and vanilla extract until smooth.

3. Fill cupcake liners 3/4 full and bake for 15-20 minutes or until an inserted knife comes out clean.

4. Let (it go...let it go) cool.

5. Chocolate Peppermint Frosting: Beat butter until smooth. Add cocoa powder, vanilla extract and peppermint extract and beat again. Add 2 tablespoons milk and 1 cup powered sugar. Continue to add more powdered sugar until you reach your desired consistency. Add more milk if it becomes too thick or stiff!

6. Pipe onto cooled cupcakes and top with crushed candy canes for color and crunch!
They're perfectly gorgeous. And if you love minty cupcakes, be sure and check out my Andes Mint Cupcakes! And if you still have some Thanksgiving leftovers in your fridge be sure to see my Thanksgiving Leftover Ideas!