These Carrot Cake Cookies are pieces of heaven topped with sweet cream cheese frosting and nuts, yum! It's like pieces of carrot cake, but in cookie form!

Carrot Cake Cookies
Carrot cake is one of my top two favorite cakes! There's something so delicious about the cinnamon with the carrots and it all being smothered in thick cream cheese frosting. And of course, I love walnuts so I always need those in there too, but you can leave them out if you want. These Carrot Cake Cookies are everything I love about carrot cake but in a cookie! No stress about decorating a cake and then the struggle of trying to get it to the party and serve it. These cookies are no fuss with a simple recipe! Enjoy!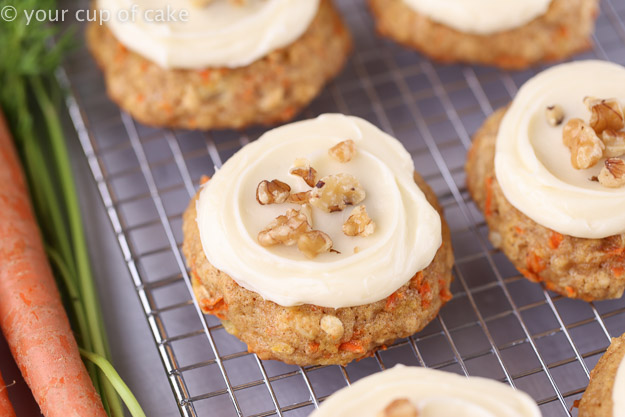 How to make Carrot Cake Cookies:
Alright, let's get started! First you need to grate your carrots! I always told myself that once I got married I would get a food processor so I wouldn't have to sit there and nearly grate my finger tips off when I make carrot desserts… but oh well. Saving for medical school is more important than a food processor and my fingertips! Plus, these Carrot Cake Cookies are sooo worth the risk!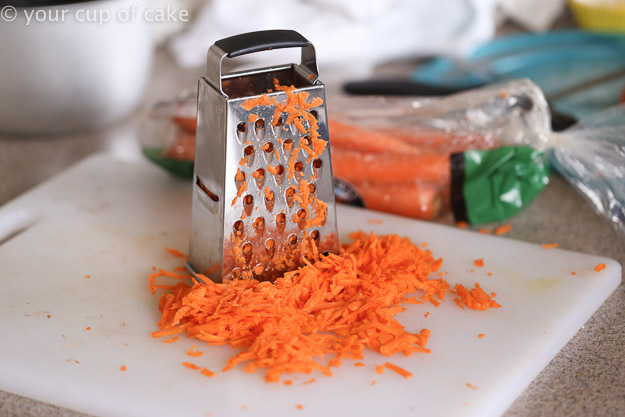 There's the batter! Feel free to play with the spices a bit, some people really love a strong ginger taste in their carrot things!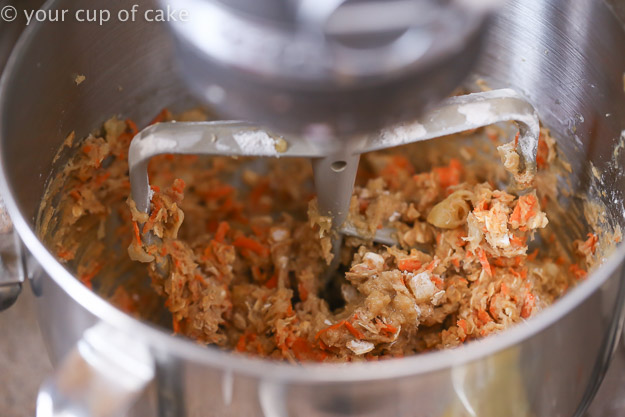 My handy dandy food scoop always comes to the rescue. It helps my cookies always turn out the same size and makes the dough perfectly rounded. Most importantly, saves me time!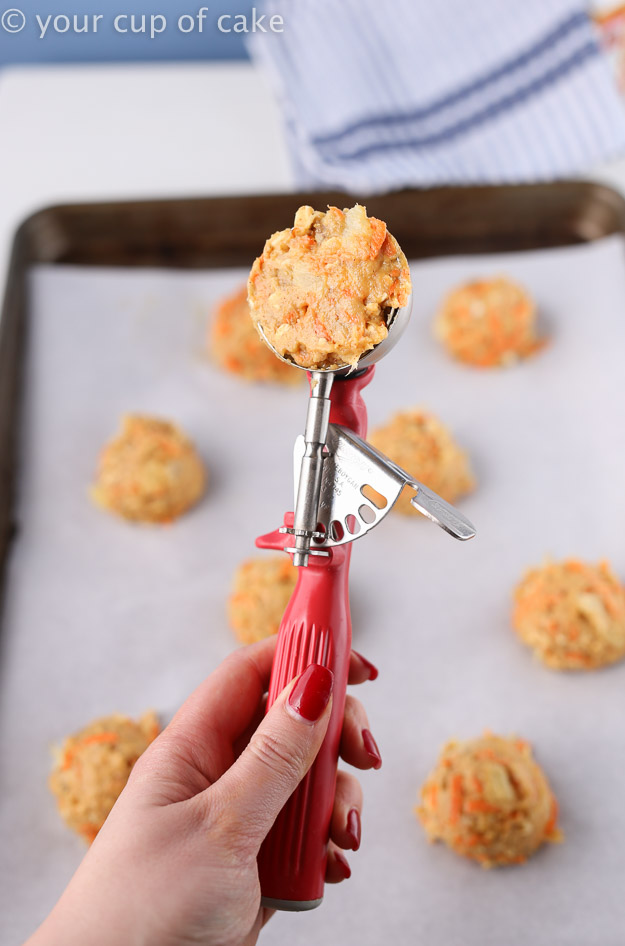 Perfectly rounded and ready to go!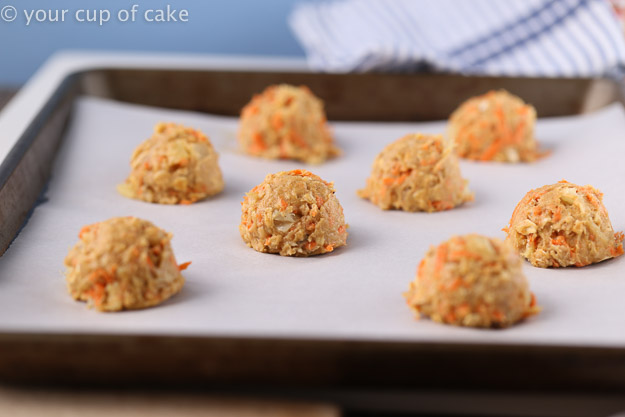 Naked cookies!!! AHHH!!! Naked because they aren't smothered in a layer of frosting yet! If you aren't a fan of frosting you can always do a simple powdered sugar glaze at this point!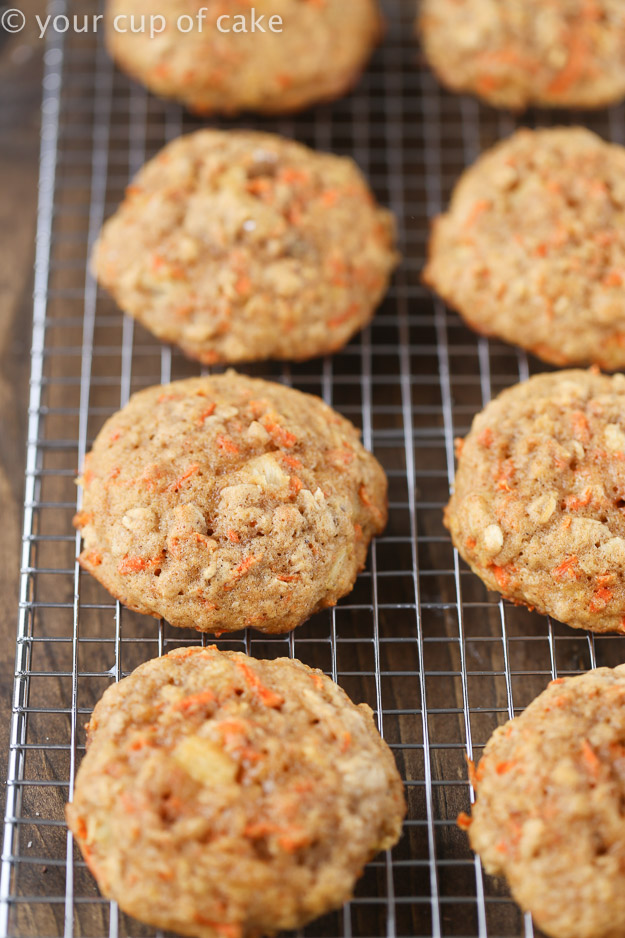 Now for the swirl of that cream cheese frosting… ahhhh. (Thank you to my husband who abandoned his MCAT studies for 45 seconds while he took this photo of me!)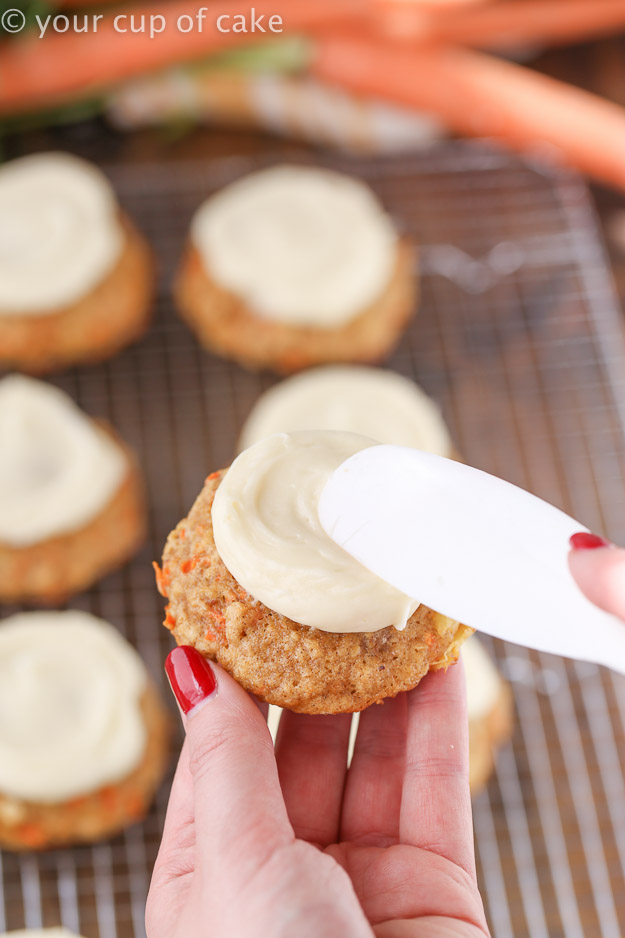 Ta-dah! The cutest Carrot Cake Cookies you ever did see! As with all banana, pumpkin and carrot desserts they're actually better the next day! They need some time to let all the flavors develop! So make these the night before, frost them and everything and then pop them into some tupperware and keep them in the fridge! They'll look perfect and taste even better the next day!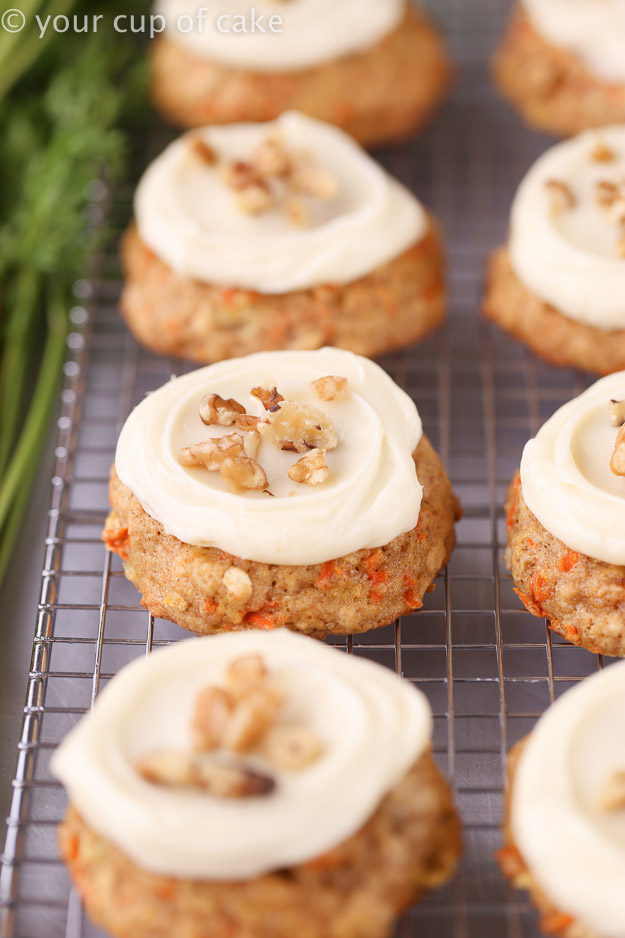 You can even make Carrot Cake Cookie Sandwiches!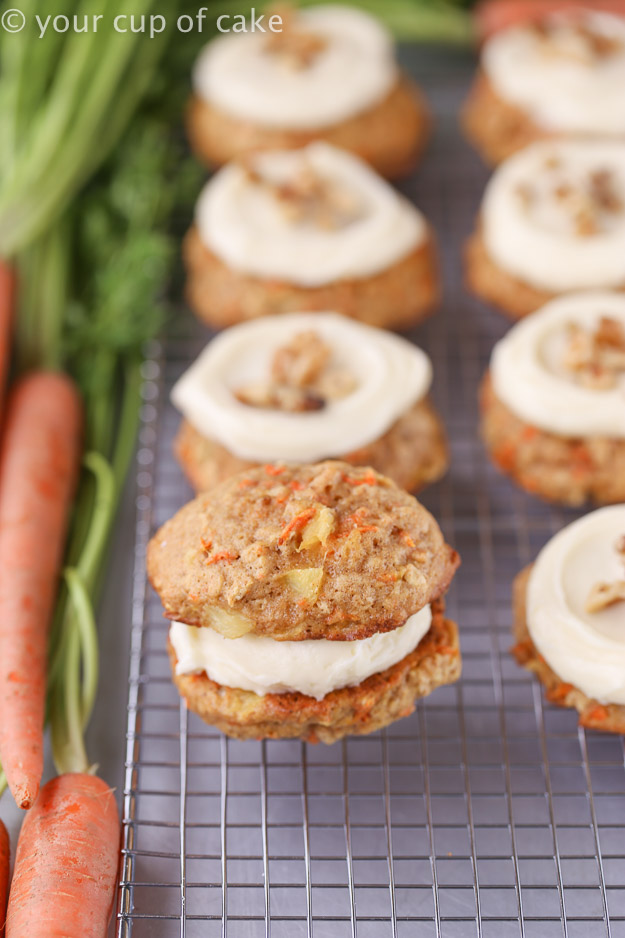 Mmmm… take a bite!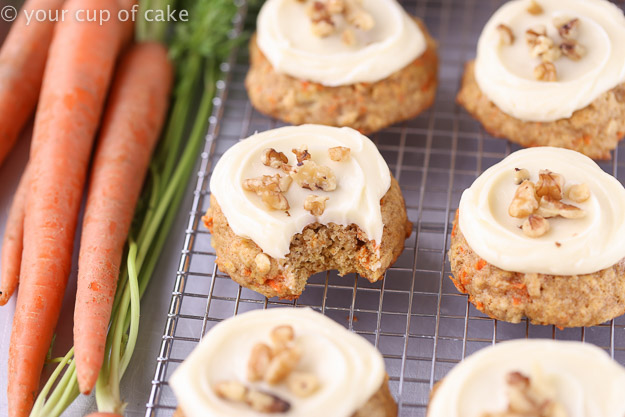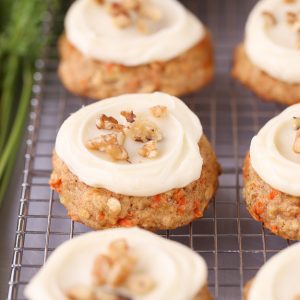 Carrot Cake Cookies with Cream Cheese Frosting
Ingredients
1/2

C.

butter

softened

2/3

C.

brown sugar

packed

1/3

C.

sugar

2

eggs

room temperature

2

tsp.

vanilla

1 3/4

C.

flour

1

tsp.

baking powder

1/2

tsp.

baking soda

1/4

tsp.

salt

3

tsp.

cinnamon

1/2

tsp.

ginger

3/4

C.

oatmeal

instant or old fashioned

1/2

C.

crushed pineapple

drained

1 1/4

C.

carrots

grated

3/4

C.

walnuts

optional

CREAM CHEESE FROSTING:

8

oz.

cream cheese

1/2

C.

butter

softened

1

tsp.

vanilla

3

C.

powdered sugar
Instructions
1. Preheat oven to 350 degrees and line cookie sheets with parchment paper.

2. In a stand mixer, beat butter, brown sugar and sugar together until creamy, about 2 minutes. Scrape down bowl and mix for 1 more minute.

3. Add eggs one at a time, add vanilla.

4. In a separate bowl, add flour, baking powder, baking soda, salt, cinnamon and ginger. Whisk to combine.

5. Slowly add flour mixture to wet ingredients. Before they're fully combined, add oatmeal, crushed pineapple (I drained some of the juice from mine), carrots and walnuts. Mix just until combined.

6. Scoop out dough balls a little bigger than a tablespoon and bake for 8-12 minutes. Try not to over bake, watch for the tops of the cookies to look "dry"!

7. Let cool.

8. Cream Cheese Frosting: Beat cream cheese and butter until smooth. Add vanilla extract and 2 cups of powdered sugar. Slowly add the more powered sugar until its the right consistency to frost your cookies! Depending on how warm or cool your house is the amount of powdered sugar you use will be different.

9. Frost cooled cookies and top with nuts if desired!