Rudolph the red-nosed BROWNIE! These Easy Rudolph Reindeer Brownies are the perfect Christmas treat that's easy to make!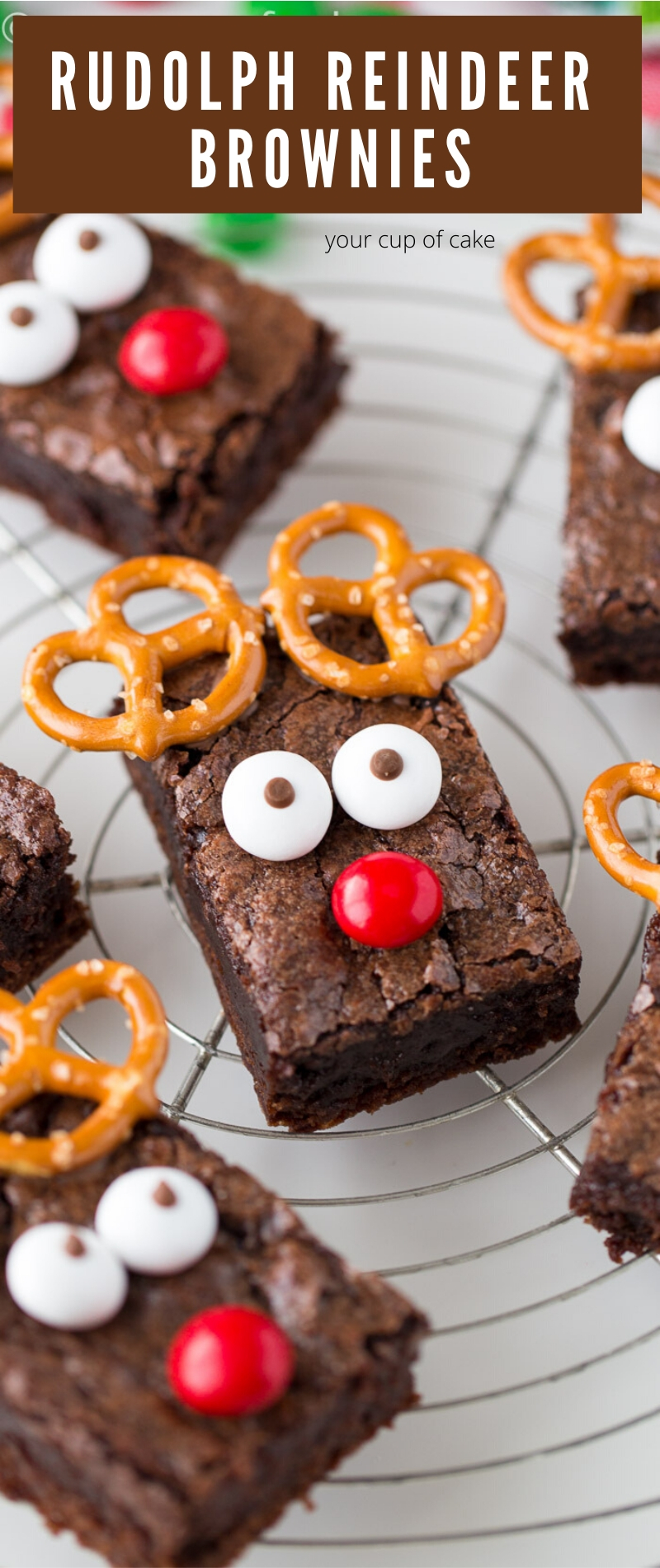 I love an easy recipe for the holidays! Christmas is almost here and if you're looking for an easy way to dress-up your brownies, this is it! Easy Rudolph Brownies! You can make regular Reindeer Brownies too but the red nose is just so fun and really pops on the chocolate brownies. I use a box brownie mix to make these because I love to keep things simple without having to measure all my dry ingredients out. But if you have a scratch recipe you love, then bust out that flour, sugar, butter, cocoa powder, vanilla extract and whisk, stir and bake to perfection! This is more of a decorating idea than a recipe anyway. I'm just here to give you a little Santa inspiration in the kitchen.
Rudolph Reindeer Brownies for Christmas
I love this idea because there are a lot of ways to make them! You can use a box mix for the brownies or make homemade brownies. You can use chocolate frosting on the brownies and stick on the "face" or you can just use some melted chocolate as "glue" to stick everything on like I did! You can throw them together for a party or make it a family affair and have the kids decorate them! If you're like me, you LOVED making brownies as a kid. I always got to pour the batter from the bowl into the pan and then lick the spatula!
You can use the mini pretzel antlers or make candy cane antlers out of mini candy canes! I melted a few chocolate chips in the microwave to use as "glue" to stick on my reindeer face and it was so fun watching my brownies come to "life."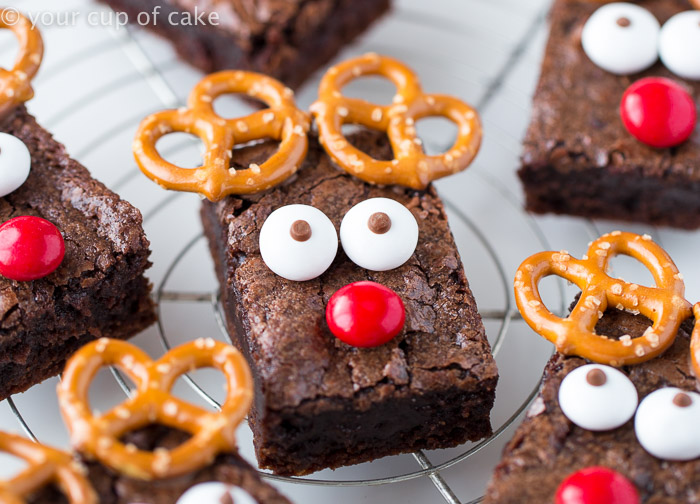 The funnest part about these? I made the candy eyes!! You can buy candy edible eyes from the store but its cheaper to make your own and these ones are bigger! I bought the Mint m&m's because they come with white, green and red! I used the red for the noses and the whites I added a dot of melted chocolate to make them look like eyes! Just melt down some chocolate and use a toothpick to "dot" on the pupils.
You don't have to use a red M&M for the nose, you can use any red candy nose! Sixlets work great too!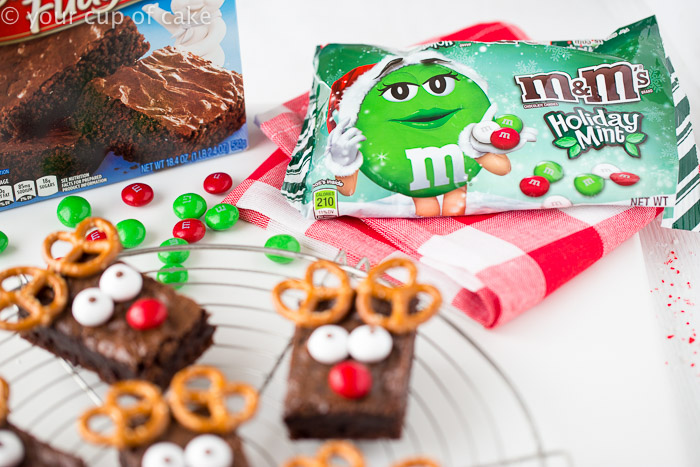 I don't know about you but Christmas really snuck up on me this year! Luckily I finished my Christmas shopping before Thanksgiving, but I just feel like I haven't gone out and seen the lights, cozied up with hot chocolate, or done all the Christmas-y things! This time of year is just so much fun and and there's so much to do, December should really be twice as long.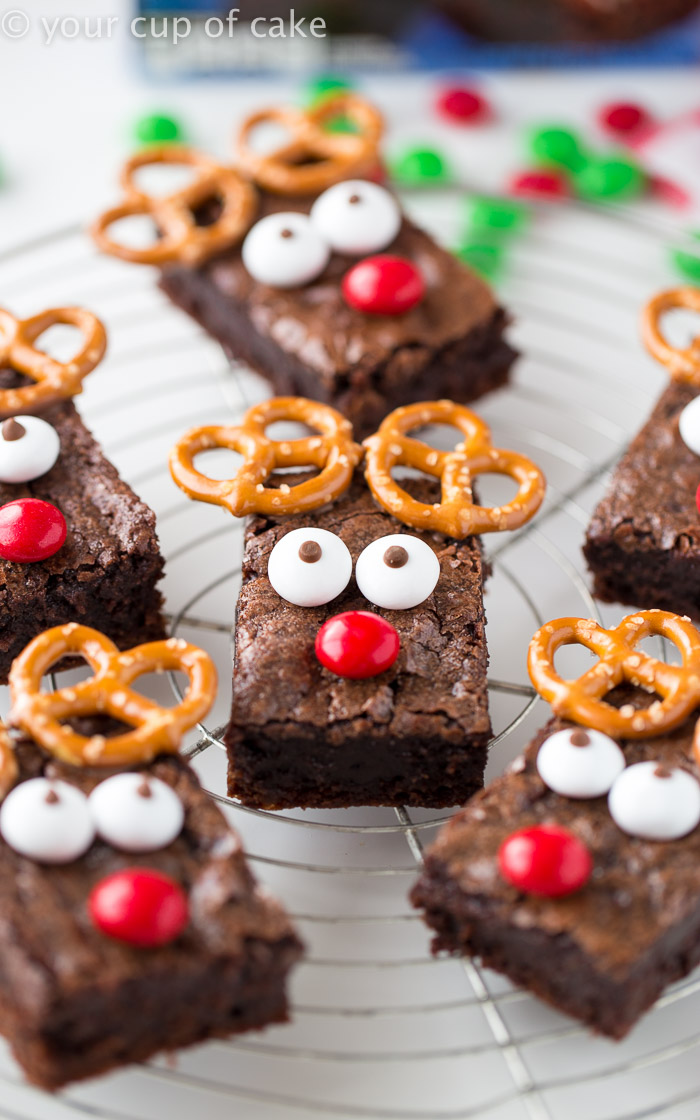 I have more Reindeer Treats! If you love cupcakes, I have another Reindeer dessert for Christmas…

I even have a Reindeer Chow recipe to go along with all my Reindeer desserts!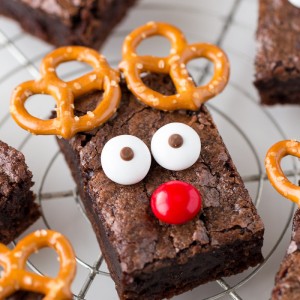 Easy Rudolph Brownies
The cutest and easiest Christmas brownies!
Ingredients
1

Box Brownie Mix

Ingredients on back of Brownie mix

usually oil, eggs and water

Mini Pretzels

Holiday Mint m&m's

they come with red, white and green

melted chocolate

about 1/2 cup
Instructions
1. Prepare brownies as directed, bake in oven and let cool.

2. Cut brownies into rectangles and either frost or use the melted chocolate to stick on the reindeer face. See notes above for decorating options.