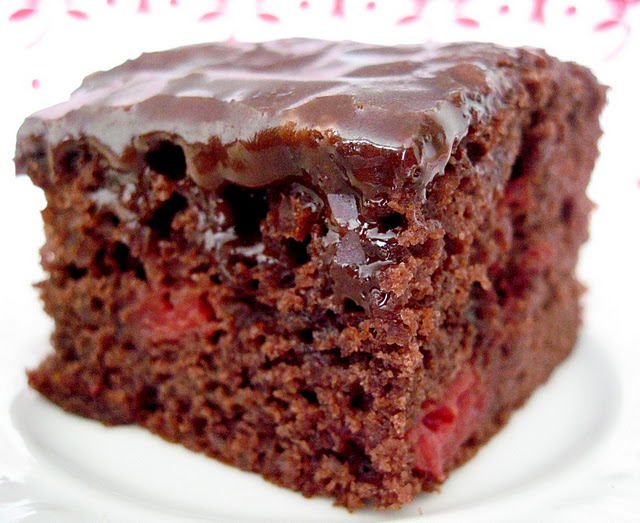 Chocolate covered strawberries are great, but baking cherries with chocolate is divine. After making my Cherry Cobbler Muffins yesterday, I had an opened can of cherry pie filling. I couldn't let it go to waste.
Leigh Anne, from Your Homebased Mom, also gave me this adorable red and while linen for photos yesterday. She was a few hours late for my cherry muffin photos, but I knew it would be perfect for my cake today.
This cake is basically a cherry Texas sheet cake, but much easier because it uses a cake mix. The glaze is perfect and I promise you will love it. I know I'll be making sure my mother gets this recipe.
Cherry Chocolate Cake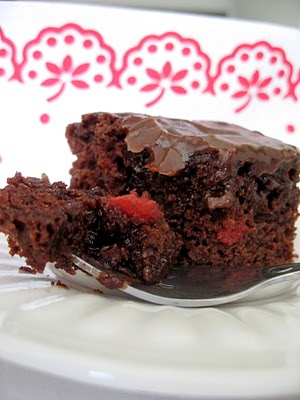 Cake:
1 box devil's food cake mix
1 teaspoon almond extract
1 can cherry pie filling (21 oz)
5 tablespoons unsweetened cocoa
6 tablespoons buttermilk (or milk and lemon juice*)
3 ½ cups powdered sugar, sifted
1 teaspoon vanilla extract
1.
Preheat oven to 350 degrees.
2.
Mix devil's food cake mix, eggs, almond extract and cherry pie filling together. If you sift the cake mix, it will blend much easier.
3.
Pour batter into a greased 9X13 pan, or whatever size desired. A bunt cake would beautiful. Make sure to distribute the batter evenly, or spread it so that there is less in the middle. (The flatter the cake, the better when you pour the glaze.)
4.
Bake for 20-30 minutes depending on thickness of cake. A toothpick should come out clean when done.
5.
While cake is in the oven, sift 3 ½ cups powdered sugar and set aside.
6.
In a small saucepan, bring butter, cocoa and buttermilk to a boil. Remove from heat.
7.
Pour chocolate mixture over the powdered sugar and mix until smooth. Add vanilla.
8.
Pour glaze over cake as soon as it comes out of the oven. You can put the cake on to a plate or serving dish and then pour the glaze. This way, there is extra room for the glaze to runoff.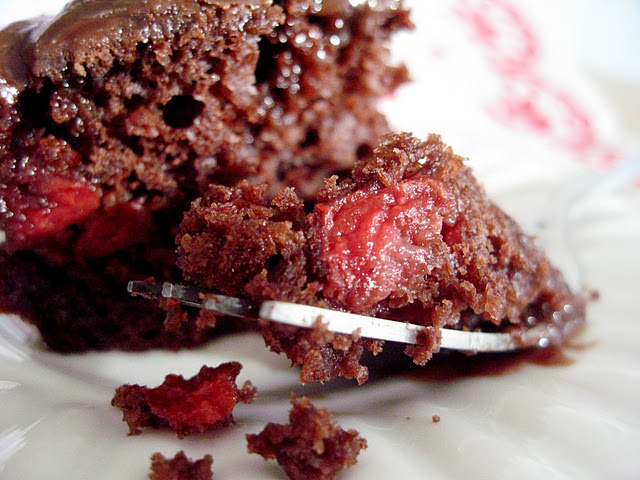 * I used just under 6 tablespoons milk and added a few drops of lemon juice because I didn't have buttermilk. Also, before I poured the glaze on the cake, I used and fork and poked holes on the top of the cake so that the glaze would better be absorbed.