With the help of World Market I got to plan the most delicious Game Day Party!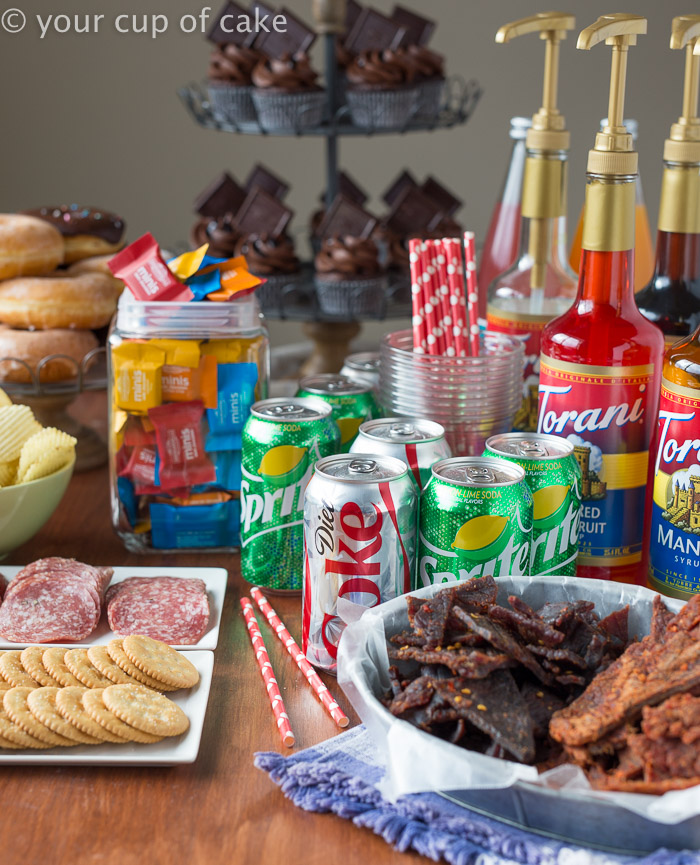 Game Day is here! I grew up playing sports, so I can get pretty into it–but what I love most is all the food! Showing up to a party with the game winning cookies or the best punch is just the cherry on top of a touchdown for me! But let's face it, we don't want to be doing a ton of dishes after everyone leaves and there are so many different taste buds to cater to. So I have a few ideas that everyone will love–man, woman, child, teenager, bleeding blue or bleeding red!
World Market had everything I needed and they helped me throw this tasty game day party! And I'm helping to spread the word about their big party giveaway… who doesn't love free food and gift cards? All the info is at the bottom!
But now on to my party ideas and some decadent cupcakes…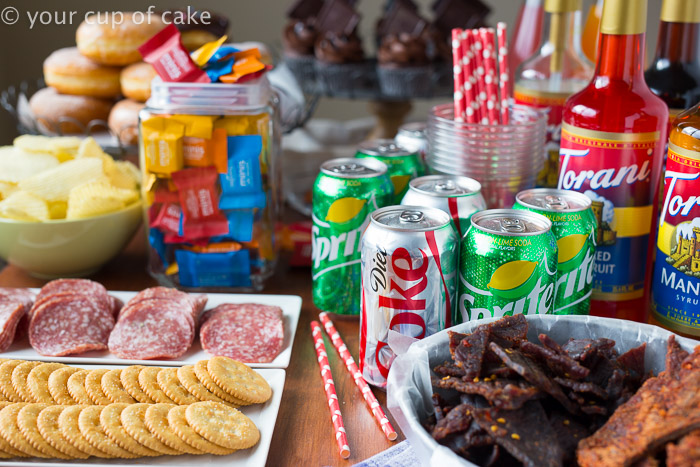 Drinks. You have to have drinks at a game day party. Take your soda up a notch by putting out a few Torani drink syrups with your sodas! People can squirt their syrups straight into the cans or pour the drinks into cups! Sprite goes perfectly with any flavor, like the raspberry, ruby red grapefruit, or peach. And you can even make a classic Dirty Diet Coke! (Recipe below.) Another favorite concoction of mine is root beer and the toasted marshmallow syrup, yum! The kids will love this fun idea and as the mom you can make "2 pump" rule if needs be to keep the kiddos from squirting in too much syrup!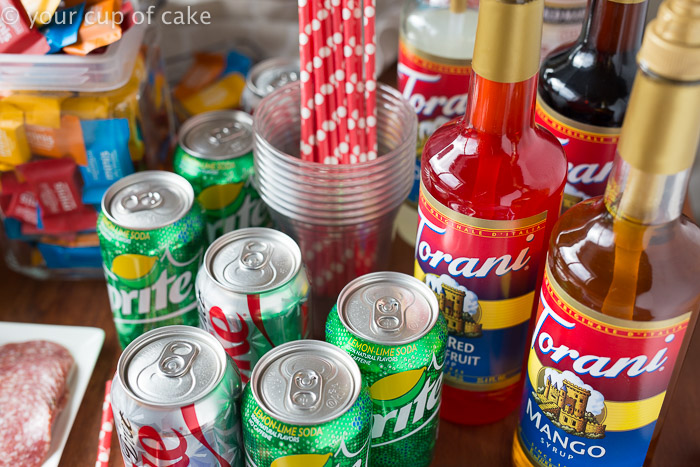 Concoctions I love:
Sprite + Strawberry syrup
Sprite + Mango syrup
Sprite + Raspberry syrup
Sprite + Peach syrup
Diet Coke + Coconut syrup + squeeze of lime juice = Dirty Diet Coke
Root Beer + Toasted Marshmallow syrup
The combinations are limitless and you can add the flavorings to hot chocolate in the winter! Plus, one of these bottles of syrup lasts what seems like forever! Grab a few bottles and bust them out for special occasions and you will always be the most popular gal at the party 🙂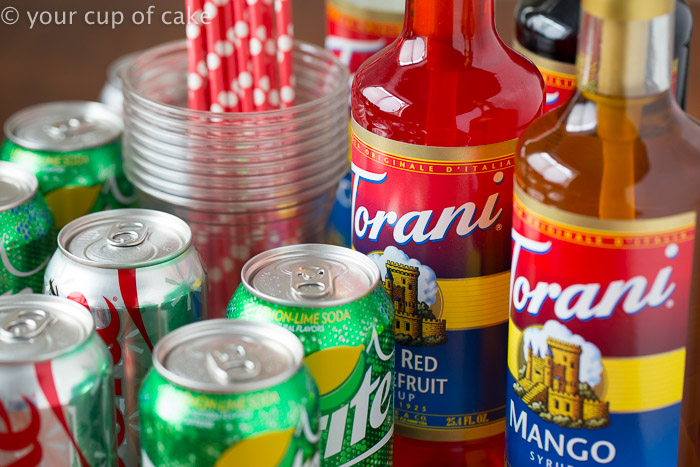 You can serve the drinks with straws or cups the color of the team you're rooting for, or only use Torani syrups that are the colors of your team!
The dirty diet cokes (below) are so popular around my neck of the woods. I have so much fun bringing a bin full of all the loot needed to make them to game day (and The Bachelor) parties! It's a great no-booze option for get togethers 🙂
And you'll want to make sure you grab some of the pumps for the bottles when you're at World Market! The pumps close shut too, so after the party just turn them to close and store the bottles away!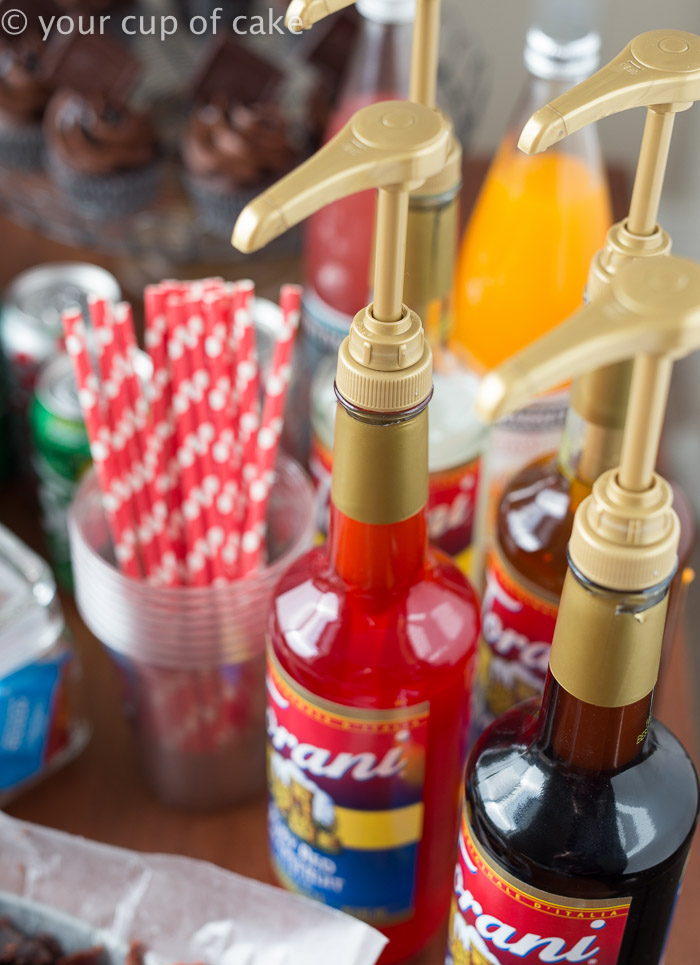 And I just couldn't help myself… I am a sucker for the World Market specialty sodas. Let everyone else have the cokes and sprites and you can keep the good stuff to yourself 🙂 Or bust it out if your team loses and you need a pick me up. I got the Clementine and Blood Orange this time, but my favorite is the Passion Fruit…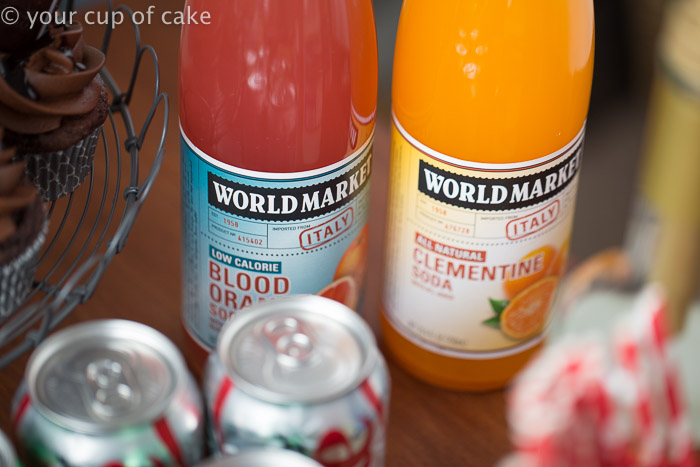 Meat. You need some meat at your game day party–protein keeps it alive!
But you don't want to slave away in the kitchen or make something that could mean disaster for the carpet or couch if someone drops it… so grab some incredible Jerky! This Krave jerky just exploded with flavor when I opened up the package and came in so many fun flavors. I got the Chili Lime and Garlic Chili Pepper.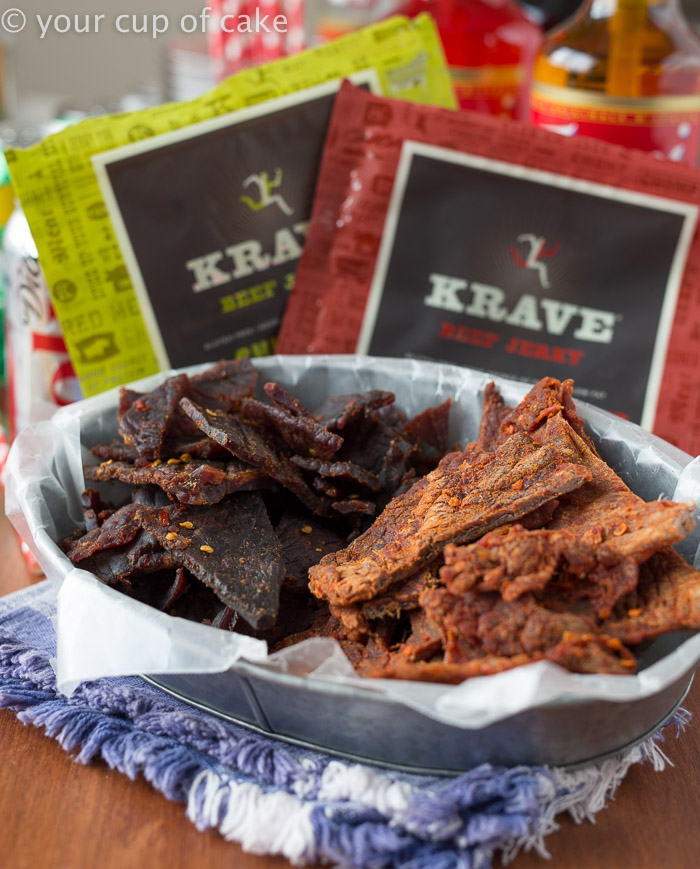 I lined my little serving dish with wax paper so that there would be no mess to clean up, I wouldn't even have to rinse out the dish after the game! Eazy peazy.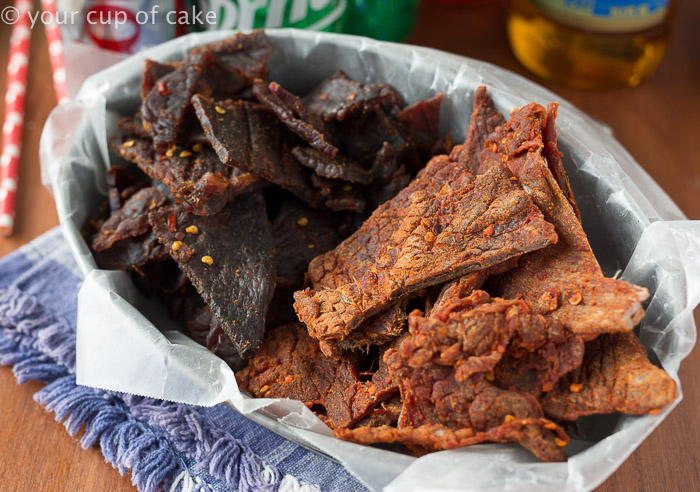 More meat.
I can't lie, I kept snacking on this Columbus Dry Salami while I was shooting the photos! It was just so tempting and so many slices came in the package that I knew I could spare a few 🙂 Eeek!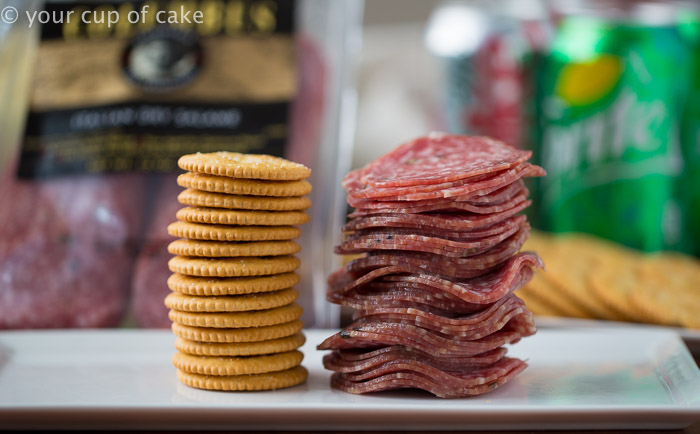 Pair your salami with:
Crackers
Cheese
Olives
Cherry Tomatoes
veggies the same color as your team!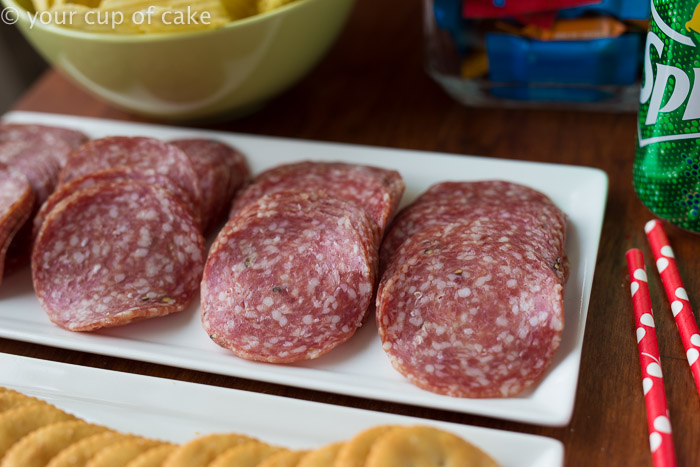 You can even serve it on a cracker with cheese and broil them in the oven for a while, but I kept it really simple and just put them straight on the dish!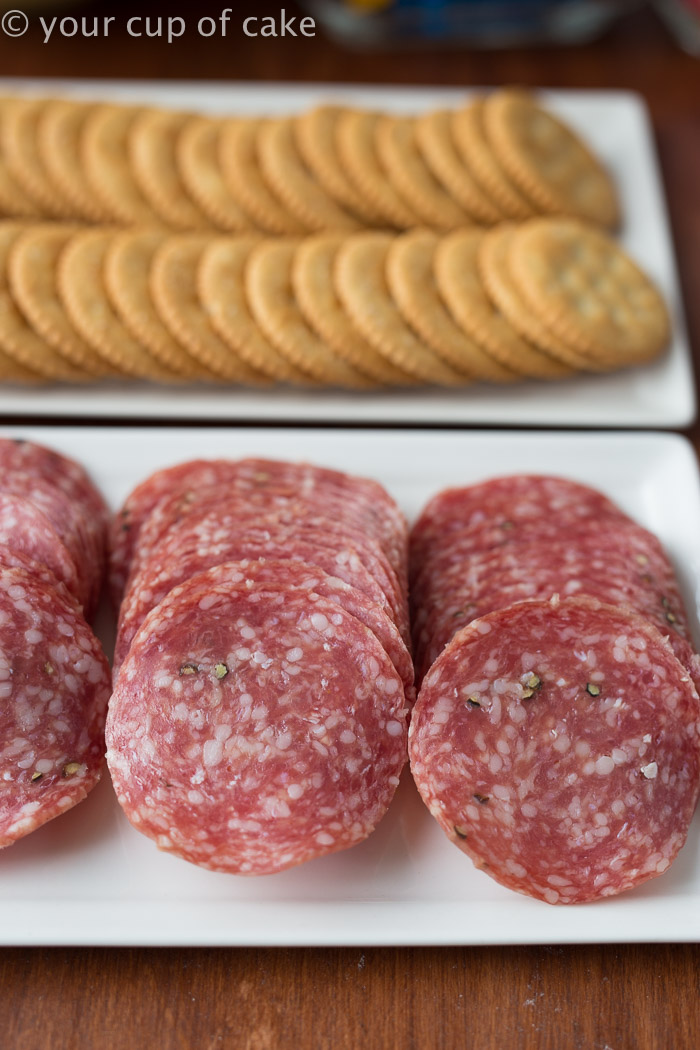 Chocolate.
It's not a party without treats! And I have found my new favorite Ghiradelli chocolate… the minis! First of all, they are adorably sized and packaged! And it's Ghiradelli so of course they taste incredible. But I love the bright wrapper colors, they look so festive and ready to party! (I got these at the World Market store, so sorry that there's no link!)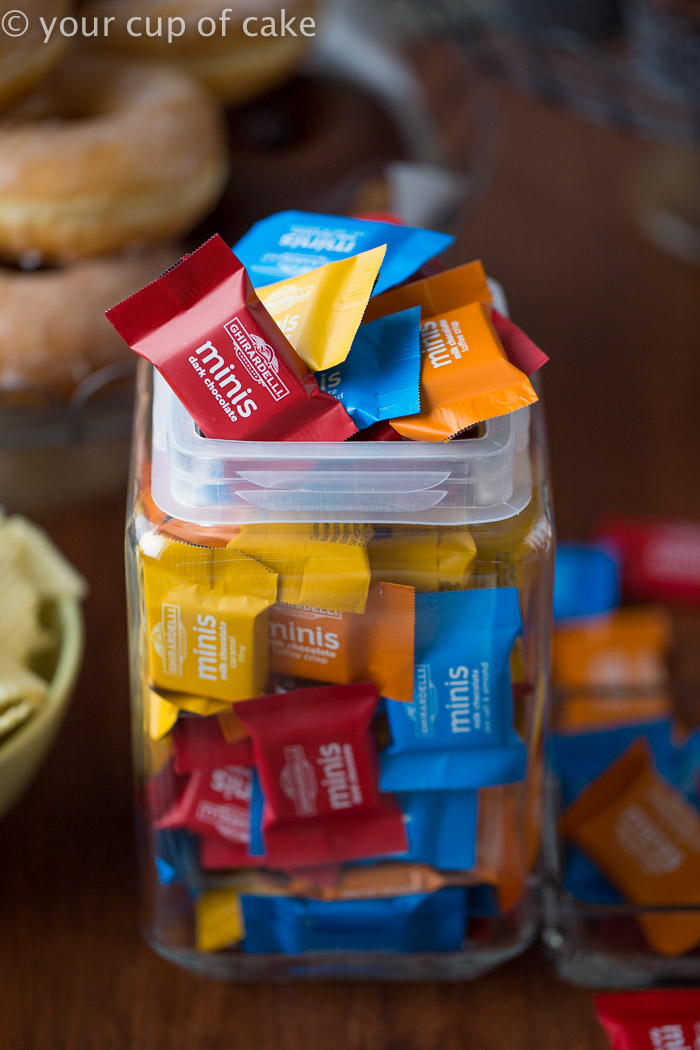 I served mine in some cute glass containers so guests could just reach on in and dig for the flavor of their choice!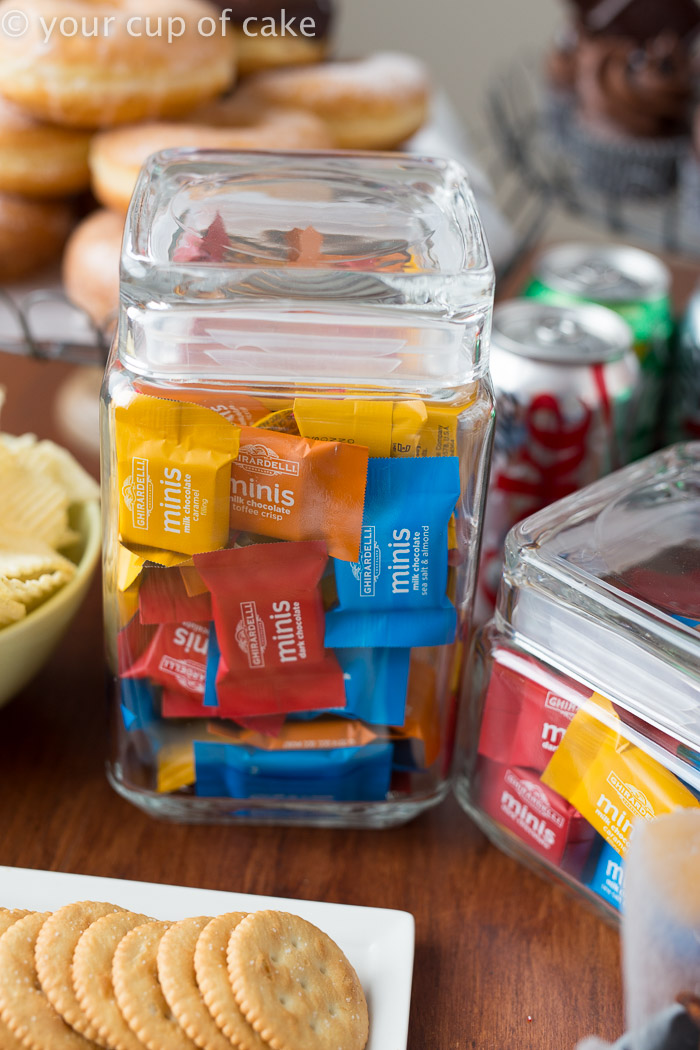 More chocolate.
And more Ghiradelli. Using their classic chocolate squares, yum. There is so much chocolate going on in this photo but there's also a hidden flavor in the cake…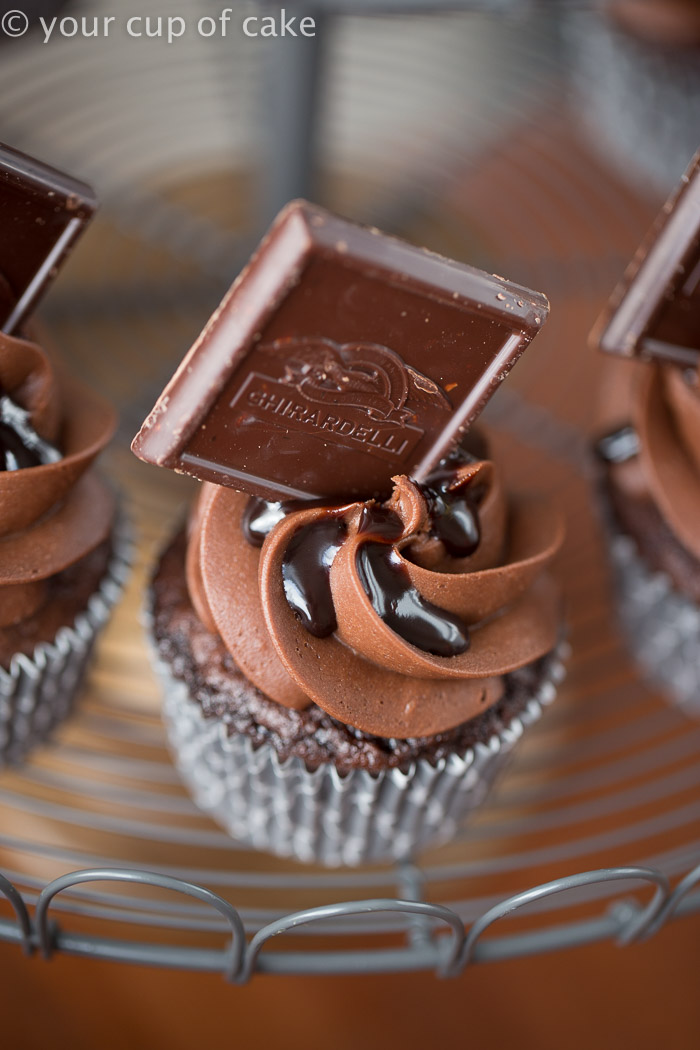 The anticipation is killing you I'm sure…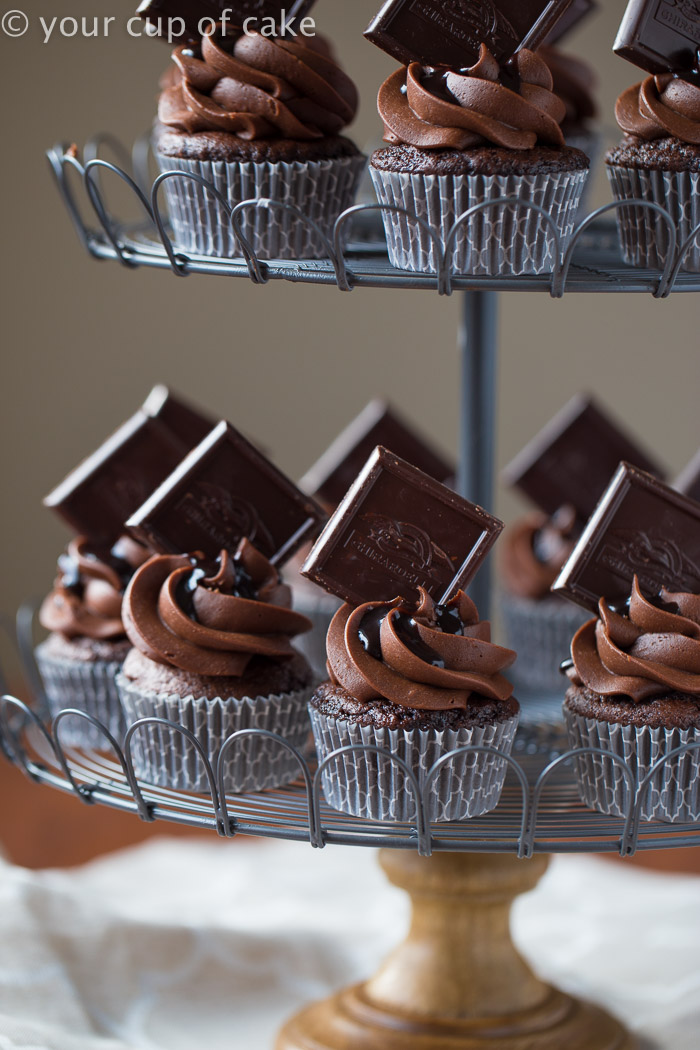 Black Cherry Jam. That's right, it's a chocolate black cherry cake thanks to this special ingredient!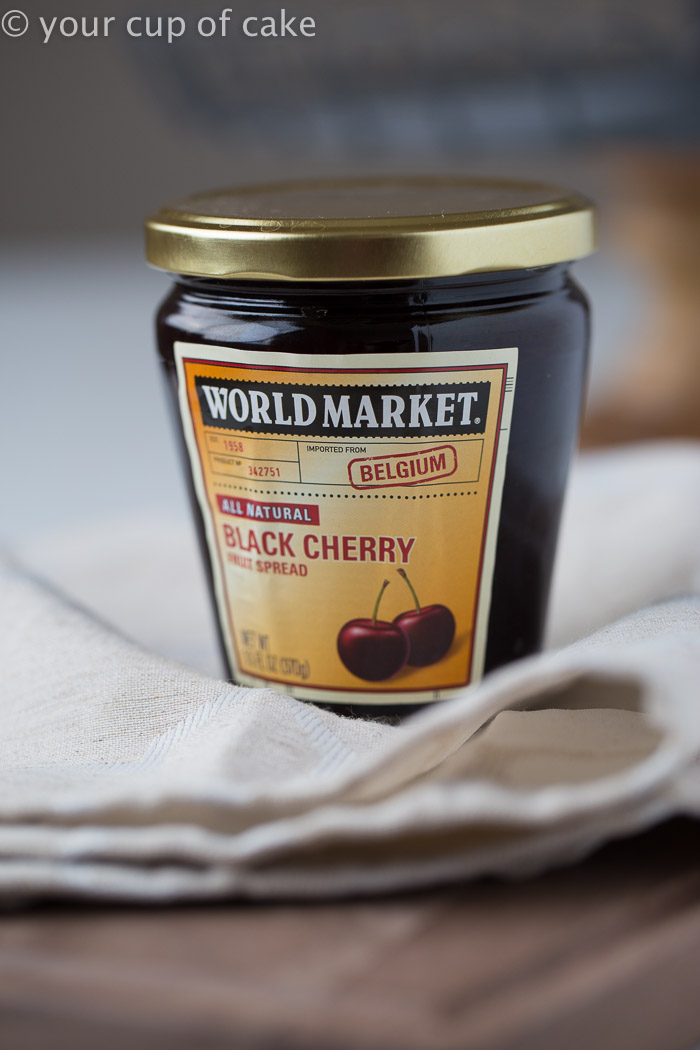 So that makes these Chocolate Ghiradelli Cherry Cupcakes!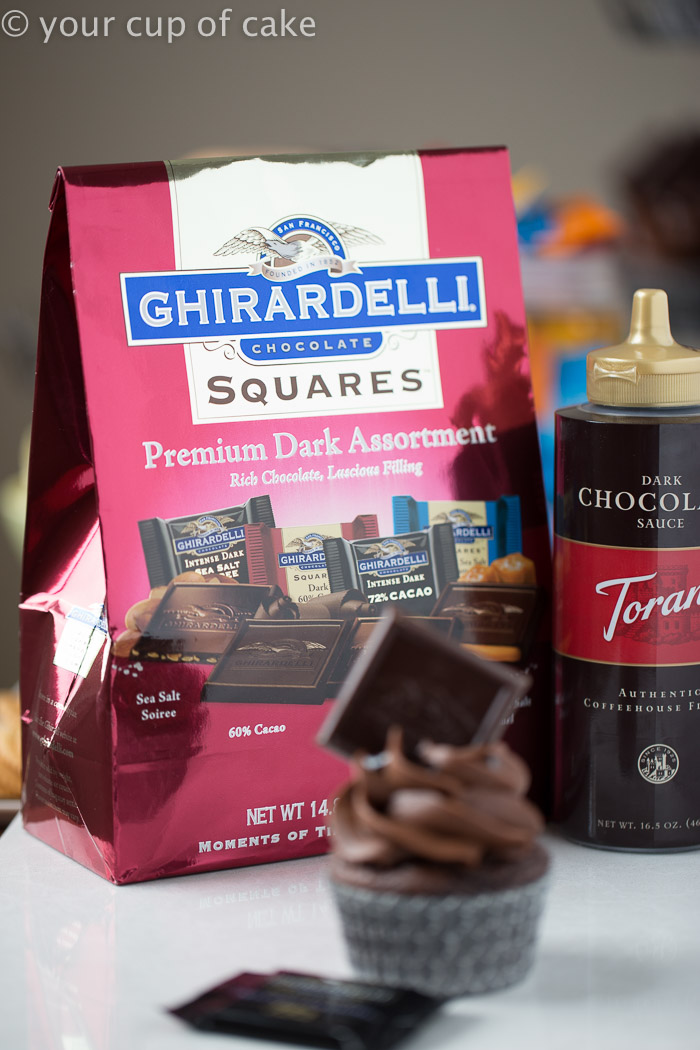 I used this Torani Chocolate Sauce to top off the cupcakes and it's my new favorite thing! Instead of making some ganache or melting extra chocolate, I just whipped this bottle out of the pantry and drizzled it on. So easy! You can bet I'm heading out to buy the caramel sauce too! You can use it on cakes, cupcakes, cookies, ice cream, hot chocolate… straight into your mouth….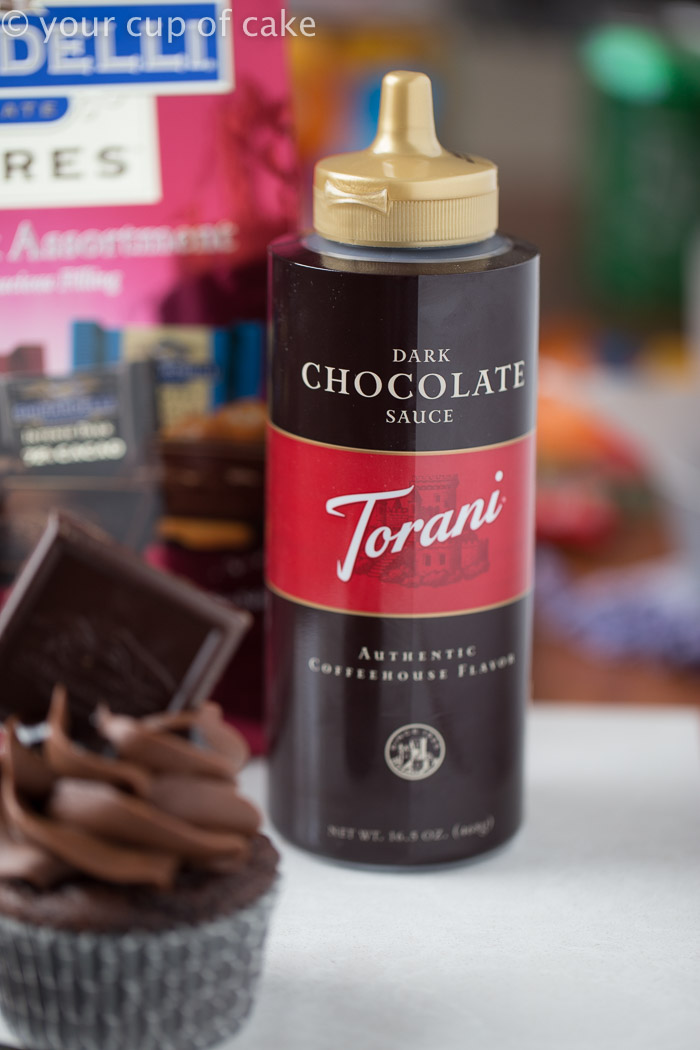 Magical things happen when you combine jam, Ghiradelli and Torani. Not to mention the magical vanilla beans… yum!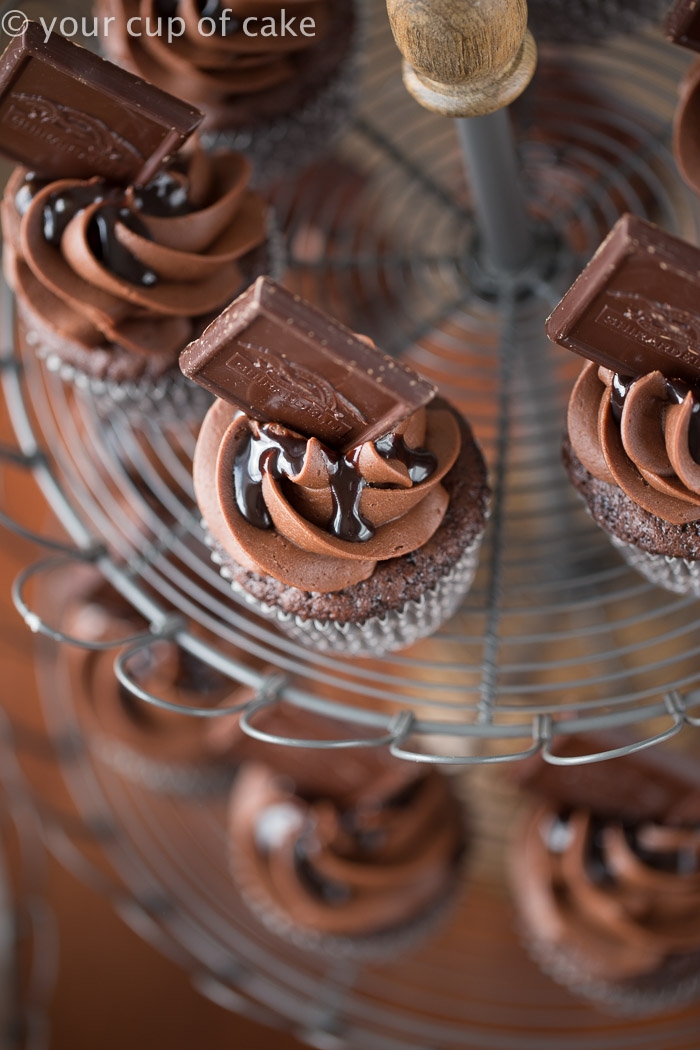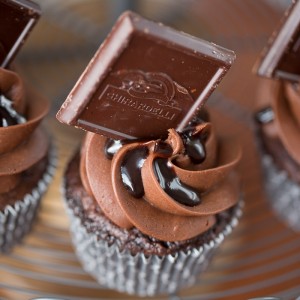 Chocolate Cherry Cupcakes
Ingredients
CHOCOLATE CAKE:

1 1/2

C.

all-purpose flour

1

C.

unsweetened cocoa powder

1

tsp.

baking soda

1 1/2

tsp.

baking powder

1/2

tsp.

salt

4

eggs

at room temp

1

C.

sugar

1

C.

brown sugar

packed

2/3

cup

oil

1/3

C.

buttermilk or milk

2/3

C.

World Market Black Cherry Jam

2

World Market vanilla beans

slice and scrape out insides

CHOCOLATE BUTTERCREAM:

3/4

C.

butter

softened

1/3

C.

unsweetened cocoa powder

2

tsp.

vanilla extract

1-3

Tbsp.

milk

2-3

C.

powdered sugar
Instructions
1. Preheat oven to 350 degrees and line pans with cupcake liners, I used orange to really bring out the Reese's Pieces theme!

2. In a medium bowl, combine cocoa flour, cocoa powder, baking soda, baking powder and salt. Set aside.

3. In a large bowl, combine eggs, sugar, brown sugar, oil, buttermilk, cherry jam and vanilla beans.

4. Pour half the dry ingredients into the wet and stir. Then add the rest of the dry ingredients and stir again. Don't over mix.

5. Fill cupcake liners 2/3 full and bake for 18-22 minutes or until an inserted knife comes out clean. Let cool.

6. Buttercream: Beat butter. Add cocoa powder, vanilla extract and 1 tablespoon milk. Add in 1 1/2 cups powdered sugar and then alternate between adding more milk and more powdered sugar until you reach your desired consistency.

7. Pipe onto cooled cupcakes and top with Ghiradelli squares and Torani Chocolate Sauce.
And this adorable cake stand? From World Market of course!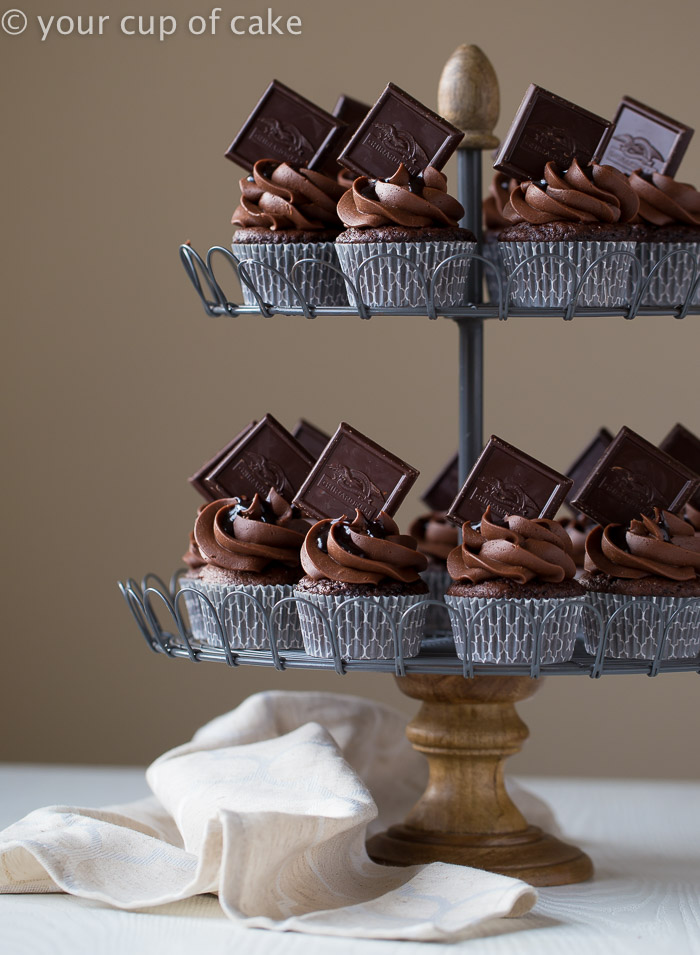 About that party giveaway I was telling you about….
Grand Prize Package:
* $2,000 World Market gift card
* One case of:
* Torani Flavored Syrup
* Ghirardelli Chocolate
* Krave Jerky
* Columbus Salame
* Plus, THREE First Prizes: $500 World Market gift card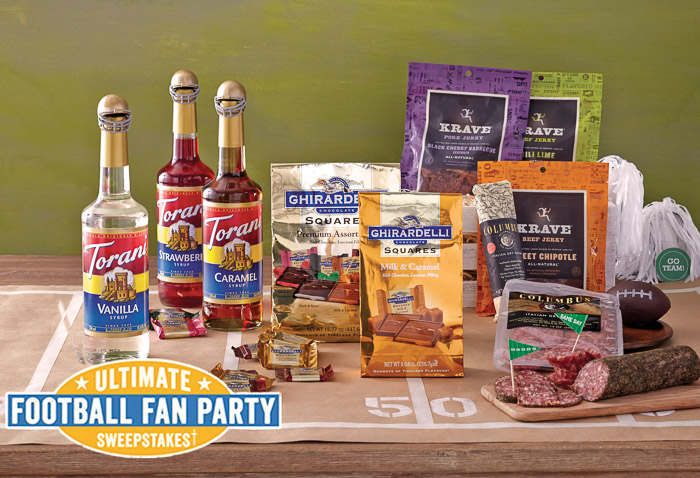 This post was sponsored by World Market, but all opinions, recipes and ideas are my own!