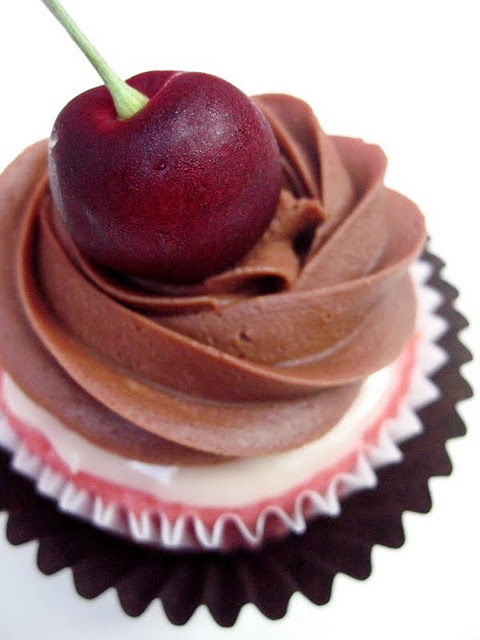 The Story:
Some of my readers have been giving me a hard time about using cake mixes, but I have to stand up for these 98 cent treasures. They are quick, cheap, easy and once you doctor them up, dip them in ganache and top them with buttercream, they are works of art!
The best thing about using a cake mix is that anyone can do it. Your 23-year-old son who has been living off of canned soup at college, your teenage daughter who can't tell a teaspoon from a tablespoon, and your husband who stays as far away as he can from your beloved Kitchen Aid can ALL make a cake mix recipe.
1 box Vanilla (or French Vanilla) Cake Mix
2 teaspoons almond extract
1 teaspoon vanilla extract
¼ cup white chocolate chips
2 tablespoons heavy cream
1-2 tablespoons heavy cream or milk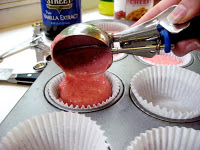 1.
Preheat oven to 350 degrees and line muffin tins with cupcake liners (yields about 30 cupcakes).
2.
Puree cherry pie filling using a blender.
3.
In a large bowl, lightly beat eggs. Add almond and vanilla extract and buttermilk.
4.
For easy mixing, sift cake mix into egg mixture and add cherry pie filling. Stir only until incorporated.
5.
Fill cupcake liners ¾ full and bake for 15-20 minutes, or until an inserted knife comes out clean.
6.
White Chocolate Ganache: Using the microwave or the stove top, melt chocolate chips in heavy cream, stirring until smooth. (White chocolate burns easily, use low heat and be careful!)
7.
Chocolate Buttercream: Beat butter for 3 minutes, then add powdered sugar, cocoa, and vanilla. Beat and add heavy cream or milk until desired consistency in reached.
8.
Dip the tops of cooled cupcakes into the ganache and wait for the white chocolate to become more firm. Then pipe chocolate buttercream on top and garnish with a fresh cherry.