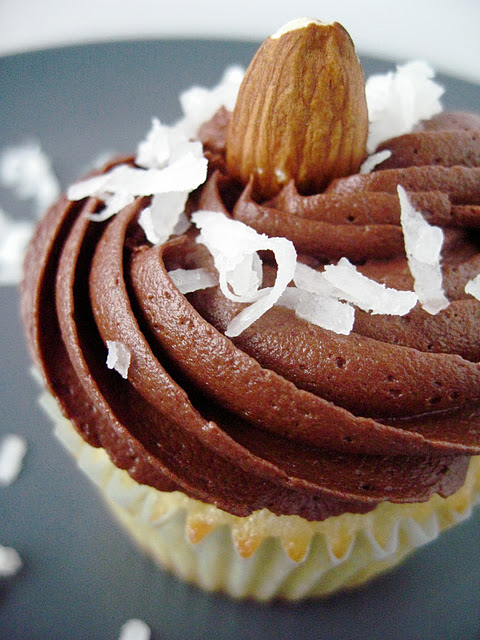 After several failed attempts at making homemade almond joys, I decided to take the cupcake route. This coconut cake recipe is from Ina Garten, and I think I will have to try them topped with her cream cheese frosting recipe next time. They look like a perfect treat for summer.
3 sticks butter at room temperature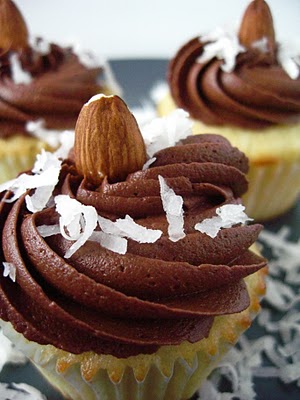 2 cups sugar
5 eggs at room temperature
1 ½ teaspoons vanilla extract
1 ½ teaspoons almond extract
1 cup butter milk (or regular milk plus 1 teaspoon lemon juice)
2 sticks butter, softened
1 teaspoon vanilla extract
1.
Preheat oven to 325 degrees and line muffins tins with cupcake liners
2.
Beat butter and sugar until light and fluffy, this should take a few minutes.
3.
Add eggs, vanilla and almond extract and let beat again.
4.
In a separate bowl, sift four, baking powder, baking soda, and salt together.
5.
Starting and ending with the flour mixture, alternate adding the flour and buttermilk to the batter. Mix only until combined.
6.
Stir in coconut and fill cupcake liners to the top.
7.
Bake for 20-30 minutes, or until a knife comes out clean.
8.
Buttercream: Beat butter for 5 minutes. Slowly add cocoa and powdered sugar (add small amount of milk in between.) Add vanilla.
* I Used chocolate buttercream because I wanted to make an Almond Joy type cupcake, but I think a regular cream cheese frosting would be perfect on these coconut cakes.