Okay, so I know it's only September, but these cuties looked just like a Valentine's Day cupcake! I better cool it in the kitchen a little bit so that I can have a valentine to make these for in February…
Chocolate Raspberry Cake:
21 oz can raspberry pie filling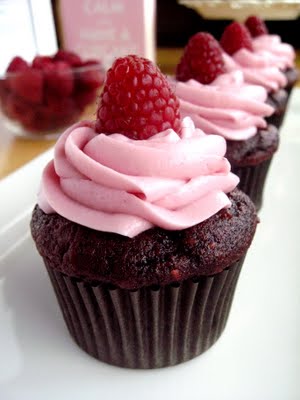 1 teaspoon vanilla
½ teaspoon baking soda
(high altitude, add 1/4 cup flour)
1/3 cup frozen raspberries, thawed and strained
1.
Preheat oven to 350 degrees and line pans with cupcake liners (yield=24).
2.
Puree raspberry pie filling with sour cream in blender.
3.
In large bowl, lightly beat eggs with vanilla and add raspberry/sour cream mixture.
4.
Add cake mix, cinnamon, and baking soda. (For easy mixing, sift cake mix before adding.)
5.
Fill liners ¾ full and bake for 12-14 minutes. (These bake faster than other cupcakes, be careful!)
6.
Buttercream: Beat cream cheese and butter until smooth. Add powdered sugar, vanilla and raspberry puree. Adjust consistency using powdered sugar and puree.
7.
Pipe onto cooled cupcakes and top with fresh raspberries or chocolate pieces.