Last year I made a fabulous cupcake that is still one of my favorites, The Butterfinger Blizzard Cupcake. But this time I wanted to make a lighter version and use a vanilla cake as a base. And wow, this cupcake is to die for. A hint of cinnamon in the cake, the peanut butter and sour cream balance to the sweetness of the buttercream and topping it all of with that I call Butterfinger Sprinkles just put this baby over the top.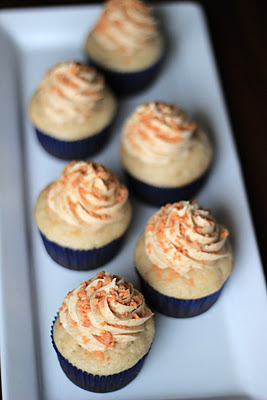 Duncan Hines White Cake mix
Butterfinger Blizzard Buttercream:
¾ cup unsalted butter softened
1/3 cup smooth peanut butter
¾ cup Butterfinger center powder*(see note)
Butterfinger Sprinkles* to decorate
*Note: Unwrap Butterfingers (I used about 10 mini sized) and place on a place. Microwave for 25 seconds, then scrape off chocolate using a knife. The heat should help the chocolate come off easily, though this process will be a tad messy. Place the orange centers into a plastic bag and use a rolling pin to crush them finely. Sift the orange centers. If you don't have enough "powder" (the fine orange pieces that went through the sifter), take what was left in the sifter and crush again in a plastic bag. Sift again. Whatever went through the sifter is your "powder" and whatever was too big to go through are your "Butterfinger Sprinkles."
1.
Preheat oven to 350 degrees and line two pans with cupcake liners, yields 24 cupcakes.
2.
In a small bowl, sift cupcake mix to remove any lumps. Add cinnamon and stir.
3.
In a large separate bowl, combine oil, egg whites and egg together. Do not over beat.
4.
Add buttermilk, sour cream and vanilla to egg mixture and stir.
5.
Slowly add cake mix to egg mixture and stir until combined.
6.
Fill cupcake liners ¾ full and bake for 15-17 minutes, or until an inserted knife comes out clean.
7.
Butterfinger Buttercream: Beat butter and peanut butter for 3 minutes on high. Scrape the bowl as necessary. Add vanilla and slowly start to add powdered sugar until the consistency is where you want it to be. Add sour cream, mix well. Then add Butterfinger powder. Adjust consistency as needed using sour cream to loosen and powdered sugar to thicken.
8.
Pipe onto cooled cupcakes (I used tip Ateco #824) and top with Butterfinger Sprinkles* for an extra crunch.