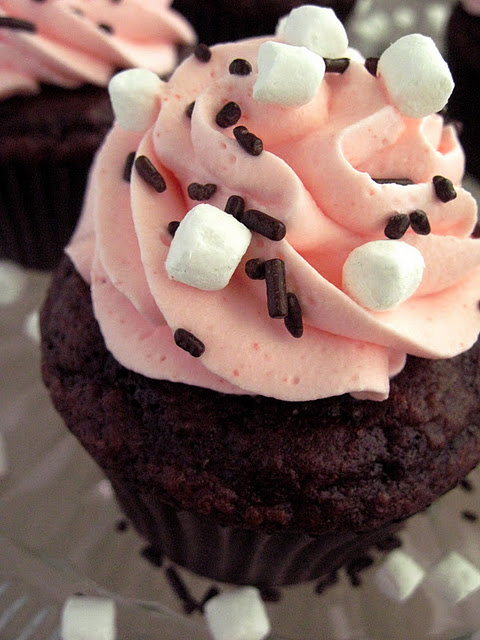 Guess what is a staple in my diet. No…not cupcakes. But chocolate milk. I have one just about everyday. Well, now that we are approaching the winter months, I think I will be making the transition to the warmer alternative. Be sure to check out my latest version of the chocolate raspberry cupcakes.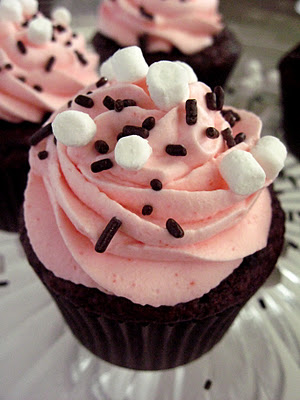 Raspberry Marshmallow Filling:
¼ cup raspberries, strained
2-3 teaspoons raspberry gelatin
1.
Preheat oven to 350 degrees and line pans with cupcake liners (yields 34).
2.
In a large bowl, gently combine eggs, oil, buttermilk, sour cream, vanilla and cinnamon.
3.
Stir in cake mix (sift in for easy mixing).
4.
Fill cupcake liners ¾ full and bake for 17-20 minutes, or until an inserted knife comes out clean.
5.
Raspberry Marshmallow Filling: Combine all ingredients.
6.
Raspberry Whipped Cream: Beat whipped cream until stiff peaks form. Stir in gelatin and powdered sugar until desired taste is reached.
7.
When cupcakes are cooled, cut a cone shaped hole out of the tops and fill with marshmallow filling.
8.
Just before serving pipe whipped cream on top and top with mini marshmallows and sprinkles.