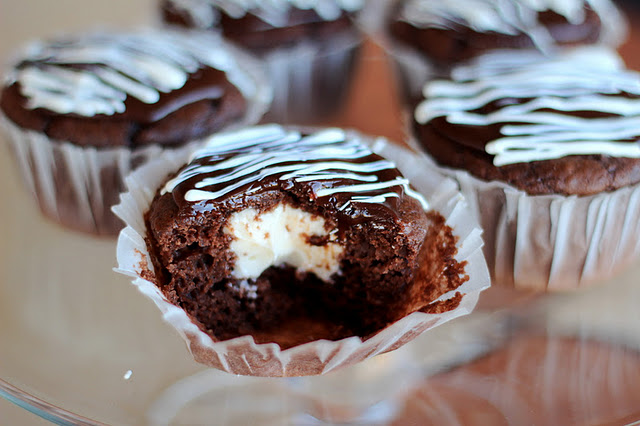 The Story:
Wherever I go, I am "cupcake girl." So sometimes I show up at a relative's house and I am informed that I will be making cupcakes for a family affair. Do I have any tips, any scoops, even any cupcake pans? Nope. But I miraculously seem to make it work.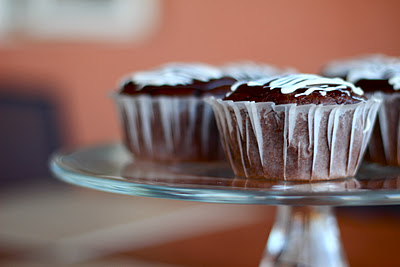 ½ cup oil
1 teaspoon vanilla extract
1 teaspoon vanilla extract
Melted White Chocolate for decoration

1.
Preheat oven to 350 degrees and line pans with 20 cupcake liners.
2.
In a large bowl, mix eggs, oil, buttermilk, sour cream and vanilla extract.
3.
Mix in (or sift in for easy mixing) cake mix and stir well.
4.
Fill cupcake liners ¾ full and bake for 16-20 minutes, or until an inserted knife comes out clean.
5.
Cream Filling: Beat all ingredients for 5 minutes until light and fluffy. Fill a piping bag with cream filling.
6.
When cupcakes are cooled, use a small knife to cut a cone shaped piece out of the top of each cupcake. Cut the point part off of each "cone" so that you can use the top as a "lid."
7.
Fill the cupcake with filling and place the "lid" on top.
8.
Ganache: Using a double boiler or the microwave, heat cream and chocolate chips and stir until smooth. Let cool for a few minutes, then spoon over cupcakes and spread evenly over cakes. Let set for 10 minutes.
9.
Melt white chocolate (be careful, white chocolate burns easily) and drizzle over cakes.