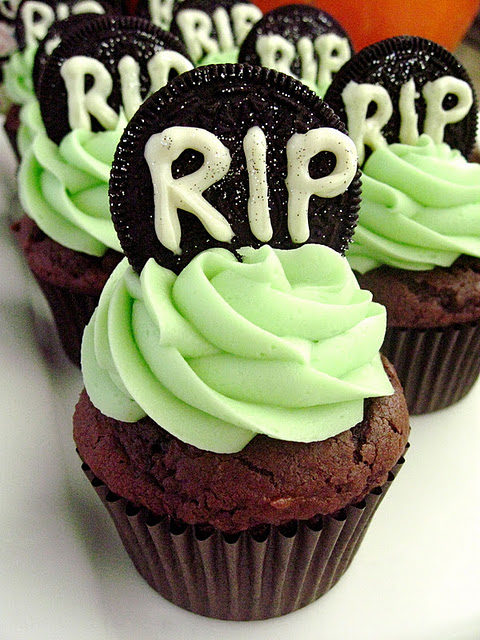 The Story:
Okay, I give credit where credit is due. Leigh Anne from Your Homebased Mom had this idea last year when she made my Oreo cupcakes, so I decided to do it this time! Halloween is coming up so soon, I had to get in the spirit!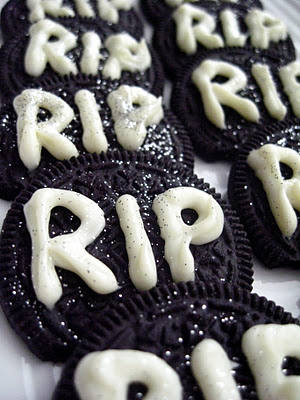 Chocolate Buttermilk Cake:
1 box Devil's Food Cake Mix
8 oz cream cheese, softened
White Chocolate for decorating Oreos
1.
Preheat oven to 350 degrees and line pans with 24 cupcake liners.
2.
Split Oreos. Place the side with cream, cream-side-up at the bottom of each cupcake liner.
3.
Use the other half of the Oreo and decorate it with melted white chocolate and a piping bag. Don't melt it too much, or you will have to let it cool a bit so you don't make a mess when you pipe!
4.
In a large bowl, lightly combine eggs, oil, buttermilk, sour cream, vanilla and cinnamon.
5.
Add cake mix (sift it into the bowl for easy mixing) and mix until combined.
6.
Fill cupcake liners ¾ full on top of cream-side-up Oreo halves.
7.
Bake for 15 minutes, or until an inserted knife comes out clean.
8.
Buttercream: Beat cream cheese and butter until fluffy and smooth. Add powdered sugar and vanilla. Adjust consistency as needed using extra powdered sugar and milk. Color as desired with food coloring and mix well.
9.
Pipe onto cooled cupcakes and top with Oreo tombstones and edible glitter! Happy Halloween!