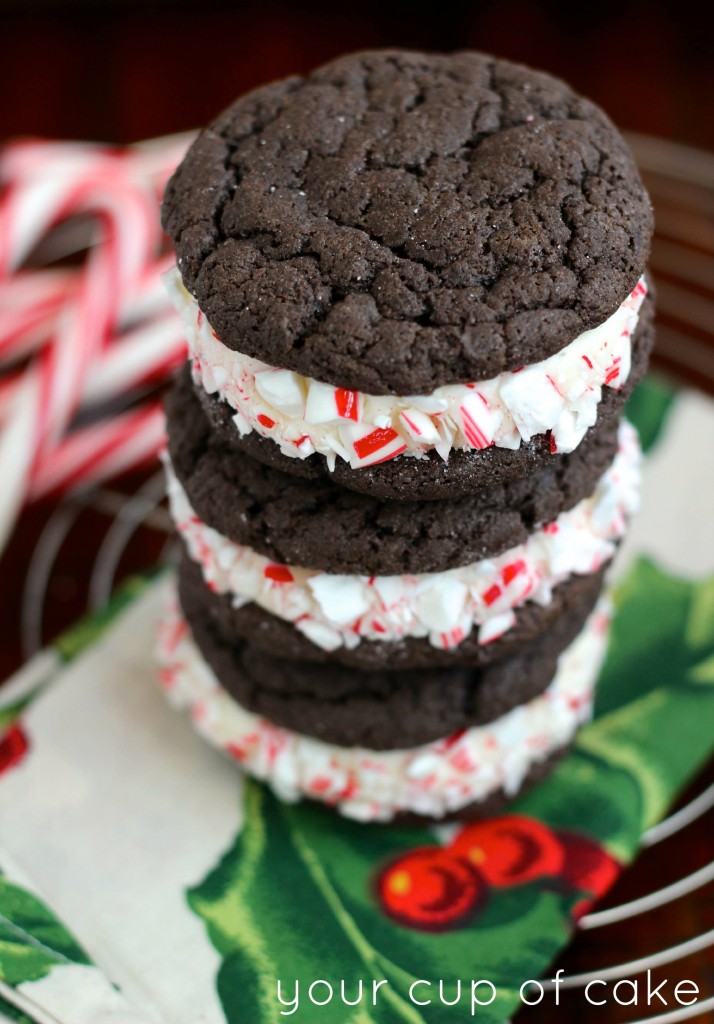 The Story:
I grew up with a big white cookie jar sitting on the kitchen counter. Was it filled with freshly baked cookies and treats? Piled high with brownies? Or candy bars and chocolates? Nope. This was a different kind of cookie jar. It was the place where things sort of got left behind. Old suckers from the doctor, gross-flavored cough drops and at the bottom there were always candy canes. Crushed and broken and missing their Christmas charm.
So today I'm bringing the magic back to broken candy canes (the ones I used here were new and not old)! Do you hang you canes on the tree? Suck on them while you decorate? Well now you have one more reason to love these shepherd crook candies!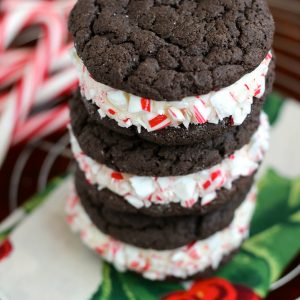 Dark Chocolate Candy Cane Whoopie Pies
Servings
20
-30 cookies, 10-15 whoopie pies
Ingredients
Dark Chocolate Cookies:
Pillsbury® Dark Chocolate Premium Cake Mix

2

eggs

2

Tbsp.

brown sugar

1/2

C.

oil
Peppermint Cream Cheese Filling:
8

oz.

cream cheese

1/4

C.

butter

softened

1

tsp.

peppermint extract

2

tsp.

vanilla extract

2-3

C.

powered sugar
Instructions
1. Preheat oven to 350 degrees.

2. In a large bowl, combine cake mix, eggs, brown sugar and oil until smooth. Dough will be thick.

3. Make small dough balls and place on cookies sheets. gently press down on each dough ball to flatten a little (cake mix cookies bake really tall unless you flatten them out.)

4. Bake for 6-10 minutes depending on how large each dough ball is (walnut-sized to golf ball-sized)

5. Let cool.

6. Cream cheese filling: Beat cream cheese and butter. Add vanilla and peppermint extract and slowly add in powdered sugar until you reach your desired consistency.

7. Frost the bottoms on half of your cookies. Then use an unfrosted cookie to "sandwich" your filling in between the two cookies.

8. Roll the edges in a bowl of crushed candy canes. (Crush your candy canes in a blender, it's really fast that way!)

9. Enjoy! (You can place in a tupperware in the fridge until ready to serve! They taste great chilled!)
Loved this Dark Chocolate mix! It works with any of my cake mix recipes that calls for Devil's Food Cake Mix. You can also use the Chocolate Peppermint Cookie Mix if you want and even easier way to make this recipe work!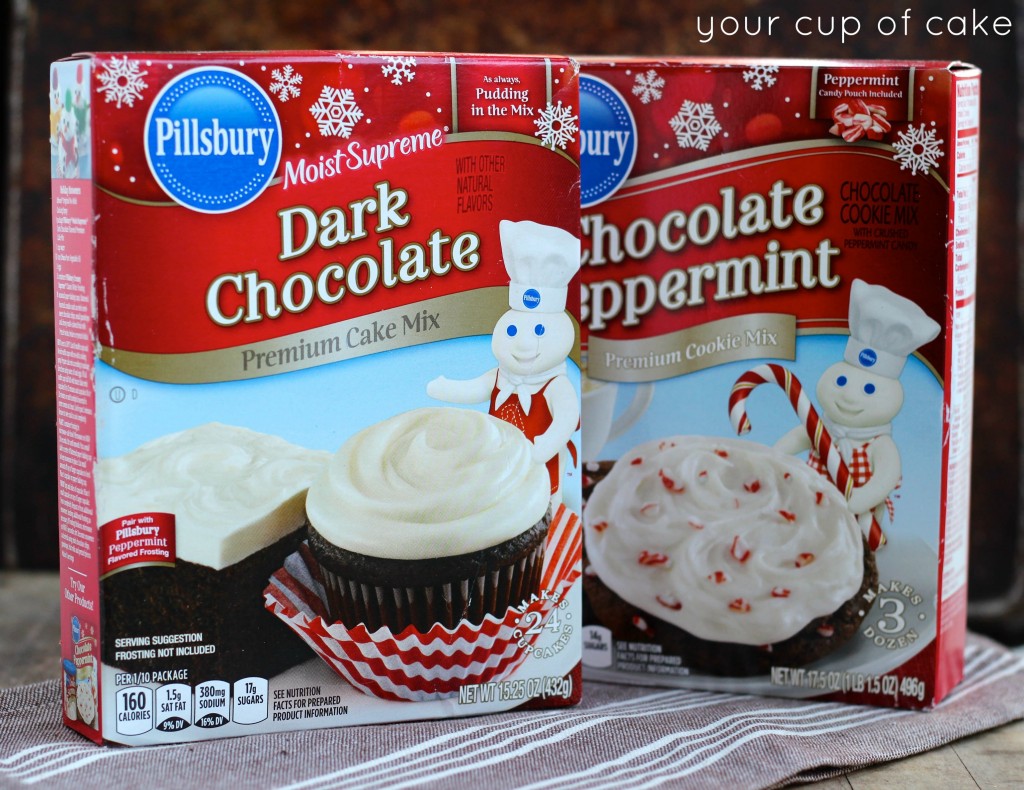 Love my cookie scoop! It's a great stocking stuffer for any baker… just saying 🙂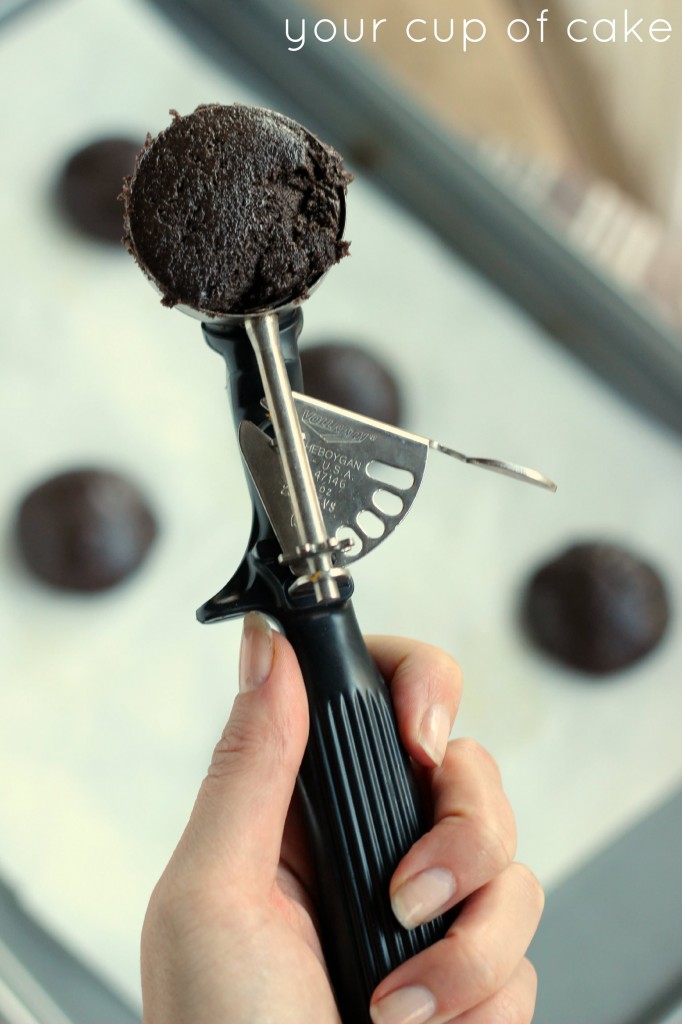 Remember, cake mix cookies need to be flattened down a bit so they don't bake up too tall! I made my cookie really big, but you can make them half the size and they will be adorable!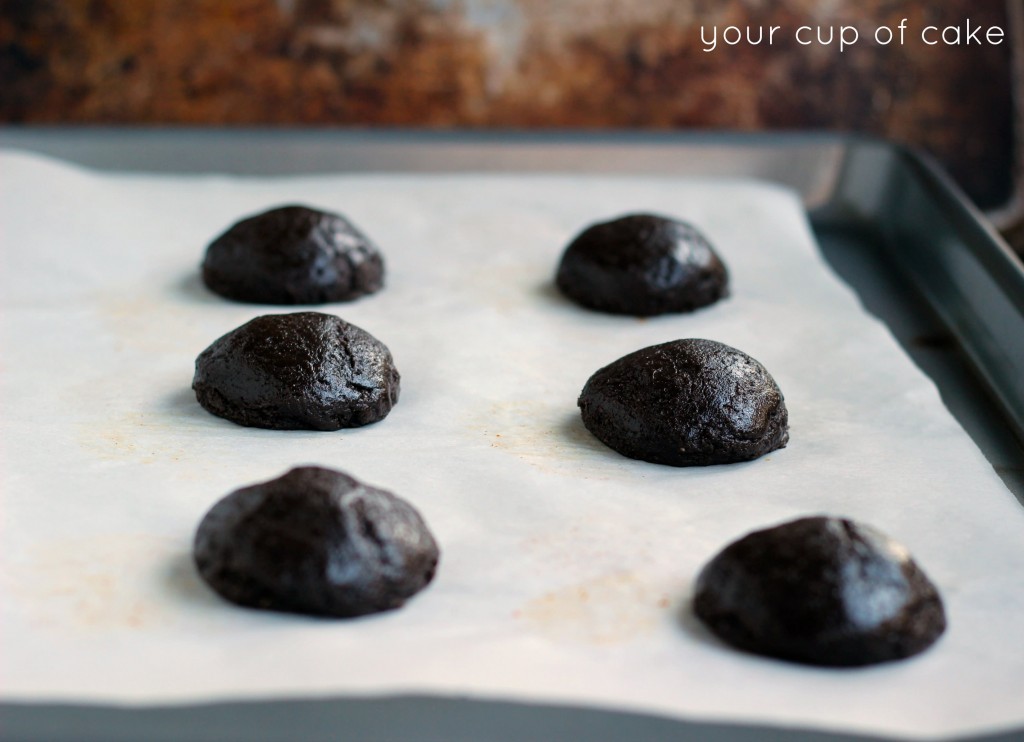 These are really easy to pack in a little box and give to neighbors or send in your kid's lunch box!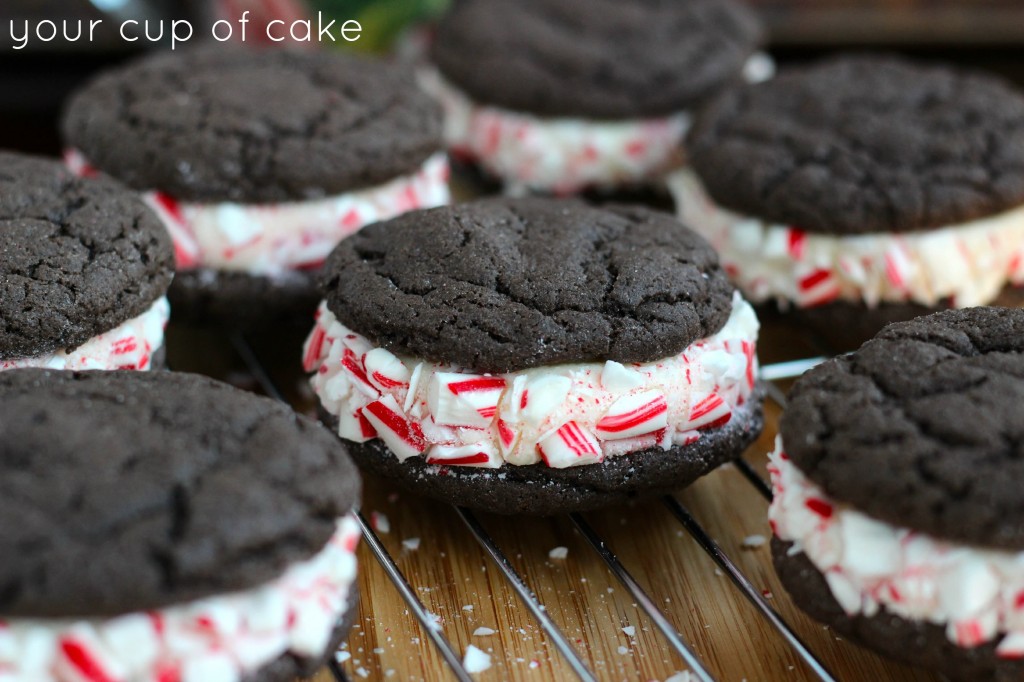 Candy cane season has arrived!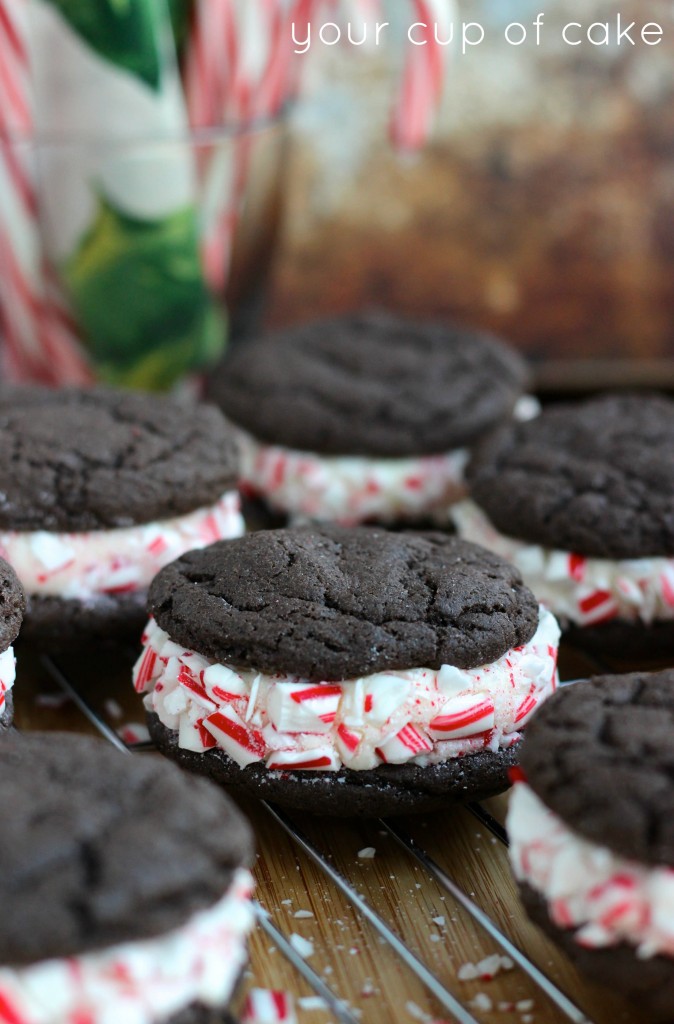 ©/® The J.M. Smucker Company. Pillsbury is a trademark of The Pillsbury Company, LLC, used under license. Your Cup of Cake was compensated for this post.