Chocolate mint lovers! I have your new favorite cupcake… Triple Chocolate Mint Cupcakes topped with Andes Mints and chocolate sauce!

Triple Chocolate Mint Cupcakes Topped with Andes Mints
Chocolate and mint are one of my favorite flavor combinations. I grew up on Tillamook Mint Chocolate Chip ice cream and still can't get enough of it! Peppermint patties, Andes Mints, Mint Brownies… you name it! One of my very first viral recipes here on Your Cup of Cake was my Andes Mint Cupcakes! So I decided to throw it back and create another Chocolate Mint Cupcake, this time with Mint Chocolate Buttercream! These Triple Chocolate Mint Cupcakes are topped with fresh mint and classic Andes Mints as a throwback to my original recipe. Enjoy!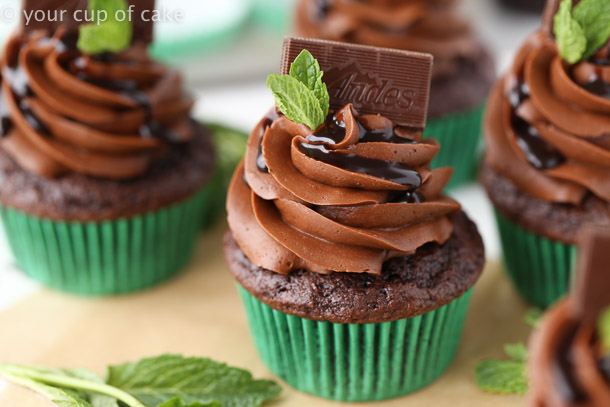 The Secret to Getting Perfect Chocolate Frosting
People always ask me how to get perfect buttercream! They get lumps, it's too sweet, it's too stiff, it's too thin, it's just not right! Well Lizzy to the rescue! First of all, start off with butter! The butter needs to be soft but not melted! Room temperature butter is usually ideal. Pop that in your mixer and beat it, this will keep the lumps away. Then, start adding your powdered sugar (and unsweetened cocoa if it's chocolate buttercream). The amount of powdered sugar you add will vary. In the winter my house is cold and I don't need to add as much because my butter it's as soft. But in the summer I need extra powdered sugar because it's hot! It needs that extra stiffness to hold up! If I'm taking my cupcakes outside for a wedding… more powdered sugar to stand up to that heat! So I always add my powdered sugar in a little at a time until the consistency is right for whatever dessert I'm making it for.
Tricks to Keep your Frosting from Being Too Sweet
A lot of people add a pinch of salt to their buttercream to balance all the sweetness from the sugar. Instead of adding milk to your frosting, I like to use sour cream. This tang keeps the sweetness at bay.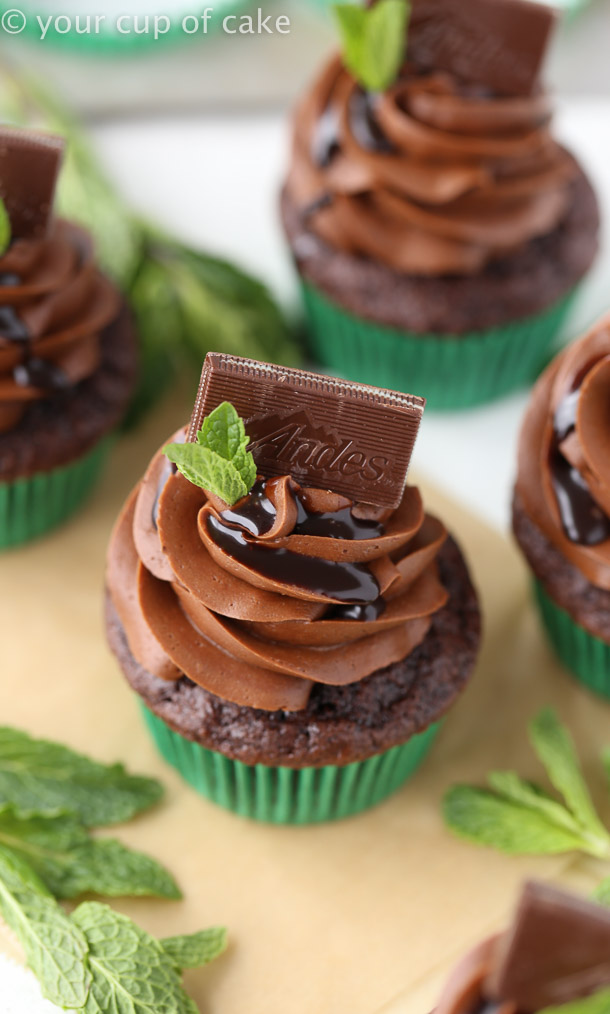 Triple Chocolate Cupcakes
So what makes this Triple Chocolate? Chocolate cupcakes, chocolate buttercream and chocolate sauce! There's nothing wrong with chocolate on chocolate and the drizzle of sauce just makes them look too good to be true! So what's the sauce? Well I like to use Torani chocolate sauce, I keep a bottle in my pantry and drizzle it on ice cream, pie, hot chocolate or other desserts. It really does come in handy! But you can always make a quick ganache using about 1/4 cup of chocolate ships and 2 tablespoons of cream, zap them in the microwave and stir until smooth!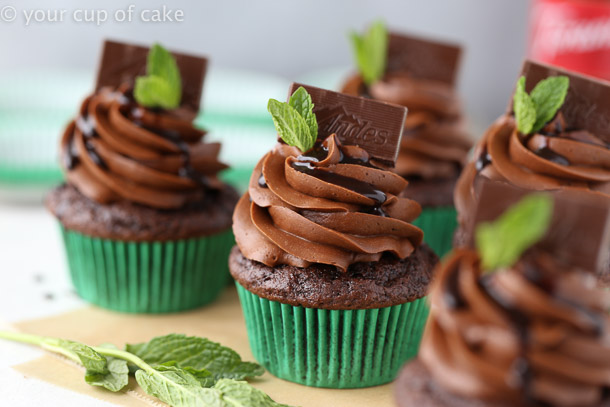 Okay, how cute is that fresh mint?! I need to plant some mint this year! I planted it 4 years ago where I was living and loved it! But this recipe just reminded me how much just a little sprig adds to cupcakes.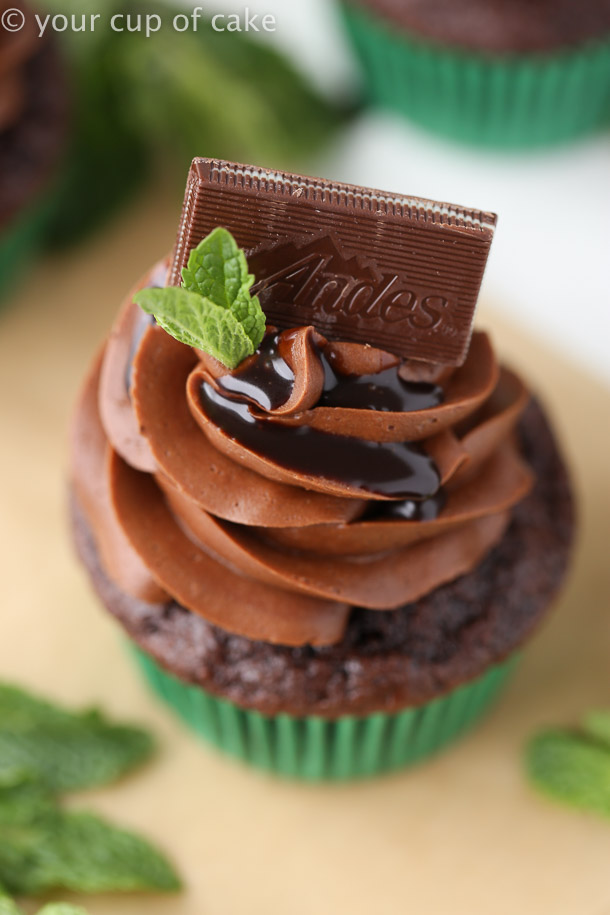 Enjoy my Triple Chocolate Mint Cupcakes for your St. Patricks Day or next Christmas season! Chocolate and mint really are a perfect pairing for desserts! And if you want to take another twist on it, my Raspberry Thin Mint Cupcakes will blow you away!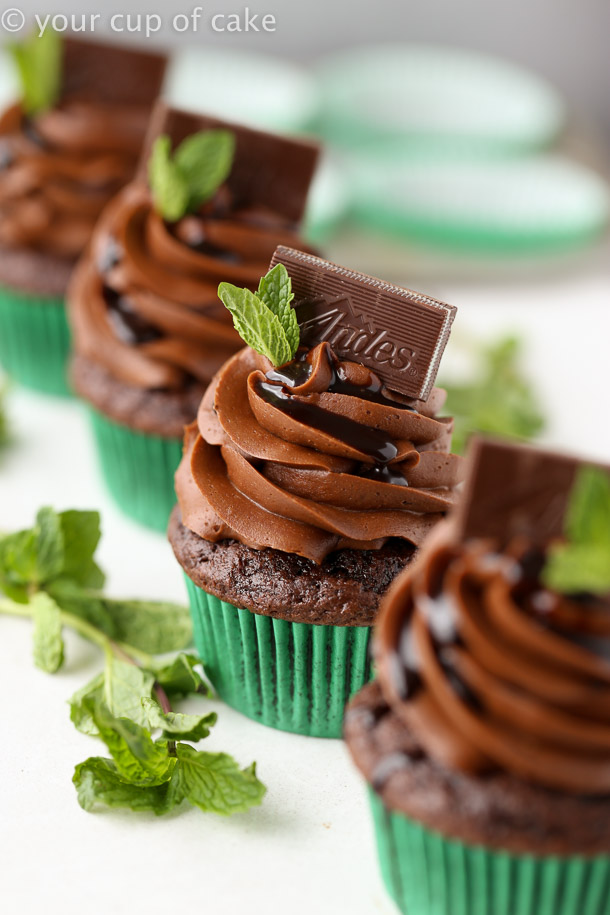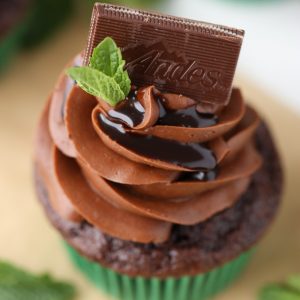 Triple Mint Chocolate Cupcakes
Ingredients
CHOCOLATE CAKE:

1 1/2

C.

all-purpose flour

1

C.

unsweetened cocoa powder

1

tsp.

baking soda

1 1/2

tsp.

baking powder

1/2

tsp.

salt

4

eggs

at room temp

1

C.

sugar

1

C.

brown sugar

packed

2/3

cup

oil

1

C.

buttermilk or milk

1

Tbsp.

vanilla extract

2

tsp.

peppermint extract

CHOCOLATE MINT BUTTERCREAM:

1

C.

butter

softened

2-3

C.

powdered sugar

1/2

C.

unsweetened cocoa powder

2

Tbsp.

milk

2

tsp.

vanilla extract

1

tsp.

peppermint extract

CHOCOLATE SAUCE

ANDES MINTS
Instructions
1. Preheat oven to 350 degrees and line pans with cupcake liners, I used green liners because I wanted them to look even more minty!

2. In a medium bowl, combine cocoa flour, cocoa powder, baking soda, baking powder and salt. Set aside.

3. In a large bowl, combine eggs, sugar, brown sugar, oil, buttermilk, vanilla extract and peppermint extract.

4. Pour half the dry ingredients into the wet and stir. Then add the rest of the dry ingredients and stir again. Don't over mix.

5. Fill cupcake liners 1/2 full and bake for 18-22 minutes or until an inserted knife comes out clean. Let cool. (Be careful not to overfill your liners with batter before baking.)

6. To make buttercream, beat butter until smooth. Add 2 cups powdered sugar, cocoa, milk, vanilla and peppermint extract. If you want the frosting thicker, add more powdered sugar.

7. Frost cupcakes and top with chocolate sauce and andes mints!

NOTE: I use Torani chocolate sauce but any will do. If you want to make a quick ganache, heat 1/4 C. chocolate chips with 2 Tbsp. cream in the microwave and stir until smooth!