Cute and easy Christmas cookies! These Ornament Sugar Cookies are festive, fun and perfect for your cookie decorating parties!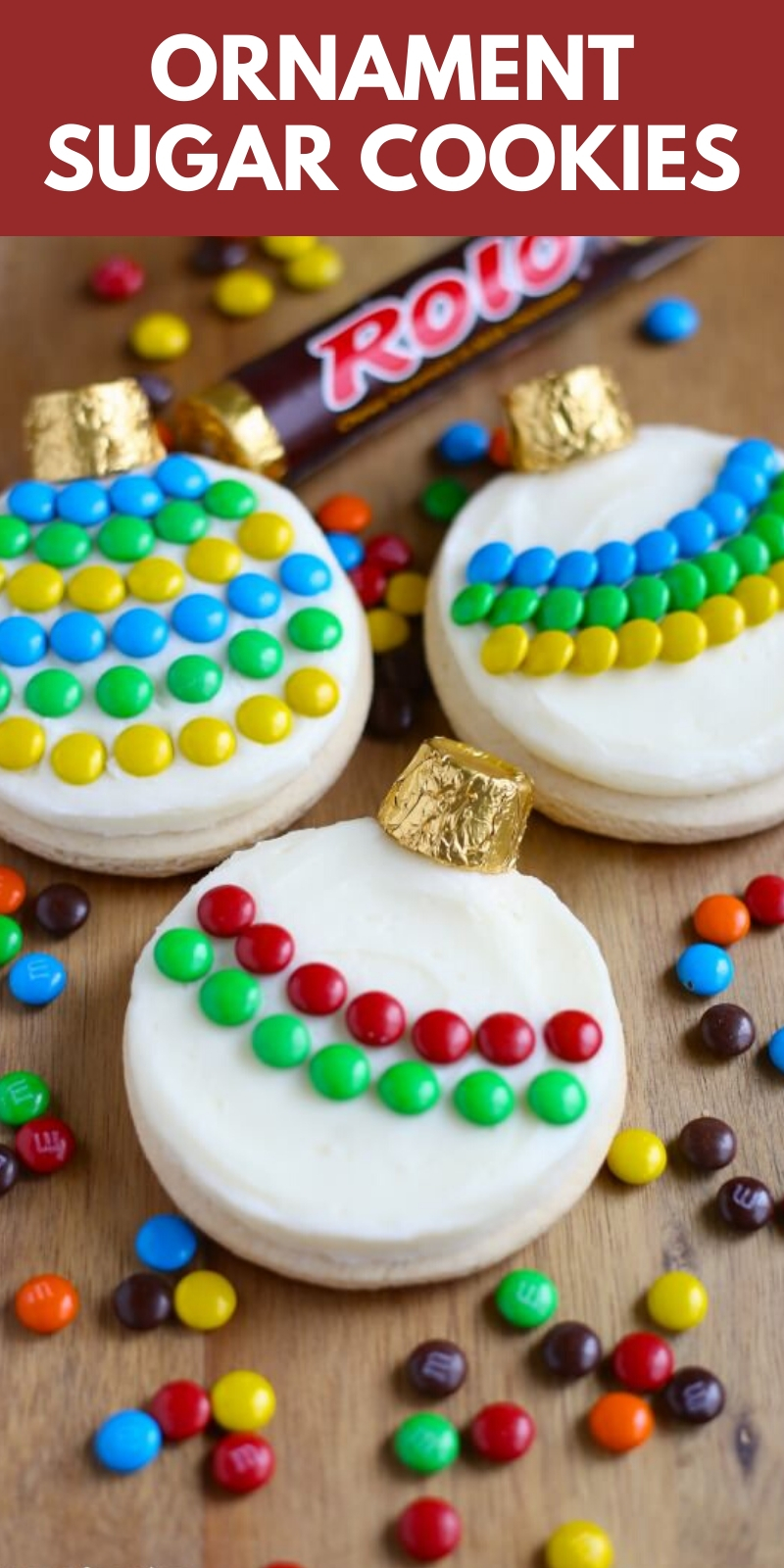 Looking for a new way to decorate your sugar cookies this Christmas? Try decorating ornament sugar cookies using Rolos, M&M's and some frosting! All you need is a simple circle cookie cutter to get started!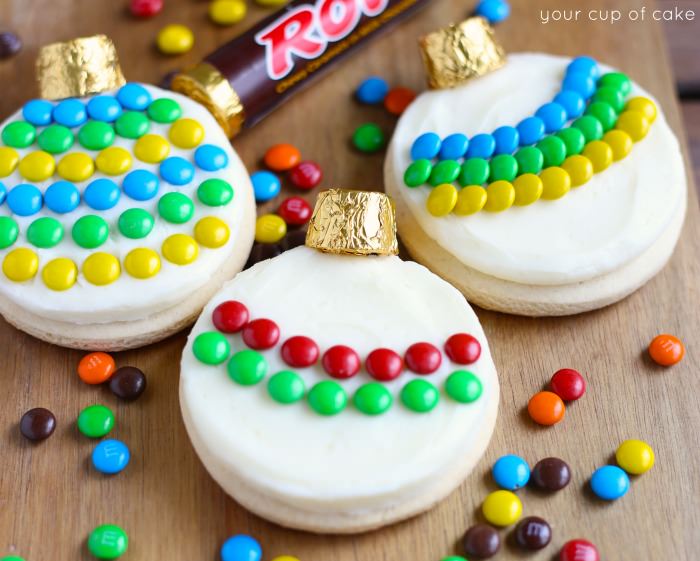 Roll out your dough between pieces of parchment! I do this will all my pies 🙂 It's a great trick because you don't have to add a bunch of flour and it also makes the clean up so easy!
Just peel it away when the dough is about 1/4 of an inch and use your cookie cutters to cut out your shapes!
Bake and let cool!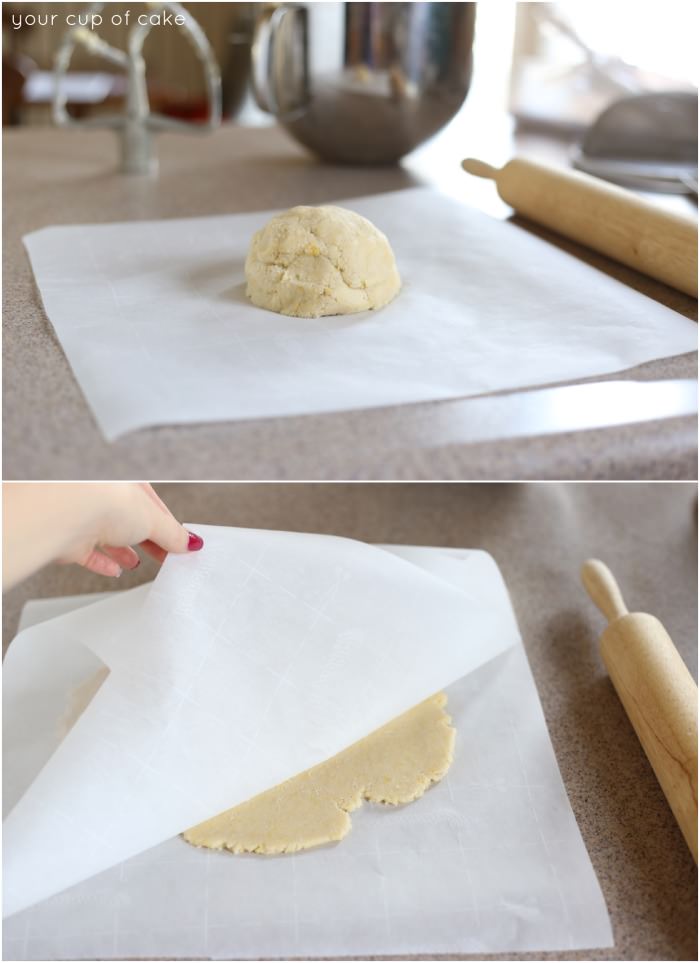 Three simple steps to cute Ornament Cookies: Frost, Rolo, M&M. Done!

I did this same decoration on top of cupcakes last year and they were just so adorable I had to do them on cookies this year!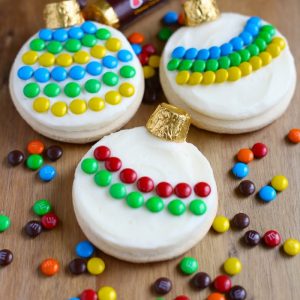 Decorating Ornamant Sugar Cookies
Ingredients
CLASSIC SOFT SUGAR COOKIES:

3 1/2

C.

flour

1

tsp.

baking soda

1/2

tsp.

salt

1/4

C.

butter

softened

1/4

C.

Crisco shortening

1

C.

sugar

1

egg

1 1/2

tsp.

vanilla extract

1/2

cup

sour cream

optional flavor options: lemon zest, orange zest, rum extract, almond extract

Ornament Decorations:

Frosting

Rolos

The bags have individually wrapped ones but the "sticks" are unwrapped in side

Mini M&M's or an small candy!
Instructions
1. Preheat oven to 350 degrees and line pans with parchment paper.

2. Whisk flour, baking soda and salt together in a bowl and set aside.

3. In a stand mixer, beat butter, Crisco shortening and sugar together for 2 minutes. Add egg, rum extract, vanilla extract and sour cream and beat until combined.

4. Add flour mixture and stir only until combined.

6. Roll out onto a lightly floured surface. I rolled mine out to about 1/4 of an inch but you can make yours as thick or thin as you like! (The thicker the cookie the more time in the oven and the thinner the less time.) Cut out using desired shape and place on cookie sheets.

7. Bake for 7-10 minutes depending on how soft you like your cookies!

8. Let cool.

9. To decorate like ornaments: Frost cookies with your desired color and flavor of frosting. Top with a Rolo (wrapped or unwrapped and Reese's Cups work too!). And use mini M&M's to make stripes and designs. Ta-dah! So fun and easy!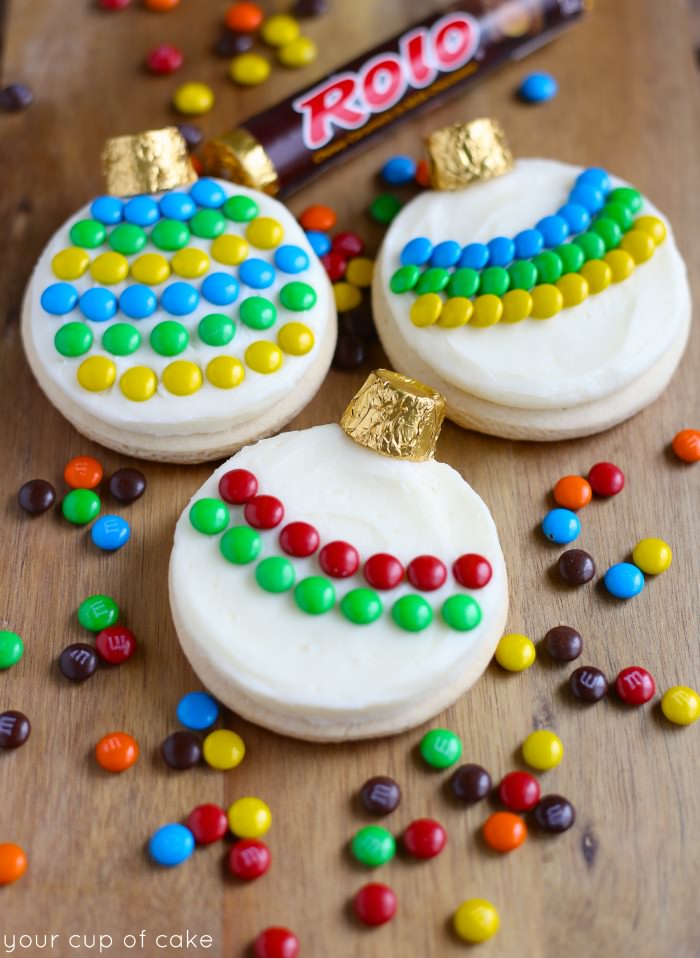 Did you see my cute Rudolph Cookies from yesterday?