The cutest Thanksgiving Cupcakes! Reese's Pieces Turkey Cupcakes are perfect for kids to decorate to get in the Thanksgiving spirit!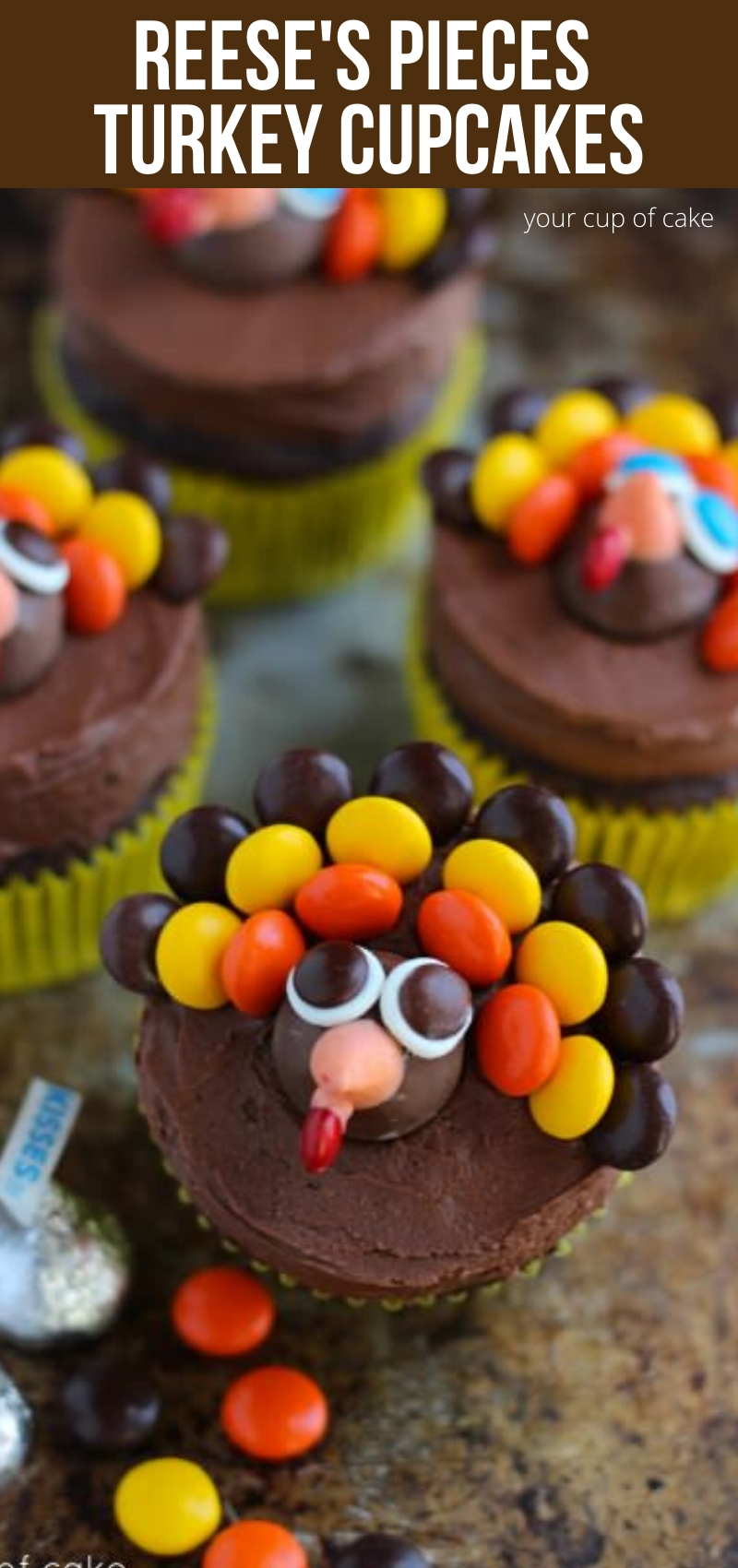 Don't panic, I didn't put actual turkey in these cupcakes! They just look like adorable little turkeys 🙂 These Turkey Cupcakes are chocolatey and have some Reese's Pieces as the feathers, so it's the perfect decorating activity! If you're allergic to peanut butter, just use 1 row of candy corn instead and have it fan out like feathers would! There are also lots of substitutions to making the little turkey faces, so check for those in the notes below!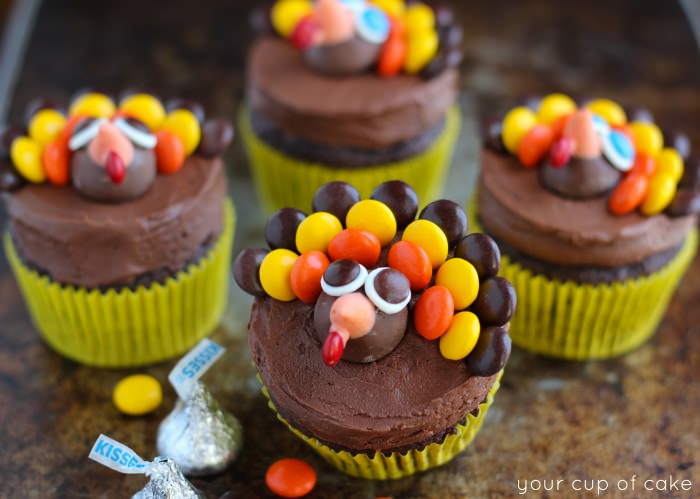 Christmas, Halloween and Valentine's Day have a ton of fun dessert decorating ideas, but I think Thanksgiving gets a little gypped. After all, we spend most of the day making food, so why not make it cute?!
First of all, I used white chocolate Melts for this (instead of white chocolate chips) because they melt a lot easier. Also, if you don't have gel food dye to dye the chocolate orange than you can use orange Melts OR you can just whip up a little frosting and dye it orange with liquid dye. I bet if you melted the frosting just a little bit you could get a similar effect by dipping the Kisses in it! And with the "gobble" and the "eyes" you can use colored frosting as well!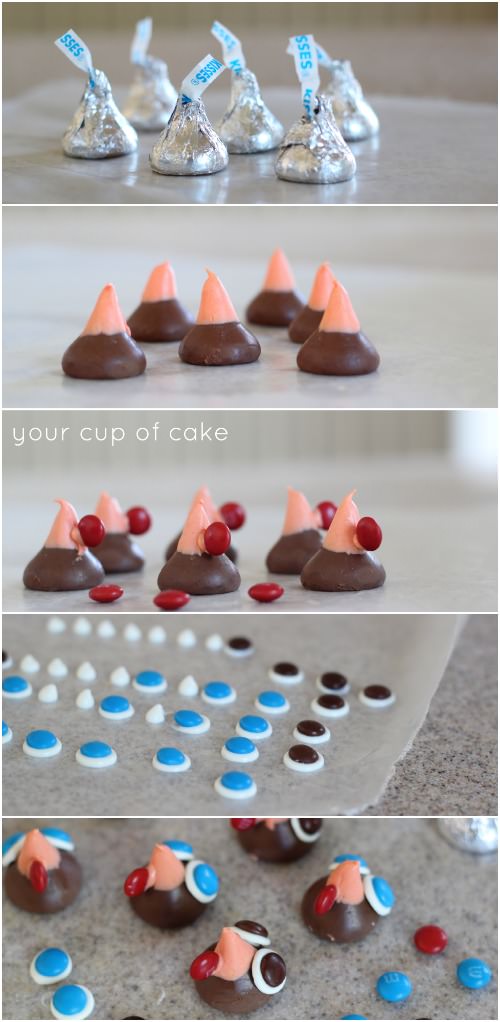 As I said a few times before, you can use candy corn instead of the Reese's Pieces if you want! I just really loved the bright colors from the Reese's and I put some peanut butter in my frosting to make them chocolate-peanut butter turkey cupcakes so the Reese's went well with that theme! Notice that I did tilt my candies up a little bit to make room for all of them.

I have 2 other fun versions of Turkey Cupcakes! These ones stand tall and use Oreos and Nutter Butters to make it all happen!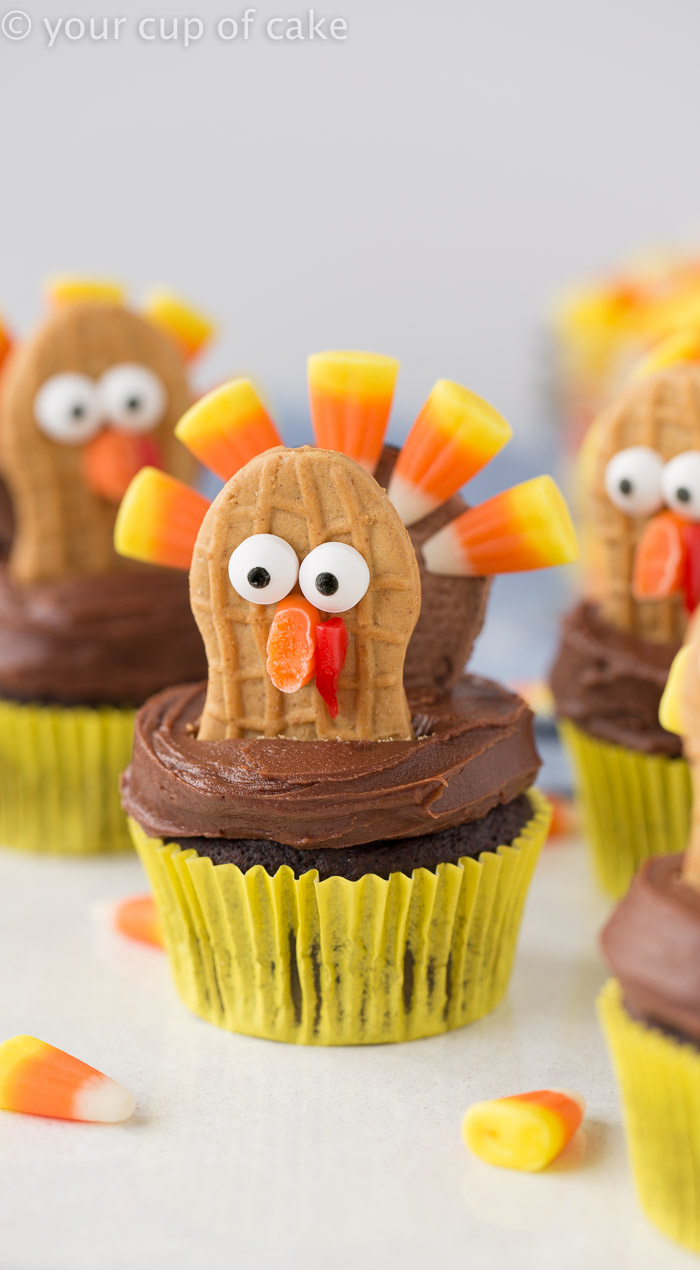 These ones are a little more simple and come together in a snap… or a gobble.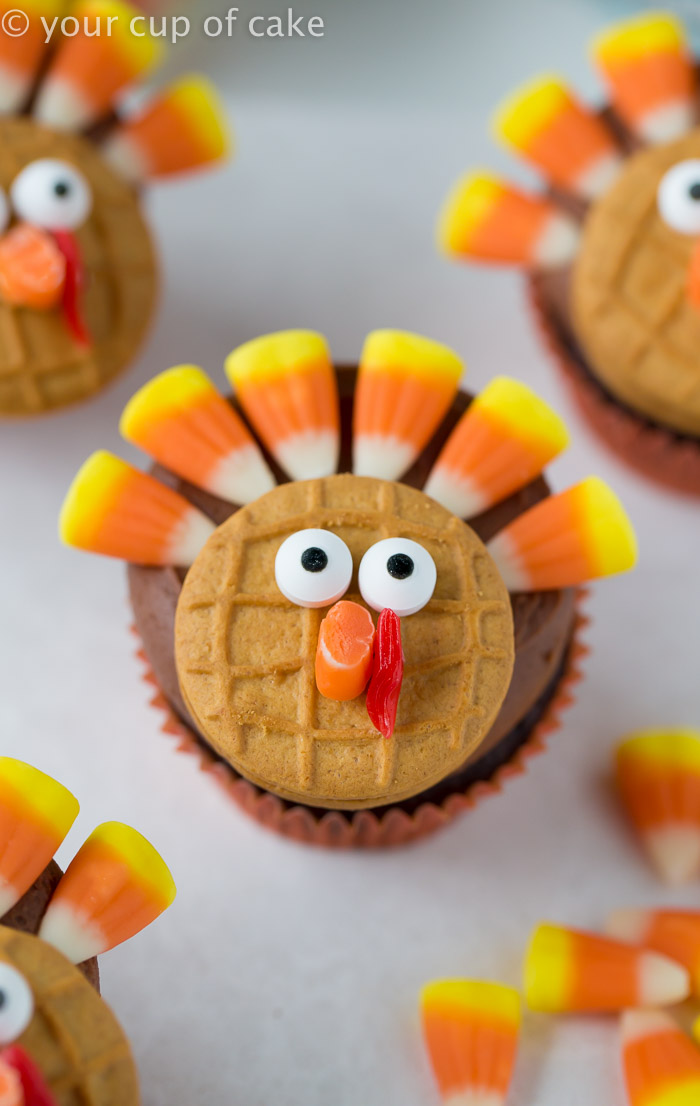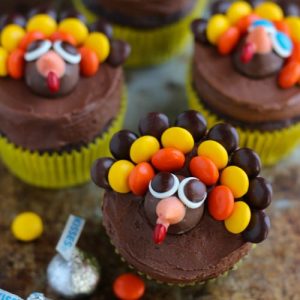 Turkey Cupcakes
Ingredients
20-24

unfrosted cupcakes

20-24

Hershey Kisses

1

C.

white chocolate chips-I used white Melts

divided

Orange gel food dye

see notes below

Mini chocolate M&Ms

Chocolate frosting

or chocolate peanut butter

1

bag Reese's Pieces
Instructions
First you'll make the turkey faces. Unwrap all Hershey Kisses.

Melt 1/4 C. or the white chocolate and stir in orange gel food dye. The liquid dye will cause the chocolate to seize so don't use that. OR you can use orange frosting! Dip the tip of each Kiss into the orange chocolate and let cool-see photos below.

After the "beak" has cooled, use a red mini M&M and dip the side of it into the left over orange chocolate and press onto the beak as the "gobble." See photos.

To make eyes, melt the rest of the white chocolate and use a small ziplock bag to make a mini piping bag by cutting off the corner. Pipe little dollops out and then press a brown or blue mini M&M into the chocolate while still warm and let cool.

Use melted while chocolate or frosting to place the eyes onto the Kisses.

Use your Reese's Pieces to create "feathers" and work from the outside in, one color at a time. See photos. I did the same color order every time but feel free to mix it up! You can ever use candy corn instead if you prefer!

Place a Hershey Kiss "face" in the center when you're done!
Recipe Notes
You can use store bought candy eyes to simplify the design! 
I can't believe Thanksgiving is coming up so fast! I can't wait to start making stuffing and pies! This pie looks great to me!
If you're in need of a quick and easy pumpkin pie, try my Pumpkin Dump Cake! It's basically pumpkin pie filling with a cakey-crunchy topping!