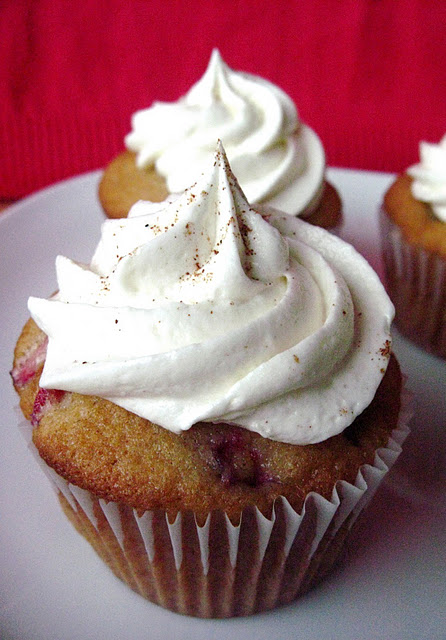 I have been wanting to make eggnog cupcakes since I saw the cartons of eggnog lined up next to my 1% milk at the store. I have been looking around for recipes but didn't seem to find any that made me too excited. But eggnog muffins are quite popular.
She based her recipe off of Annie's Eats by adding white chocolate chips among other things, and now I have based my cupcake recipe off of Your Homebased Mom's.
The funniest part? When Leigh Anne, from Your Homebased Mom, fed her eggnog muffins to her daughter Tessa, the first thing she said was "It tastes like Christmas." The first thing my friend said when I fed her an eggnog cupcake… "It tastes like Fall."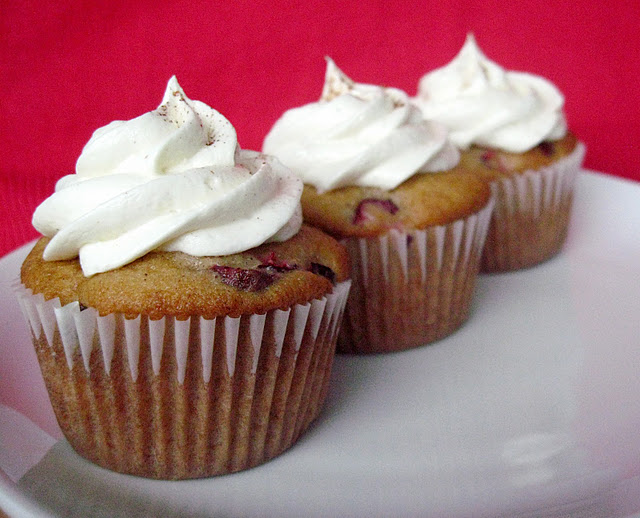 Eggnog Cranberry Cupcakes with White Chocolate Spiced Buttercream
½ teaspoon almond extract
1 cup cranberries, chopped
White Chocolate Spiced Buttercream:
¼ cup while chocolate, heaping
4 oz cream cheese, softened
½ teaspoon cinnamon or nutmeg
Directions:
1.
Preheat oven to 350 degrees.
2.
Chop cranberries, or use a food processor, and set aside.
3.
Cream sugar and butter together until light and fluffy.
4.
Add eggs. (You can run them under warm water before you break them to help them reach room temperature.) Mix until well combined.
5.
Add vanilla, eggnog, and almond extract.
6.
In a separate bowl, sift together flour, baking powder, baking soda, cinnamon, allspice and nutmeg.
7.
Slowly combine the wet and dry ingredients.
9.
Spoon into cupcake liners and bake for 13-18 minutes or until a toothpick comes out clean.
10.
Buttercream: Over LOW heat, melt white chocolate chips stirring constantly. Set aside until it has cooled for a few minutes.
11.
Beat butter and cream cheese for 2-3 minutes, then add white chocolate. Beat again for a few minutes.
12.
Add powdered sugar, vanilla, spice of your choice, and eggnog. Beat for 2 minutes.
13.
Refrigerate buttercream in Tupperware or a piping bag until stiff enough to frost.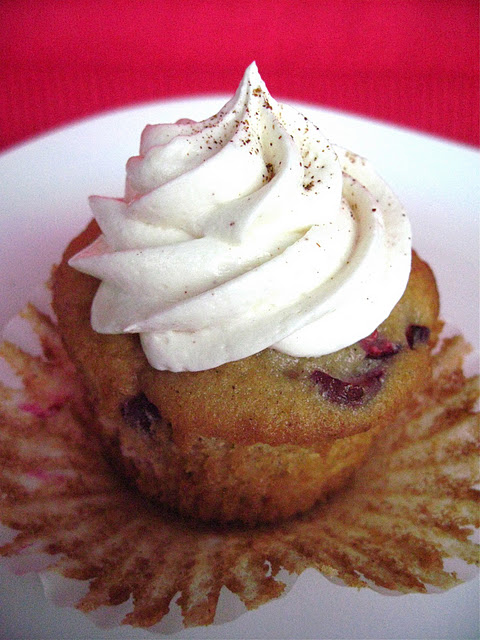 *Make sure the butter/cream cheese mixture is not too cold, or else it will cool your white chocolate into clumps when you add it. To help, you can run the bottom or side of the bowl in warm water to heat up the mixture before adding the chocolate. Also, this buttercream was really just a kitchen sink recipe, if you don't have cream cheese, just leave it out.