Brownies are fast and easy to whip up, so transform them into the cutest halloween treats with some green frosting and sprinkles to make Frankenstein Brownies.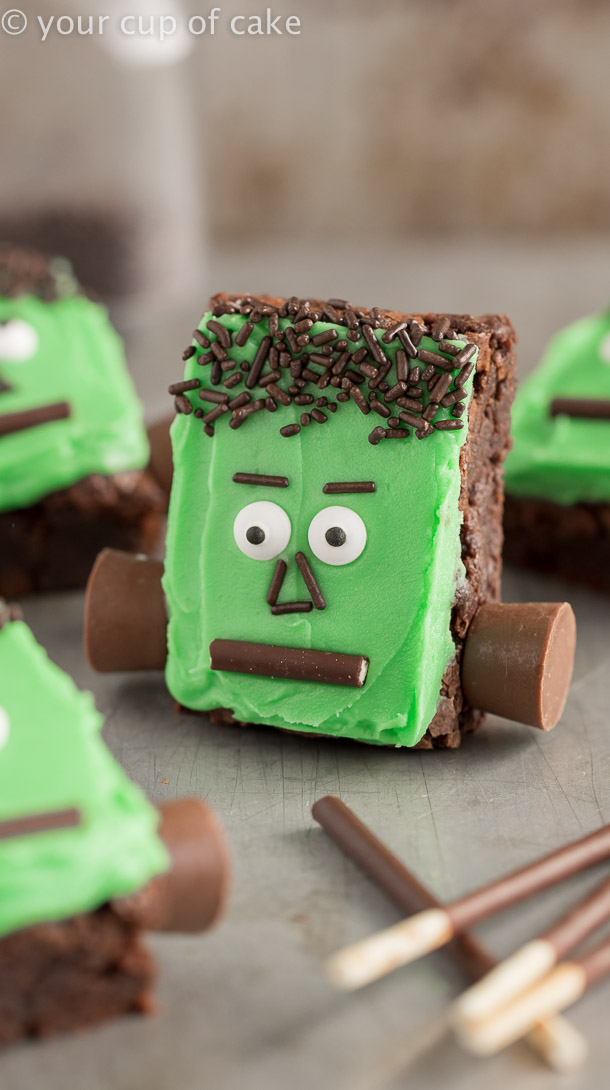 Do you want to hear something horrible? I used to love brownie batter as a kid, I mean what kid didn't beg to lick the spoon? But one time my parents were gone and I decided to make brownie batter… just to eat. I was so excited! This was like a dream come true for pudgy 12 year old me and I was a genius for thinking of it.
False.
After I ate a half cup of it, I felt disgusting.
Oh, my fat kid memories…
How to make Frankenstein Brownies
There are a few different ways you can make these cuties! You can use your own brownie recipe or make it from a box, either way you need a pan (of any size) of cooked brownies. The easiest thing to do next would be to frost the entire pan and then cut your Frankenstein Brownie heads… but if you want to make a decorating party out of it for your kiddos then you can cut the brownies first and then frost them one by one.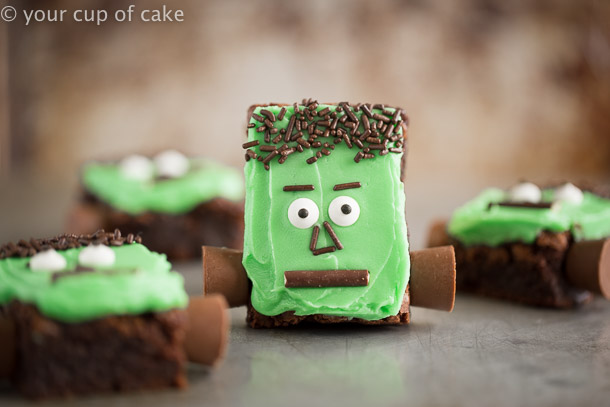 Sprinkle a little Fun into Frankenstein
I'm all about that sprinkle hair for my Franks as you can tell with my Cute Frankenstein Cupcakes and it's not different with these brownies. You can use candy eyes or my very own DIY M&M eyes from my Frankenstein Cupcakes if you want! decorate with the sprinkles to make eyebrows, noses and for the mouth I used Pocky Sticks! They're a very popular Asian treat, I have found them at every single grocery store I'm been too! So they work perfectly, especially for my Oreo Spiders that are too freaking cute I can hardly stand it!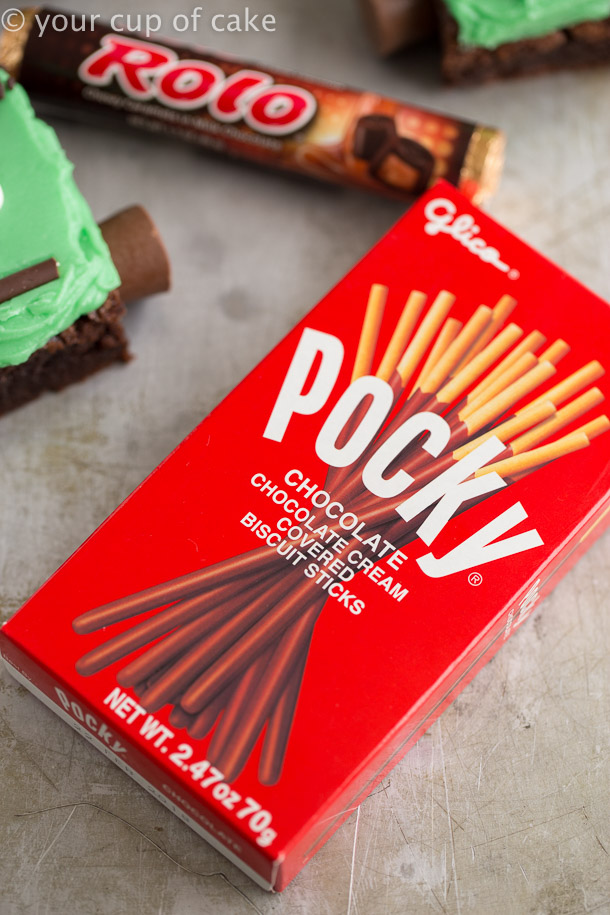 Mmm… I like my brownies fudgy.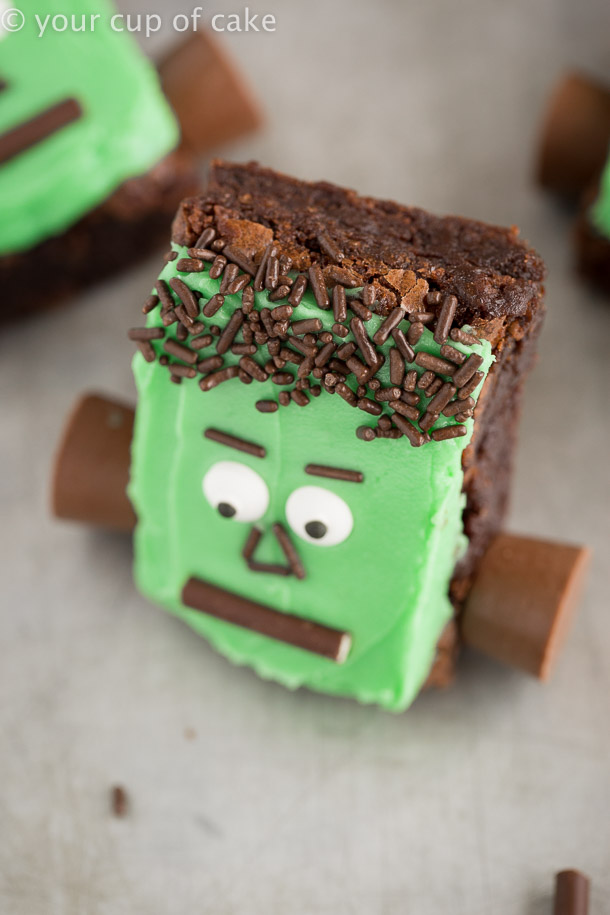 The one Trick with this Treat
The Rolos are the only tricky part of this treat! If your brownies are fudgy they stick quite well! But if you're worried you can always use Tootsie Rolls that are less heavy and longer to they can stick better.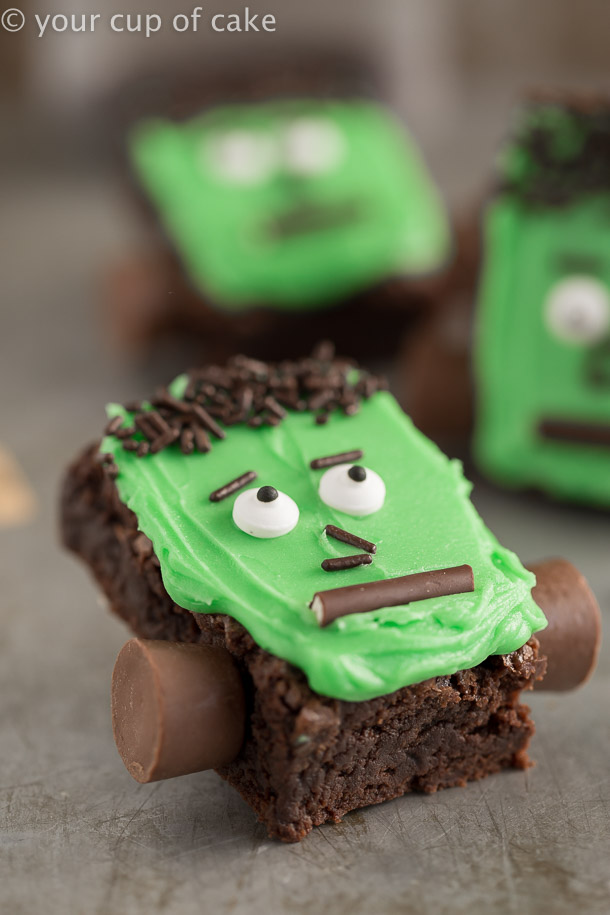 Nose Goes
You can make all sorts of noses with these sprinkles! So play around and have fun with it. You can even change the placement of the eyes and make the eyebrows angry! Play around and create all types of Frankenstein personalities. This really is the perfect treat for a Halloween decorating party!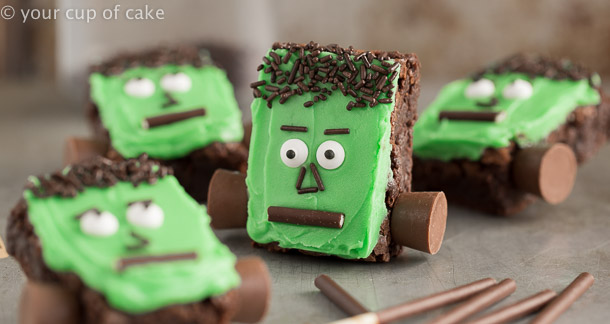 Enjoy my Frankenstein Brownies this Halloween!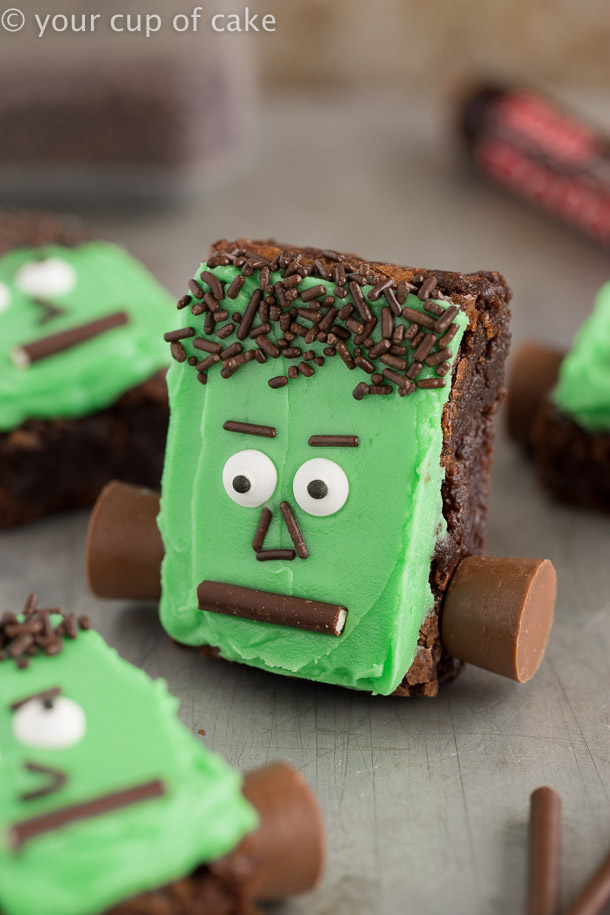 Frankenstein Brownies
Ingredients
Boxed Brownie Mix prepared as directed on box

Green frosting

about 1 1/2 cups

Chocolate Jimmy Sprinkles

Candy Eyes

Pocky Sticks

Rolos or Tootsie Rolls
Instructions
1. Prepare brownies as directed on box and let cool completely.

2. You can frosting your brownies first and then cut into Frank heads OR you can cut the brownies and then frost!

3. Use the sprinkles to make hair, eye brows and a nose. Place candy eyes and break Pocky Sticks into the right size for a mouth. Press Rolos or Tootsie Rolls into the sides as bolts!