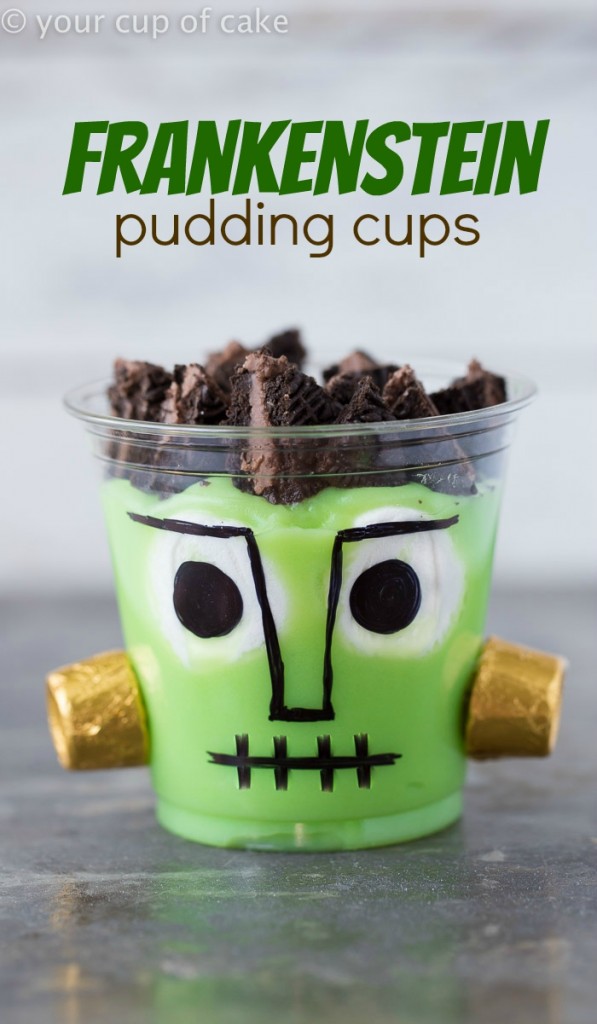 Banana pudding and Oreos transformed into adorably spooky Frankenstein Pudding Cups! The kids are going to go wild over these! You can even let them decorate the cups themselves and they can make angry eyebrows, add red stitched to his face, a zig-zag mouth, beady eyes or whatever their imagination comes up with!
October is officially here and I have my costume set you go, a pumpkin on the front porch and a basket full of candy just waiting for the kiddos to come by! Can you tell I'm excited?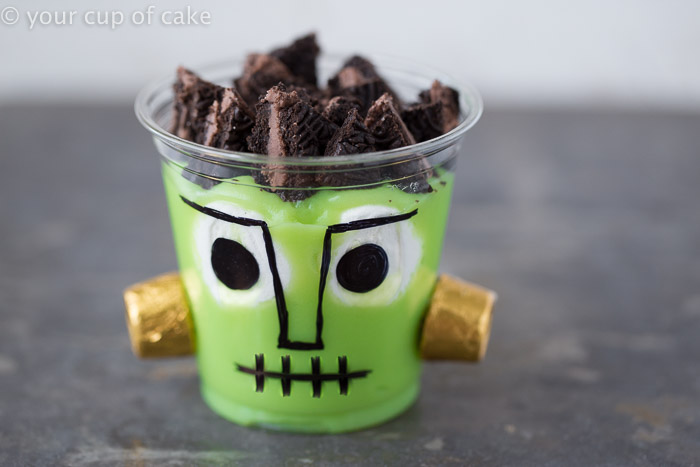 This is all you need! Depending on how full you fill the cups and what size pudding box you got the recipe will make 4-8 Franks, but it's way easy to double the recipe. Note: I sort of bought the wrong Rolos here in this picture. You'll need the bag of Rolos that are individually wrapped. I took this photo and then realized my problem and went back to the grocery store…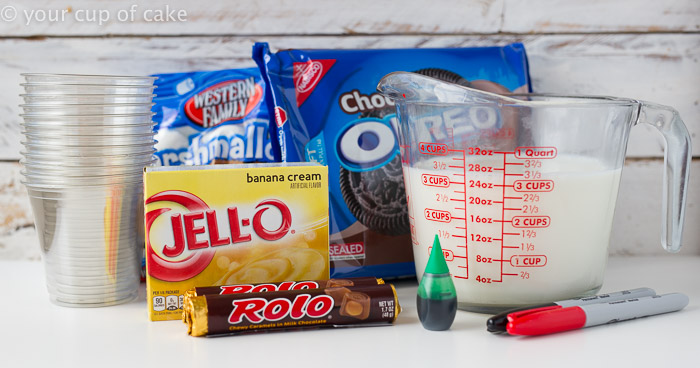 If you are going to do this as an activity, let the kids decorate with a sharpie and the cup (or you can cut out black paper and have them tape it on). Then you can hot glue on the studs, it will dry and cool in 1-2 minutes. But don't pre-cut all the marshmallows, they need to be sticky when you press them onto the cup so if they sit out for a long time the stickiness will get dried up by the air. But you totally can pre chop/crush the Oreos!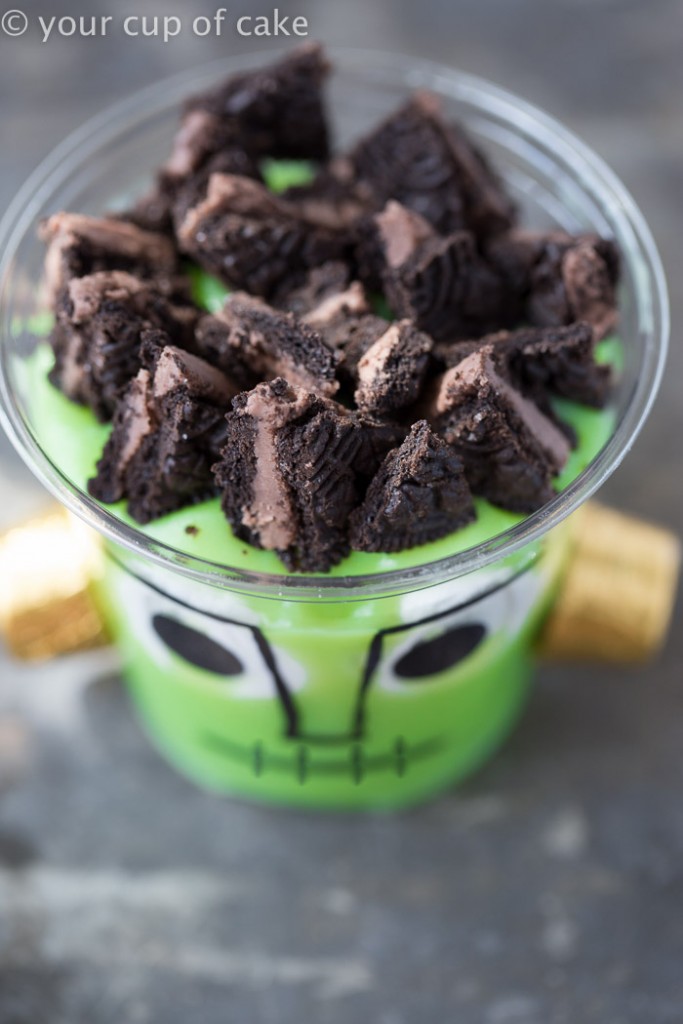 I can't take credit for this cute idea, I saw it online but I'm not sure who really came up with the idea originally. I added the marshmallows and went against the grain of everyone using vanilla pudding and swapped it for banana! I also used chocolate filled Oreos to give him a solid black head of hair.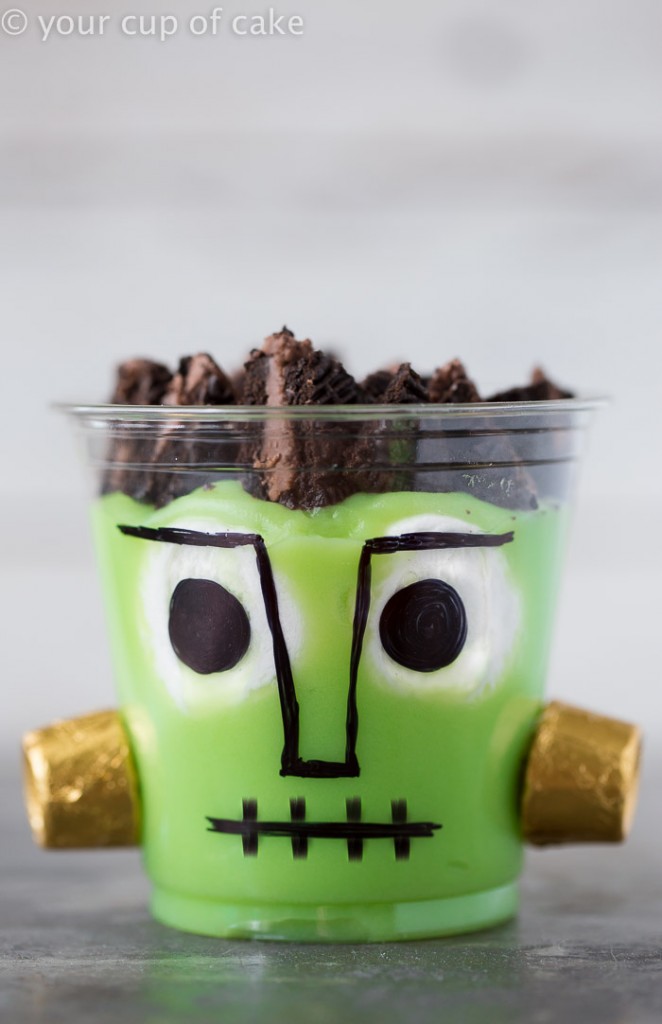 So cute, right? I really do love Frankenstein desserts, I just can't help myself! My original Frankenstein Cupcakes are still one of my favorite party desserts to bring and my Reese's Frankenstein Cupcakes are also a big hit!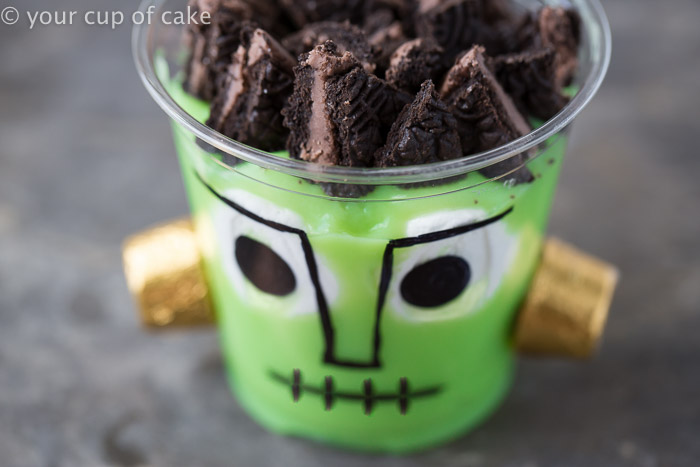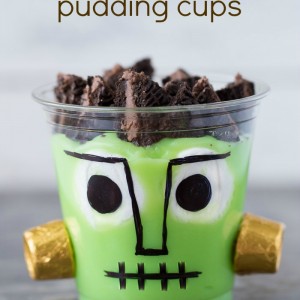 Frankenstein Pudding Cups
Ingredients
Instant Pudding Mix

Banana, Vanilla, White Chocolate, Pistachio, any white/yellow or green flavor

milk

amount depends on what pudding size you have

green food coloring

plastic cups

4-6

large marshmallows

4-6

black sharpie

Rolos

8-12 (individually wrapped usually bought in a bag)

Oreos

I used chocolate filled
Instructions
1. Make pudding according to box directions and then add green food coloring to get your desired Franky color. Put in fridge to chill. (I used banana pudding because banana and Oreos sounded delicious to me!)

2. Use a sharpie or any black marker that will stick to the plastic to draw on your frankenstein face!

3. Use a hot glue gun to glue on Rolos as the "bolts" in Frank's neck.

4. Use scissors to cut the large marshmallows in half and then stick them on the inside of the cup to make the whites of Frank's eyes.

5. Carefully spoon in green pudding and then top with crushed Oreos to give him his hair! I cut my Oreos in the little triangles to give him a spiky-do.
The Frankenstein Cupcakes I was telling you about… adorable!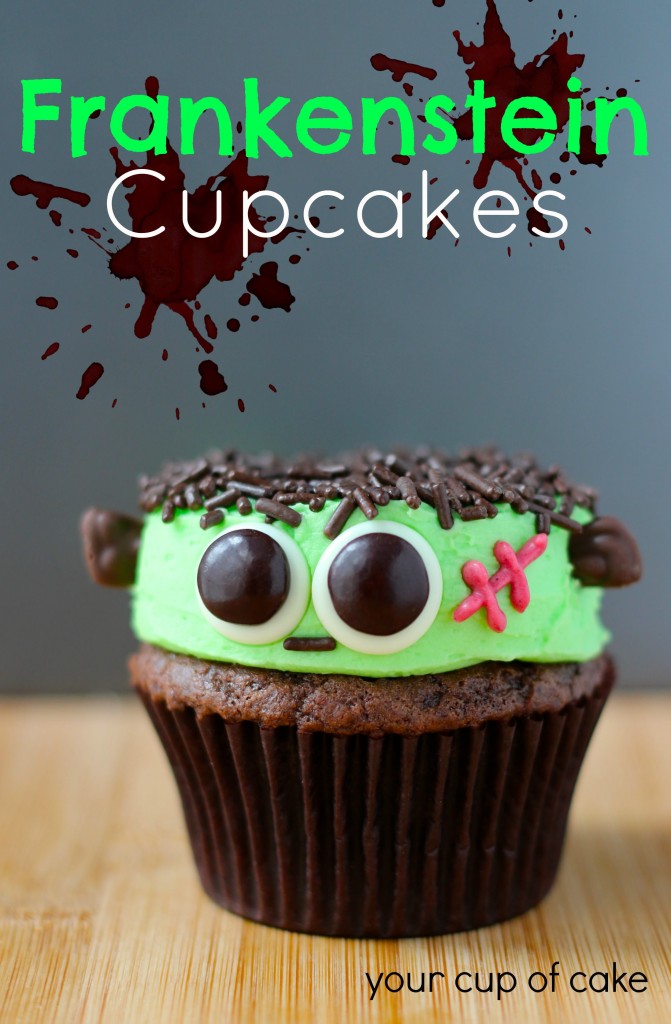 And the Reese's Version!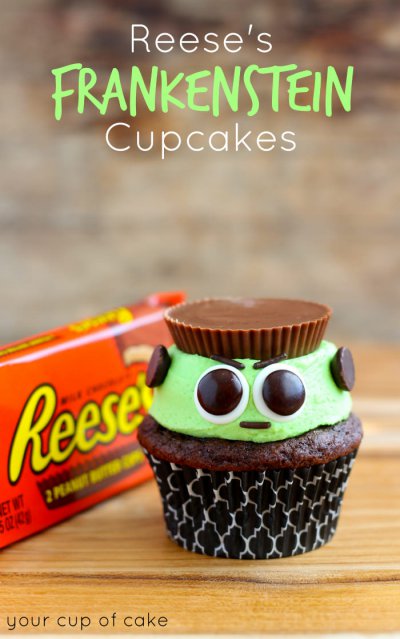 More Halloween Desserts!