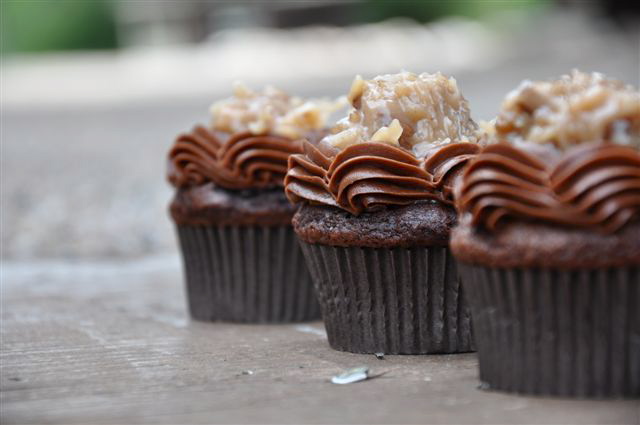 The Story:
Last weekend, I baked 100 cupcakes at my family reunion for my father's 60th birthday. Along with Cookies & Cream, Blueberry Lemon and Strawberry Lemonade Cupcakes, I made his all-time favorite: German Chocolate.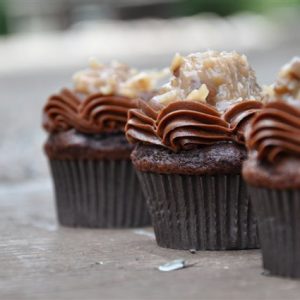 German Chocolate Cupcakes
Ingredients
Chocolate Cake:
1

box Devil's Food Cake Mix

3

eggs

½

cup

oil

1

teaspoon

vanilla extract

¾

cup

buttermilk

1

cup

sour cream
German Chocolate Frosting:
1

cup

evaporated milk

1

cup

sugar

3

egg yolk

lightly beaten

1/2

cup

butter

1 ½

teaspoon

vanilla extract

1 ½

cup

chopped pecans

1 ½

cup

flaked coconut
Chocolate Buttercream:
4

ounces

cream cheese

½

cup

butter

2/3

cup

unsweetened cocoa

3

cups

powdered sugar

2

teaspoons

vanilla extract

1

tablespoon

milk or cream

if needed
Instructions
1. Preheat oven to 350 degrees and line two muffin tins with 20-24 cupcake liners.

2. In a large bowl, gently combine oil, eggs and vanilla extract.

3. Sift (for easy mixing) in about 1/3 of the cake mix and stir until combined.

4. Add Buttermilk and stir until combined.

5. Add another third of the cake mix (again, sifting for easy stirring).

6. Add sour cream, then final third of cake mix.

7. Fill cupcake liners ¾ full and bake for 18-22 minutes or until an inserted knife comes out clean.

8. German Chocolate Frosting: On medium heat in a sauce pan, constantly stir evaporated milk, sugar, egg yolks and butter until thickened. (Basically, until it boils and it will take approximately 15 minutes.) Stir in vanilla extract, pecans and coconut. Let cool.

9. Chocolate Buttercream: Beat cream cheese and butter for 4 minutes. Add cocoa, powdered sugar and vanilla extract. Let beat for 3 minutes. If it is too thick, add milk. If it is too thin, add powdered sugar. Or if it is not dark enough, add more cocoa.

10. Pipe Chocolate Buttercream around the edge of the cupcakes tocreate a barrier, and scoop a small amount of cooled German Chocolate Frosting into the center.