The Story:
Home for the summer with my mother and father includes free rent and utilities, but it also effects what I bake. My mother is a big cookie lover, but she also adores a good scone.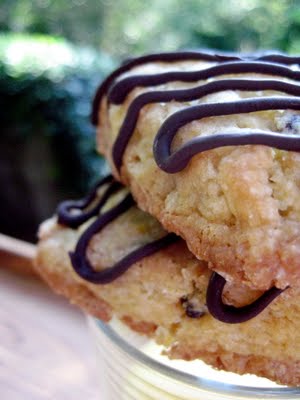 1 cup sugar
1 ½ teaspoon baking powder
¼ teaspoon cream of tartar
1 tablespoon orange juice
Because not all of us are orange lovers, omit the orange zest, juice and currants and try these other scones variations!
2 ½ tablespoons poppy seeds
with vanilla glaze (1 tsp vanilla extract + 1 tbsp water in place of orange juice)
Cranberry White Chocolate:
¾ cup white chocolate chips
with melted white chocolate to top
1.
Preheat oven to 350 degrees.
2.
In a large bowl, combine flour, sugar, baking soda, baking powder, cream of tartar and salt together.
3.
Finely cut in (or grate in using the grate attachment of a food processor) the cold butter. (Butter can be refrigerated or frozen.) Treat the dough like a pie crust.
4.
In a small bowl, gently mix sour cream, egg, zest, juice and currants together.
5.
Add the wet ingredients to the dry ingredients and combine, being careful not to over work the butter.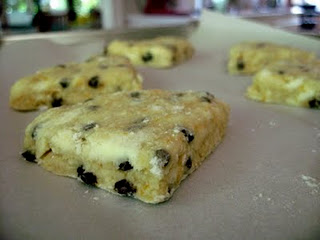 6.
Split the dough in two and make two large dough balls using your hands. On a floured surface, roll the dough out into a circle ¾ inch thick. Cut like a pizza and place on ungreased cookie sheets.
7.
Bake for about 15 minutes, or until the tops become slightly firm.
8.
Glaze: Squeeze orange juice into a small bowl, then, using a whisk, mix in powdered sugar until the glaze reaches your desired consistency and sweetness.
9.
Spoon glaze over warm scones and wait until cooled to drizzle them with melted chocolate.