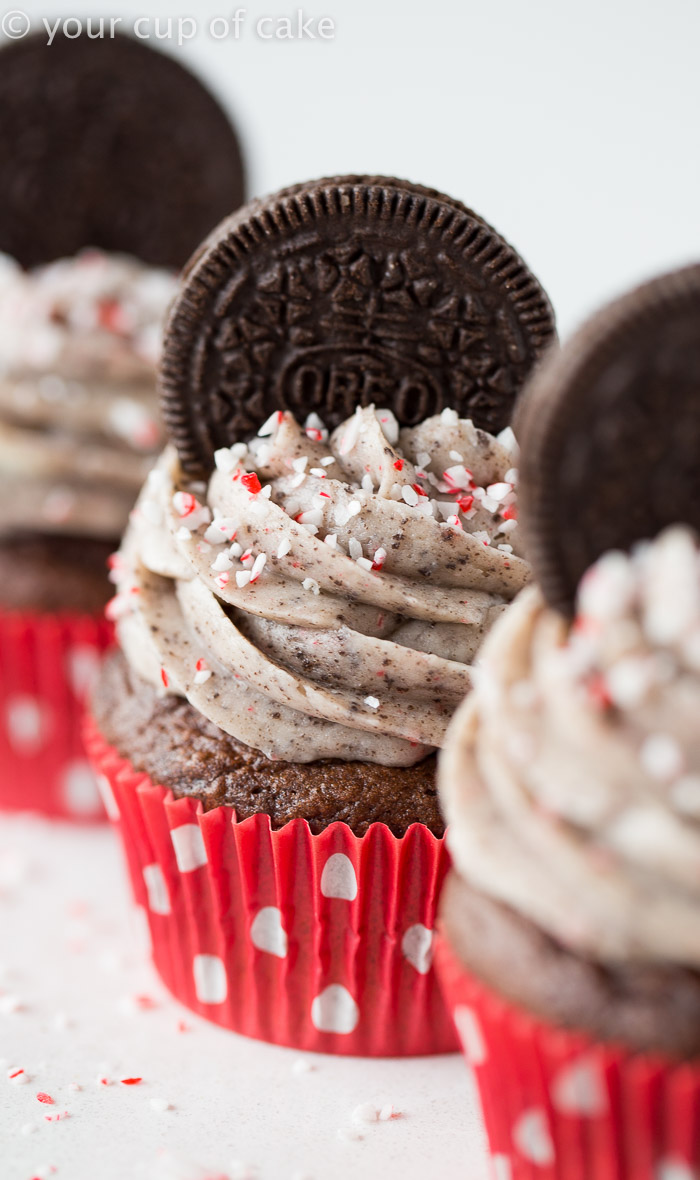 These Chocolate Candy Cane Oreo Cupcakes are the perfect combination of cookies and Christmas! Let's be honest, Oreos go with just about anything but adding the candy cane crunch is just what Santa wants for Christmas!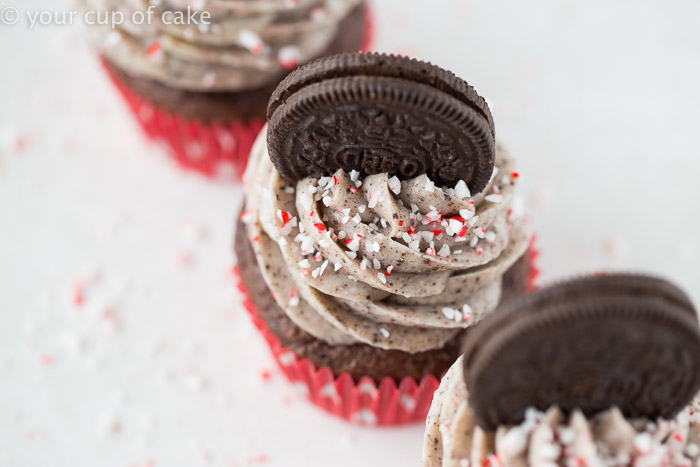 I am so lucky to be working with The Church of Jesus Christ of Latter-day Saints this Christmas season! They always have the most beautiful videos for this time of year to remind us all what it's about. It's not about how many fancy gifts we get, how well we can decorate our homes, outdoing the neighbors with our lighting displays or even the candy and cupcakes. It's about taking more time love and cherish the people around us as Christ did while he was on the Earth.

Part of the challenge is that every day this month there is a new way we can #LightTheWorld . I was asked to talk about the 12th of December which is about teaching others. I decided to teach my cute little relatives down the street (my cousin's kids) how to decorate cupcakes!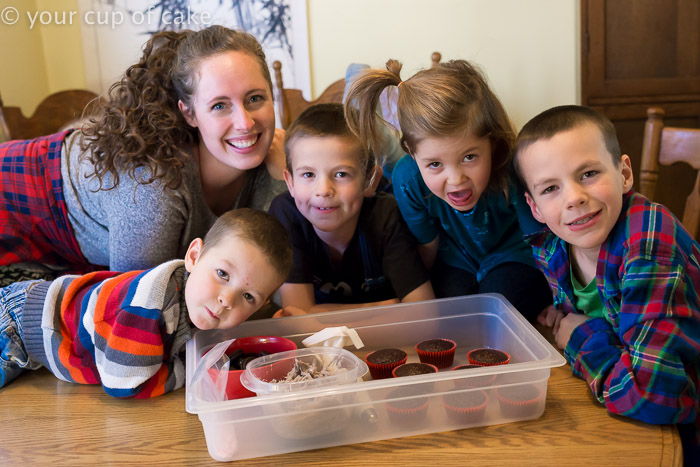 I usually just drop off a box full of treats, hang out for a few minutes and go on my way. But this time I surprised the kids by bringing a box full of decorating stuff and helped them to make their own cupcake creations. I would hold the bag and they would move the nozzle to make whatever sort of design they wanted!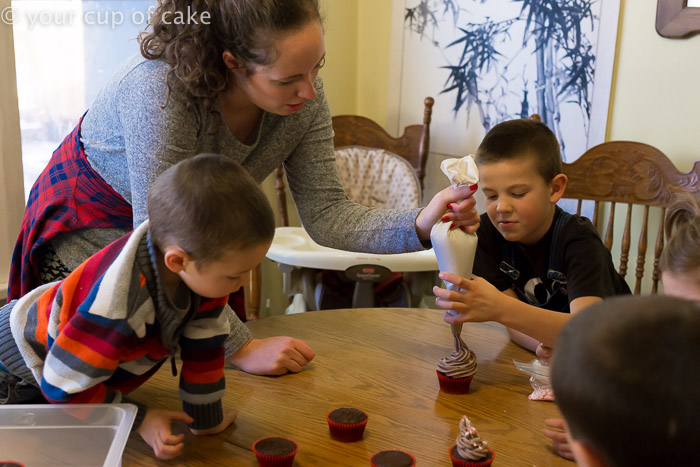 Little Reuben was a champ!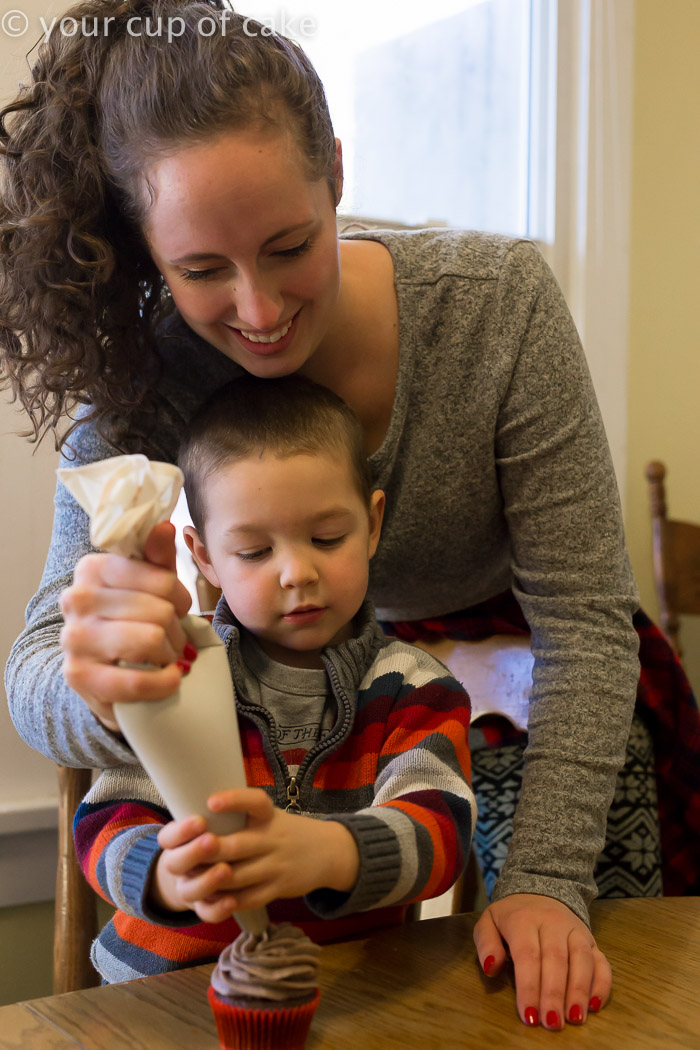 He was very proud of his cupcake! But probably more excited to eat it…
Clementine started to eat her's before I could even snap a photo!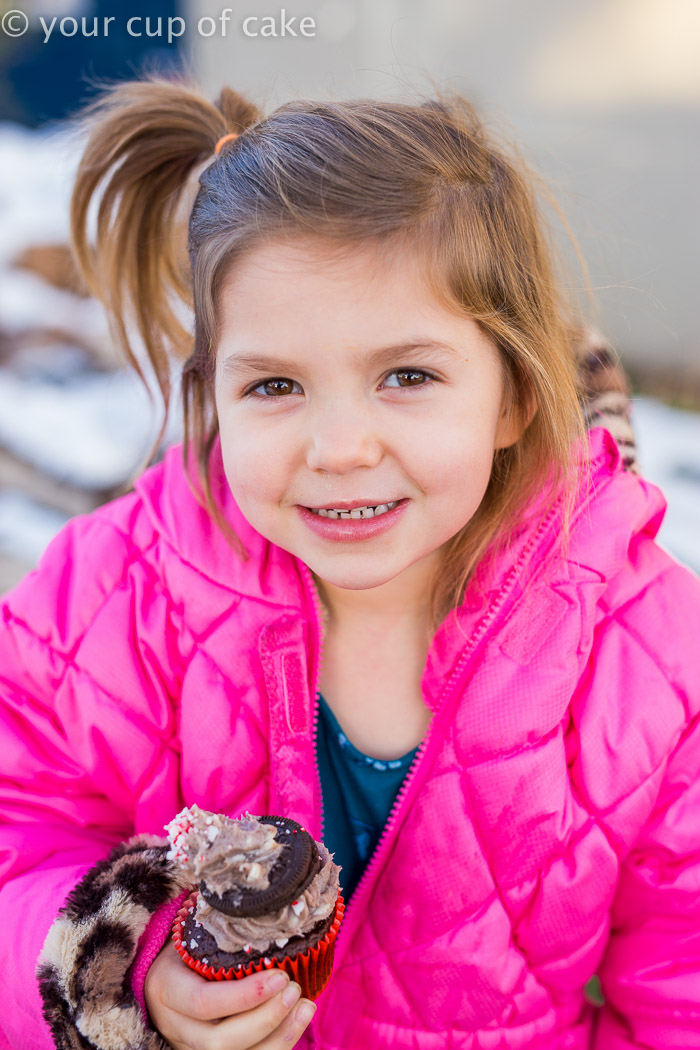 Simon tried to eat the whole thing in one bite!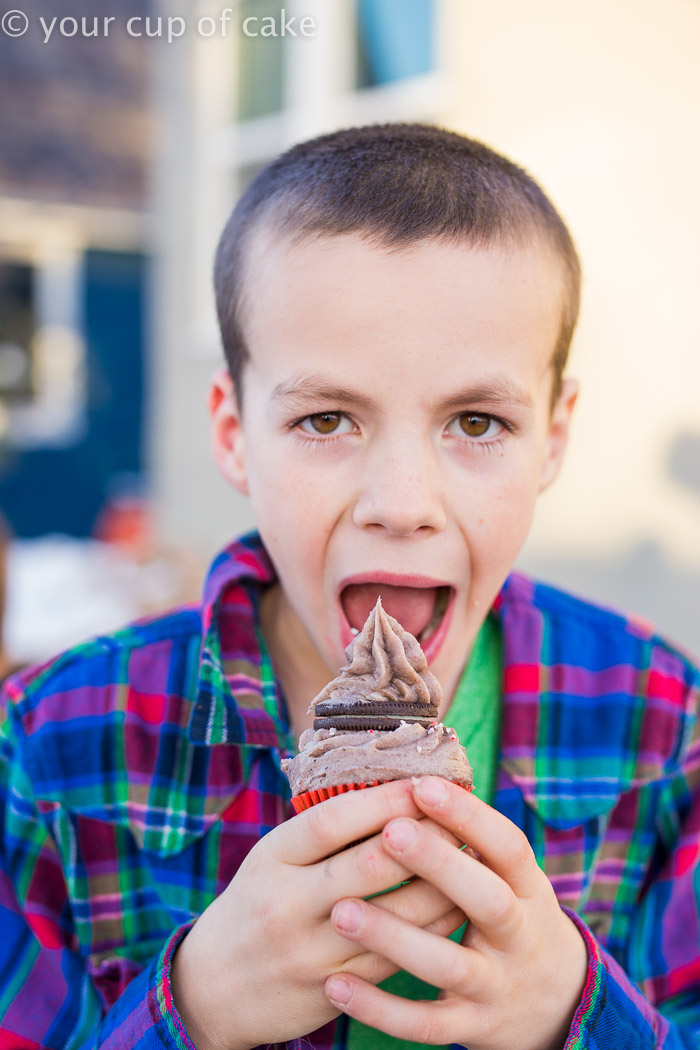 Phin's turned out like something they would sell at the North Pole! So cute!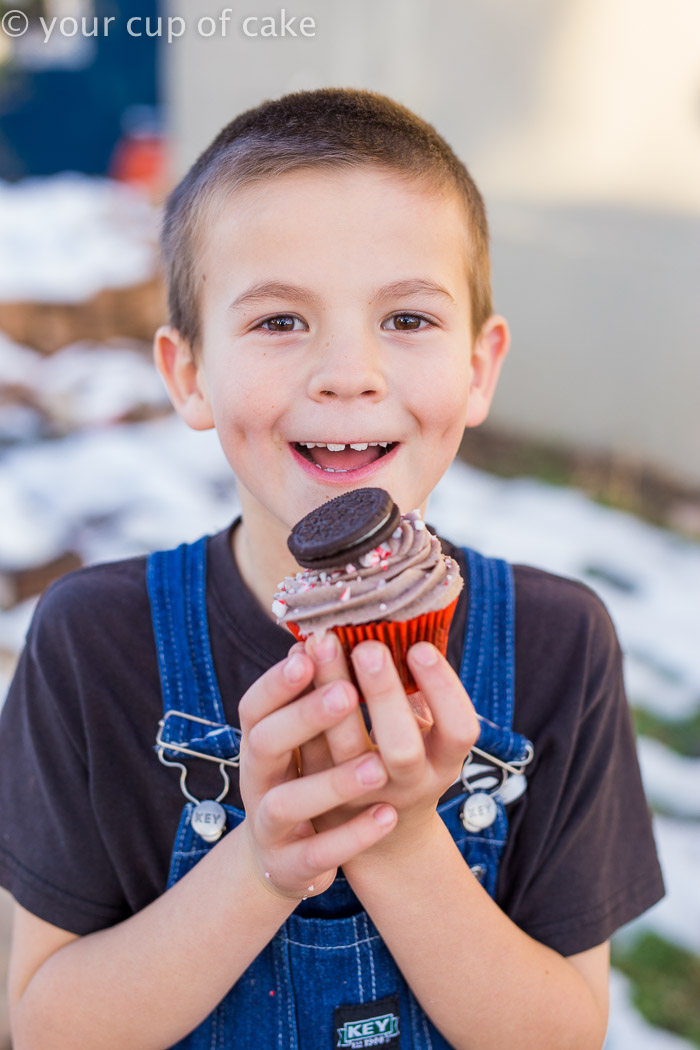 Their youngest sister was too little to decorate with us but I'm sure they got to taste the frosting…yum!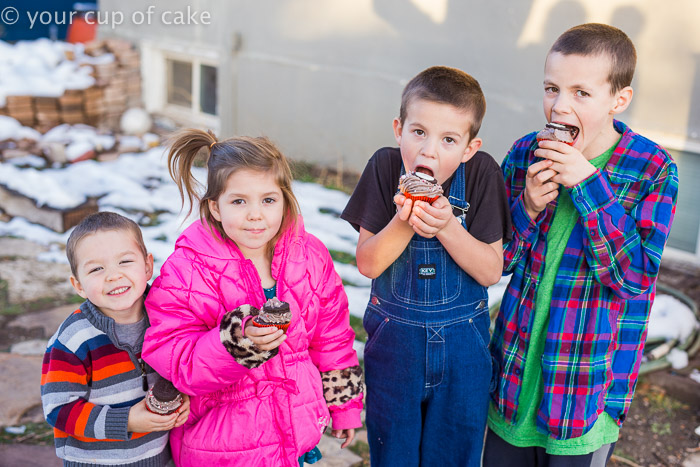 I am so lucky with live by my extended family. I have more than 60 first cousins on my mother's side! Crazy, right? But it is the most fun! Family reunions are the event of the summer and we have so many different types of people who live around the world! We get together and hear stories about everyone's adventures and time just flies by.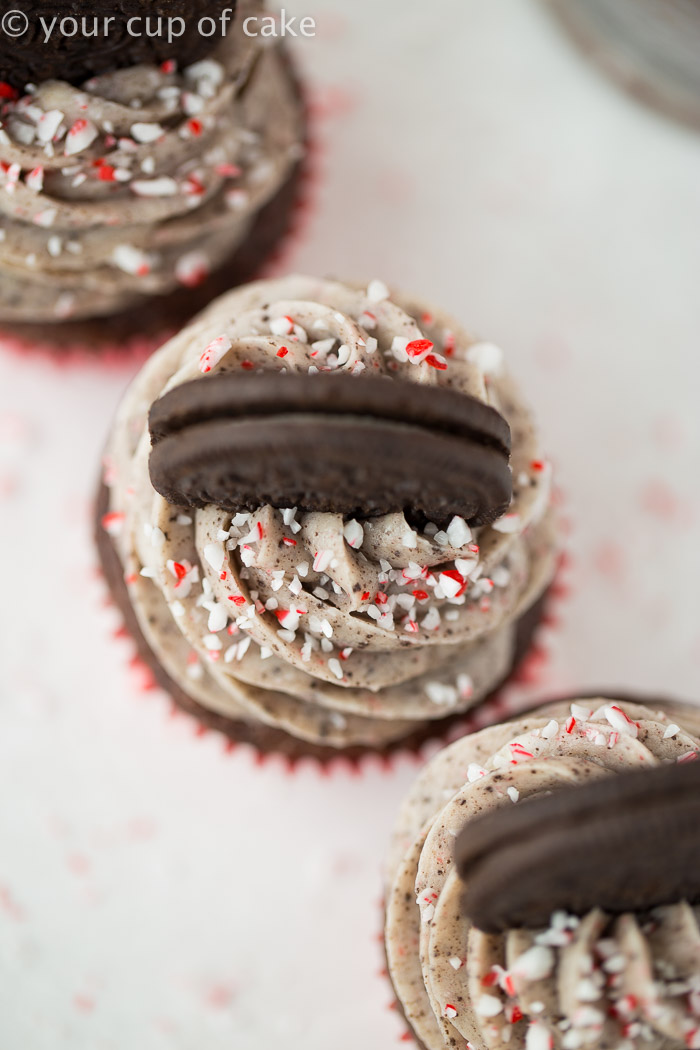 Today is the Worldwide Day of Service. What can you do to lighten someone's burden today? It doesn't have to be some grand gesture, it can simply be opening the door for something, dropping off a bag lunch to someone in need or spending time with a friend who may be lonely.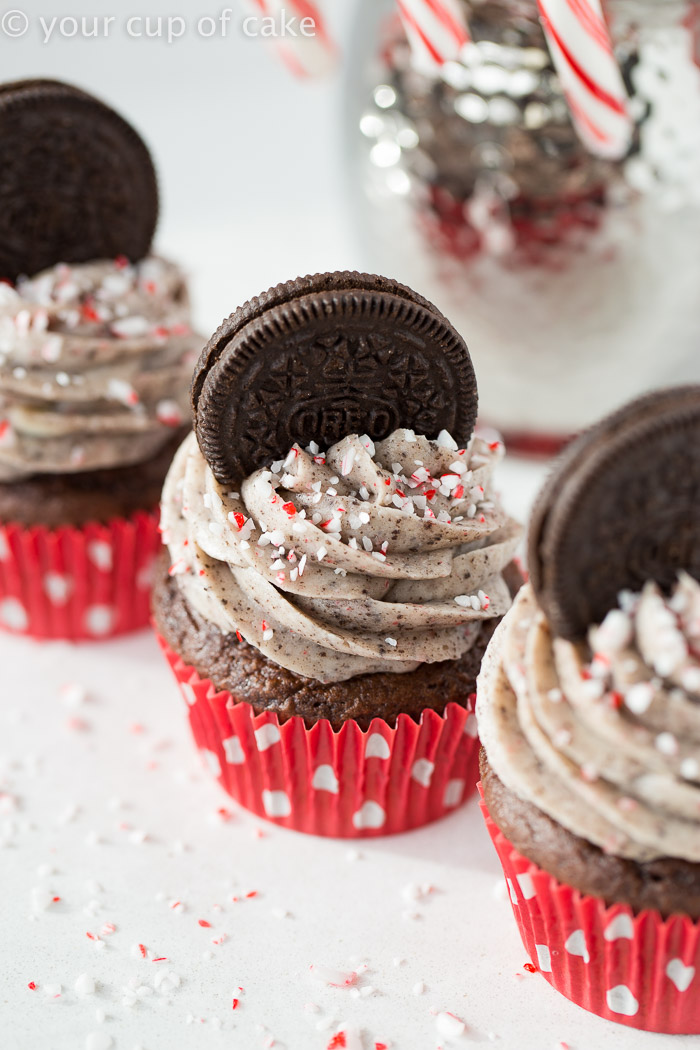 Or you can always make these Candy Cane Oreo Cupcakes to bring to someone 🙂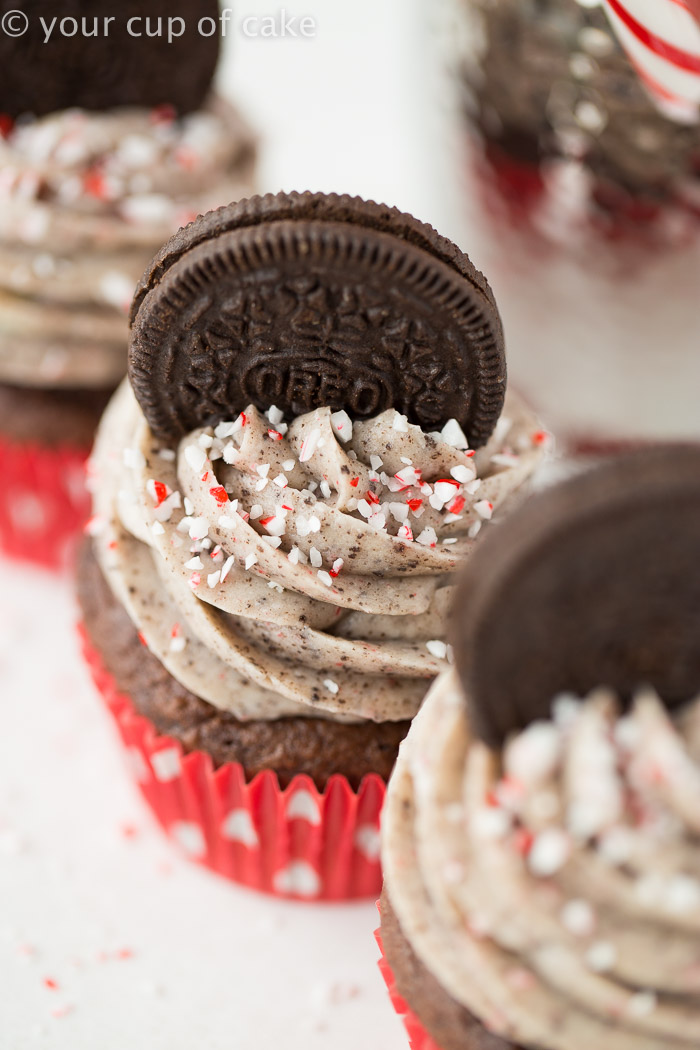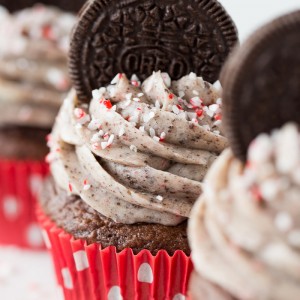 Candy Cane Oreo Cupcakes
Ingredients
CHOCOLATE CUPCAKES:

20

Oreos

1

box Devil's Food Cake Mix

3

eggs

1/2

cup

oil or melted butter

1

C.

milk

1/2

C.

sour cream

OREO CANDY CANE FROSTING:

4

candy canes

Oreos

leftover from above

3/4

C.

butter

softened

8

oz.

cream cheese

3-4

C.

powdered sugar

milk

if needed
Instructions
1. Preheat oven to 350 degrees and line pans with cupcake liners.

2. Twist Oreos to break apart and put the side with the most cream, cream-side up into each cupcake liner. (You'll put the batter on top of the Oreo later.)

3. Sift cake mix to remove any lumps and add eggs, oil, milk and sour cream. Stir until smooth and fill cupcake liners 3/4 full over the Oreo halves.

4. Bake for 15-20 minutes or until an inserted knife comes out clean.

5. Let cool.

6. FROSTING: Finely crush candy canes (I used a blender) and finely crush the other half of the Oreos from the cake (the ones that didn't have as much cream on them). I used a sifter to shake the crushed candy canes and oreos so I only used the finest pieces. If you aren't going to use a piping bag, you don't need to do this.

7. Beat butter and cream cheese until smooth. Add powder sugar one cup at time until you get your desired consistency, add a little milk if it gets too thick. Fold in your finely crushed candy canes and Oreos.

8. Frost cooled cupcakes and top with extra Oreos and larger crushed candy canes!
I love posting these behind the scenes shots because you get to see that I don't have some fancy studio to take all my photos, just a small little office and some poster board is all it takes!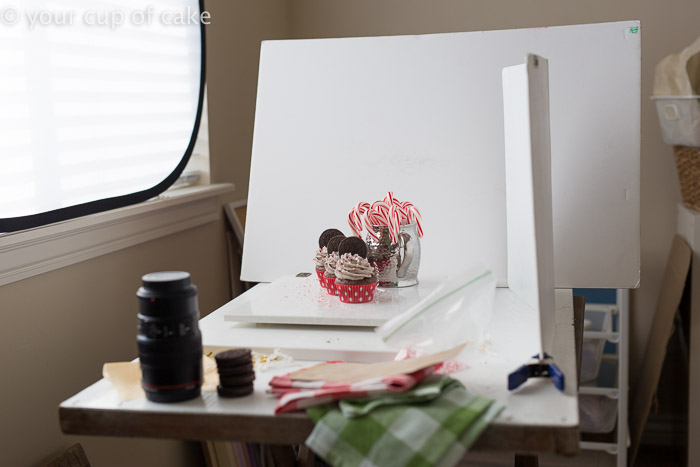 This post was sponsored by the Church of Jesus Christ of Latter-day Saints. I was compensated for my time, all opinions and ideas are my own.