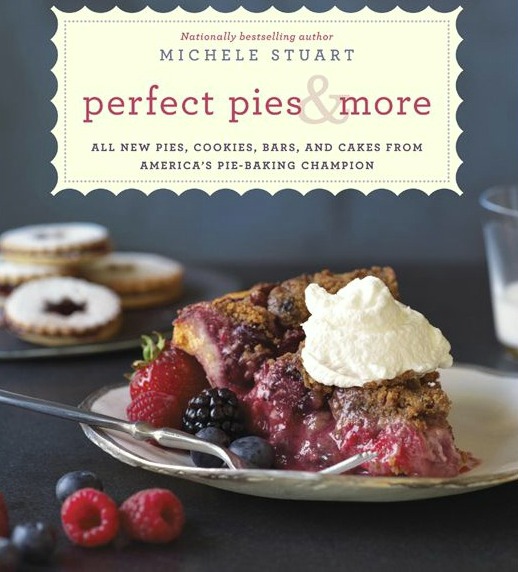 Today is National Pie Day! And to celebrate I'm giving away a signed copy of Michele Stuart's "Perfect Pies and More" to one lucky reader. (See below for entry options and rules.) Pies are one of my absolute favorite desserts even though I don't post them very often. I guess I'm just afraid of taking the photos, they're a little more messy than a cupcake 🙂
But first of all, Valentine's Day is coming up, and I asked Michele how to incorporate a love for pies into this day of love…
"As far as pies for love, we do that for Valentine's Day at our shop.
The chocolate raspberry delight from the first book and the white chocolate raspberry swirl from the second book are perfect for Valentine's Day. Also in the second book is a pie crust cut out cookie, which you can make heart shaped with a raspberry almond cream cheese filling.
Otherwise, anything chocolate always goes well for Valentine's Day! Chocolate pecan bourbon, chocolate cream, or chocolate peanut butter dream are some great options!" -Michele Stuart
Michele Stuart's Tips:
Pie Weights Are Your Friend: Pie weights are used when prebaking a pie crust for a cream pie or any pie that involves a precooked filling. Pie weights keep the piecrust in place and stop air bubbles from forming when making prebaked shells. I prefer to use ceramic balls because they have more weight to them. If you do not have them, you can makeshift pie weights by using dried beans. Cut a piece of parchment paper into a square shape and place it on top of the rolled out, crimped pie shell. Next, place the pie weights – distributing them evenly on top of the parchment paper.
Ice Cold Ingredients: When preparing your pie dough, always make sure all of your ingredients are ice cold before starting. I like to keep my Crisco in the refrigerator before I begin to mix my dough. Also, I put ice cubes in the water that I use to mix my dough. Once my dough is mixed, I wrap it tight in saran wrap and keep it cold until I am ready to use!
To achieve the perfect evenly baked crust, always keep your oven racks at midlevel in your oven. Place your pie in the center of the oven during the baking process so that the entire pie bakes through evenly (in other words, to ensure your crust and filling are finished baking at the same time and you don't end up with a crispy crust and undercooked filling). Rotating your pies during baking will also ensure you have an evenly golden brown baked crust.
One of the tricks that my grandmother taught me in the kitchen was to always brush the edges and top of my crust with heavy cream. This will give the baked crust a golden brown finish and even make the crust flakier than it already is! If you don't have heavy cream in the house, you can also use milk or half and half.
Lattice Crust: Making a lattice top is not as intimidating as it sounds! Roll out a 10-inch circle on your surface. With a pastry wheel, cut 1-inch thick pieces so that you have 5 pieces. Place the pieces horizontally on top of your filling. Then roll out another 10 inch circle. Cut again 1-inch thick pieces so that you have 5 pieces. Take one piece at a time and weave the pieces in and out of the horizontal pieces. Do this until the entire pie has been completed. Trim off the excess pieces and crimp lattice strips to the crust.
Fruit Pies: When baking pies in the oven, particularly fruit pies, I always suggest placing a sheet of parchment paper down on your baking sheet. This will help for an easy clean up. I used to spend hours cleaning and soaking my baking sheet. Now it is as easy as one, two, three!
As always, you can call the Pie Hotline M-F 9:00 a.m.-7:00 p.m.
1-877-FOR PIE TIPS (877-367-7438)
Giveaway Entry Options:
1. Comment below telling me your favorite pie flavor!
2. "Pin" any of Your Cup of Cake's Valentines Day Recipes (1 entry for every "Pin" up to 3 times) and comment below telling me what recipe you pinned!
IMPORTANT: Make sure you leave a separate comment on this blog post for each entry!
Open to continental USA residents over age 18. Winner will be chosen by random and will be contacted by email. Winner must respond within 48 hours to claim the giveaway. Giveaway closes Monday January 27th at 11:59 p.m. MST.