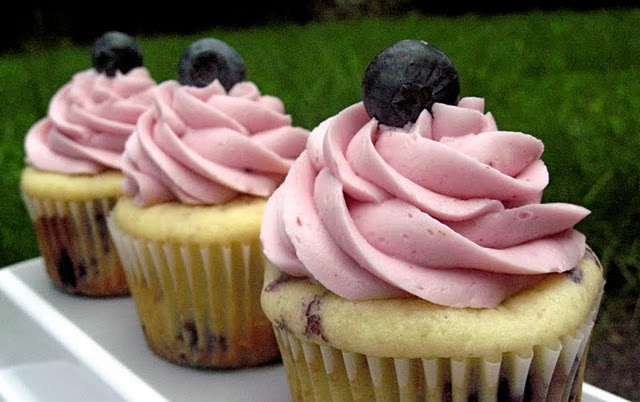 If there was such a thing as a nostalgic fruit, blueberries would be mine. When I was growing up we had a long row of blueberry bushes down our driveway. I just remember spending my summers roaming from bush to bush until my fingers and lips turned purple from the juice.
1 ¾ cups blueberries + 2 tb flour
Lemon Blueberry Buttercream:
3 ½ -4 ½ cups powdered sugar
1.
Preheat oven to 350 degrees and line muffin pans with cupcake liners (yields about 32).
2.
Beat butter and sugar until light and fluffy. Be sure to scrape down the sides of your bowl.
3.
On low speed, add eggs one at a time, being sure to let fully incorporate before adding the next. Careful not to over beat.
4.
In a separate bowl, mix flour, corn starch, baking soda, baking powder and salt together. Sift if needed to get out lumps.
5.
In another bowl, combine buttermilk, lemon zest and lemon juice.
6.
Add about 1/3 of your dry ingredients to the sugar mixture, then buttermilk mixture, then 1/3 dry, sour cream, then final 1/3 dry. Making sure to let the ingredients fully combine before adding the next.
7.
In another bowl, lightly toss (fresh or frozen) blueberries in 2 tb flour, then fold into batter.
8.
Fill liners about ¾ full and bake for 16-22 minutes, or until an inserted knife comes out clean.
9.
Buttercream: Beat butter for 3 minutes. (If using frozen blueberries, microwave to room temperate.) Mash blueberries and then push through a strainer to remove all skins and clumps. Add blueberry juice and lemon juice to butter and add powdered sugar. Adjust consistency as necessary. (Add more lemon juice, blueberry juice or milk to make thinner, or more powdered sugar to thicken.)
10.
Pipe onto cooled cupcakes and top with a fresh blueberry.