Juicy blueberry filling with a crumbly, buttery crust and topping and drizzled with lemon icing! These easy Blueberry Cobbler Bars are the perfect dessert for summer!
Easy Blueberry Cobbler Bars for Summer
I grew up with blueberry bushes lining our long driveway. My fingers were stained purple all summer long because I would hide in the bushes from my brother and eat blueberries. Blueberry pie, blueberry crumble, tarts and cobblers were my summer go-to dessert! My mother loved it because she didn't even have to go to the store to pick the berries! She would just send us kids out to pick them fresh. I don't miss the dreary winters but I sure do miss all the Oregon berries! These Blueberry Cobbler Bars are perfect for potlucks or any dessert all summer long. They have a crumble top and bottom and are drizzled with lemon icing for an added zing!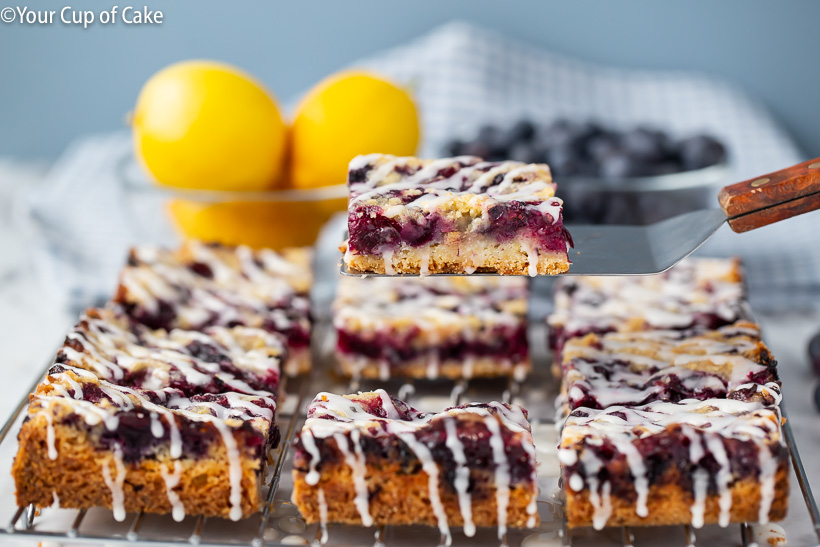 The Perfect Icing
Let me give you a few icing tips and tricks! Sometimes when I used to make an icing I would drizzle it and it looked perfect for about a minute and then it would sink into whatever I drizzled it over and I felt like it disappeared! My icing was never thick enough. Add in your liquid a little at a time. When you think it's good, drizzle a little over a cracker, a piece of bread or a little corner of your dessert and wait a few minutes to see if it really it thick enough! You can drizzle with a fork or spoon, but if you want a more even drizzle, try making a mini piping bag! I use a small ziplock bag and snip off the corner of it with some scissors. It's super quick and easy to make and guess what, no clean-up when you're done. Just toss it!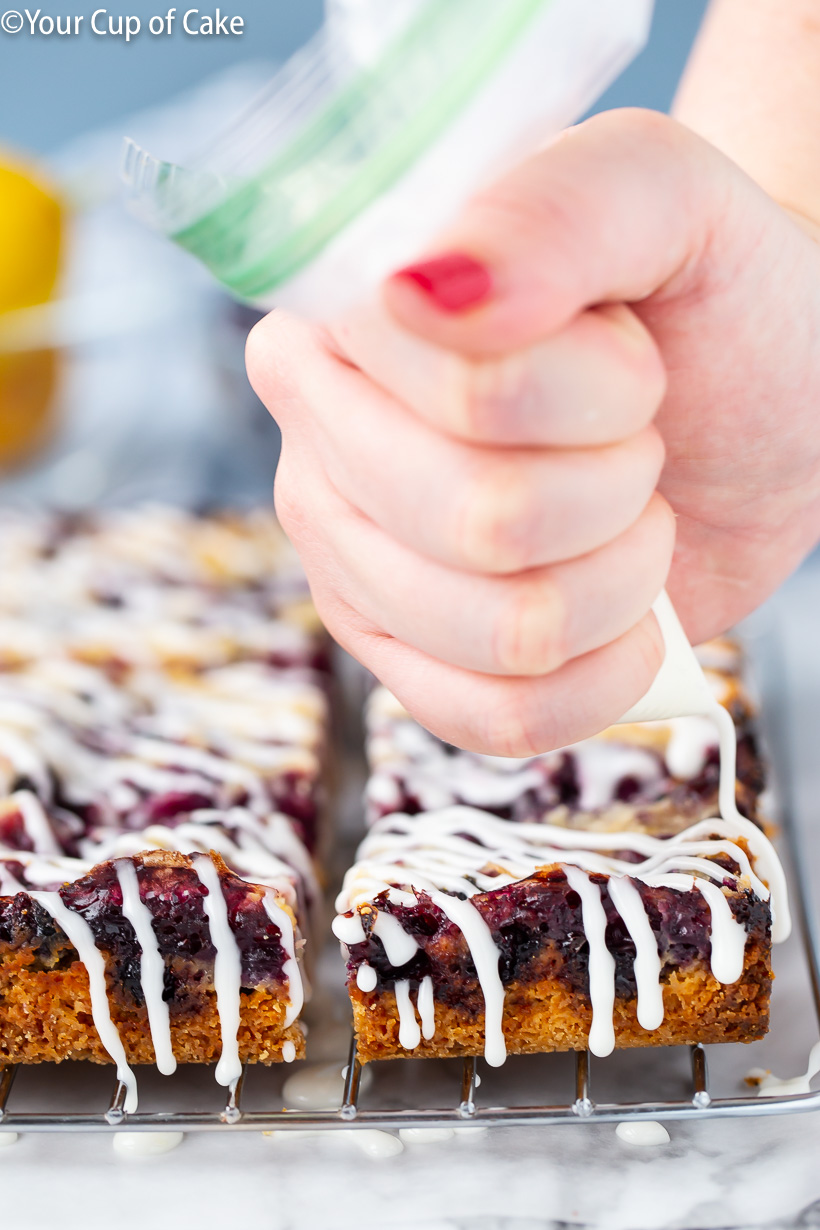 You can drizzle these Blueberry Cobbler Bars with icing before or after you cut them!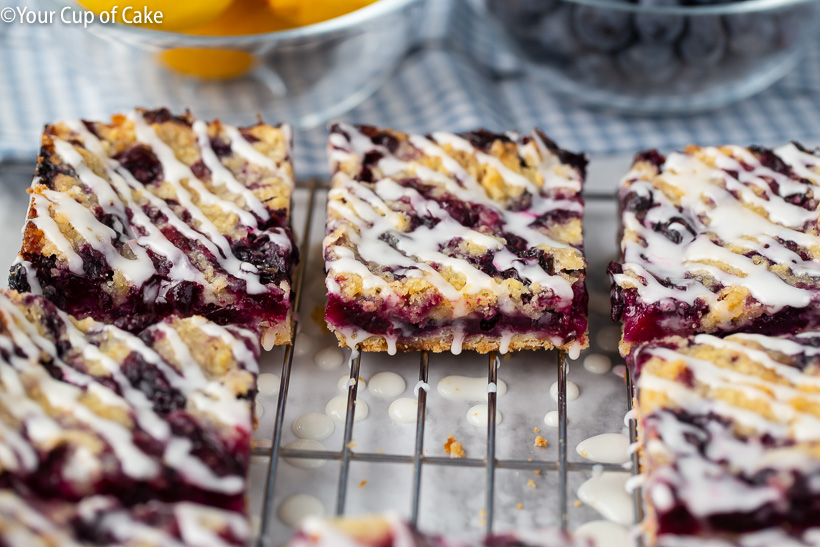 These Blueberry Cobbler Bars are delicious warm out of the oven with a scoop of vanilla ice cream, but if you eat them cold they are incredible too! I was shocked, they were still incredible a few days later! The lemon in the icing and blueberry layer give the dessert a nice pop brightness, yum!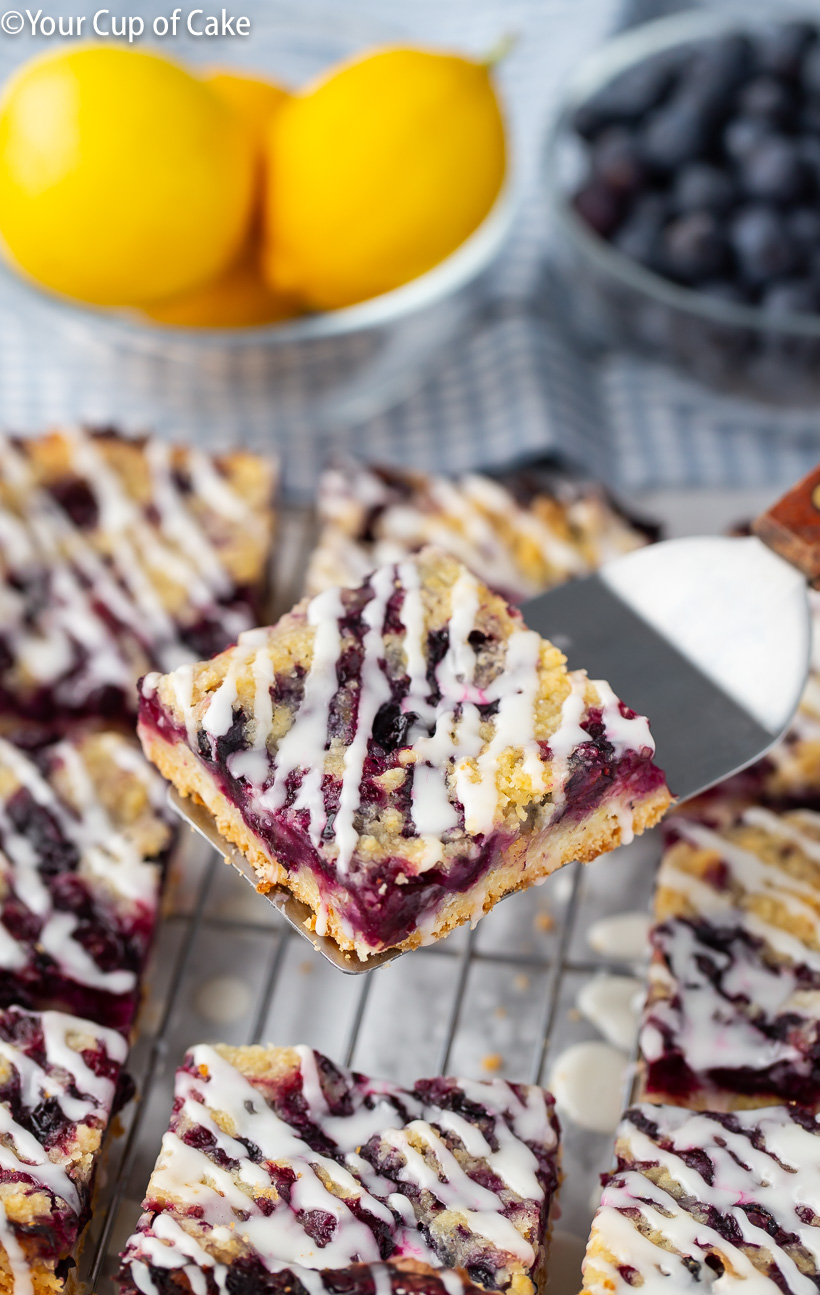 As I say in the recipe, the icing for these bars are totally optional. But it does give it that bakery perfect finish and if you make it with lemon juice (instead of milk) it adds an extra zing that I just love.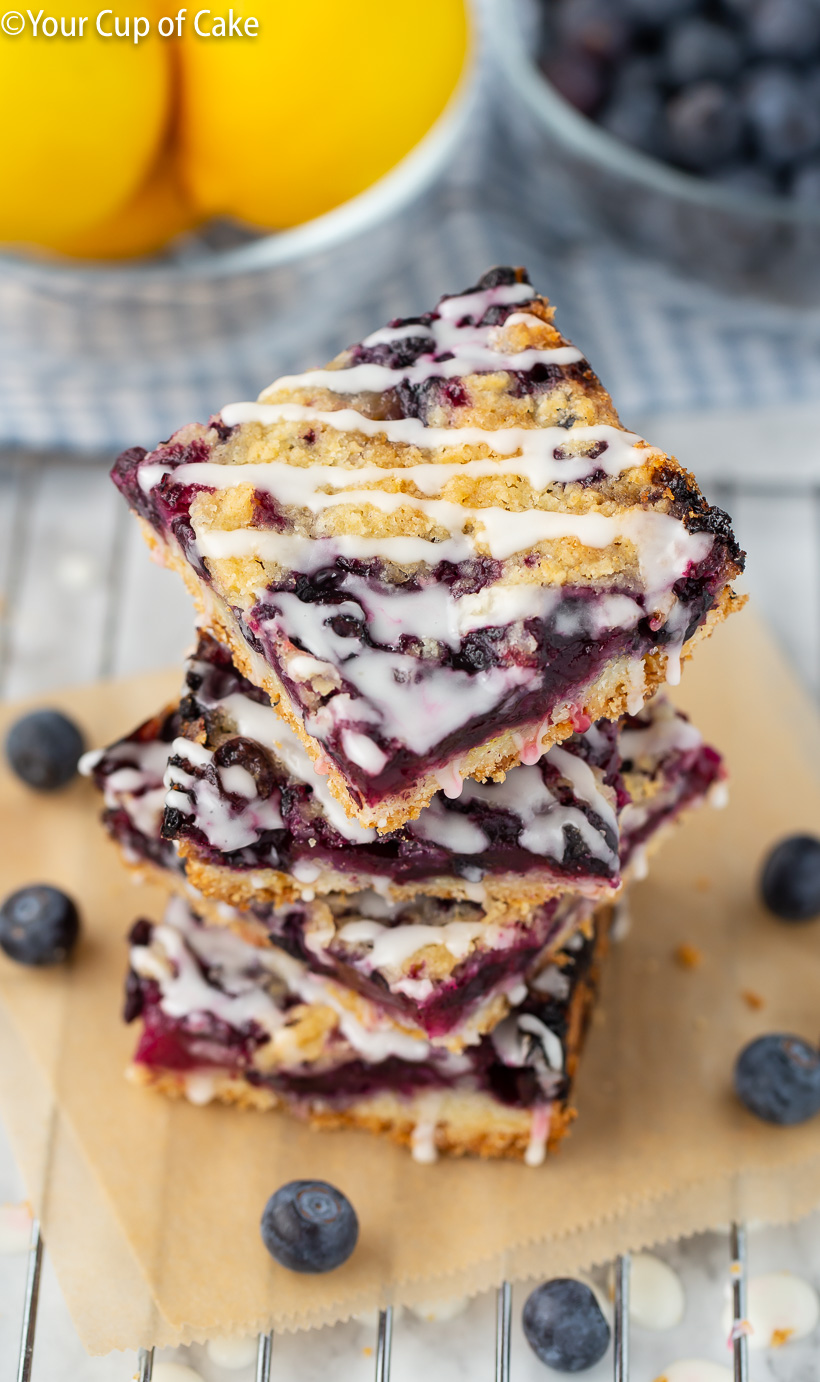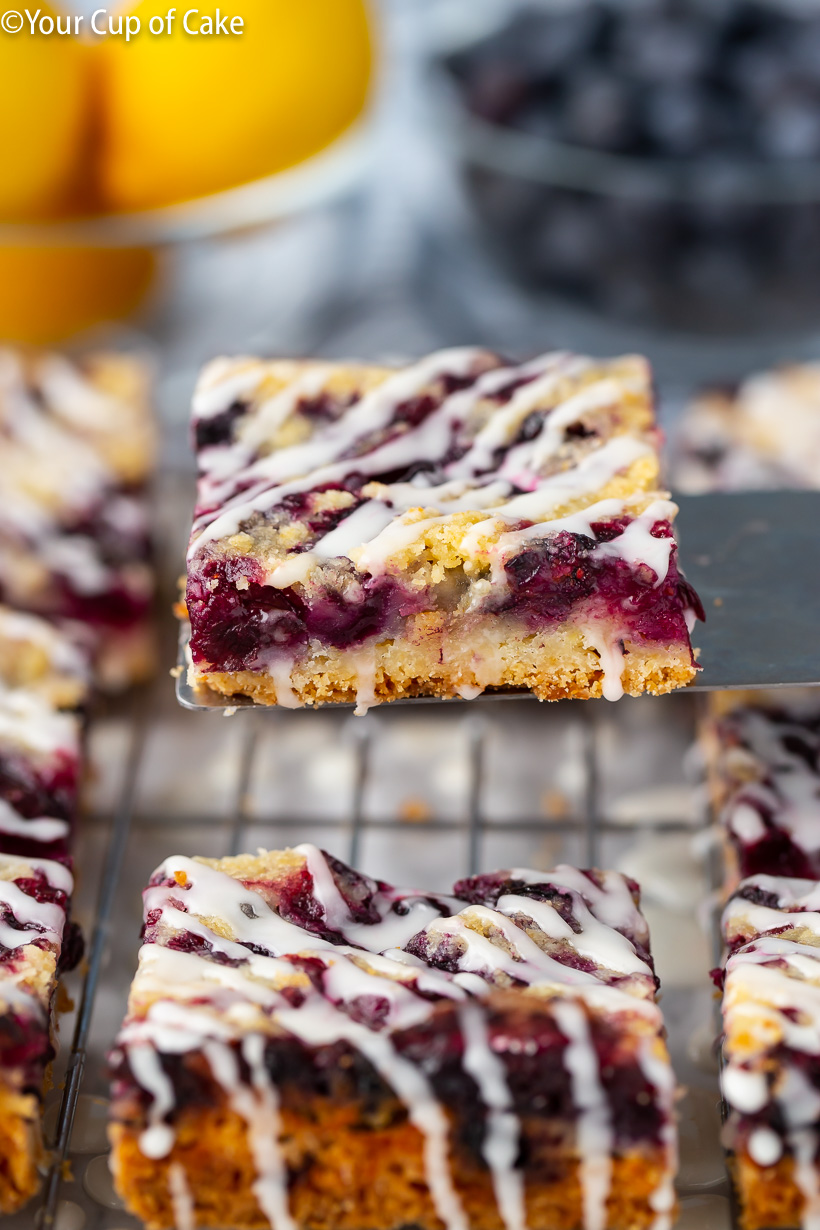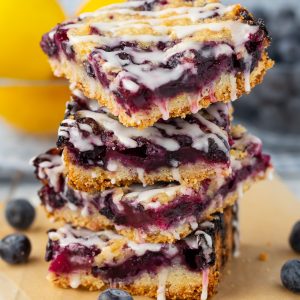 Blueberry Cobbler Bars
Juicy blueberry filling with a crumbly, buttery crust and topping and drizzled with lemon icing! These easy Blueberry Cobbler Bars are the perfect dessert for summer!
Ingredients
Blueberry Layer:
2

cups

fresh or frozen blueberries

2

teaspoons

cornstarch

1

tablespoon

lemon zest

1

tablespoon

fresh lemon juice

1/4

cup

sugar
Bottom Layer & Top Crumble:
1 1/4

cup

flour

1/2

cup

sugar

1/2

tsp.

baking powder

10

Tbsp.

unsalted butter

cold

1

large egg yolk

1

Tbsp.

brown sugar

packed

1

Tbsp.

sugar
Icing: (optional)
1

cup

powdered sugar

2-3

Tbsp.

milk or lemon juice
Instructions
Preheat oven to 375 and prepare an 8X8 pan by lining it with foil or parchment and greasing it with butter.

In a bowl, combine all ingredients for the blueberry layer and set aside.

In a separate bowl combine flour, sugar and baking soda. Use a pastry cutter to cut in the cold butter and egg yolk. You can use a food processor or a fork for this process as well. The mixture should be crumbly.

Dump two thirds of the flour mixture into the prepared pan and press flat. Pour the blueberry mixture on top.

Add the brown sugar and sugar to the rest of the flour mixture and stir. Sprinkle over the blueberry layer.

Bake for 40-45 minute or until the blueberry layer is bubbling. Serve warm with ice cream or let cool and eat later! For icing: whisk ingredients together and then drizzle over bars! Optional, but a gorgeous addition!