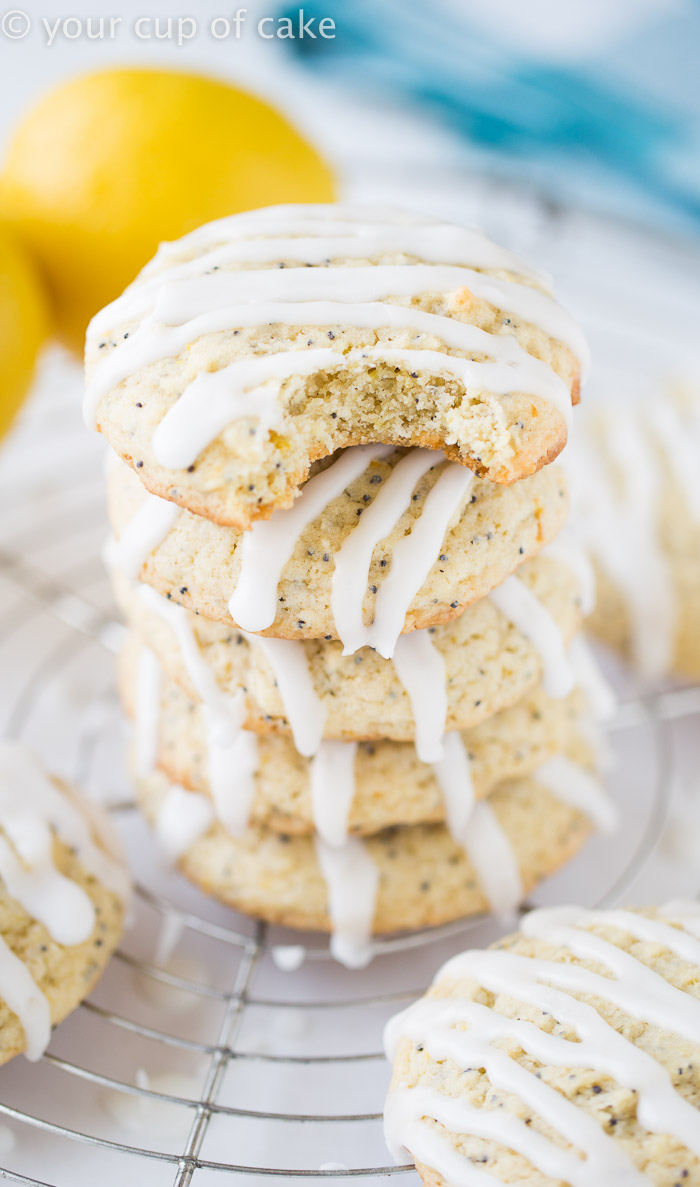 Bring on the summer weather and everything lemon! Including these Lemon Poppy Seed Pillows that are light and fluffy cookies just like clouds! And they're topped with a perfectly tart lemon glaze that will make you want to do nothing with the rest of your day except sit in a chair in your backyard… mmm… Maybe I should be calling these Unproductive Cookies. That's a bit how I felt after I made them!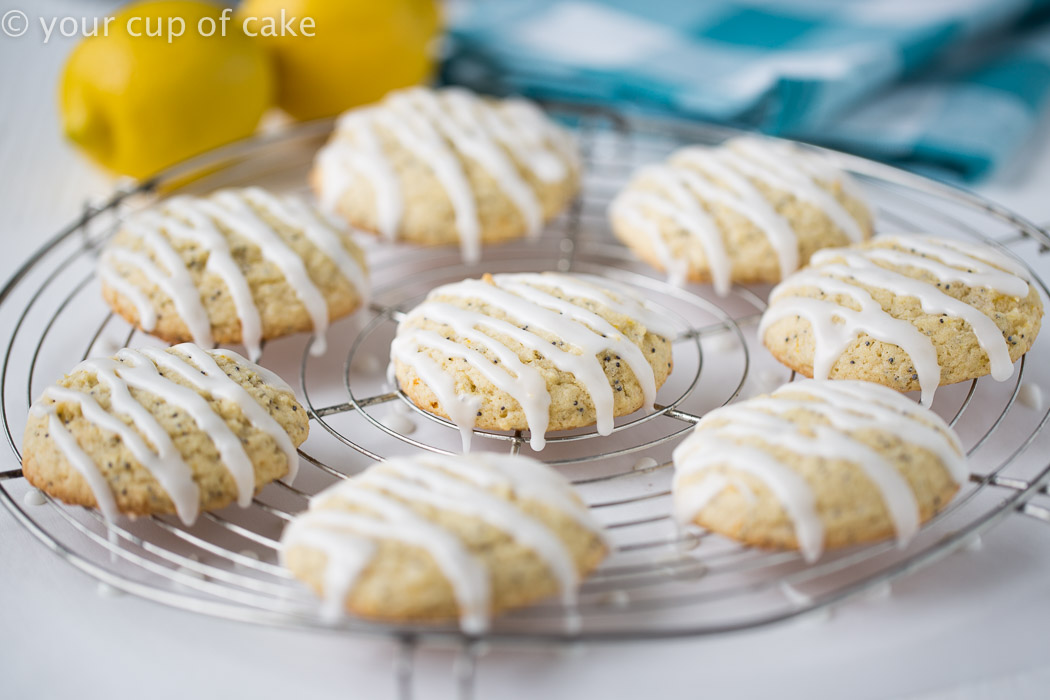 Drizzle magic! For cookie drizzles like these I always use a little plastic sandwich bag and snip off a corner, that way I have one less thing to clean! Something I totally forgot about is that you can sprinkle a few extra poppy seeds on top of your dough balls before you bake them! Then you can really see them after they bake! Love my perfectly round dough balls, these cookie/cupcake scoops are a life saver! The black handled (I used or these cookies) and purple are great for cookies and the blue and red handled ones are perfect for cupcakes!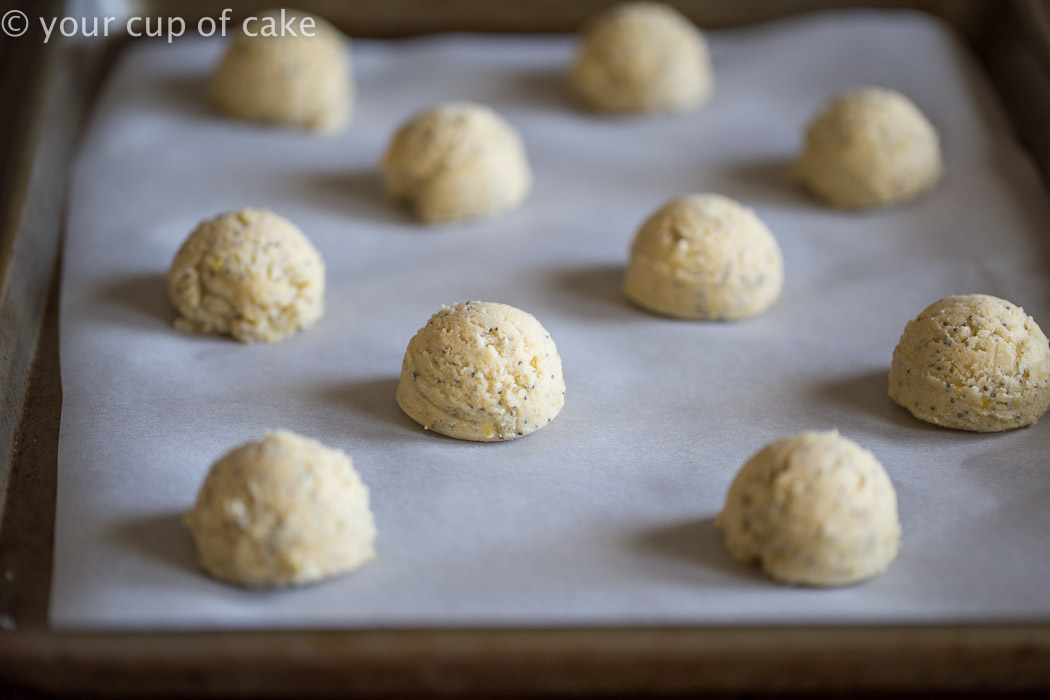 I wasn't going to admit this… but I ate most of these cookies. Ah! Some how I started and then they were gone! I was supposed to bring them to a church event but they never made it out of my car because I forgot and then the next day I was hungry and they were just starring at me… whoops.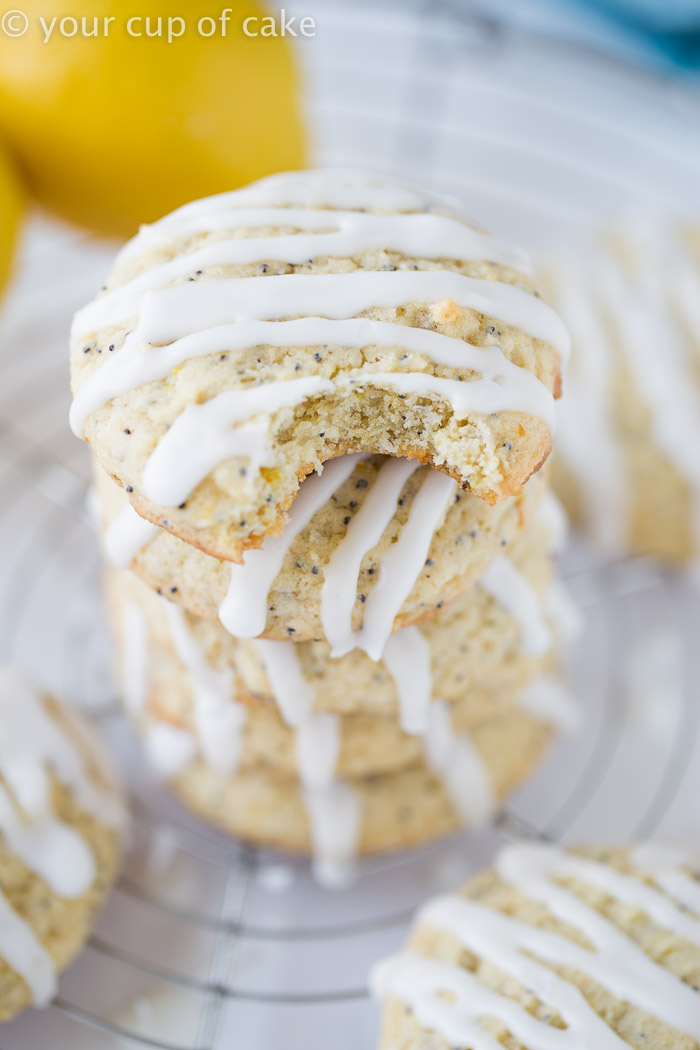 You can also glaze the entire tops of these cookies if you want! I was pretty tempted because the glaze is an awesome pop of flavor. If you do that, you can sprinkle a few poppy seeds on top or a little lemon zest to decorate them!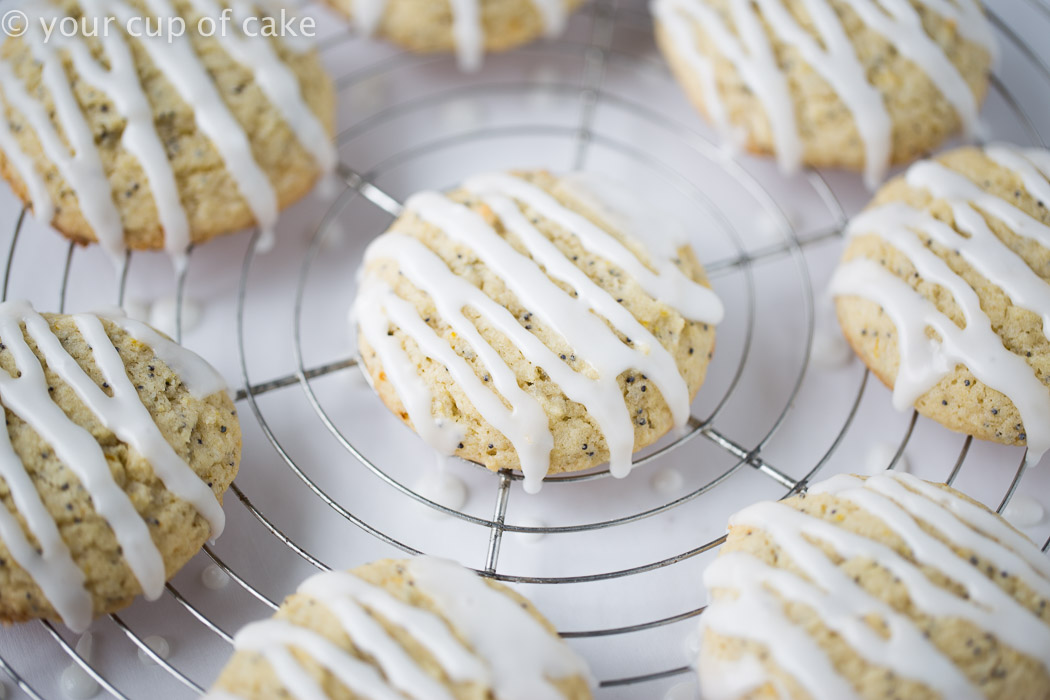 In case you haven't read my secret cookie tips post, it's pretty great! My favorite trick is how to get an egg to room temperature fast!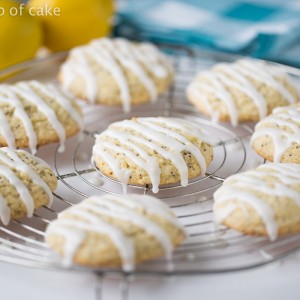 Lemon Poppy Seed Pillows
Ingredients
LEMON COOKIES:
2 1/3 C. all flour
1 tsp. baking powder
1/2 tsp. baking soda
1/2 tsp. salt
1 cup unsalted butter softened to room temp
1 C. sugar
1 egg at room temp
Zest of 2 lemons
2 Tbsp. fresh lemon juice
2 tsp. vanilla extract
2 tsp. poppy seeds
LEMON GLAZE:
1 C. powdered sugar
4-5 tsp. fresh lemon juice
Instructions
1. Preheat the oven to 350 degrees and line baking sheets with parchment paper.

2. Whisk flour, baking powder, baking soda and salt together.

3. In a separate bowl, cream the butter and sugar together until light and fluffy, about 2 or more minutes. Beat in the egg (read trick above about how to get a room temp egg FAST), lemon zest, lemon juice and vanilla. Turn the mixer on low and slowly add in the flour mixture and poppy seeds.

4. Scrape the bowl, then mix just until combined.

5. Scoop the cookie dough onto the baking sheets in 1 1/2 tablespoon portions, 2 inches apart.

6. Bake for 10-12 minutes, until the edges are just starting to get golden. Let cool for 3 minutes and then transfer to cooling racks. Let cool completely before glazing.

7. GLAZE: Place powdered sugar in a bowl and then add 4 tsp. of lemon juice. Whisk together and add another tsp if it's too thick. You'll want it thicker than you think if you want to drizzle like mine! Then transfer into a small ziplock bag, seal, snip off a bottom corner and drizzle over your cookies! TIP: Some times if I don't know if my glaze is the right consistency, I'll sacrifice one cookie and drizzle a little over with my whisk and wait a minute to see if it runs off (too thin) or hold's it's shape!