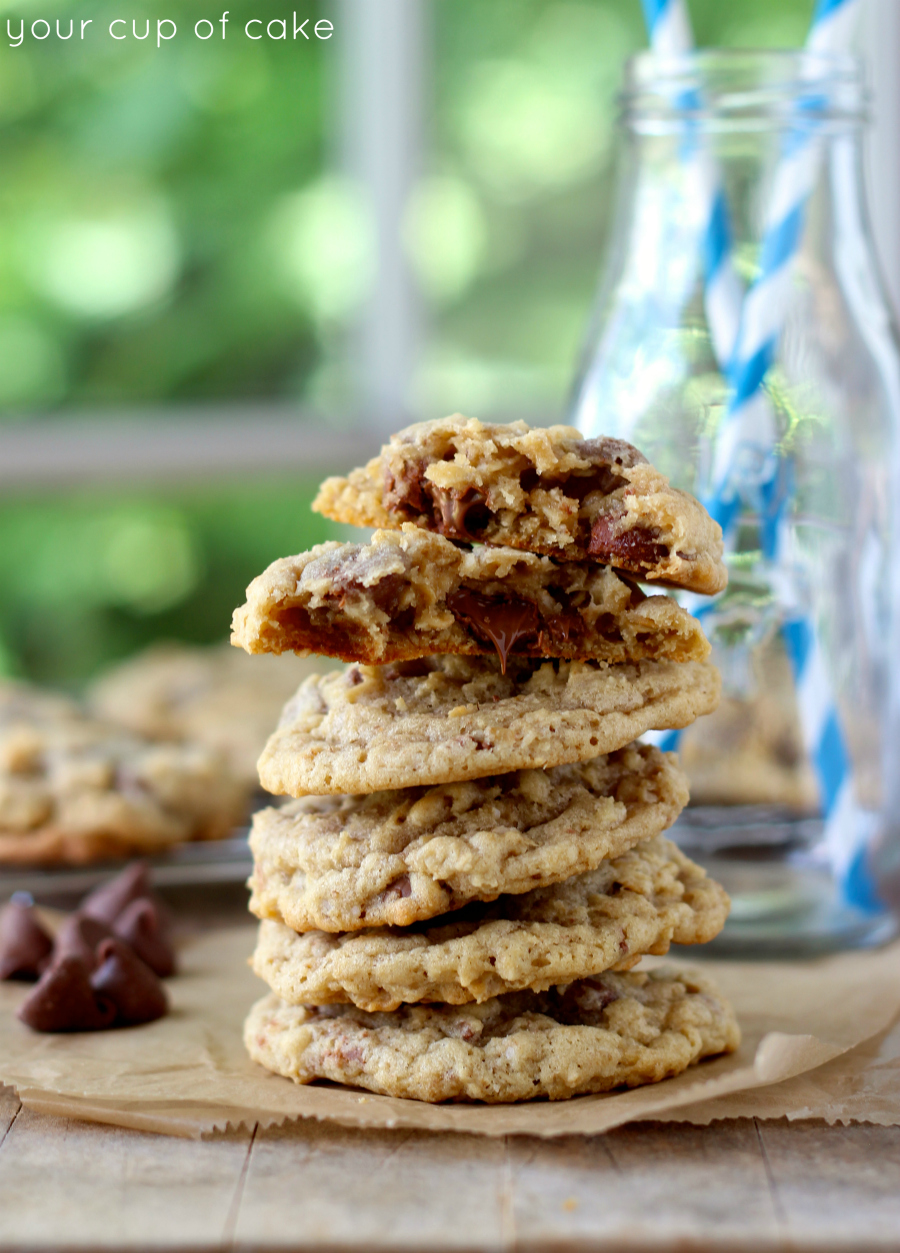 These are the cookies that started it all. It wasn't cupcakes that got me into baking or known for baking, it was these little cookies! Yes, that's how incredible these cookies are!! Nearly everyday in high school I would wake up at 5:00 AM and start the KitchenAid creaming sugar and butter to make these. I would take them to school and before 2 period they would be gone. Everyone always told me I would own a bakery one day, and I never took them seriously. I thought I never wanted to do anything with baking for my "job." Well… we know how that turned out 🙂 It's a good thing I started baking!
These cookies were my first post on the blog nearly 4 years ago, but I was feeling sentimental and decided to do an updated post with better recipe formatting and more images. Enjoy a little blast from my past!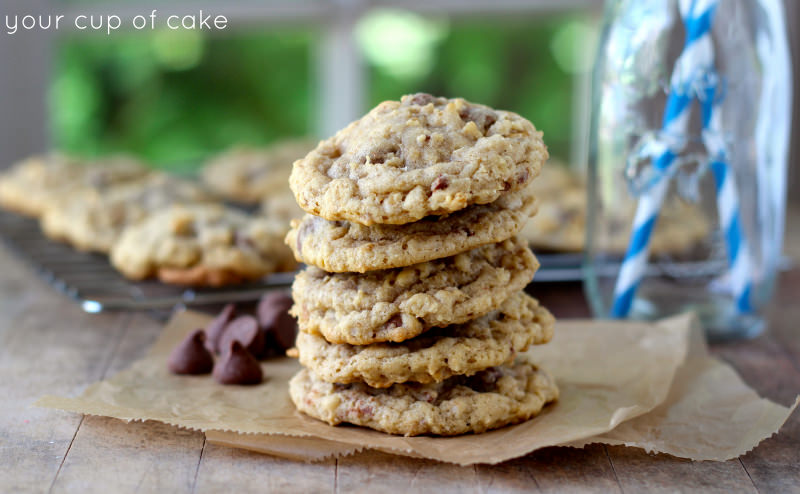 The Story: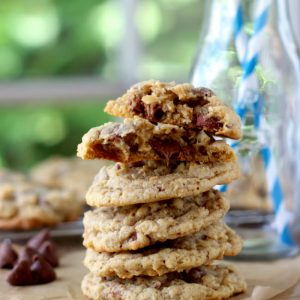 Lizzy's Famous Oatmeal Chocolate Chip Cookies
Ingredients
1

C.

unsalted butter

1

C.

brown sugar

not packed

1

C.

sugar

2

eggs

2

tsp.

vanilla

1

tsp.

salt

2

tsp.

baking soda

½

tsp.

baking powder

2 ¼

C.

flour

2

C.

old fashioned oats

1

bag Guittard Milk Chocolate Chips
Instructions
1. Preheat oven to 350 degrees and line cookies sheets with parchment paper.

2. Cream butter and sugars together for about 5 minutes, it should turn a lighter color and appear "fluffy." Add vanilla and eggs.

3. In a separate bowl sift salt, baking soda, baking powder, and flour together.

4. Add dry ingredients slowly to wet while mixing. Do not over mix.

5. Add oats. Add chocolate chips.

6. Place dough balls that are about the size of a golf ball on cookie sheets, I always line mine with parchment paper. (To make my cookies thicker, I will scoop out dough balls onto a plate and then pop them in the freezer for 10 minutes, and then bake! This keeps them taller while they bake!)

7. Bake for 8-10 minutes. Time will vary depending on ovens, but you want to take them out just before the tops start to golden. (They will look like they aren't done when you take them out, but they will keep cooking when they're out of the oven!)

8. Let cool on a sheet a for 3 minutes. Once they set, taking about 15 minutes, they will be ready to eat.
Just like most cookies, they can be incredible or a disaster– It will totally depend on how long you bake them. If you're nervous, just make one dough ball first to see if you need to bake them a little longer or for less time. I froze my dough balls for 10-15 minutes and then baked them for 9 minutes. But it always depends on your oven too!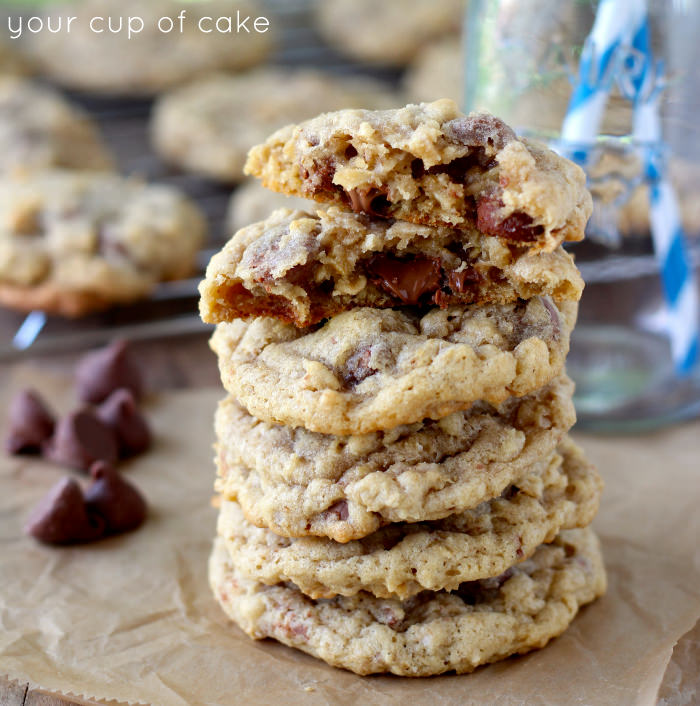 These chocolate chips will change your life. They're extra large and MILK CHOCOLATE. Oh my.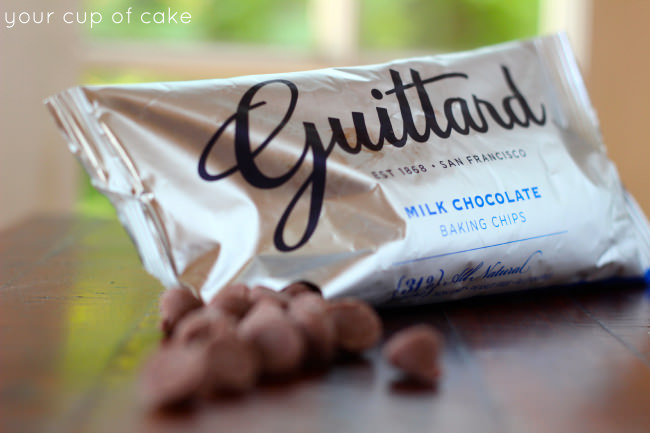 You can eat the dough plain too, I won't judge.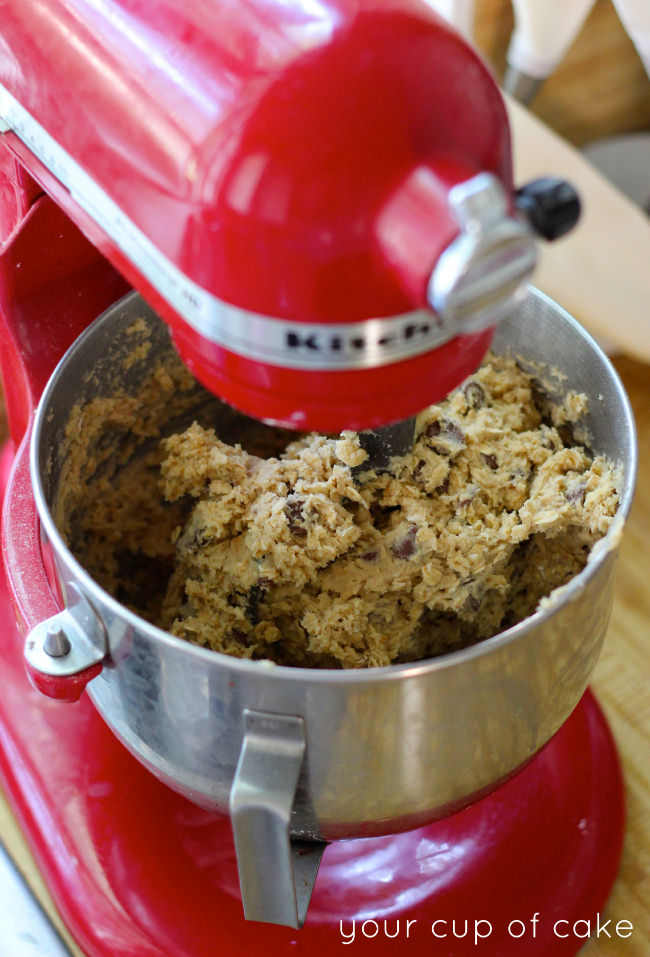 Make cookies all the time? Get a food scoop! Seriously, it will be one of the best decisions of your life. It's much less messy than the 2-spoon thing and your dough balls will all be the same size and perfectly round AND it's faster. I like this food scoop from Amazon, size 30 is the one I use for cookies! I use Size 16 or 20 for cupcakes!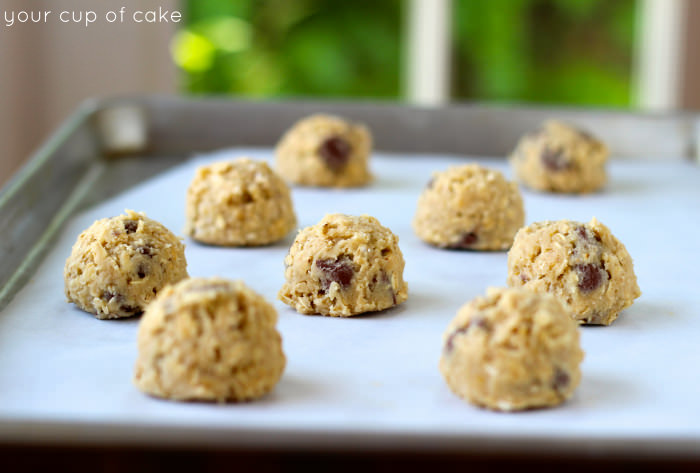 I'm gonna miss this little photo place, it's been perfect for me over the last year and I shot my entire second cookbook from this little spot! Exciting news coming soon about a new studio….