Take your chocolate chip cookie game to a whole new level with these Ultimate Brown Butter Chocolate Chip Cookies! I'll share my secrets to getting bakery perfection!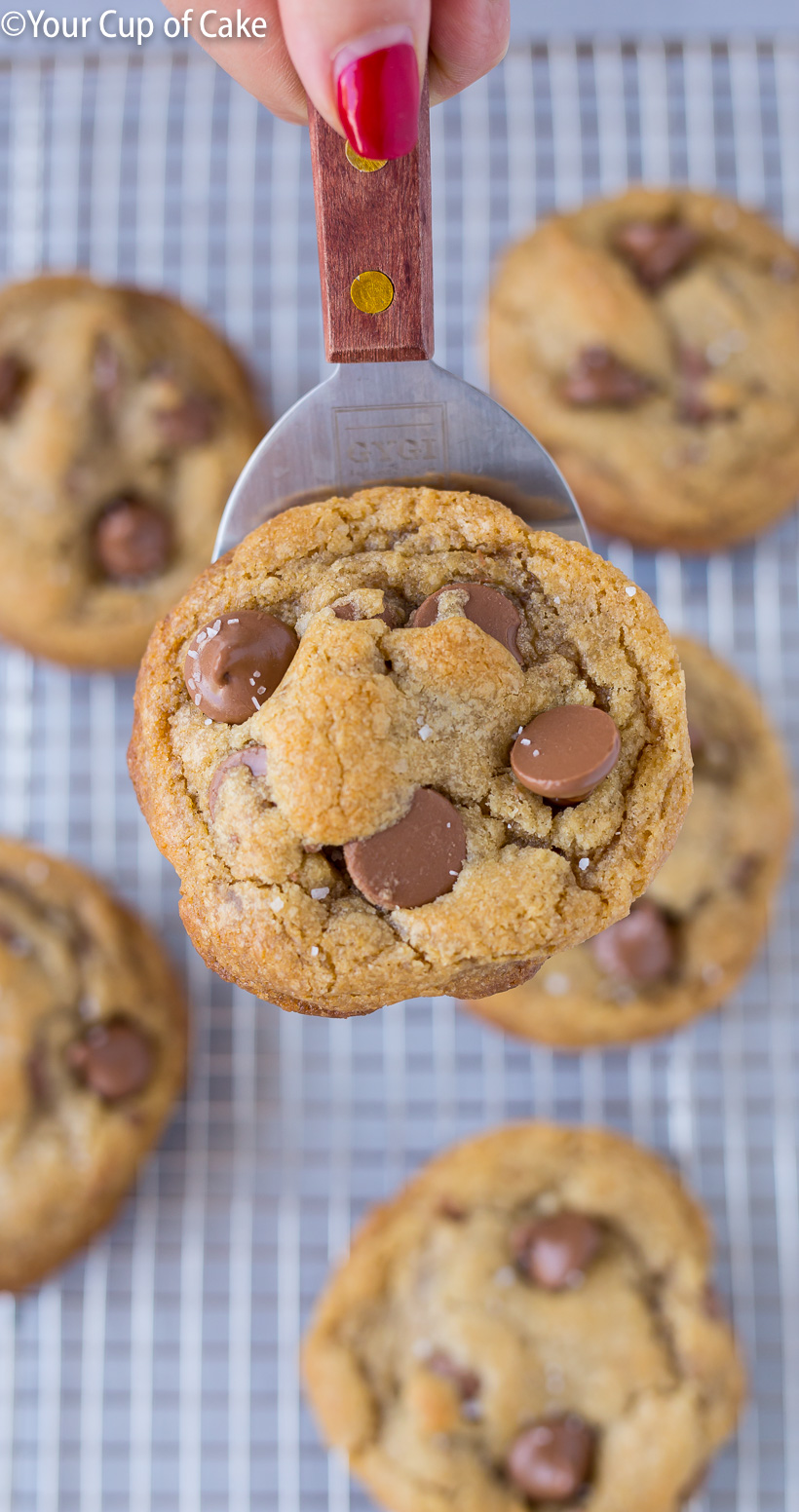 Ultimate Brown Butter Cookies
If you haven't hopped on the brown butter trend yet, you need to. If you're sitting there thinking, "Well how much of a difference can it really make?" I will tell you… so much difference! Browning the butter transforms cookies into a deeper flavor and it's magical. It's like to difference between granulated (white) sugar and brown sugar. They're both sweet but brown sugar has a heartiness and depth to it while granulated sugar is just sweet. Do yourself a favor and make these Ultimate Brown Butter Chocolate Chip Cookies this weekend!
If you love cookies, make sure to try my Reese's Peanut Butter Cup Cookies! There's a reason they're so popular…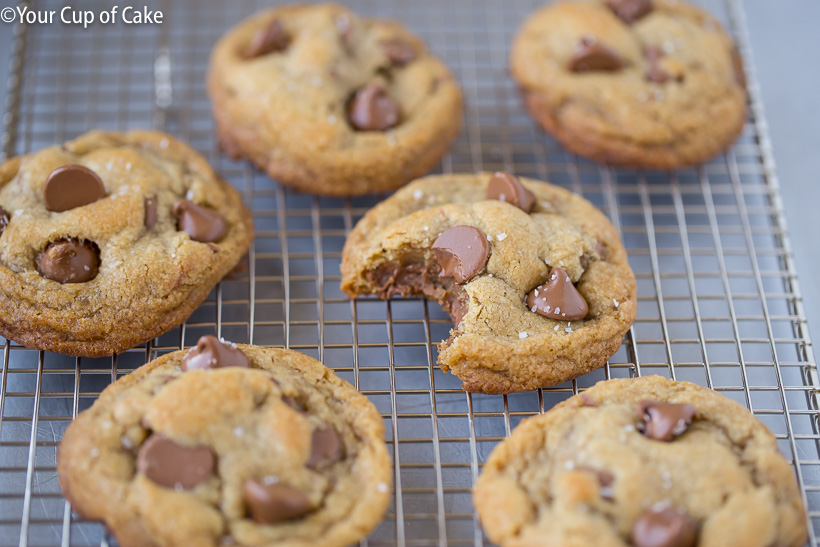 Secrets to making THE BEST Chocolate Chip Cookies
Okay, here are my major tips on how to make the best chocolate chip cookies. This can apply to all recipes and not just this one for Ultimate Brown Butter Chocolate Chip Cookies! Though I will say, browned butter adds so much dimension of flavor, it will knock your socks off!
Chocolate Chip Choice: There's no right or wrong when it comes to semisweet, dark or milk chocolate, but make sure you pick a high quality brand! The chips I used in this recipe are milk chocolate and it's the Guittard brand which tastes amazing and their milk chocolate chips are extra large so they have a real decadence about them. When I choose semisweet chips I usually go for the Trader Joe's brand.
Perfectly Sized Dough Balls: To save time and headaches I always use a food scoop! The size I use for cookies will vary depending on what event I'm making them for, but a food scoop always promises you get all your cookies the same size!
Chill Time: Chilling your dough is needed! This is how you get taller cookies that have a crispy edge and a soft center!
Parchment Paper: This may seem like a very tiny thing but using parchment paper really ups your cookie game! When the bottoms of your cookies are smooth and crumb-free there's just something about they that seems more professional. Plus, less clean up for you in the kitchen! PS: wax paper is not parchment paper.
Coarse Salt: A sprinkle of coarse salt on your cookies right before baking is huge. If I could reach through my computer right now and give your shoulders a shake as I tell you this, I would! Buy some kosher salt next time you're at the store and you will not regret it. (All we use in my kitchen is kosher salt anyway.) Just a little sprinkle of coarse salt on your cookies goes a long way to adding more flavor and bringing out the chocolate!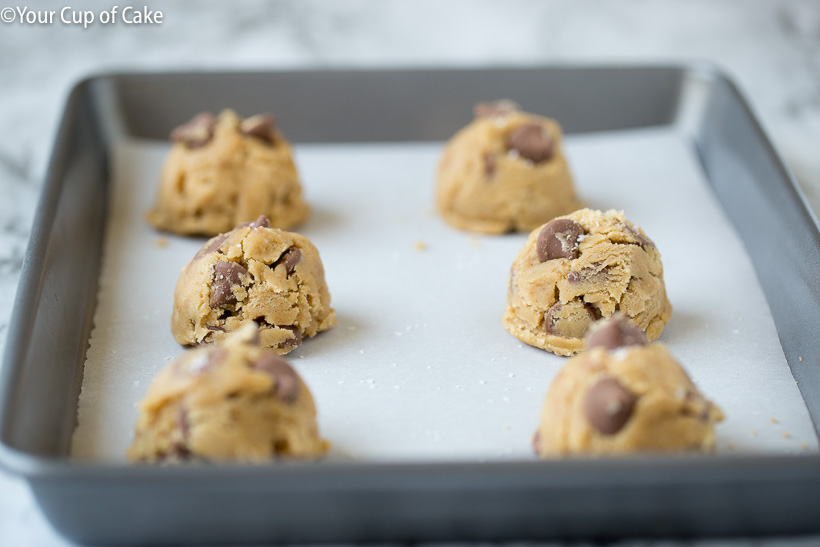 Just look at the beautiful coarse salt on top of these Ultimate Brown Butter Cookies!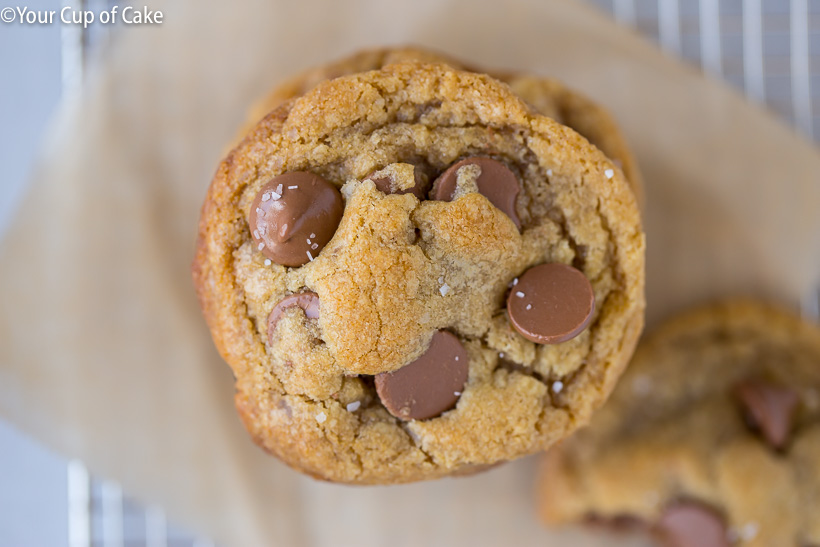 How do you make Brown Butter?
This is the big question! You can't just buy it off the shelf (at least not at my grocery store) you have to make it, but luckily it's really not hard. My recipe below has more instructions but you basically heat your butter until little speckles form and the color turns amber. You obviously don't want to burn your butter but you want to let it cook until it has a nutty aroma to it.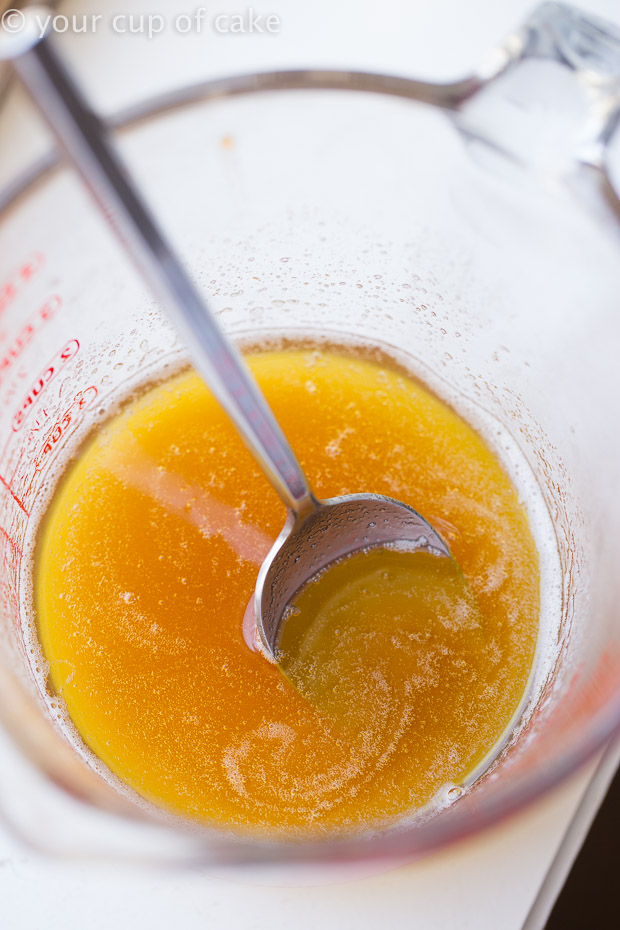 These Ultimate Brown Butter Cookies are heavenly!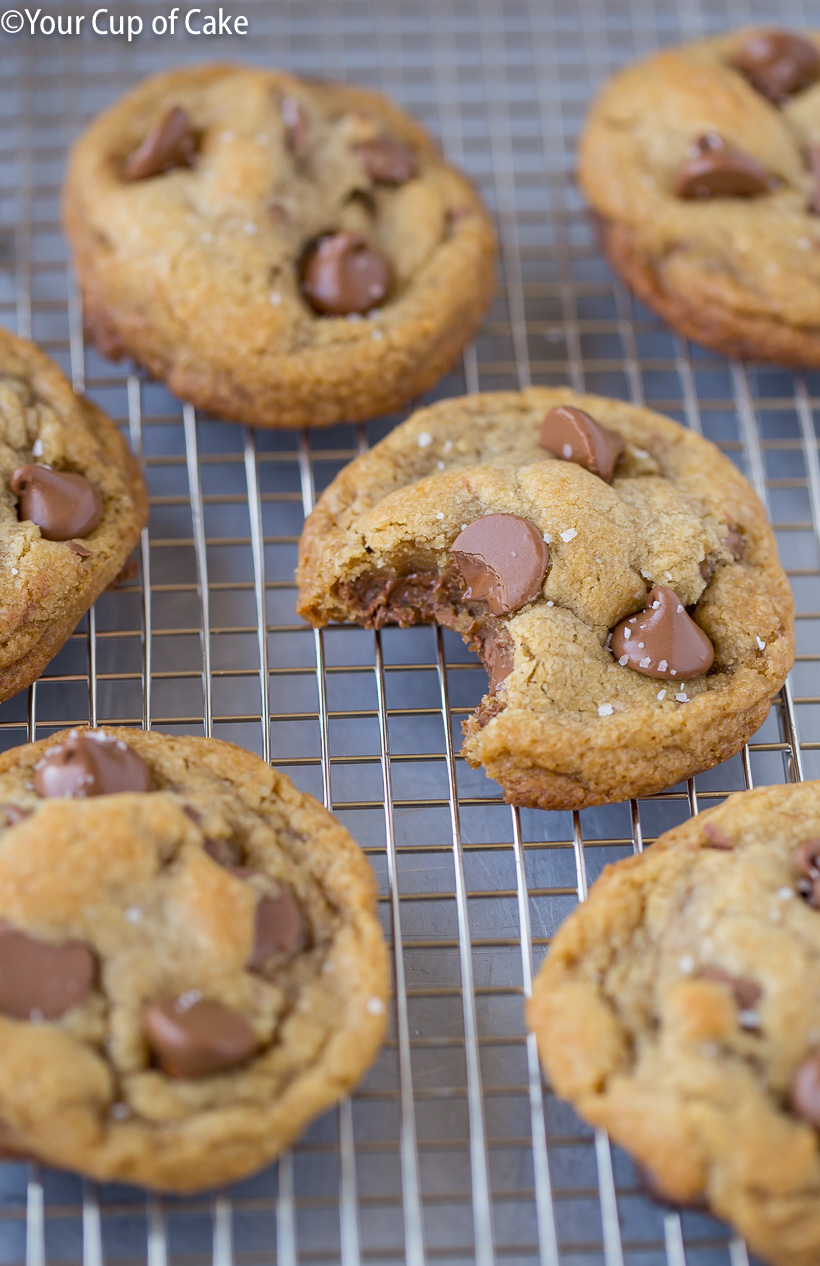 If you're a fan of cookies and milk you're going to love how these rich brown butter cookies taste with a cold glass of milk!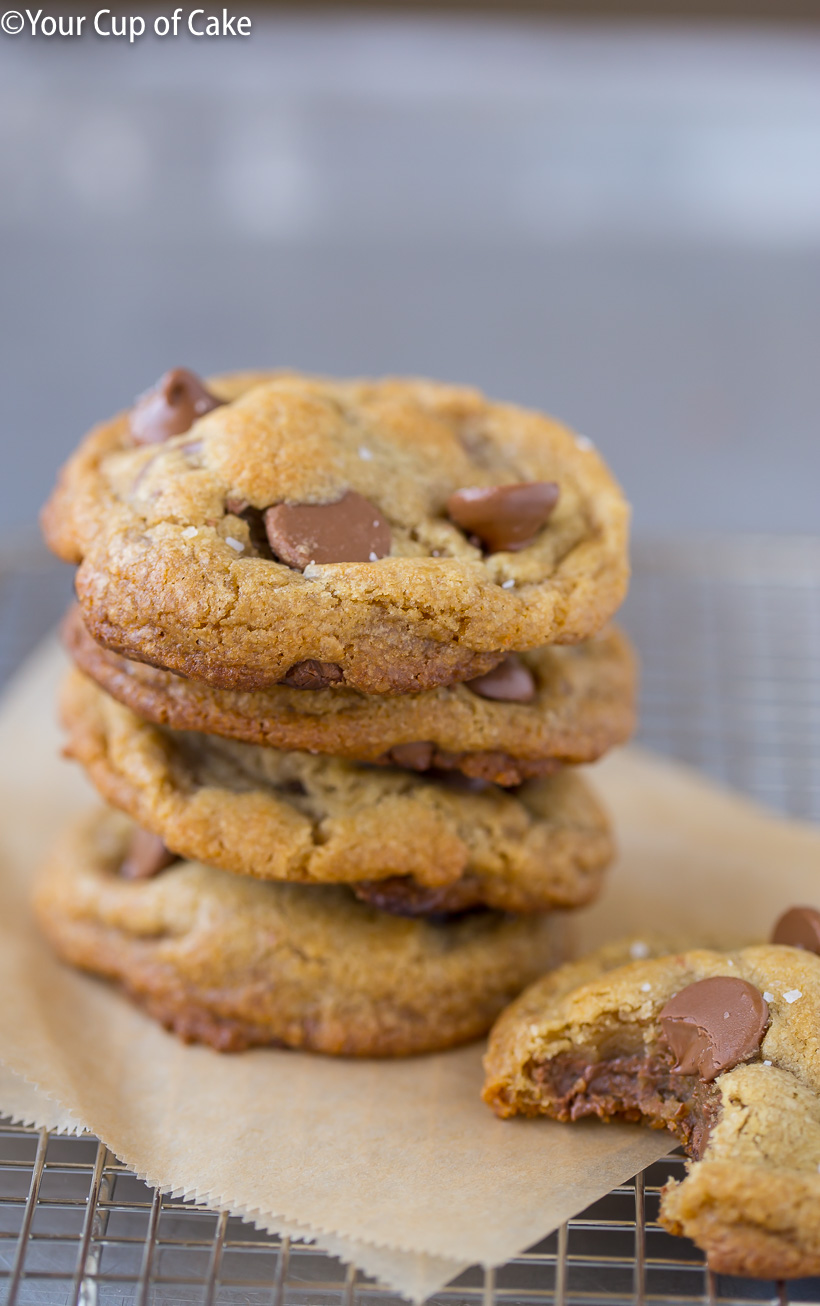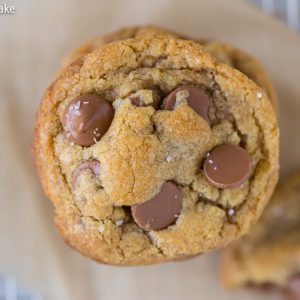 Ultimate Brown Butter Chocolate Chip Cookies
The best chocolate chip cookie you were ever eat because using browned butter makes all the difference!
Ingredients
1

cup

butter

unsalted

2 1/4

cup

flour

1

tsp.

baking soda

1/2

tsp.

salt

1 1/2

cup

brown sugar

1/4

cup

sugar

1

large

egg

1

large

egg yolk

2

tsp.

vanilla extract

2

Tbsp.

milk

1 1/4

cup

chocolate chips

coarse salt

for sprinkling
Instructions
Place butter in a small sauce pan over medium heat. Stir constantly. Butter will melt, then bubble and then foam. Once it is foaming watch carefully to not let it burn! Once it smells nutty (mine smelled like caramel corn) remove from heat and pour into a different bowl to stop it from cooking. Let cool for 5-10 minutes.

Combine flour, baking soda and salt in a bowl. Set aside.


When the butter is cool enough to touch with your finger, beat butter and sugars (brown and granulated) in a stand mixer. Add egg and egg yolk one at a time. Scrape down the sides of the bowl as needed. Add vanilla extract and milk.


Slowly add in dry ingredients and then chocolate chips. Let dough chill in the fridge for 2-3 hours. Don't skip this step!

Preheat oven to 350 degrees and line cookie sheets with parchment paper. Make dough balls a little larger than a golf ball, place on cookie sheet and sprinkle with coarse salt. Bake for 10-12 minutes (or less depending on how soft and gooey you like them).