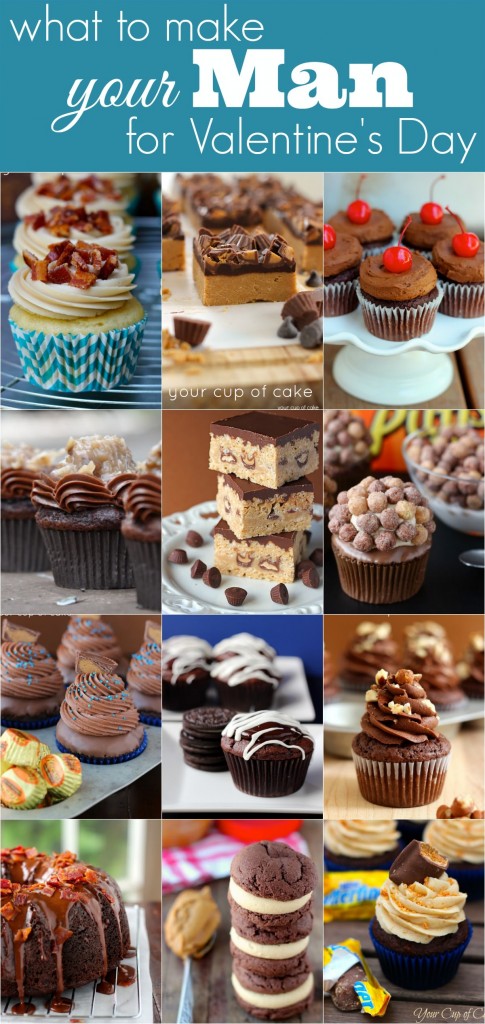 Valentine's Day is almost here! And though I like to think it's the women who should be showered with flowers and chocolates it's also just too much fun to spoil the men as well! So maybe he likes cupcakes, maybe he doesn't… either way we have the perfect dessert for him!
(Recipes labeled top to bottom and right to left)
The classic combo that all men love, and you'll be shocked you love it too!
Afraid of the oven? This is so simple and amazingly delicious with just a handful of ingredients!
Frosting not your friend? This uses instant pudding mix and whipped cream to make the easiest frosting you will ever make in your life! Seriously. And it's divine on cakes, cupcakes, used as a dip with crackers or pretzels…you name it 🙂
The men in my life (my father and brothers) like this the best. Not too much traditional frosting and an incredible coconut pecan topping you'll want to eat by the spoonful.
These are AMAZING! Make them for him…but you'll eat them all before he gets home from work. Seriously though, these are life changing.
A fun take on peanut butter cupcakes and awesome for the "little man" in your life.
Need I say more?
Have a hubby that doesn't like frosting? This is for him. Plus, it's baked with an Oreo on the bottom for a little surprise.
Who doesn't love Nutella?
Your man too manly for cupcakes? Better make it a Bundt.
Whoopie pies are my go-to dessert for guys. They are easy to eat, delicious, no mess and so simple to make. Make them with the peanut butter filling, or a plain cream cheese filling or even a chocolate one!
This frosting is incredible.
If the man in your life (or you) likes red velvet, be sure to check out ALL my red velvet recipes in my Red Velvet Dessert Round Up!

What are you making your man this year for Valentine's Day? (Sweet or savory)