The best cake mix poke cake! This Easy Lemon Cream Poke Cake has a lemon cake, lemon pudding and my secret ingredient whipped cream topping that won't melt on a hot summer day! The perfect potluck dessert!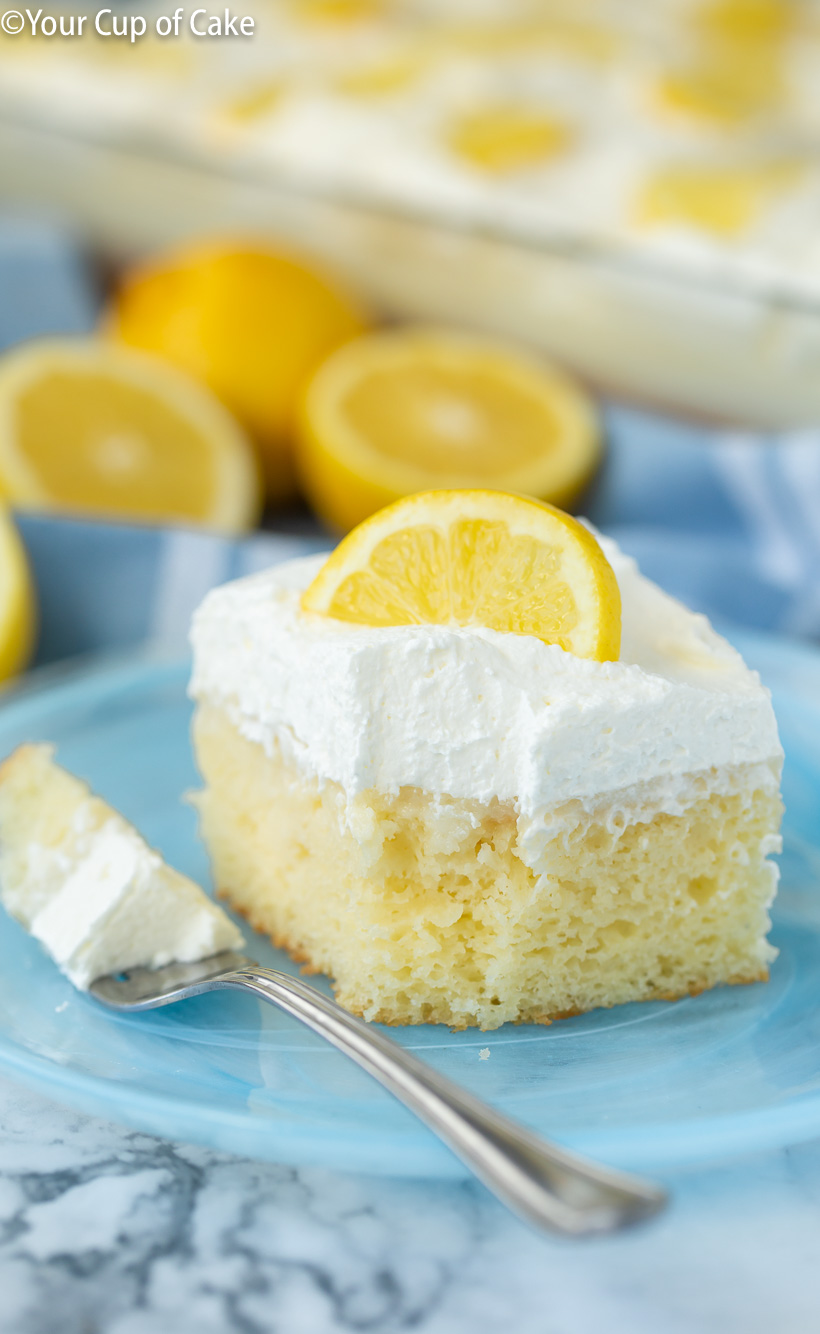 Easy Lemon Cream Poke Cake
Summer is here (well almost) and that means plenty of potlucks, picnics and neighborhood parties! So we all need some go-to desserts to bring to that won't take all day to make! Plus, if it can be made the night before that is even better. Don't waste your summer spending too much time in the kitchen, get out and play! Enjoy the sun while you still can because before you know it we'll be shoveling snow again, at least I will be here in Utah. This Easy Lemon Cream Poke Cake takes just a few simple steps to make and you can keep it in the fridge until you're ready to serve.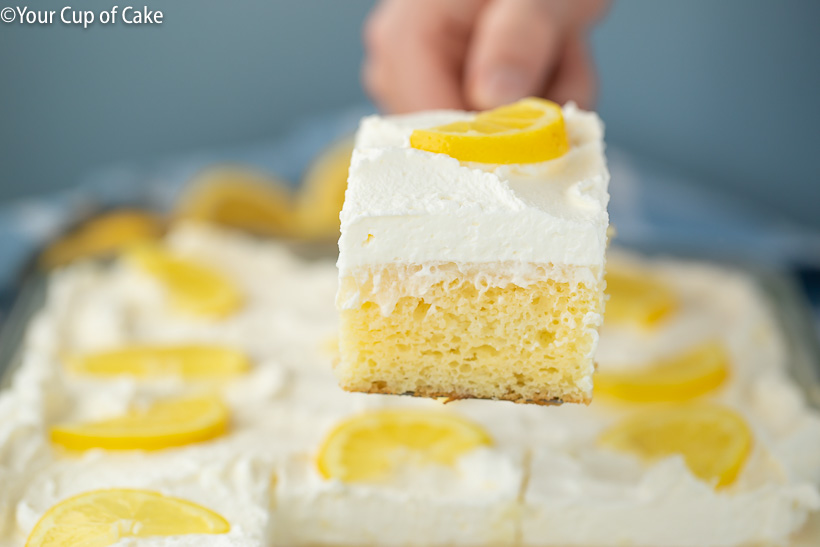 What's Poke Cake?
It's a silly name, right? Well the reason why it's called "Poke Cake" is because when the cake comes out of the oven you poke holes all over the top of it. I usually use the back end of a wooden spoon and poke holes all over about a half in or so between each hole. Then you pour over the cake some type of liquid that will in time thicken, usually it's jello but in this case it's pudding. The cake absorbs the liquid and once the pudding chills and thickens the cake is suuuuuper moist (sorry if you hate that word).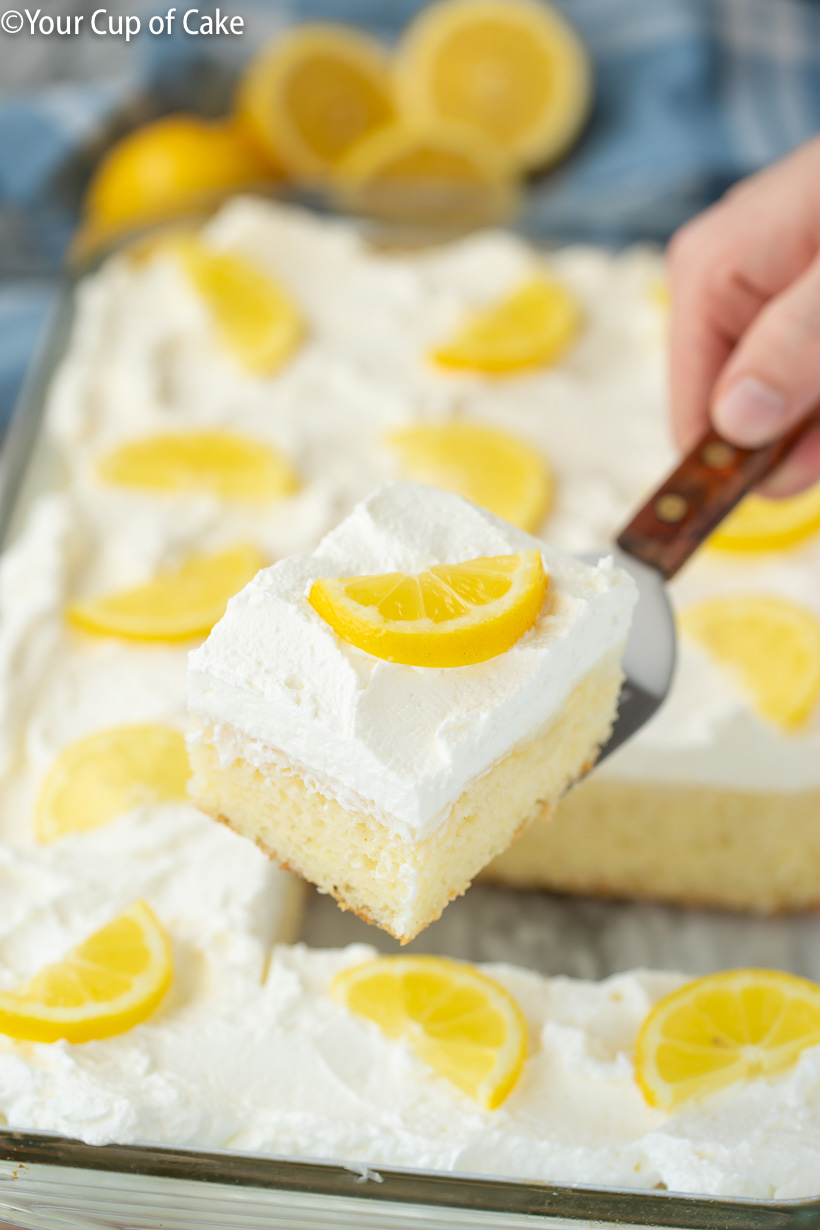 How to make Poke Cake with Pudding?
Making a poke cake with pudding can be a tad tricky! You need to use instant pudding mix, but the trick is that when you pour the pudding mix with the mix over the cake it needs to be liquid and not thick! Instant pudding mix can thicken quickly so if you wait too long or mix up the pudding before your cake is ready you'll end up pouring thick pudding over the cake! I've made that mistake many times. I mean, it's not really a "mistake" because it still tastes great but then it's just a cake with a pudding layer instead of a poke cake.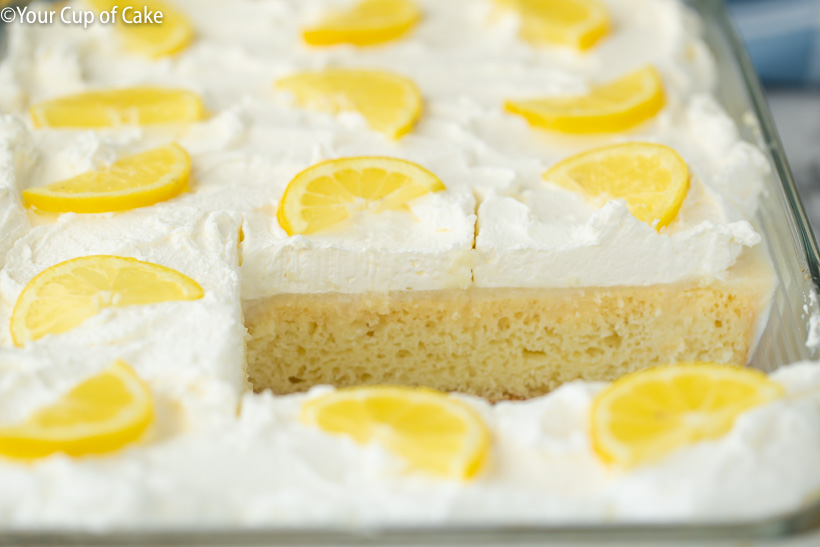 Can you make a Poke Cake the night before?
Yes! You can make a poke cake the night before or ahead of time! This is a perfect dessert to make ahead of time because it actually needs some time to chill! You can make it completely the night before (whipped topping and decorated) or you can top it in the morning and add you fruit or sprinkles just before the party.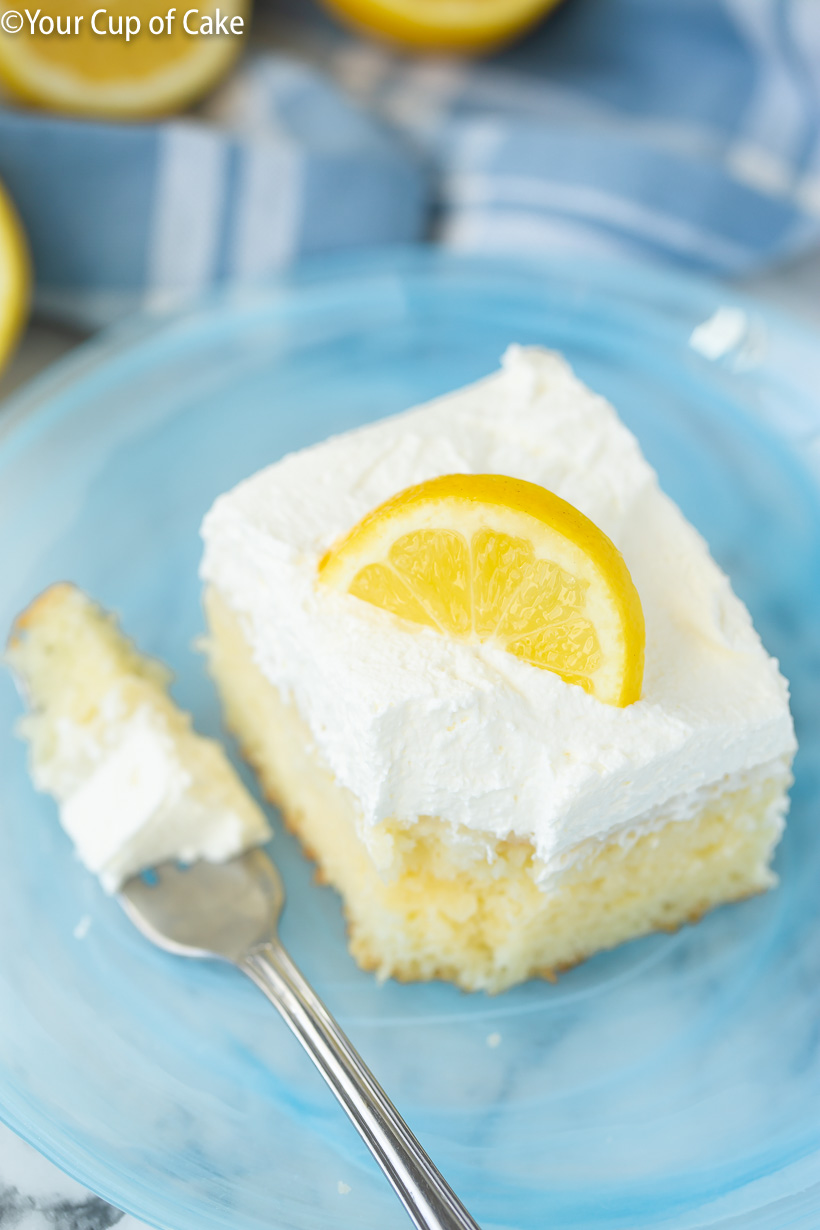 The Best Poke Cake
A tip for making the best poke cake is think about how deep you want to make your "poke" holes. If you want there to be pockets of pudding throughout the cake then do deep holes that can be filled with pudding, But if you want the cake to be more "soaked" and the pudding evenly dispersed in the cake then do shallow holes. The shallow holes will puncture the surface so the pudding can be absorbed into it before it chills!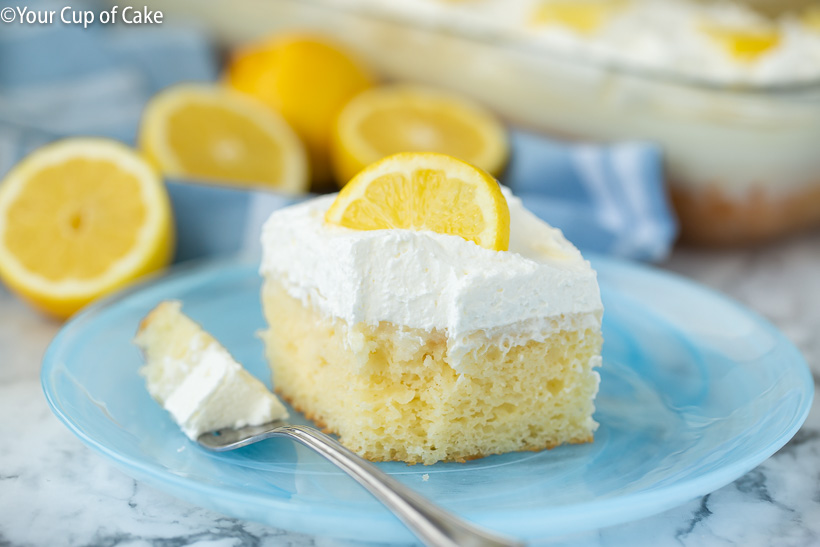 I love lemon desserts and this Easy Lemon Cream Poke Cake is just too good! If you're looking for another lemon dessert you need to try my lemon curd! If you haven't had lemon curd before it's like a zingy lemon pudding from heaven!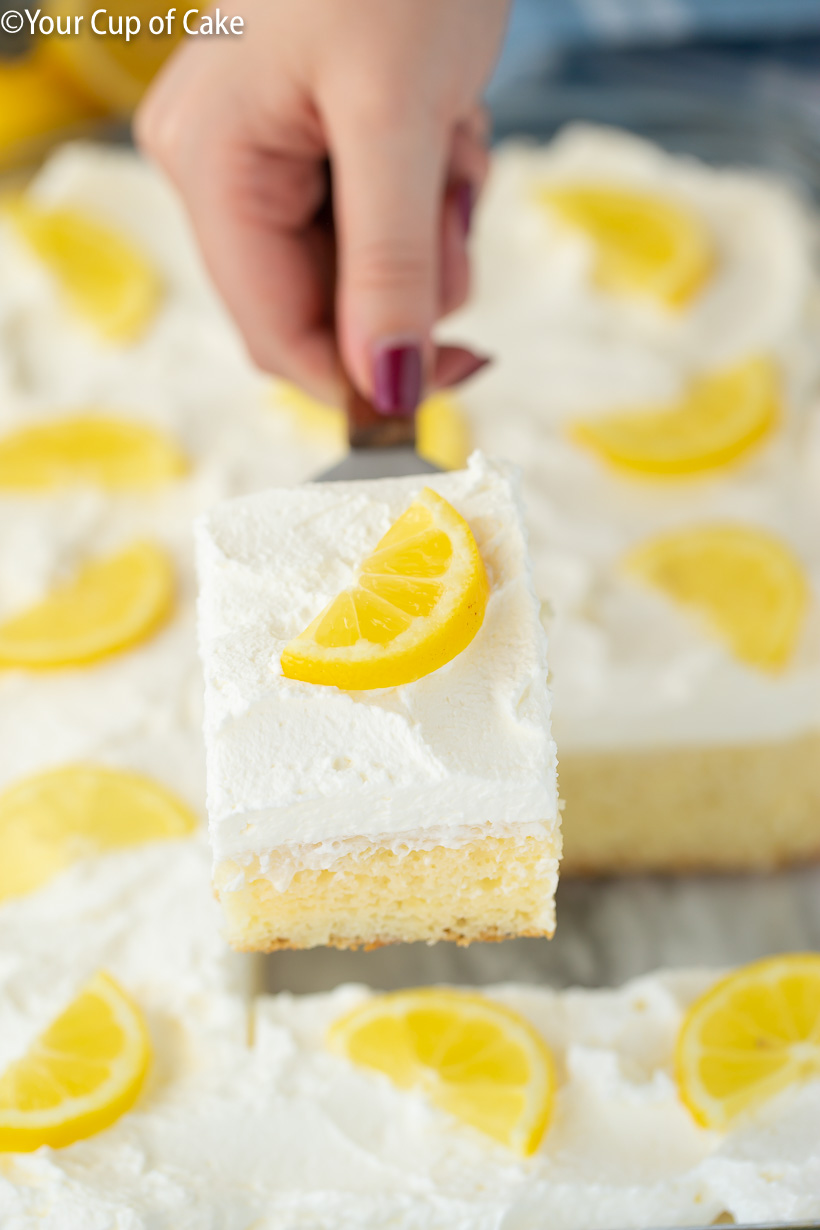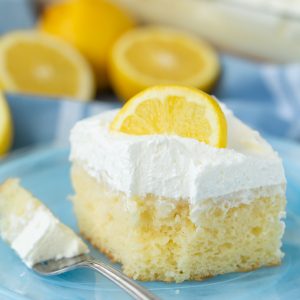 Easy Lemon Cream Poke Cake
Ingredients
Lemon Cake
1

box

White, Lemon or Yellow Cake Mix

3

eggs

1/3

cup

oil

3

lemons zested

1/4

cup

fresh lemon juice

1/3

cup

milk

2/3

cup

sour cream
Pudding Layer
1

small box

lemon instant pudding mix (minus 1 teaspoon)

2

cups

cold milk
Whipped Cream Topping
1

pint

heavy whipping cream

1

tsp.

instant pudding mix

1/2

cup

powdered sugar
Instructions
Preheat oven to 350 degrees and grease a casserole dish.

Combine all lemon cake ingredients in a bowl and stir until smooth. Pour into prepared pan and bake for 20-25 minutes or until an inserted toothpick comes out clean.

When the cake is done, use the back of a wooden spoon or butter knife to poke holes all over the cake. I leave about 3/4 or 1 inch between each hole.

Mix your instant pudding mix (keep out 1 teaspoon for the whipped topping) and cold milk together and then IMMEDIATELY pour over your cake so it can sink into the holes! Place cake in fridge until cake is cooled.

Beat heaving whipping cream with the teaspoon of instant pudding mix (this keeps it from "melting" during your party) and powdered sugar until stiff. Spread over cooled cake and top with lemon slices or berries!