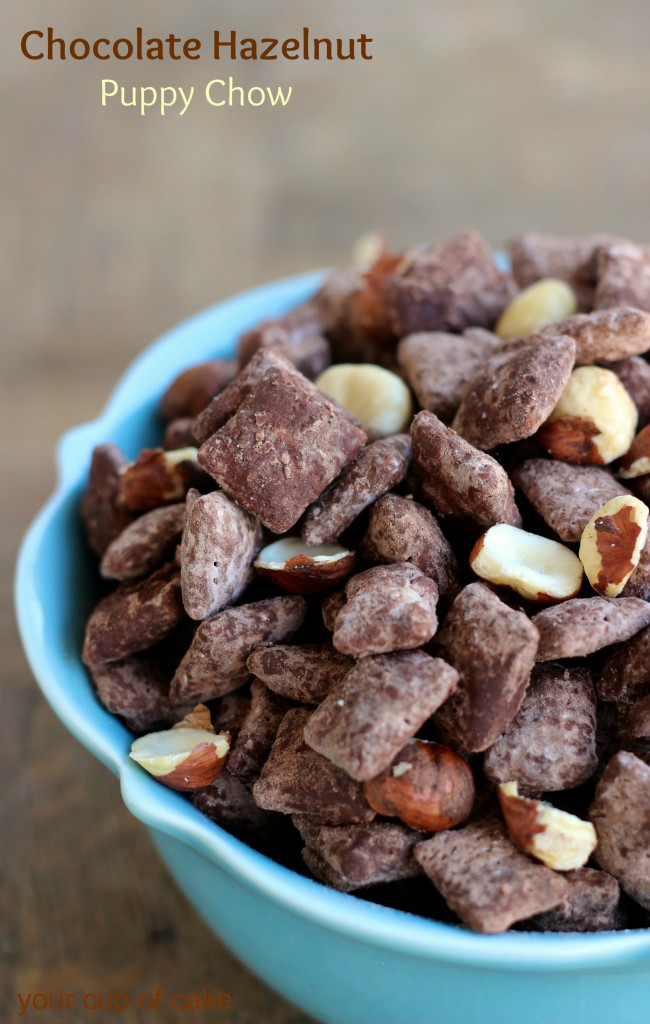 The Story:
"What did you do with my Puppy Chow!?"
This is how I woke up a few days ago. My roommate stormed into my bedroom because she had searched the entire apartment all morning long looking for the 3 batches of chow I made the day before… and she couldn't find it. Well of course she couldn't find it, I hid it from her! Whenever I let her eat my stuff, she gets bad at me after because she says I'm making her fat. But when I hide the treats from her, she says I'm being mean. Now I know how guys feel when they say they can't do anything right.
If you're in the Salt Lake City area I will be having a book signing Saturday March 23 at the Seagull Book at 1720 S. Redwood Road in SLC from 10-12, I hope to see you there!
Chocolate Hazelnut Puppy Chow
Ingredients
7

C.

rice Chex cereal

1

C.

milk chocolate melts or chips

1/2

C.

Nutella or any chocolate hazelnut spread

1 1/4

C.

powdered sugar

2

Tbsp.

unsweetened cocoa powder

2-3

C.

hazelnuts

roughly chopped
Instructions
1. Place Chex cereal in a large bowl and set aside.

2. In a small microwave proof bowl, melt chocolate, Nutella and vanilla extract. Stir until smooth.

3. Pour over cereal and gently fold until all cereal is coated.

4. Dump into a large plastic bag and add powdered sugar and cocoa powder. Shake until coated. (Or you can use a large pot with a lid.)

5. Dump onto cookie sheets to cool and add hazelnuts.