Mint Oreo Cupcakes with Chocolate Oreo Cookie Frosting will make Oreo lovers celebrate! Plus, theres's an Oreo baked on the bottom!

Chocolate Mint Oreo Cupcakes
Mint season is here with St. Patricks day this week! But if you ask me, mint and chocolate is always in style on my tongue! But I'll take the excuse of St. Patties to whip up some extra batches of chocolate mint everything! These Chocolate Mint Oreo Cupcakes will even give your guests a surprise when they bite into them and find an Oreo baked on the bottom! This chocolate Oreo mint frosting is so good you'll want to start dipping everything you can in it!
Oreo Cookie Frosting
I've been making Oreo frosting since the beginning of my blog! My first Oreo Cupcakes with Oreo frosting made me fall in love! The photos on that post are soooo old, I cringe a bit when I look at them, eek! But that frosting is just too good! It has pieces of Oreo cookies mixed up in cream cheese frosting so you get an incredible texture! It just takes your cupcakes to the next level and makes them even more bakery perfect.
Look at that Oreo on the bottom!
Oreo on the Bottom Cupcakes
Baking Oreos on the bottom of cupcakes is such a fun touch! It gives the eaters a surprise and everyone wins! But let me tell you a few tips… 1. You'll need less batter to fill your cupcakes liners when you use a cookie on the bottom, so be careful not to over fill them! 2. You can use a full Oreo if you want! 3. Make sure you bake your cupcakes on a middle or middle-top level! If you bake them on the bottom rack the cookies could get a little too toasty!
There's the Oreo halves on the bottom, cream side up! I used the "blank" cookies in the frosting! No Oreo left behind in this recipe!
Ps: Everyone always asks me about the food scoops I use, they're AMAZING! I've had them for 6 years, put them through the ringer and they all still work great!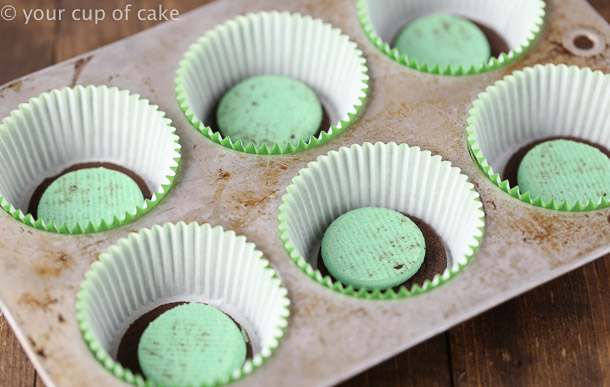 Food Blogger Funny
Okay, confession time. The life of a food blogger comes with many strange talents… like Oreo surgery. The green cream filling wasn't centered on this pack of Oreos! The filling was on the edge of the two cookies. The problem was that if I stuck the Oreos in in a way that would show the cream filling the "Oreo" logo would have been upside down! And if I put the "Oreo" logo in right side up you wouldn't see the filling in most of the photos! (Hopefully some of that made sense…) So Oreo surgery. I had to take the Oreos apart and move the cream filling to the center! Oh my. Too much Grey's Anatomy I guess.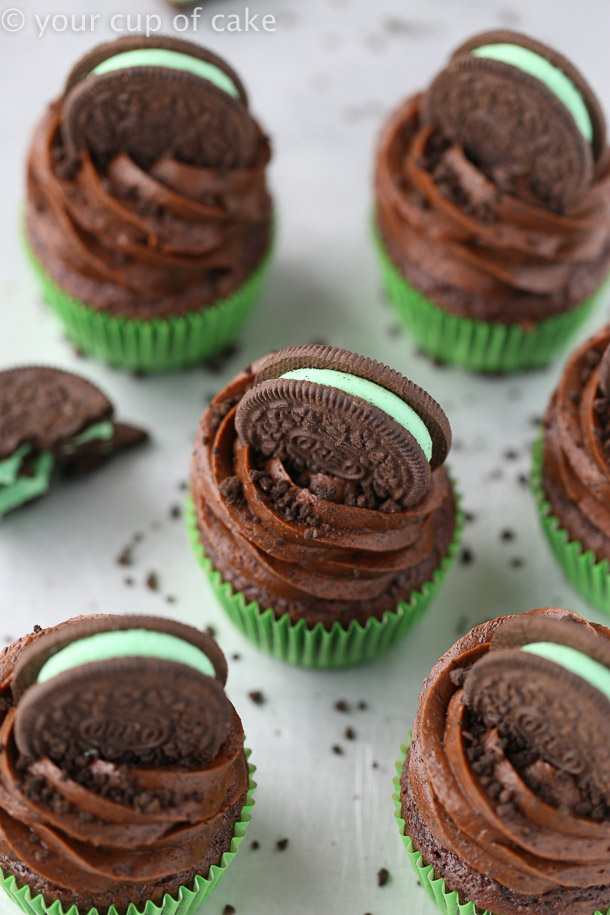 I used little Oreo crumbles as "sprinkles" on the cupcakes!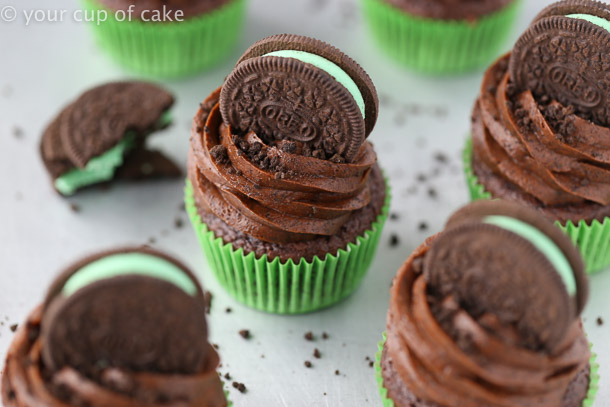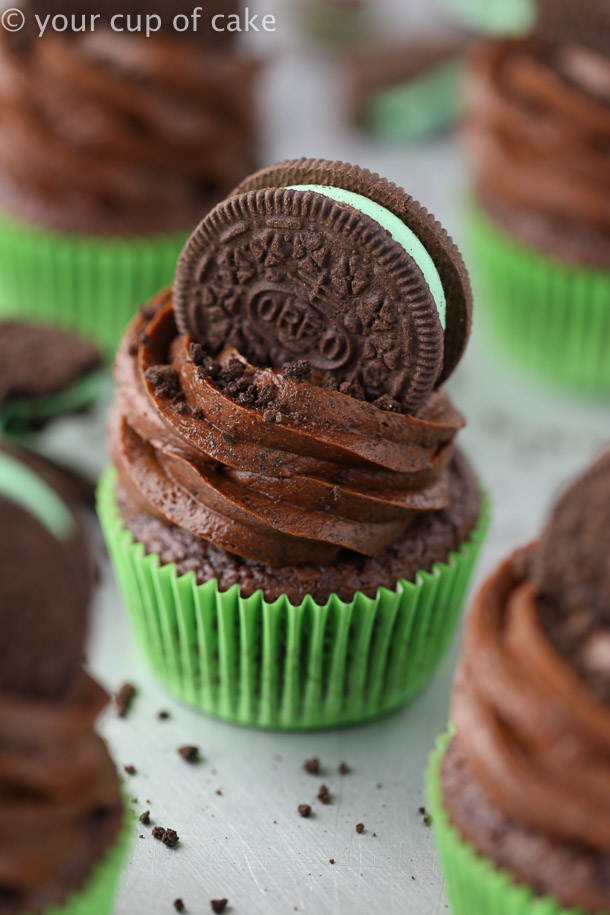 Enjoy these ultimate Mint Oreo Cupcakes with your family! Yum!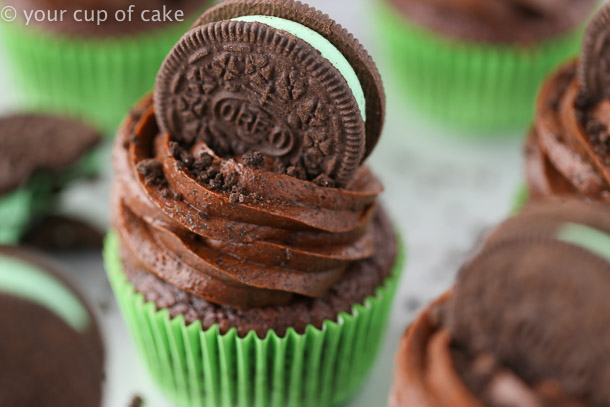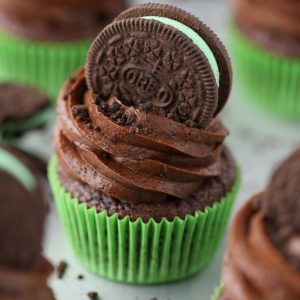 Mint Oreo Cupcakes
Ingredients
CUPCAKES:

24

Mint Oreos

1

box Devil's Food Cake Mix

I prefer Pillsbury

3

eggs

1/2

C.

oil or melted butter

3/4

C.

milk

1/2

C.

sour cream

OREO FROSTING:

1/2

C.

butter

softened

8

oz.

cream cheese

1 1/2

tsp.

peppermint extract

2-3

C.

powdered sugar

1/3

C.

unsweetened cocoa powder

Remaining Oreo Cookies (from above ingredient list
Instructions
1. Preheat oven to 350 degrees and line pan with cupcake liners.

2. Split Oreos and place the side with the cream cream side up into the bottom of each cupcake liner. Place the "blank" cookie with no cream in a bowl, you'l use them in the frosting!

3. In a mixing bowl, combine cake mix, eggs, oil, milk and sour cream. Stir until smooth.

4. Fill cupcake liners 2/3 full and bake for 15-20 minutes or until an inserted knife comes out clean.

5. Oreo Frosting: Beat butter and cream cheese until smooth. Add in peppermint extract, 2 cups powdered sugar and cocoa powder. Beat again. If you want it thicker, add in more powdered sugar. Take the leftover Oreo cookies with no cream on them and finely crush them using a blender or a plastic bag and a rolling pin. Add to frosting and stir to combine.

6. Frost cooled cupcakes and top with another Oreo! I used the Oreo pieces that were too big to put in the frosting as "sprinkles" on the cupcakes! No Oreo left behind!