The search for the best Carrot Cake recipe EVER is over. This is it! I've been making this cake for 10+ years and it's perfection. Countless friends and family have been converted to this Must Make Carrot Cake.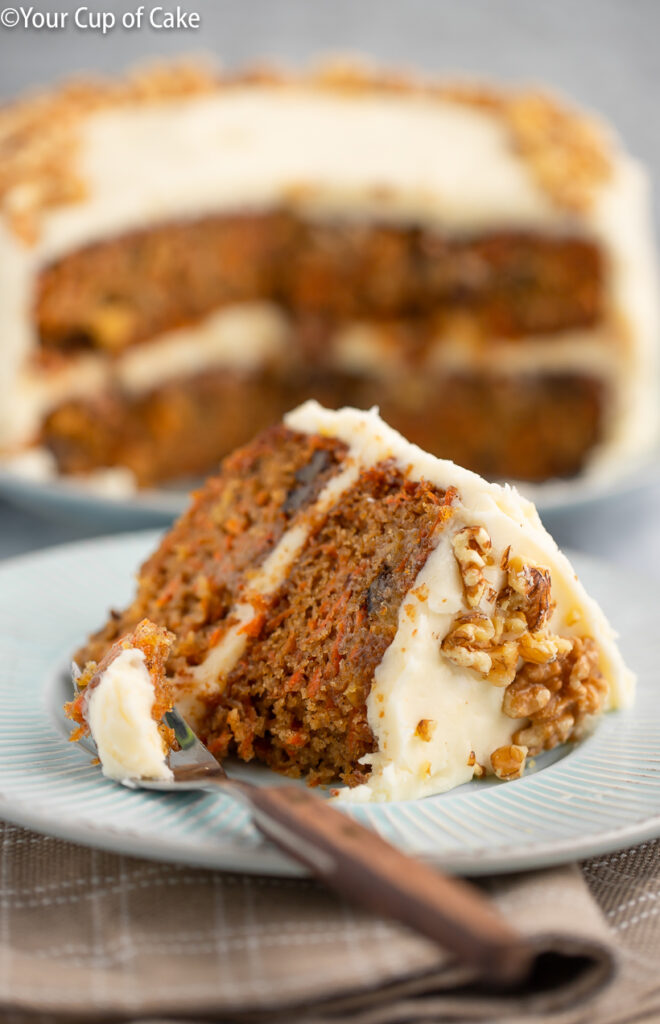 The BEST Carrot Cake recipe…EVER
I have been making and loving this homemade carrot cake recipe for more than 10 years! I have always wanted to get it up here to share but nothing pains me more than not having photos to do the recipe justice! These photos still aren't my favorite but it was time to pull the trigger and post this incredible recipe. Whenever I make this carrot cake for friends or family they immediately ask for the recipe because it's just THAT amazing. The closest thing I've ever tasted to a carrot cake this good is from The Cheesecake Factory. But I'll be honest, I like mine more. I am a huge carrot cake fan so I try slices at every bakery and restaurant I can find. But each time, I keep coming back to this recipe.
Lizzy's Must Make Carrot Cake
Want to hear something funny? These photos make me laugh because I made this cake for my birthday and the day after I looked at the half eaten cake and thought "well, maybe I'll try to snap s few photos." So the frosting isn't quite as soft as it should be and the cake looks a little disheveled in the back. But something great about this cake is that you don't need any fancy cake equipment to make it look beautiful! No spinning cake plate, or piping bags or tiny carrot decorations. This is a cake anyone can make and have it look beautiful. And don't worry, it's going to taste amazing too!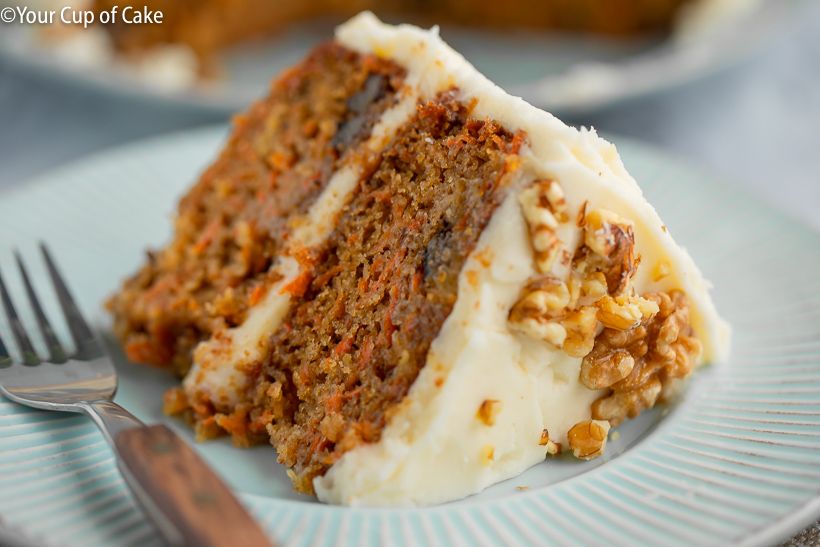 The only Carrot Cake Recipe you will ever need.
What makes a great carrot cake for me? I want it dense and packed with flavor and texture. There are lots of recipes out there that make a light and fluffy carrot cake. That is not this cake. This cake is hearty in the best way possible. It has walnuts (which are totally optional), pineapple and grated carrots. Some (insane) recipes call for cooking and pureeing the carrots but who has time for that?! Not me. There's a reason everyone who tastes this recipe falls in love with it. So trust me when I say you need to try it! Now, if you aren't a fan of walnuts you could use pecans or raisins OR use nothing at all! I totally understand nut allergies or when you're baking for a crowd you want to play it safe.
Have you seen all the recipes that call for coconut? Whaaaat? Why? To me, that would turn it into more of a morning glory cake.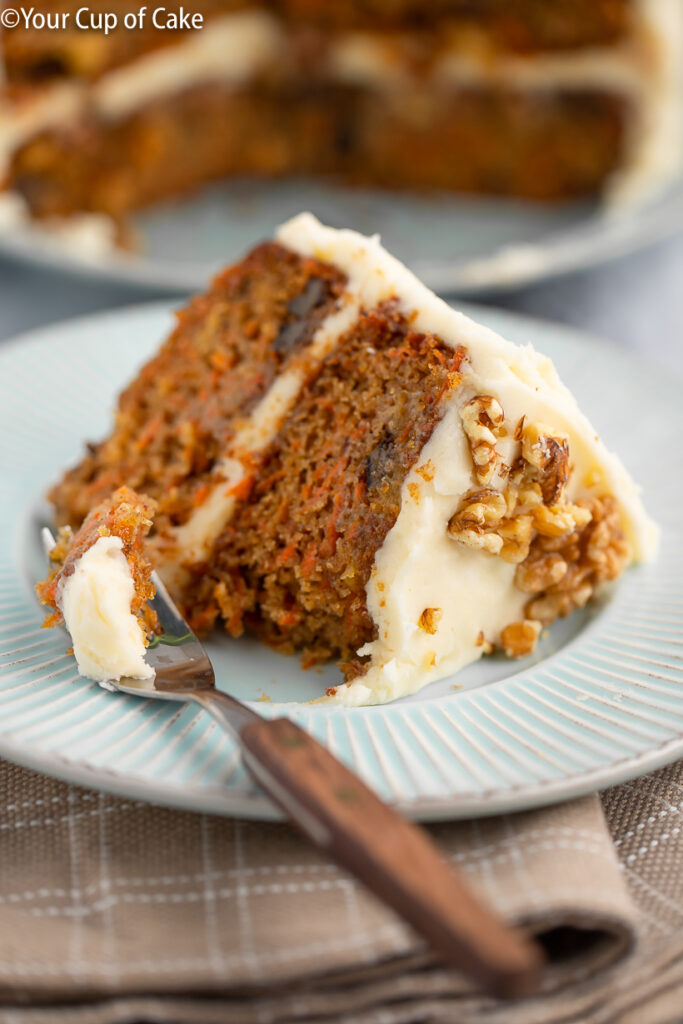 Spiced Carrot Cake Recipe
Someone told me once they hate carrot cake because they hate carrots. Carrot cake does not taste like a carrot. Or I guess I need to say carrot cake should not taste like a carrot. It's really just a spice cake with more texture. And the cream cheese frosting is a must to pair it with. Once I decided to get a little crazy and make a whipped cream cheese topping…mistake. It just wasn't the same and totally changed the dessert. Stick with the tried and true cream cheese frosting. The little bit of tang is is perfect so pair with this sweet cake.
Mmm… look at those nuts on top 🙂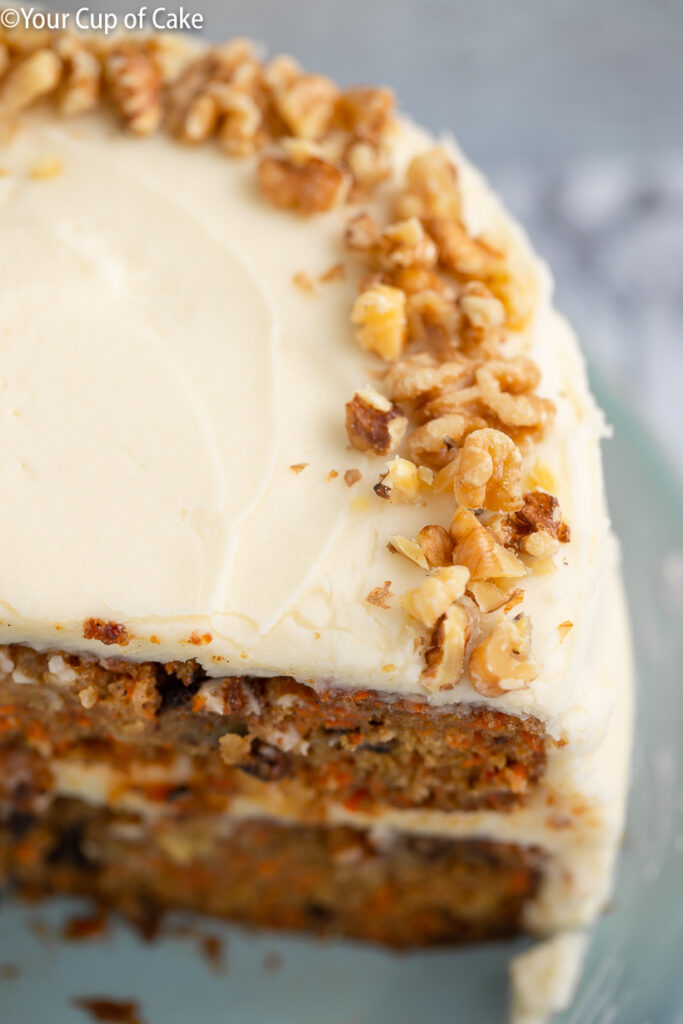 The Perfect Easter Dessert
I make this Must Make Carrot Cake recipe at least two times a year. Once for my birthday every year because it truly is my most favorite cake and recipe, and I make it for Easter as well! You can decorate it with little buttercream or chocolate carrots but I tend to leave it plain or add a few extra chopped walnuts on top. I don't care for it to be too fussy. Sometimes I'll make this cake with 3 layers too! It just depends on how tall I want it to be.
Final Tips:
Let me say a few things for those of you who actually read this part of a blog post. First, like I said in the recipe notes I do like to bake this cake the day before I serve it. I think the flavors take a little time to develop (like banana bread and pumpkin pie). Also, you can grate your carrots in a food processor if you really think doing it by hand is a pain. If you have a teenager, just hand them a box grater and tell them they have to grate the carrots to get a slice 🙂 After you add the flour mixture and you fold in the final ingredients, don't over mix. It can be tempting because of all the "things" in the batter but don't do it! This recipe can be made in 2 or 3 rounds or even in a casserole dish but the baking time will depend on how thick the cake is! If you use cake rounds, just think about how many cake layers you really want. The more layers, the more frosting you'll need and it's trickier to cut and have pretty slices. I find myself preferring the two layer cake.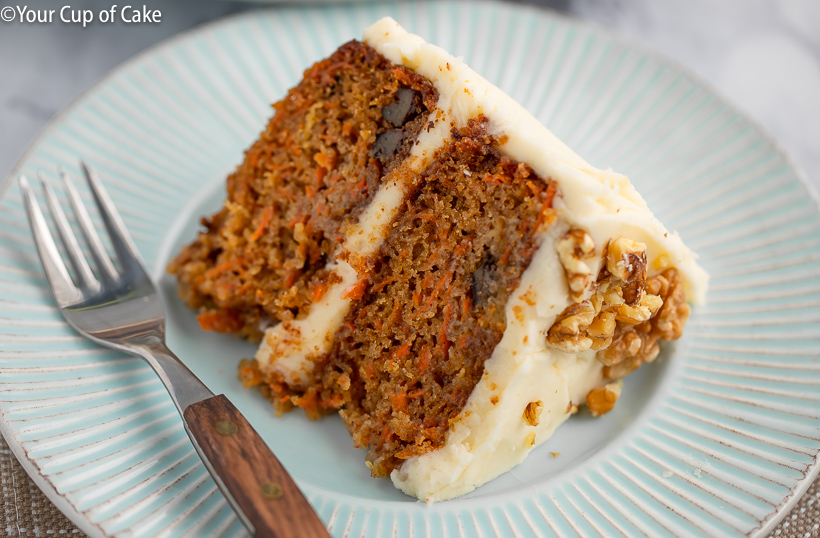 My favorite cake recipe of all-time.
Yes, you read that right. This blogger has proudly named her favorite cake recipe ever. This is it. Of all my cake recipes this Must Make Carrot Cake takes the…cake. The fact that this is my birthday cake year after year should tip you off to the fact that this is my favorite. Every year I make it and then don't photograph it because I force myself not to work on my birthday. I switch up how I decorate it each year too. Oftentimes I'll pat walnuts onto the sides of the frosted cake as well. So when you make your cake, just think about what look you're going for and how much you love walnuts haha! I'm not a huge sprinkle fan on this cake but a sanding sugar or another crystal sugar sprinkle is always nice. It looks pretty but also tastes good to eat.
I hope you make this cake and love it as much as I do. Happy Easter to you all!
You can find all my Easter dessert recipes here!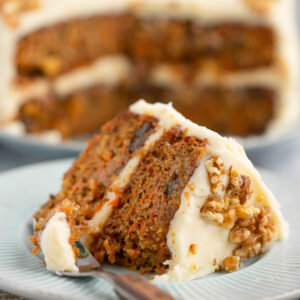 Must Make Carrot Cake
THE best carrot cake recipe ever. Decadent, dense and full of flavor! After one bite, you'll be obsessed too!
Ingredients
Carrot Cake
4

large

eggs

room temperature (see note)

3/4

cups

vegetable oil

½

cup

apple sauce

1

cup

sugar

1

cup

brown sugar

packed

3

teaspoons

vanilla extract

2

cups

all-purpose flour

2

teaspoons

baking soda

2

teaspoons

baking powder

½

teaspoon

salt

3

teaspoons

ground cinnamon

¼

teaspoon

nutmeg

3

cups

grated carrots

about 4-5 medium carrots

3/4

cup

crushed pineapple

measure and then drain out most of the juice

1

cup

chopped walnuts

optional
Cream Cheese Frosting
12

ounces

cream cheese

3/4

cup

butter

room temperature

2

teaspoons

vanilla extract

4-6

cups

powdered sugar
Instructions
Carrot Cake
Preheat oven to 350 degrees and grease/parchment paper cake pans or a casserole dish. I will use either 2 9-inch pans or 3 8-inch pans. This recipe works well with different sizes.

In a large bowl whisk together eggs, vegetable oil, apple sauce, sugar, brown sugar and vanilla extract.

In a separate bowl, combine flour, baking soda, baking powder, salt, cinnamon and nutmeg.

Add dry ingredients to the wet and stir only a little. Before everything is fully combined, add grated carrots, crushed pineapple and chopped walnuts. Continue to stir only until combined.

Bake in your preheated oven for about 35 minutes. This depends greatly on what size pans you pick! If the cake still jiggles when you nudge it, it's not done! You should be able to insert a knife or toothpick into the center without any batter coming out on it. (My 2 8-inch cake pans are done at 35 minutes)
Cream Cheese Frosting
In a stand mixer, beat cream cheese and butter until blended. Add in vanilla extract and then add 3 cups of powdered sugar. Continue to add in powdered sugar until you reach your desired consistency. Add a tablespoon of milk if it gets too thick. If you're frosting your cake, you want the frosting spreadable but if you're piping it you make want it a little stiffer. The amount of powdered sugar will also vary on how warm your home is.

Wait until your cake is fully cooled and frost! Decorate with extra walnuts if you would like!
Recipe Notes
I always make this carrot cake the day before I serve it. I like the way the flavors blend after they bake.
To get room temperature eggs FAST, fill a mug with hot tap water and place your eggs into the water while you measure other ingredients. They'll be the right temperature in 2 minutes!
I'm hoping to make this recipe into carrot cake cupcakes soon! And I'm even going to attempt to make a version a little healthier for those of you who would like that option.