Chocolate wafers dipped in chocolate and sprinkled with crushed candy canes. These 4 ingredient No-Bake Peppermint Bark Christmas Cookies are Santa's dream come true! Easy and quick to make and DELICIOUS!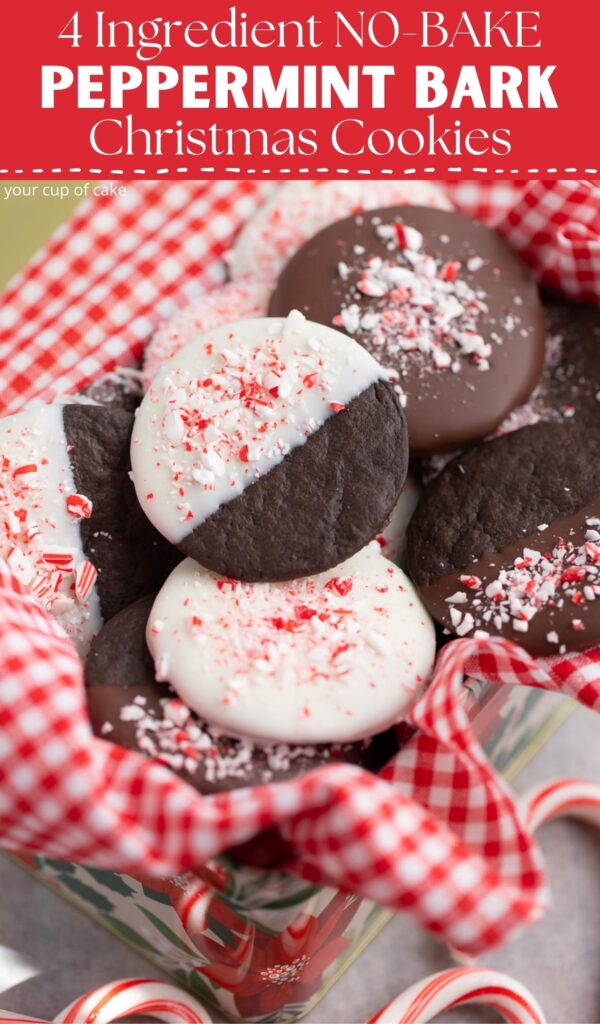 I'm taking a classic holiday treat and turning it into an easy to make cookie!
No-Bake Peppermint Bark Christmas Cookies
My mother in called me one day and said I HAD to try these cookies. She explained to me about these chocolate wafers I could buy from the grocery store and all I had to do was dip them in chocolate and add crushed candy canes. She said they were amazing! My mother in law is quite picky when it comes to desserts so I knew she must be right, and of course… she was! This is the easiest Christmas cookie recipe ever.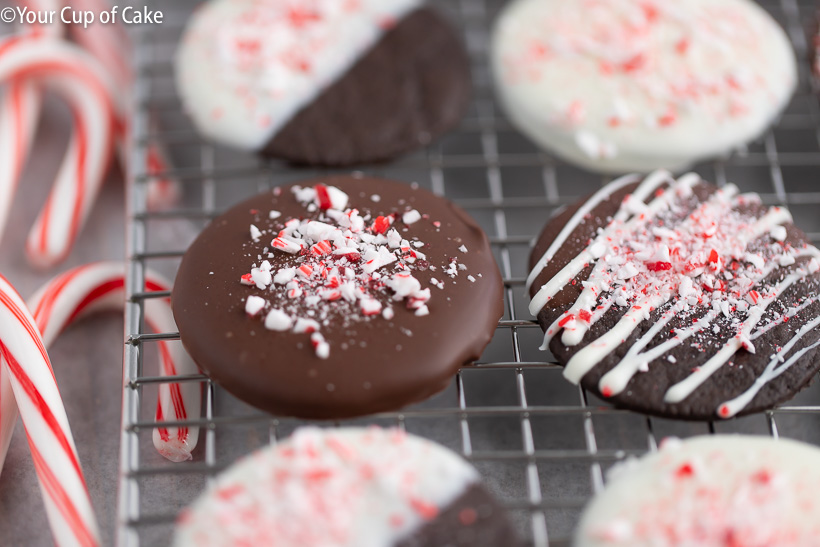 4 Ingredient Christmas Cookies
I am a big fan of easy Christmas recipes. Sometimes I get overwhelmed with how much baking I do so it's nice to have some amazing yet simple recipes in my back pocket. Some of my favorites are my original 4 Ingredient Christmas Cookies, White Chocolate Cinnamon Pretzels and Peppermint Bark Muddy Buddies! I make all of these every year and toss them all together in my little neighbor gift bags we take around. The variety is always fun because there is something for everyone. I have already taken these 4 Ingredient No-Bake Peppermint Bark Christmas cookies to neighbors this year and they have been asking for the recipe! I'm embarrassed to tell them how easy they are to make! This recipe takes 3-5 ingredients depending on how fancy you want to get.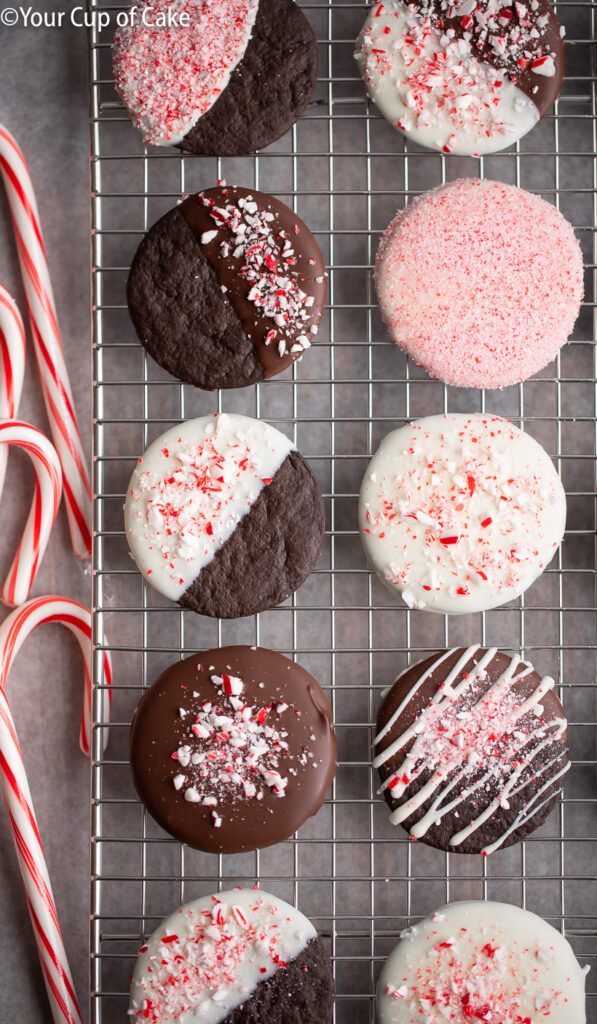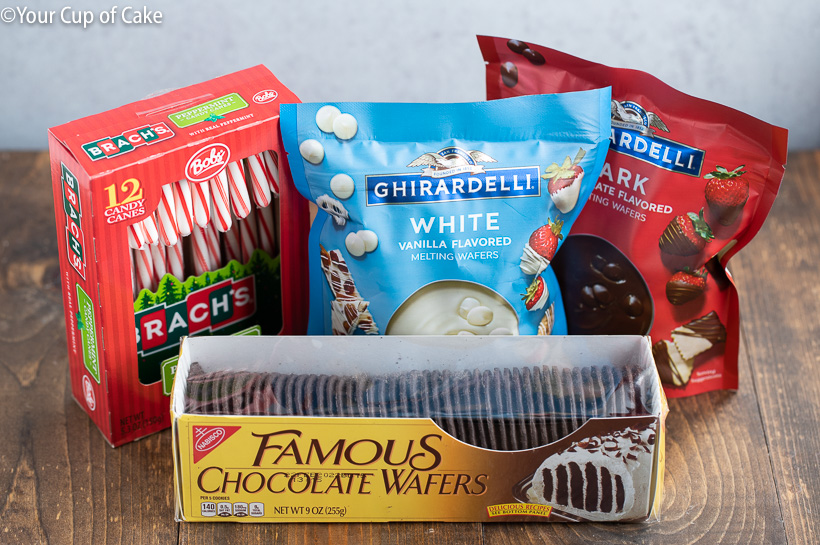 How to Make Easy Christmas Cookies
Let's start with the ingredients! Like I said, this recipe takes 3-5 ingredients just depending on what you want. You need the Nabisco Famous Chocolate Wafers (or OREO Thins make for a great substitution) from the grocery store (just call ahead to make sure they have some in stock), candy canes and chocolate! You can use only white OR dark/milk or use both if you want more variety. The other optional ingredient is peppermint extract. You can add that to the chocolate if you want to boost the peppermint flavor. Let's talk about the chocolate though, I always prefer to use "melting wafers" or "melts" which are meant for candy decorating. They melt down super smooth and are perfect for dipping. Chocolate chips need coconut oil added to them to get them thin enough and then they take much longer to set. Most grocery stores carry this Ghirardelli brand in their baking aisle! I also get the Guittard brand from my bulk bins at WinCo but Hobby Lobby and Michaels always carry melts of all different colors! Also, white chocolate chips tend to look yellowish when you melt them, another reason to not use them for this recipe.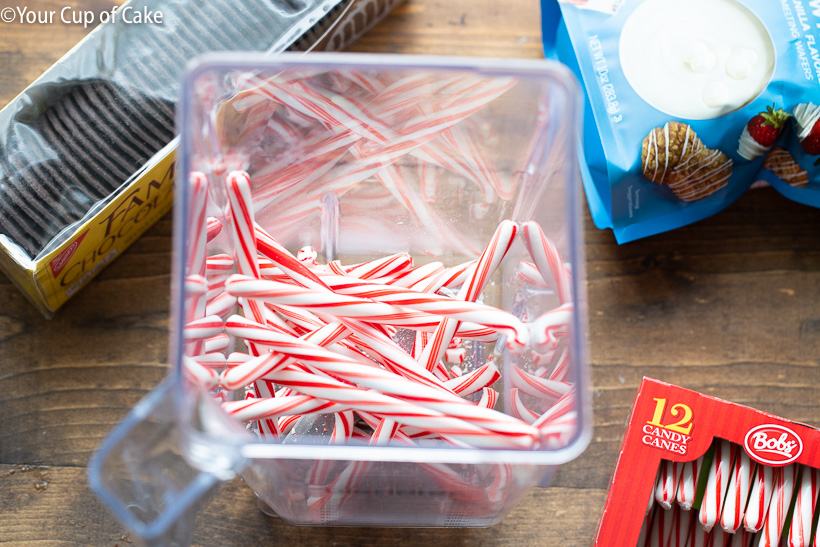 How to crush candy canes
You may laugh at this, but this is a tip! When I put candy canes in a ziplock bag and crush them with a rolling pin the candy canes put little holes in the bag and it can become a big mess! So do yourself a favor and use a blender or a food processor to crush your candy canes!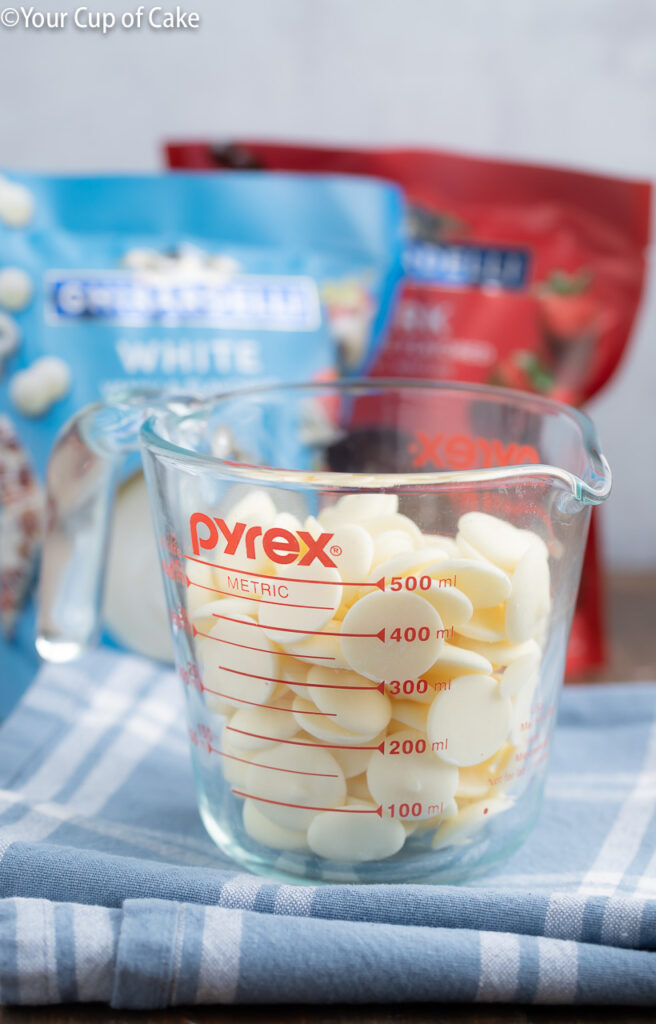 The best chocolate for peppermint bark
You'll want to use a microwave safe bowl to melt your melts! I always prefer to use a pyrex measuring cup because it makes it so easy to dip them in too! You want a tall container rather than a shallow bowl to get the best dip on your chocolate wafer cookies. You can always just melt your chocolate in a bowl and then pour it into a mug or a container that isn't microwave safe.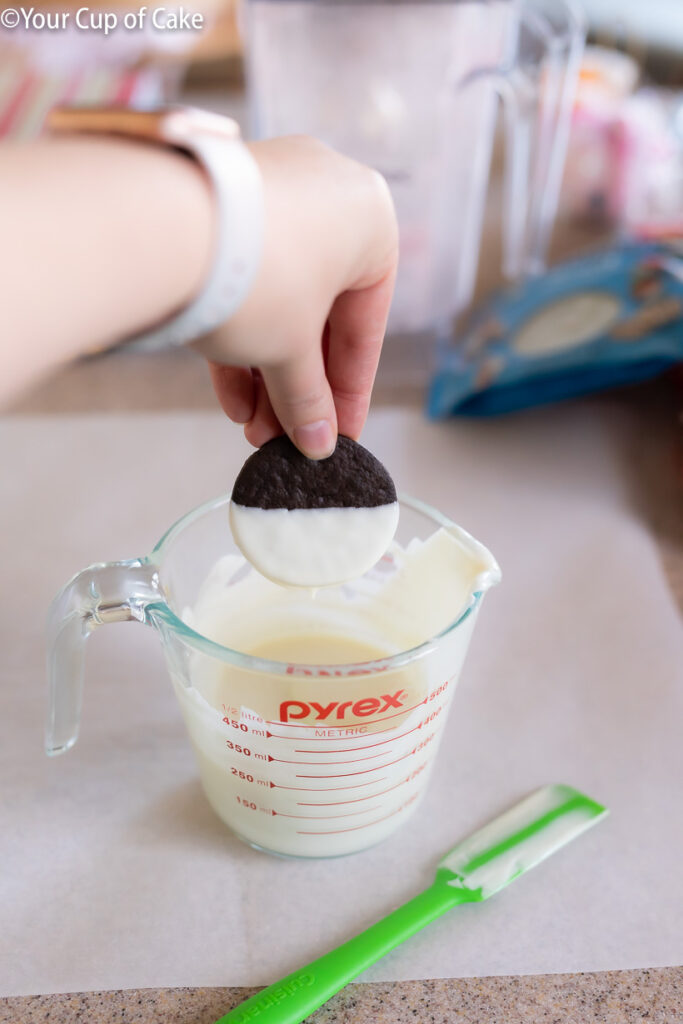 Part of what makes this recipe so fun is all the different ways you can decorate them! If you have kids this will be a huge hit! You can use only white chocolate, only dark chocolate, swirl them together, make layers of both, smother them in crushed peppermint candies or just do a little sprinkle on top. It's fun to do a variety because it makes for the prettiest tin of cookies!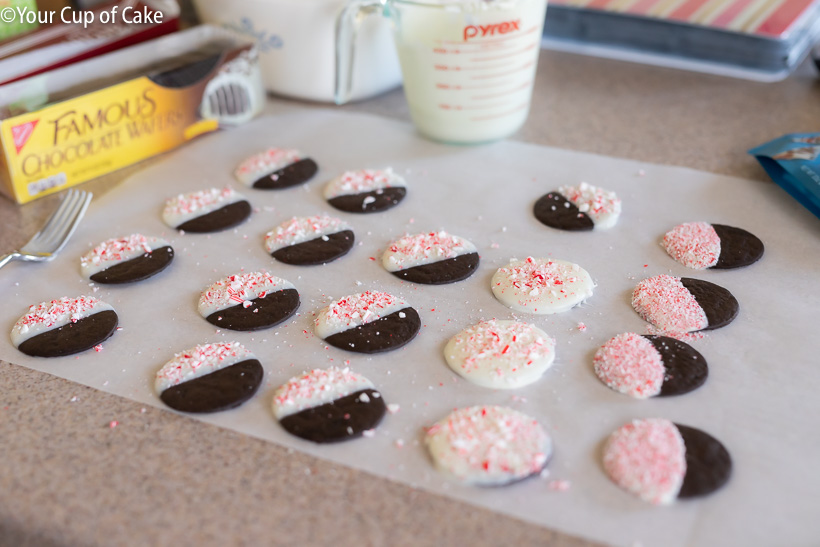 Make sure you use parchment paper to lay them out on! This will give them perfectly smooth bottoms and clean up will be a cinch! You can also put the parchment on a baking sheet or a pan and transfer them to the fridge to chill if you want to speed up the setting process. However, if you use melting chocolates they only take about 10 minutes to fully harden.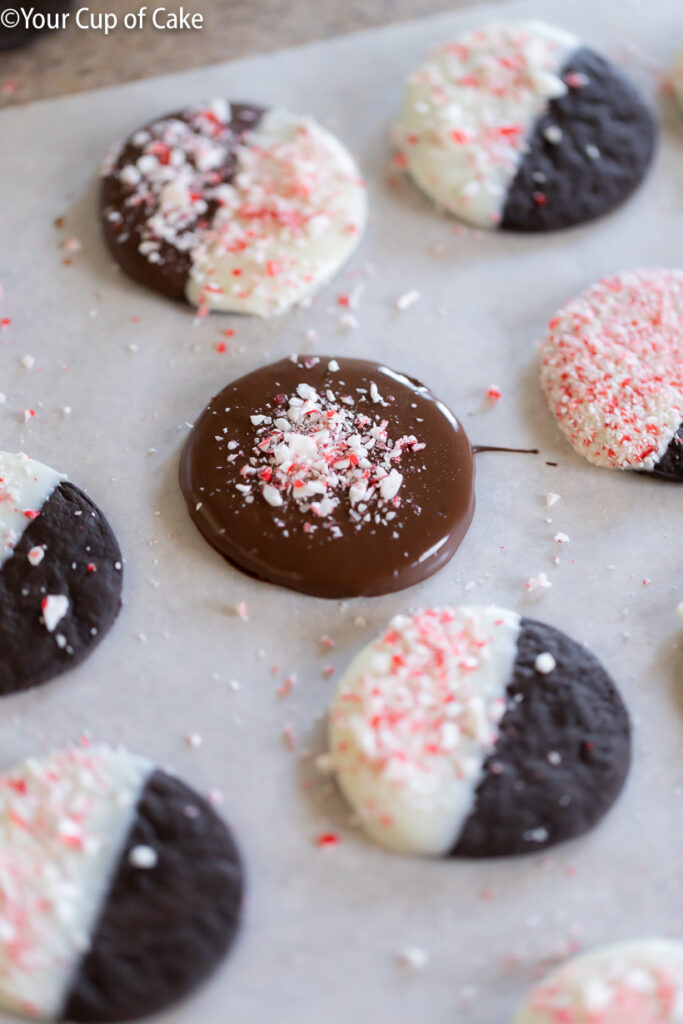 Who needs a peppermint bark recipe when you can have peppermint bark cookies?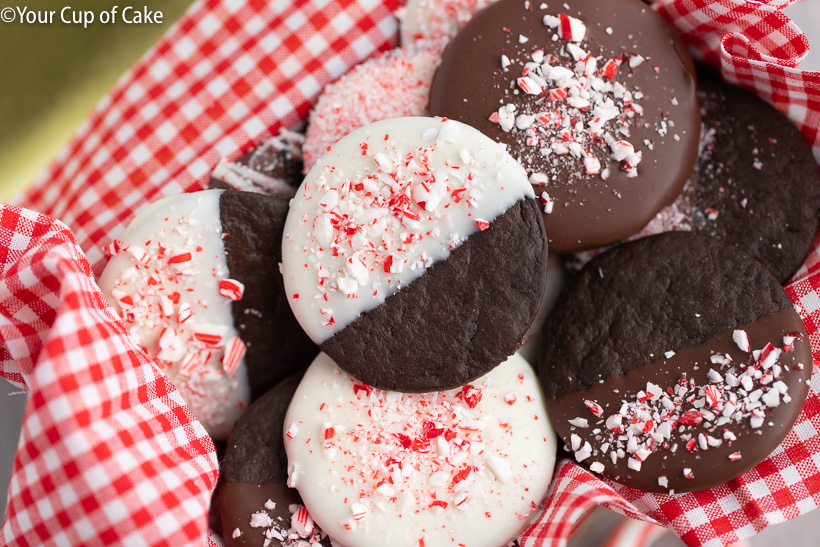 Easy Recipe for Christmas Cookie Exchange Party
How pretty are these all packaged up? They would look gorgeous arranged on a cookie tray for a party too! You simply can't go wrong decorating these 4 Ingredient No-Bake Peppermint Bark Cookies!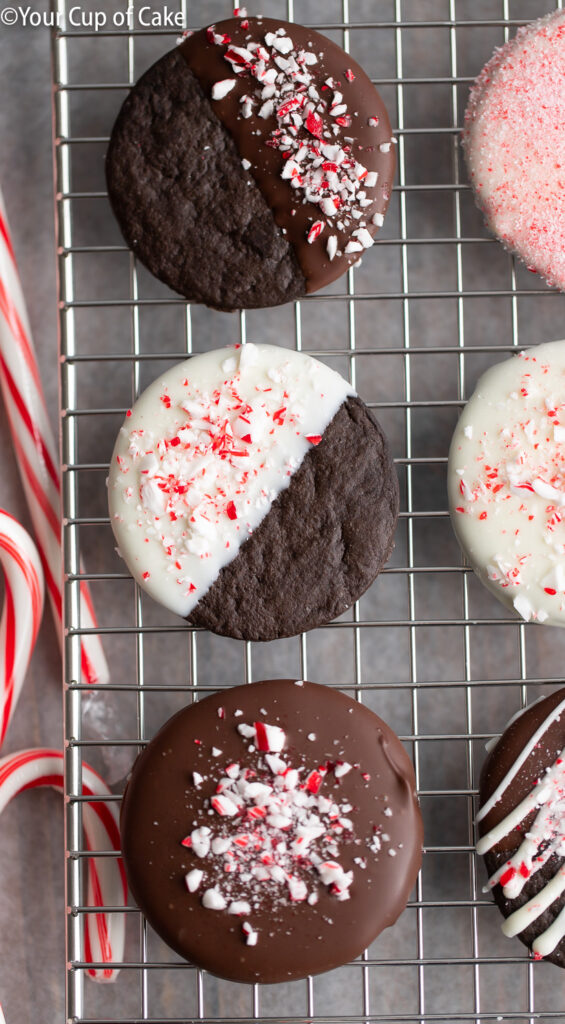 Store in an airtight container to keep them fresh longer! We packaged ours in Christmas tins with a few other sweets and holiday treats!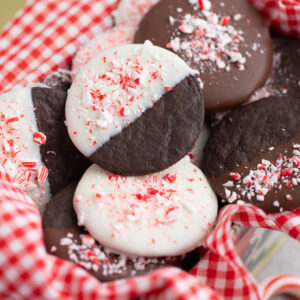 4 Ingredient No-Bake Peppermint Bark Cookies
It only takes 4 ingredients and 10 minutes to make these delicious and gorgeous Christmas cookies! Just melt, dip and sprinkle on crushed candy canes!
Ingredients
1

package

Nabisco Famous Chocolate Wafers

OREO Thins work as a substitution

1

cup

white melting chocolates

see notes

1

cup

dark or milk melting chocolates

1

package

candy canes

crushed
Instructions
Place chocolates is separate microwave safe bowls (or pyrex measuring cups) and melt in the microwave. Remove, stir and microwave again until smooth.

Dip chocolate wafers into melted chocolate and then place on parchment paper to cool. Immediately sprinkle on crushed candy canes.

Once the chocolate is set, package them up and deliver!
Recipe Notes
I like to use "melts" which are meant for candy decorating so they melt very smooth and thin. You can buy these from Michaels, Hobby Lobby and even Ghirardelli sells them in most grocery baking aisles!
If you want to add more peppermint flavor, add 1 teaspoon of peppermint extract to your chocolate!