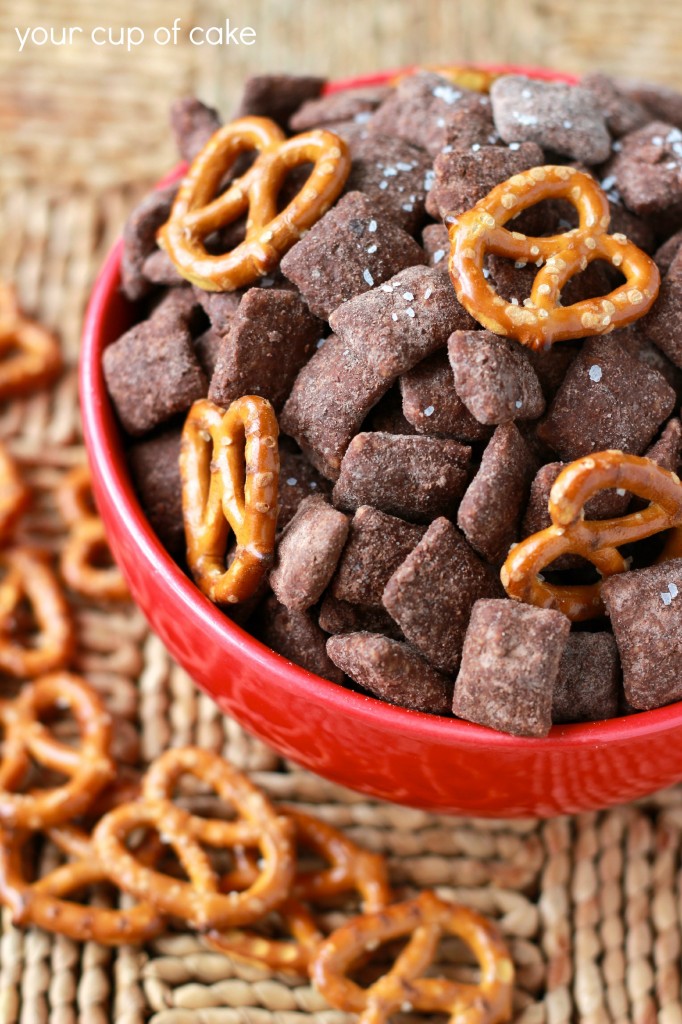 The Story:
My first day at a new high school. I hopped out of my mother's car ready to start the adventure of being "the new girl." I was awkward and shy with my frizzy hair but I was hoping to fit in all the same. I had my books in one hand, lunch in the other and I was wearing a purple top with a fun, full skirt.
Skirt.
Wind.
Bad news.
Not quite the impression I was hoping to make my first day at a new school.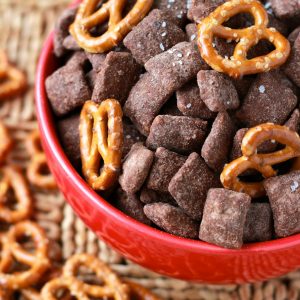 Salted Chocolate Puppy Chow with Pretzels
Ingredients
7

C.

Rice Chex Cereal

1 1/2

C.

chocolate chips

use melts if you omit use peanut butter

1/3

C.

peanut butter

smooth (optional)

1 3/4

tsp.

coarse salt

more if desired

1 1/2

C.

brownie mix

or 1 1/4 C. powdered sugar plus 1/4 C. unsweetened cocoa powder

3

C.

pretzels
Instructions
1. Measure out Rice Chex into a large bowl.

2. In a microwave proof bowl, melt chocolate and peanut butter together and stir until smooth.

3. Pour over rice cereal and gently fold until coated.

4. Sprinkle salt over chocolatey cereal. (Taste a piece and add more if you want it stronger, but remember you're about to make it a lot sweeter with the brownie mix.)

5. Put brownie mix (or powdered sugar and cocoa) in a large plastic bag and then dump chocolatey cereal into it.

6. Shake, shake, shake!

7. Dump onto a cookie tray to cool.

8. Mix with pretzels for color and an extra salty crunch!
Recipe Notes
You can omit the peanut butter for allergies but make sure to use chocolate melts (the little disks of chocolate). They will melt down very smooth and thin so you can coat the cereal easily.