These No-Bake Peanut Butter Cookie Dough Protein Bites are the perfect snack when you're feeling low on energy! They take only 5 minutes to make!
Bake Peanut Butter Cookie Dough Protein Bites
Back to school will be here before you know it! Stock up with recipes for snack ideas starting with Peanut Butter Cookie Dough Protein Bites! They are delicious and will give you and your kids the boost of energy you need to make it through the day. I love grabbing a few as I run out the door for errands. They stay in a little plastic bag in my diaper bag until I'm feeling hungry! Pack them in your kids' lunch boxes, stash them in the fridge for when a sweet craving hits, or serve them after soccer practice or before you hit the gym! These little protein bites are just what you and your family need. My husband and I have been munching on homemade protein bites all summer long!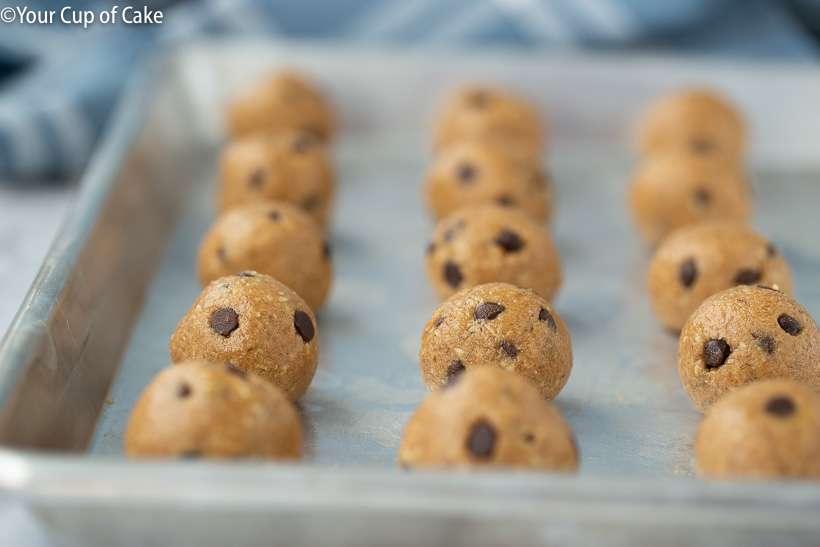 How to Make Protein Bites at Home
Buying protein bars and other healthy snacks from the grocery store can get expensive quickly, so make your own protein bites at home! It just takes a handful of ingredients and about 5 minutes! If you use a food scoop to make the protein balls it goes really fast! I used scoop #40 for this recipe. Back to this easy snack recipe… The first think you'll want to do is make your oat flour by zipping your old fashioned oats through a food processor or blender. Then just combine all the ingredients together in a bowl. It's a little bit of an arm workout if you do it by hand or you can use a stand mixer. If you have kids they can just use their hands to mix things up and really have fun with it! If the dough gets too sticky to roll into balls you can always refrigerate it for 10 minutes to stiffen it up!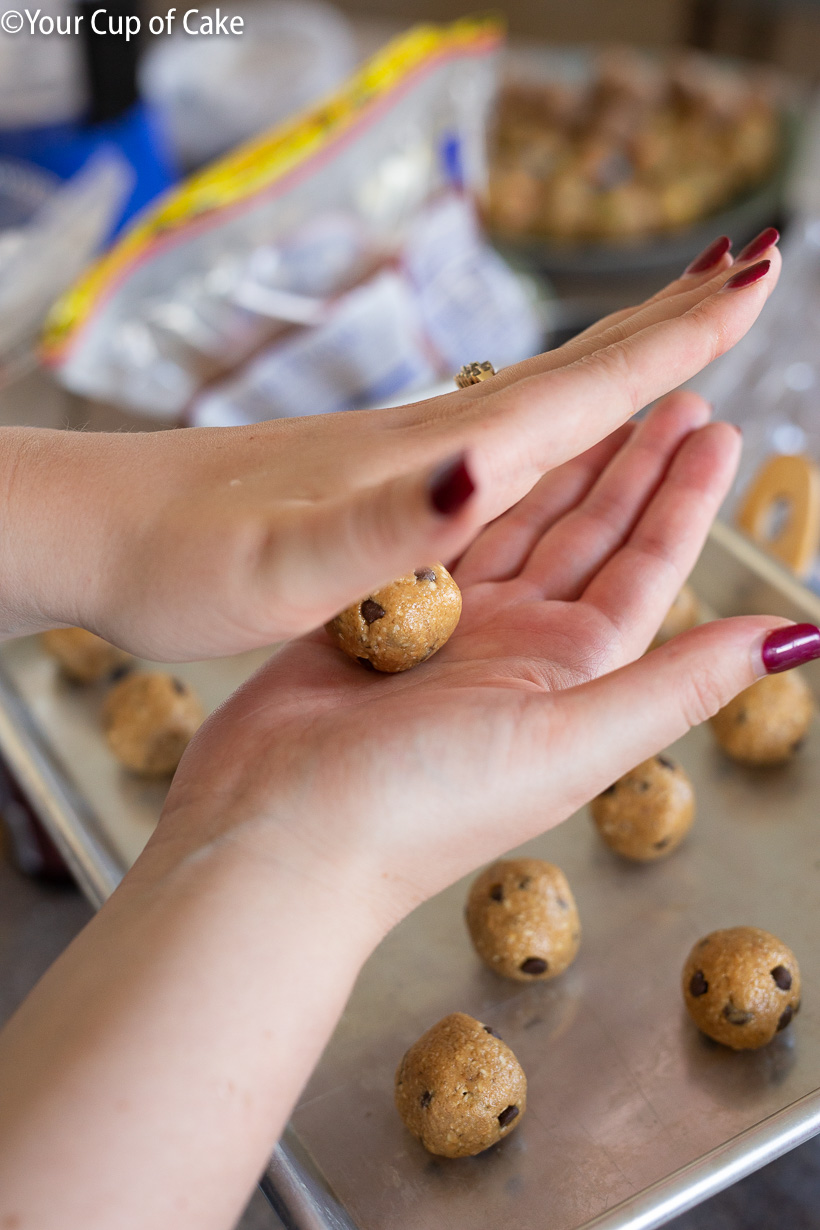 No-Bake Protein Bites
No-Bake recipes are always a win! Who needs to turn on that hot oven this time of year?! Not me! Okay, well I still do my baking buuuut I like to use it less often than in the cooler months. These are peanut butter protein bites but if you want to swap out the peanut butter for another nut butter you absolutely can! We have plenty of food allergies in my family so I'm used to having to swap out peanut butter for Sun Butter or almond butter!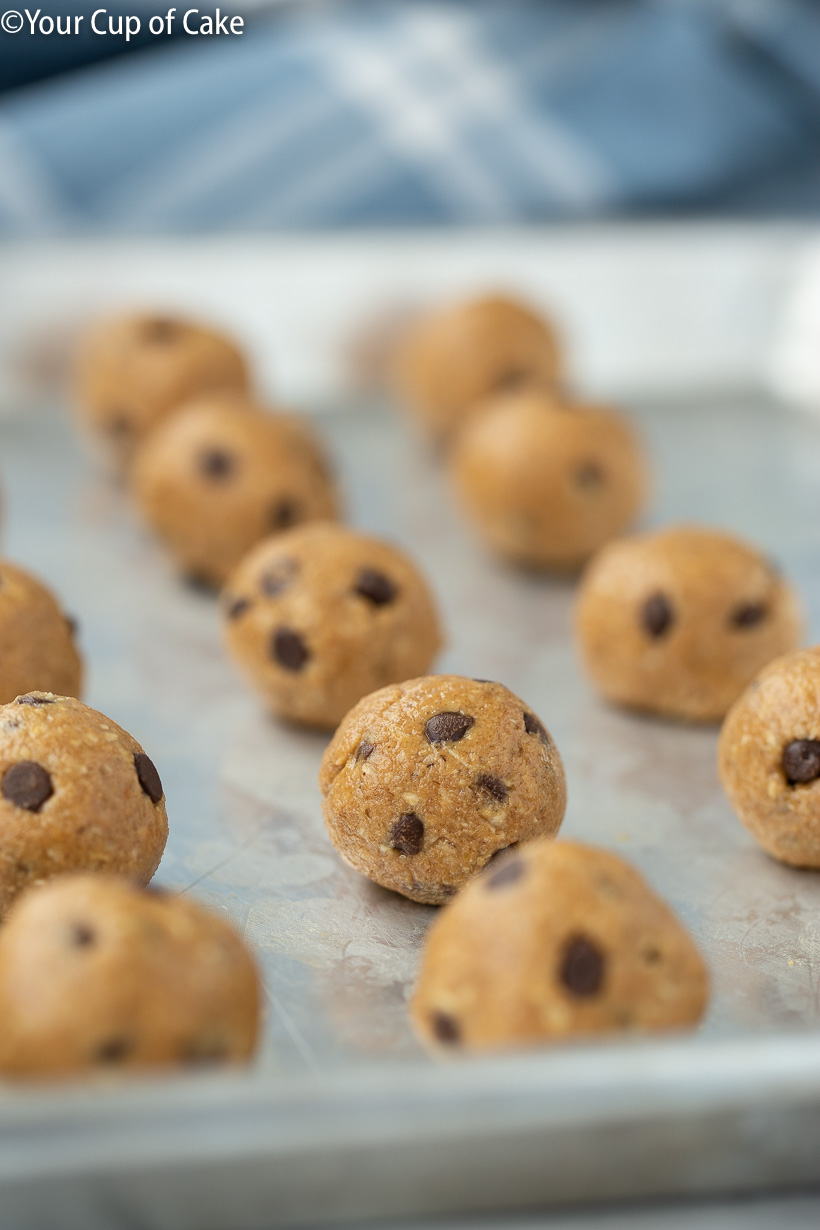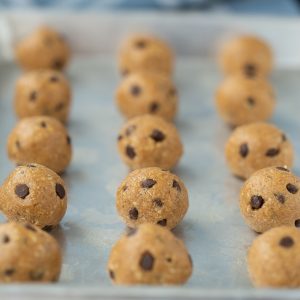 No-Bake Peanut Butter Cookie Dough Protein Bites
These protein bites are PACKED with energy and taste like cookie dough!
Ingredients
1/2

cup

old fashioned oats

1

cup

peanut butter

smooth or crunchy

1/4

cup

vanilla protein powder

pinch

salt

2

Tbsp.

honey or brown sugar

1/3

cup

mini chocolate chips

1/2

tsp.

vanilla extract
Instructions
Place your oats in a blender or food processor and blend until your oats turn into an oat flour.

Place your oat flour in a bowl with the remaining ingredients and combine using a wooden spoon. You can use a stand mixer if you don't want a little bit of an arm workout.

Make tablespoon sized dough balls and roll into balls, store in a tupperware until ready to eat!
Recipe Notes
NOTES:
Because not all peanut butters are the same consistency you may need to adjust if your dough balls are too "wet" or too dry and won't form into balls.  Add more peanut butter or honey if the dough is too dry.  Add more oat flour if the dough is too "wet."
If you're having a hard time rolling the dough into balls, you can refrigerate the dough for 10 minutes to make it less sticky!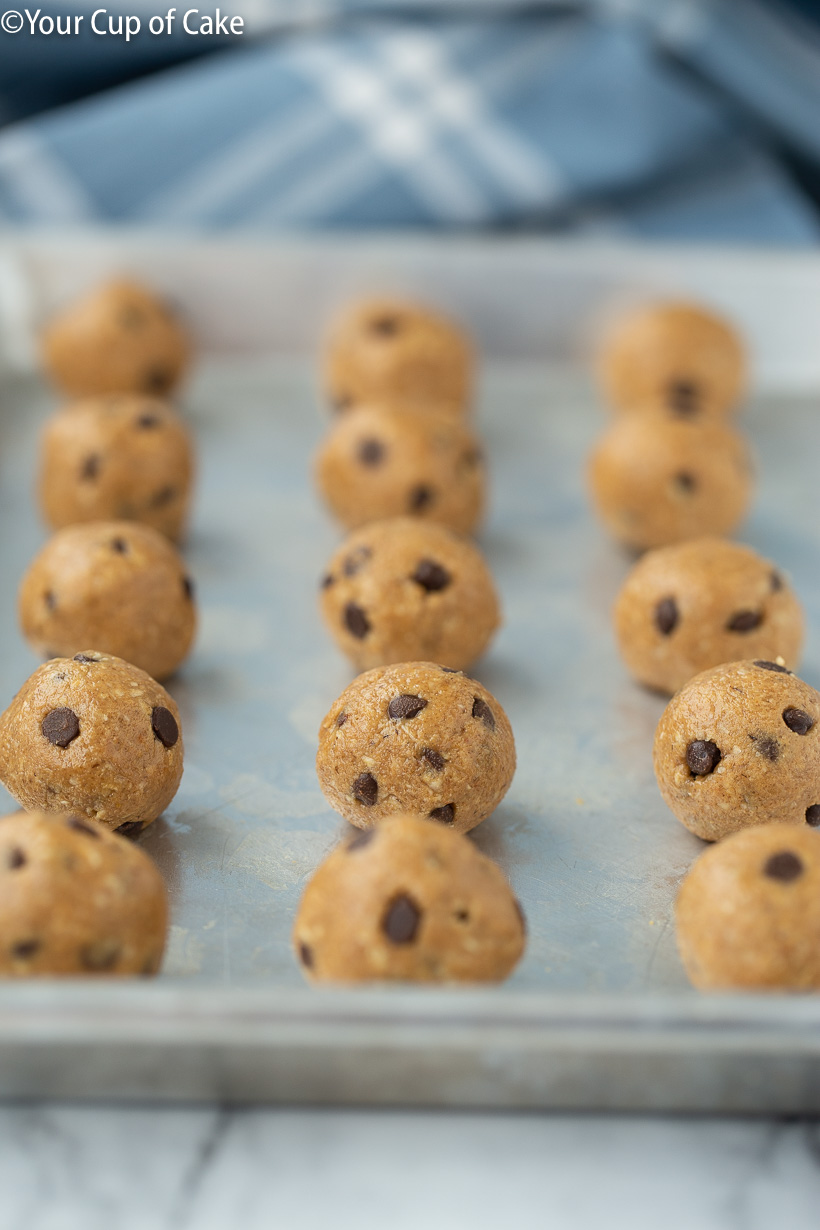 No-