Get ready for this cheesy 30 minute meal! My One Pot Cheesy Chicken Rice and Broccoli is perfect for the whole family and is quick and easy to make! You won't be able to get enough, yum!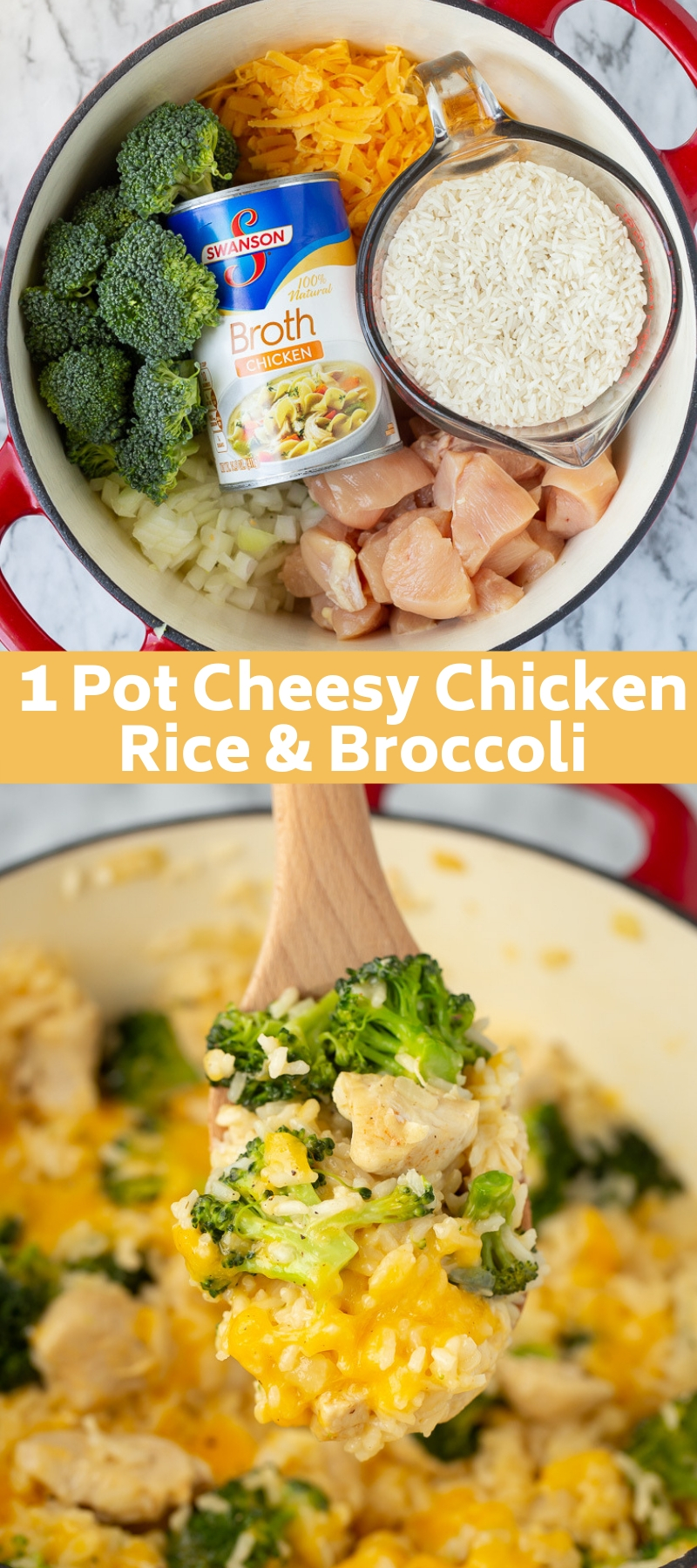 One Pot Cheesy Chicken Rice and Broccoli
All hail the one pot meal! One pot recipes are so great because no matter who you are or how unskilled you are in the kitchen, you can manage to make a one pot recipe! This One Pot Cheesy Chicken Rice and Broccoli is perfect for the whole family and has the perfect amount of cheese. My biggest pet peeve with cheesy dishes is sometimes they're just drowning in cheese! I don't want to feel like I'm eating queso or something. I hope you love this one pot recipe as much as I do, we'll be making this dinner all year long! Grab a few simple ingredients and get ready to make this easy meal packed with flavor!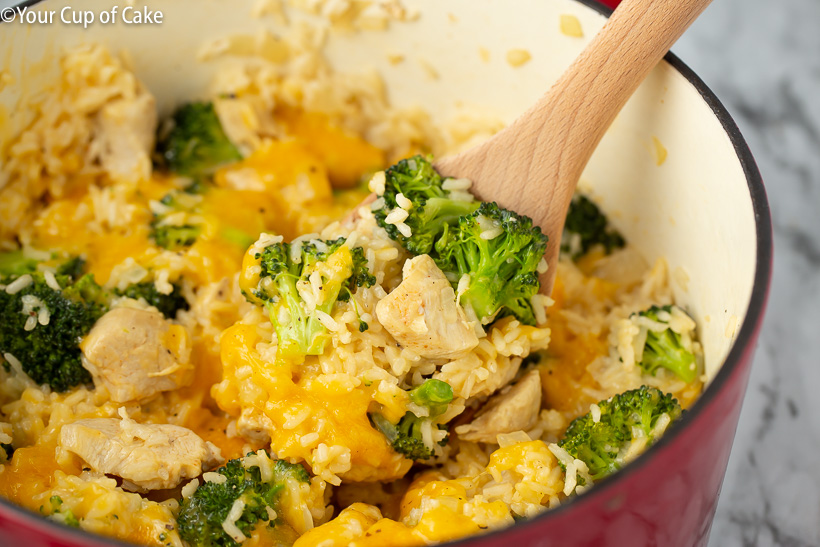 The Best One Pot Recipe
My husband is headed back to school so that means I'm home working and taking care of baby Stella! So how will I find time to make dinner too? Well, my one pot recipes come to the rescue! Not only are they all easy to make and done in less than 30 minutes, but they are so delicious! Since most of the recipes serve 6-8 people I love having the leftovers to eat as a late night snack later in the week or lunch! I would much rather spend time playing with my little girl than cooking up new meals all week long for the family, so yay for leftovers! This One Pot Cheesy Chicken Rice and Broccoli is one of my husband's favorites and sometimes we'll even cook it up with wild rice or carrots depending on what we have in the fridge.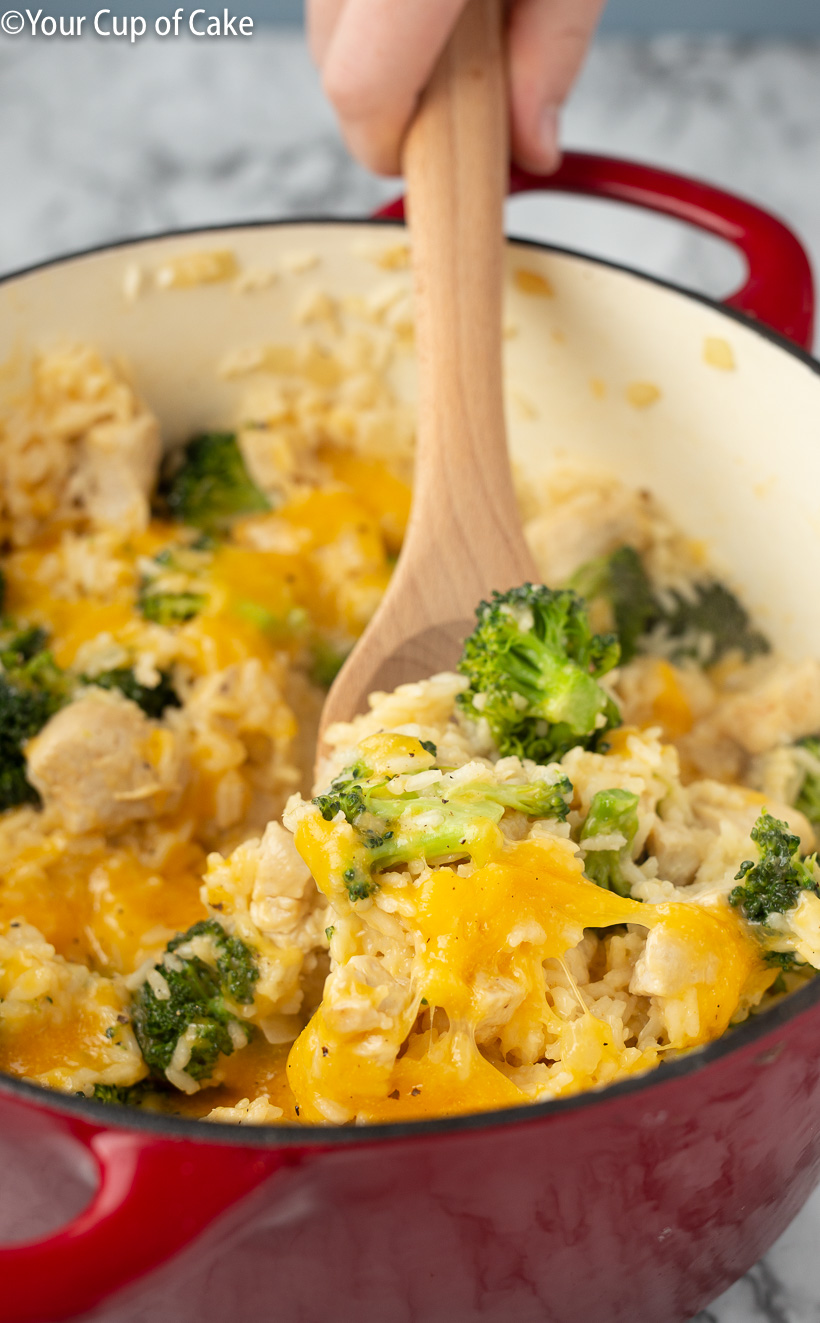 How to make Cheesy Chicken Rice and Broccoli
Some one pot recipes call for everything to be dumped and cooked together at the same time. This One Pot Cheesy Chicken Rice and Broccoli cooks a few of the things in stages. First, cook the onions in your pan (I always use my cast iron enamel pot for these recipes), then add your chicken and cook for a few minutes. Then add the rice and liquids. When the rice is nearly cooked you'll add the broccoli and then the cheese! Done! This is one of my favorite one pot meals and we keep making it over and over. I hope you enjoy this recipe with your family!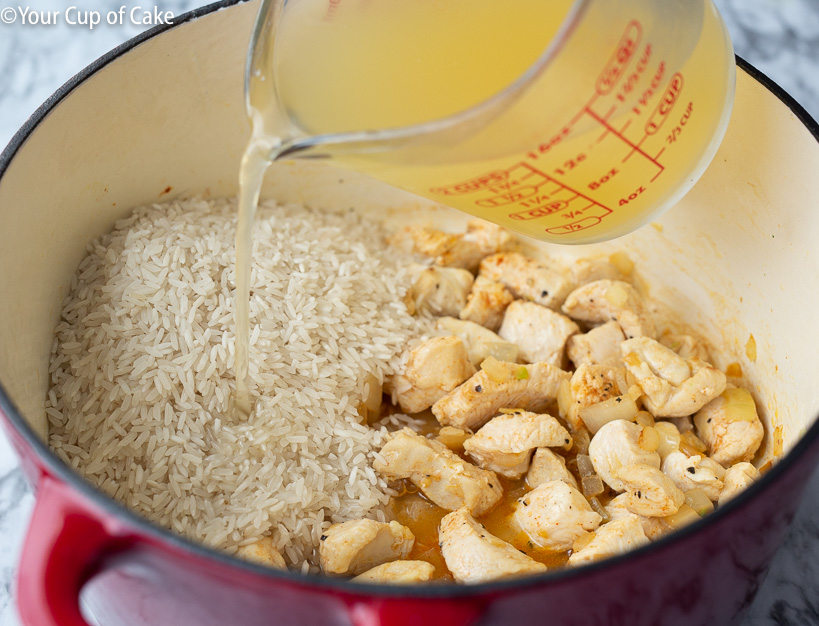 I know you're used to seeing baking recipes here but I always LOVE to share my favorite meals I make my own family. So this time we're taking a step away from the oven and cupcakes pans and grabbing a skillet to make this family dinner!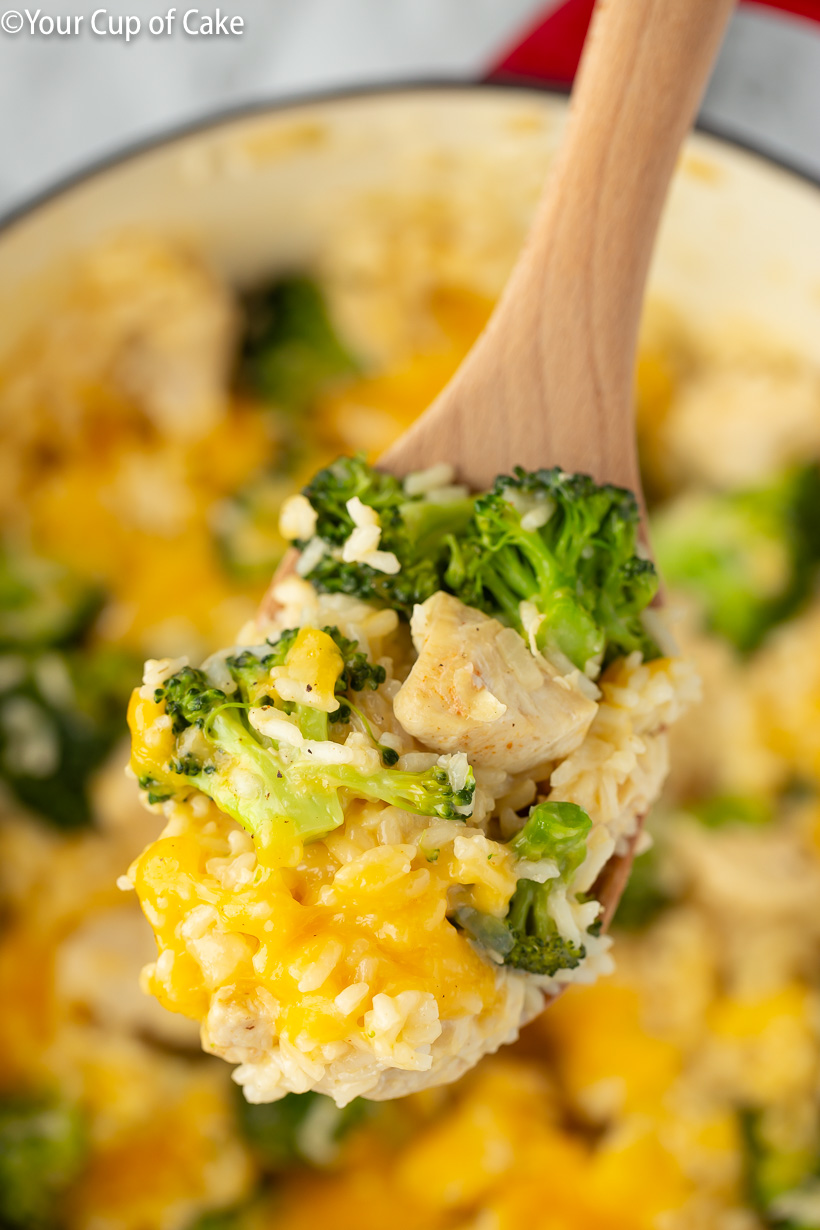 If you have kids that love cheese, this is a great meal for them! We sprinkled some of the cheese on top to really make it look cheesy and delicious!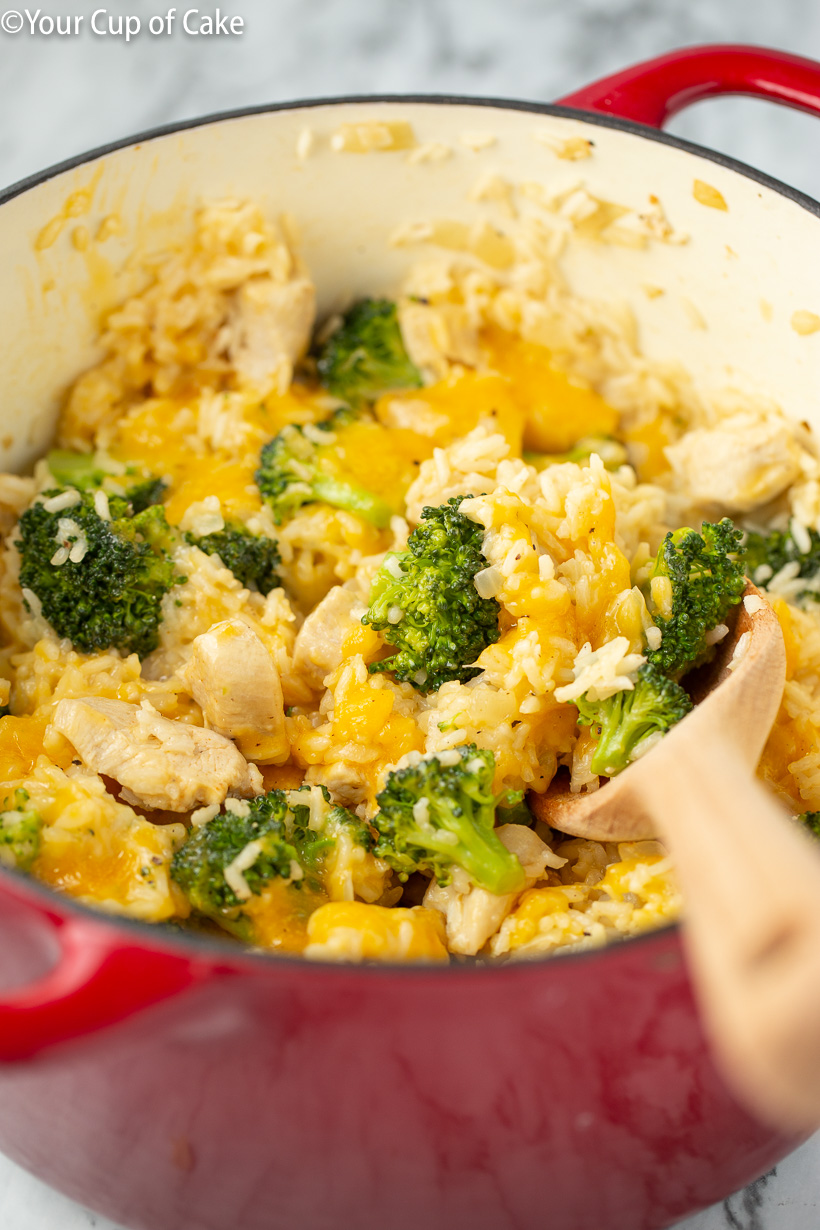 I couldn't wait until I was done photographing to sneak a few bites, it's just so good! Plus, when you cook the onions it will make your entire home smell incredible!
Recipe Rundown:
The recipe instructions are quite simple. You cook the onions, then cook chicken in the same pot, then add the liquids and rice and bring to a boil and let cook. Near the end you'll add the broccoli florets, you don't want to add these in with the rice because then they'll cook too much and turn to mush! If you want to make this easy dinner ever easier, you can always use rotisserie chicken! The $5 one from Costco is always saving my mom life! As always, you can swap in brown rice instead of the white long-grain rice or use whatever kind of rice you have on hand. I have even swapped the protein for leftover steak! Use whatever you and/or your kids prefer!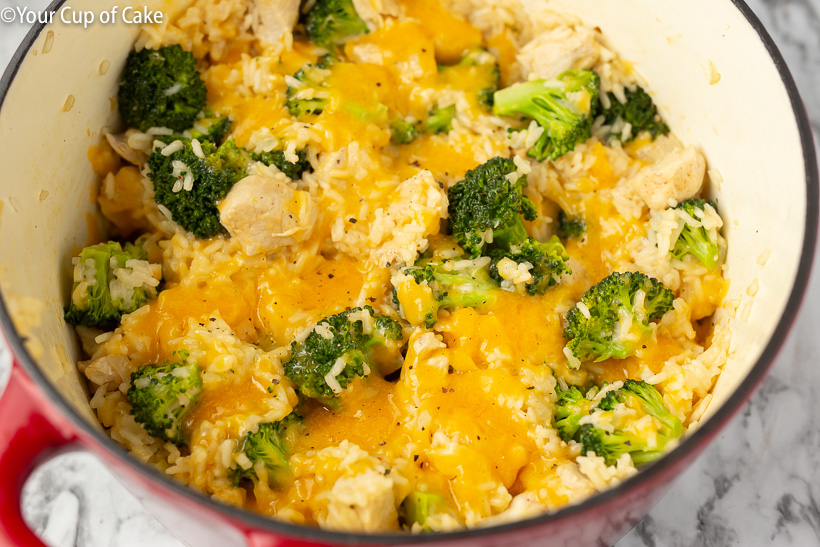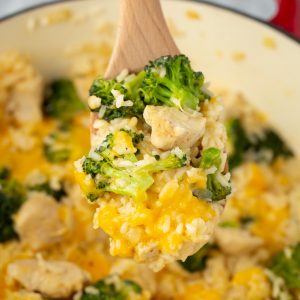 One Pot Cheesy Chicken Rice and Broccoli
This quick and easy 1 pot meal is ready in 30 minutes!
Ingredients
1 1/2

pound

chicken breast

cut into one-inch pieces

3

tbsp

extra virgin olive oil

½

medium yellow onion

diced

2

tbsp

minced garlic

2

cups

broccoli

cut into bite-sized pieces

2 1/2

cups

chicken broth

1/2

cup

water

2

cups

uncooked extra long grain white rice

2

cups

shredded extra sharp cheddar cheese

salt and pepper to taste
Instructions
In a large pot, over medium-high heat, add the olive oil. Once shimmering, add the onions and saute for 2-3 minutes.

Season chicken with the salt and pepper and add to the pot. Cook for 4-5 minutes or until there is no more pink visible.

Add the garlic and cook for one minute.

Add the rice, chicken broth, and water. Cover with a lid and turn the heat down to low.

Cook for 15 minutes stirring halfway through.

After 15 minutes remove the lid, stir the broccoli in, cover again and cook for 7-8 more minutes until the rice is cooked and tender.

Remove from heat and stir in 1 cup of cheese. Once stirred in, sprinkle the remaining cheese on top and cover for a few minutes to allow the cheese to melt. Serve while warm.
Recipe Notes
NOTES:
You can swap out the white rice for brown or wild rice, you may need to adjust cooking times.